Glorious Wedding By The River Thames
I took the photos for Melissa and Justin's wedding at All Saints Church in Marlow, followed by their reception at Monkton Barn nearby.
Of all the couples I've ever photographed, Melissa and Justin must be the most appreciative ever! Especially so on the day, then also in the very kind email I received a few days after they viewed their gallery. I know I have a happy customer when I hear about the tears of happiness as they viewed my work.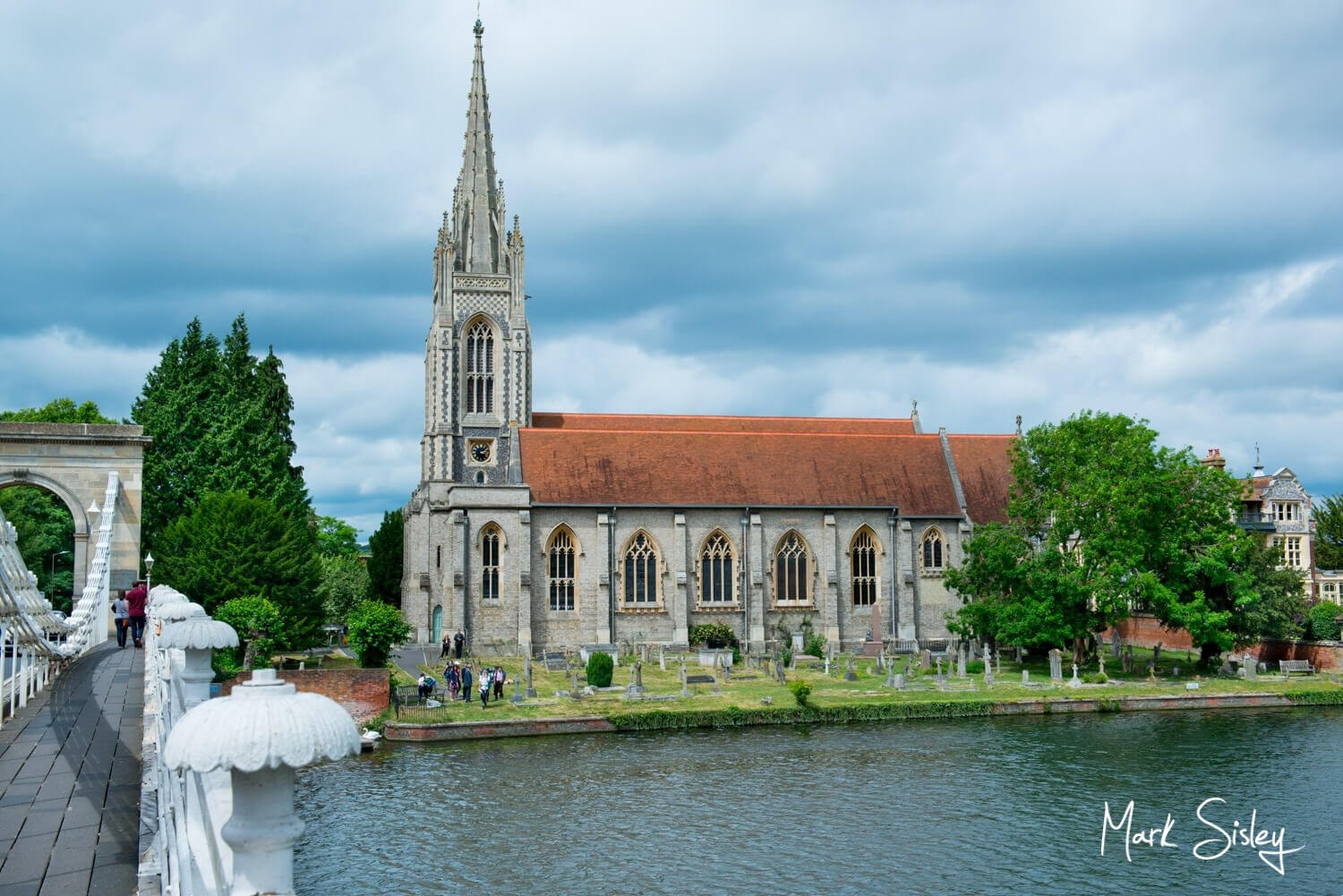 The Wedding Ceremony At All Saints Church, Marlow
Locations don't get any more romantic than this! This is probably the most idyllic church location along the entire length of the River Thames. And I should know, only a few weeks ago I completed the entire 184 mile length of the Thames footpath! I don't have any blisters mind you – as it took me 10 years to complete doing just 10-12 mile occasional stretches at a time.
When the non-stop smiles and tears are evident from everyone, you can just sense how much this lovely couple were adored by the nearest and dearest. The joining of their families was a truly memorable and magical; this was such a wonderful heartfelt ceremony.
The historic church was divine for picture opportunities, with grand interiors and exteriors. Then to add to the mix I had the River Thames and historic Marlow Bridge as backdrops too, as vistas go it it was pretty special!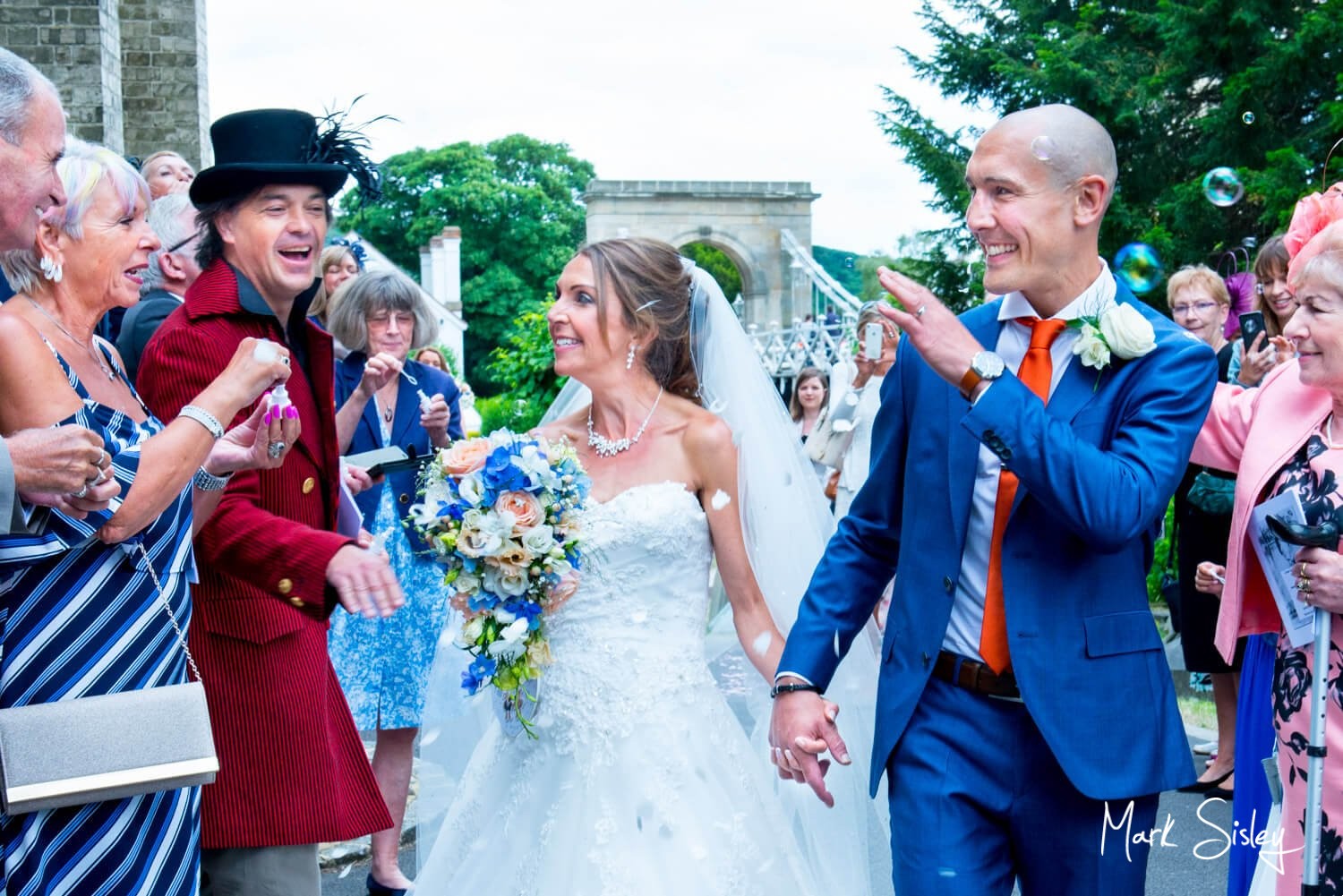 Monkton Barn
This 18th Century Barn is surrounded by rolling Buckinghamshire hills just outside of Marlow. The interiors feature beams and oak floorboards, whilst outside there's a lovely colourful courtyard. Then adjacent to the barn is 10 acres of grass meadow, this area has fabulous far reaching views of the surrounding countryside.  Not only is the meadow great for picture opportunities, but there's also the option for your guests to hire their cool glamping tipis in these grasslands too.
The level of service at this charming wedding venue was exceptional, the owner 'Peter' and his staff ran a very slick operation. But most importantly they offered service with a smile; and there was no doubt from the off that Melissa and Justin's wedding reception would be an amazing experience!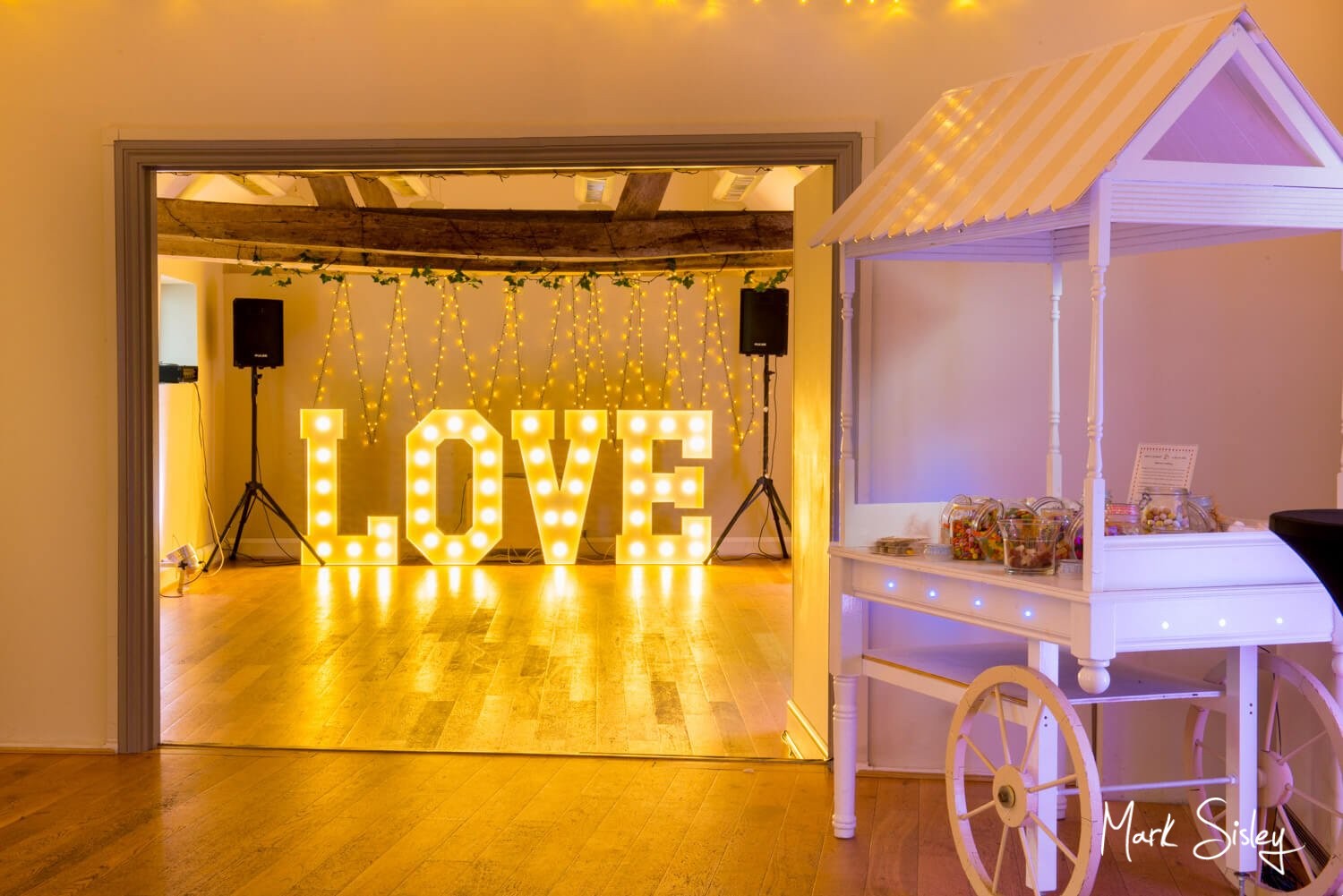 The Wedding Reception & Photographs At Monkton Barn
So much thought had gone into organising this lovely wedding, from the zany American wedding car to the childrens' builders play zone. Then there was the cool bowling alley, to the giant illuminated letters on the dance floor and the fabulous floral arrangements. The unique combination really worked well!  I'm confident the guests will hold fond memories of Melissa and Justin's day for many years to come.
Apart from a few group poses, Melissa and Justin requested mostly reportage style photographs. With so many picture opportunities at Monkton Barn, I was spoilt for choice for backdrops. The kiddies play zone was really special for pictures, the children had so much fun escaping from the adults to do their own thing. And naturally my camera was at the ready to document their antics.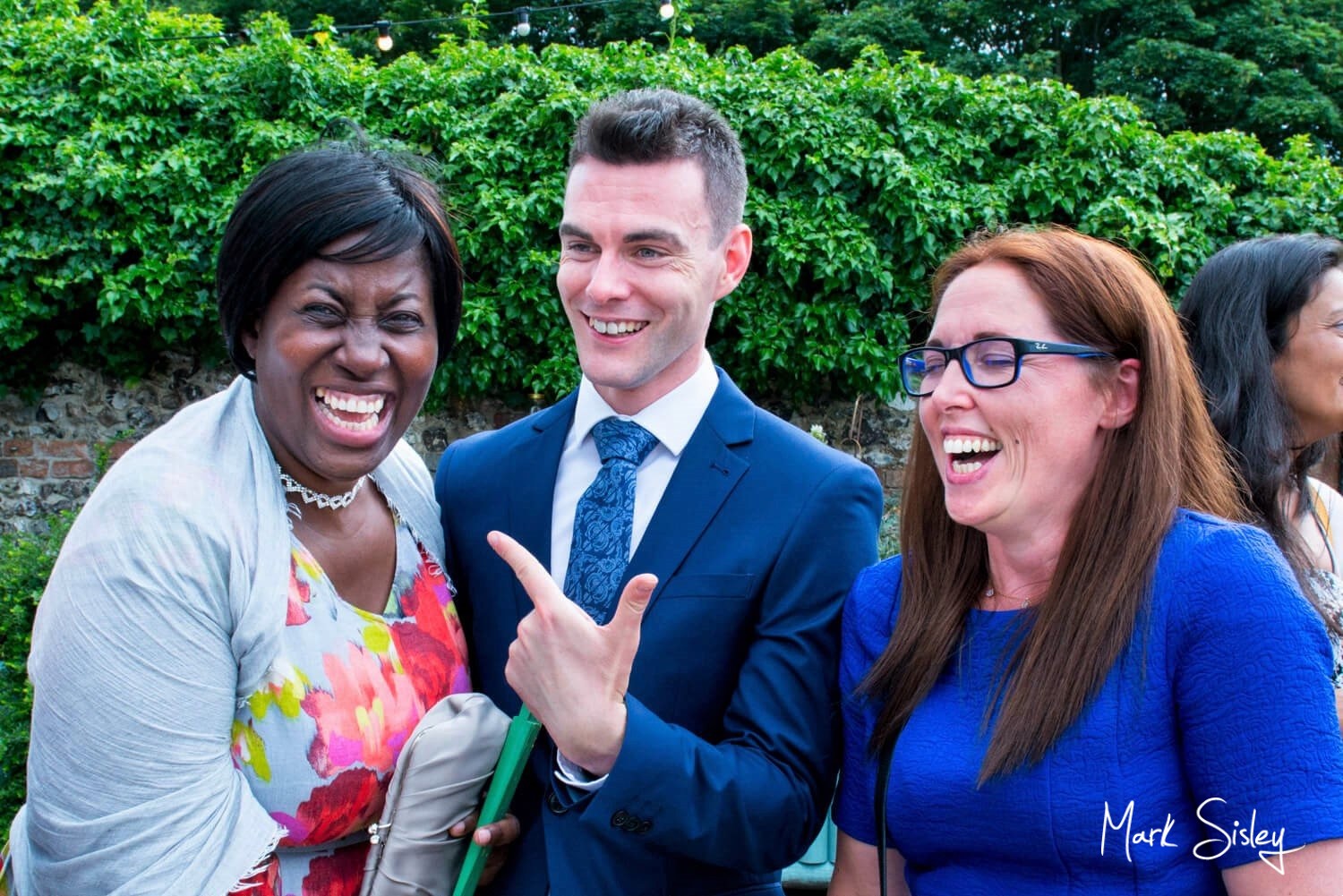 The Speeches & Evening's Entertainment At Monkton Barn
Boy these speeches were good, even I was laughing out loud from behind my camera at times. The speakers totally emphasized Melissa and Justin's love for one another; it was a joy to witness how much fondness and kindness Melissa and Justin bestowed on their nearest and dearest.
Soon after the speeches, I took the newlyweds to the adjacent meadows for some romantic pictures. This quieter moment was really appreciated by Melissa and Justin, as they knew all to well that it wasn't long now before the celebrations ratcheted up a notch or two back on the dancefloor.
It was evident straight away that these guys knew how to paint the town red, and the dancing and non-stop partying was a joy for me to document! Monkton Barn is one of the only venues with no band or disco noise restrictions; being as remote as this certainly has its advantages when it's time to party.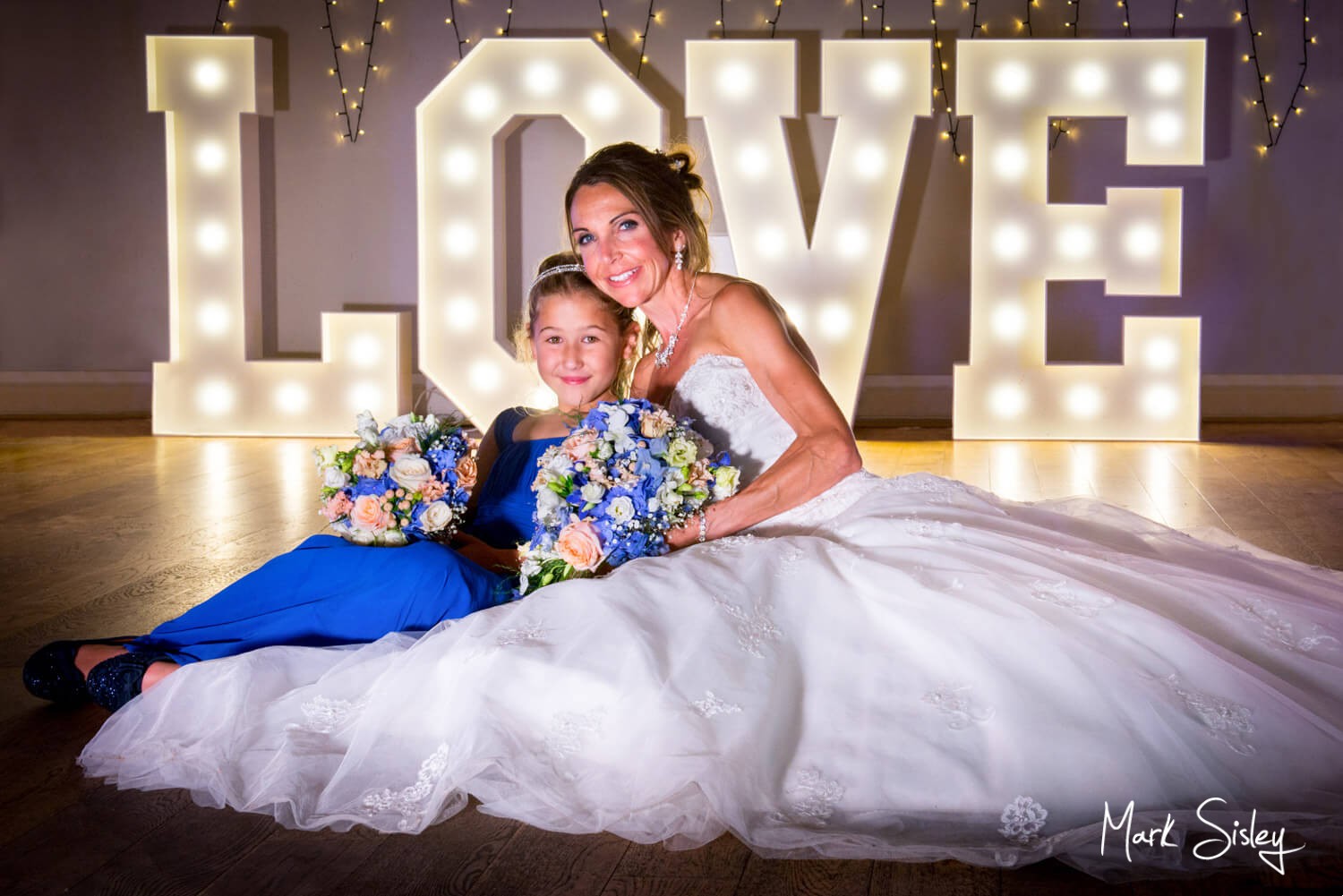 My Favourite Photographs
When it comes to capturing reportage images, opportunities don't get any better than what I witnessed at Melissa and Justin's wedding. There was non-stop laughter, and just so much love all around. The newlyweds were on cloud nine all day, and the joyous smiles were evident for all to see.  When I have a couple who are this happy, it has the most incredible and infectious effect on everyone around. So without question, my favourites have to be the many candid shots I captured on the day. These candid moments tell the story of day in a way no posed imagery can even come close to!
Just before the first dance, I captured the most beautiful image of Melissa with one of her cute flower girls. The ambience and light in the room was just so perfect, and the giant illuminated letters complemented the image to perfection!
I hope my pictures do this wonderful couple's wedding the justice it so deserves.
Melissa and Justin, I can't thank you enough for inviting me to be a part of your special day!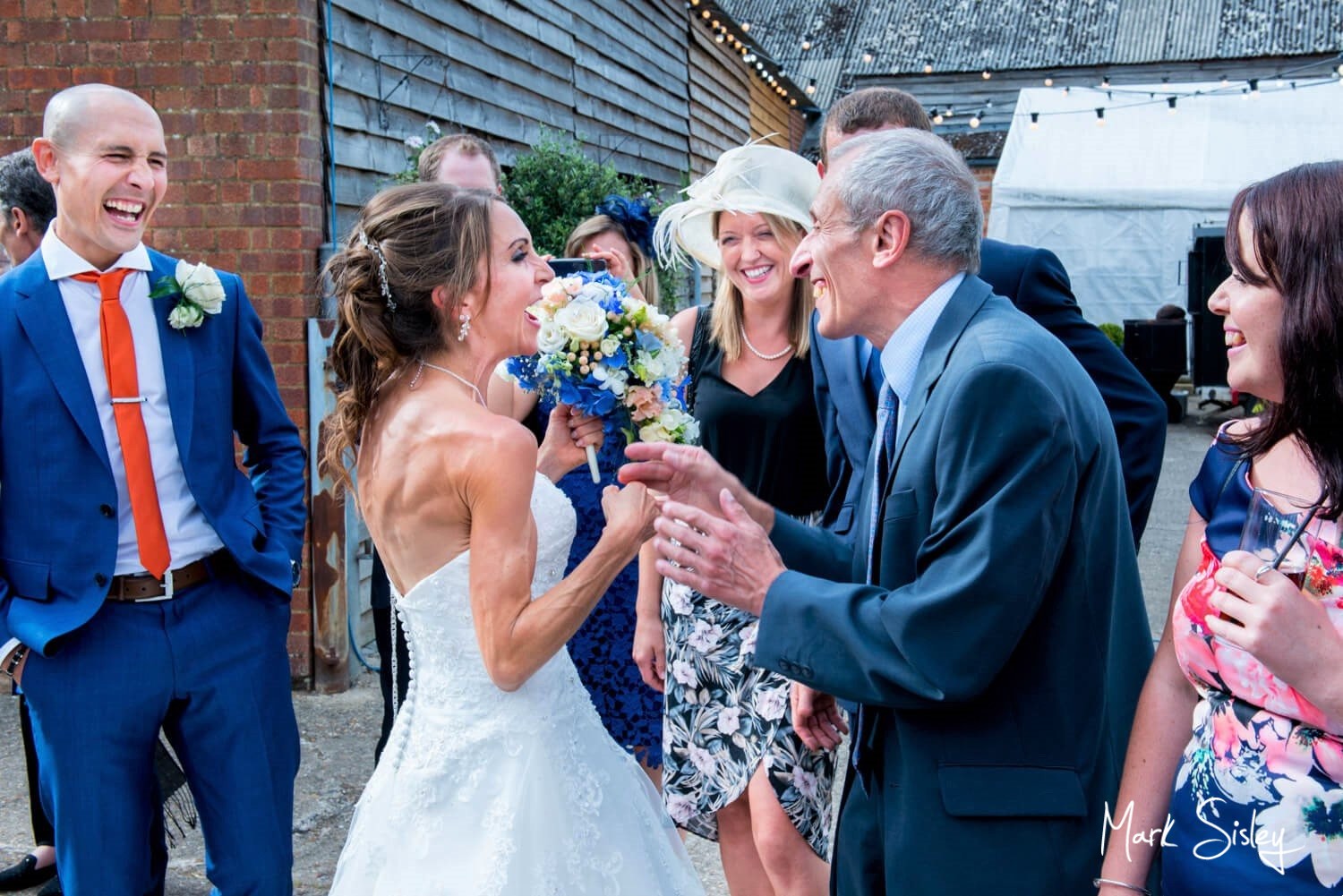 Kind Words
Dear Mark, Wow, incredible, truly blown away.
What a day.  We have still not come down from cloud nine having had the most wonderful day of our lives.  We both want to thank you for everything you did to make that happen and seal our memories forever using your incredible talents.
Truly you went above and beyond the call of duty and many many friends, family and loved ones have commented on how fabulous and professional you were.  And what you have produced, capturing all those moments… thank you and much much more Mark.  Viewing our pictures had us in tears of joy and happiness and we can't stop looking over them.  There are going to be some tough decisions to make in shortlisting.
It has been a privilege, honour and dream to have such a remarkable man and professional capture the most incredible day of our lives.  The way you communicated with our loved ones and your tireless zeal in capturing the most spell-binding shots of our day was striking.  
What is really special Mark is that you not only care about the big things, but you care deeply about the little details too.  We are awestruck by what you have produced and eternally grateful for the memories you have brought into pictorial reality.
With all our hearts, thank you.   Justin & Melissa