Cliveden House Summer Wedding
Lorri and Philip chose Cliveden House for their truly memorable wedding day.  The beautiful and very famous manor house hotel should need little introduction from me. In every direction the venue is truly magical, from its opulent high ceilings and antique interiors to its sensational views over the landscape gardens to the river Thames.  This is such a dream wedding venue; and I was booked to document the day for such a delightful and outgoing couple. Boy it makes my job easy when the setting and chemistry is this perfect!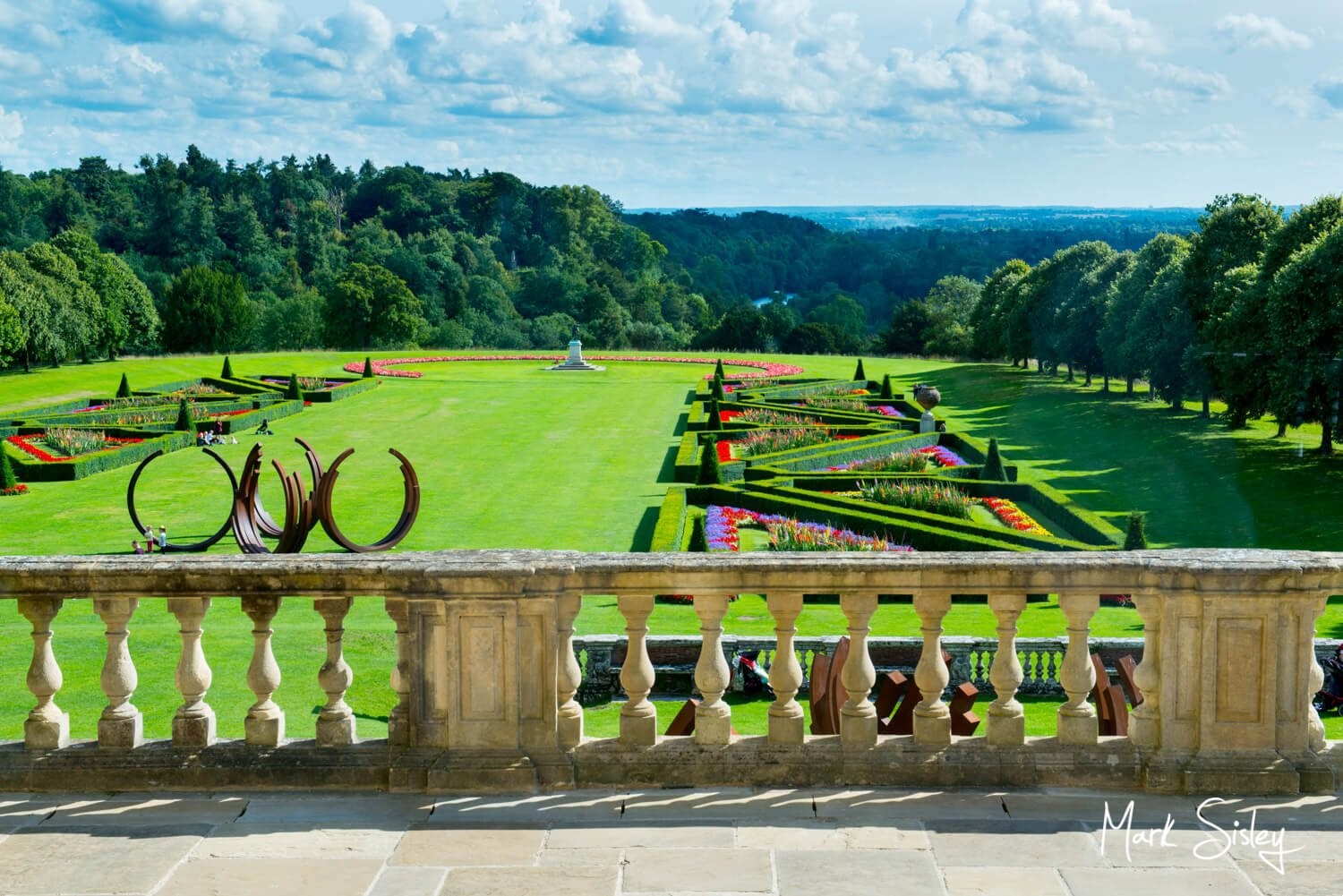 Cliveden House Brief History
For over 300 years Cliveden House in Buckinghamshire has been home to some extraordinary characters. With a history peppered with endless scandal, intrigue and controversy. Cliveden House retains its glamour and famous reputation as a glittering party venue, although it's now leased as a luxury private hotel. 
Successive owners sculpted the gardens and landscape over the years of this Italianate palace, sparing no expense along the way! They created a magnificent summer retreat with far reaching views over the River Thames. The current house owes its elegance to the architect 'Sir Charles Barry', famous for designing the Palace of Westminster. His totally decadent masterpiece, created for the Duke and Duchess of Sutherland in the 1850s is the third house on the site, the other two having burned down.
Civil Ceremony In The French Dining Room
Lorri entered the ceremony with her two adorable dogs, and wow – they were so well behaved!  All day long they were quite the centre of attention, and I bet they've never been pampered by so many people in one day.  Even the staff were taking it in turns to take the dogs for a walk, and as for picture opportunities they were as obliging and photogenic as can be.  They must have thought they'd gone to canine heaven for the day with all the fuss!
Lorri looked divine as she made her way down the aisle, she was lead by her proud son and daughter. The wonderful bond between Lorri and Philip was evident straight away, their smiles and laughter lit up the room the very moment they made first eye contact.
Throughout the wonderful vows, there was more laughter and smiles as Lorri and Philip made their promises to each other. This beautiful and fun ceremony certainly set the scene for the rest of the day, and the buzzy atmosphere stayed throughout the day.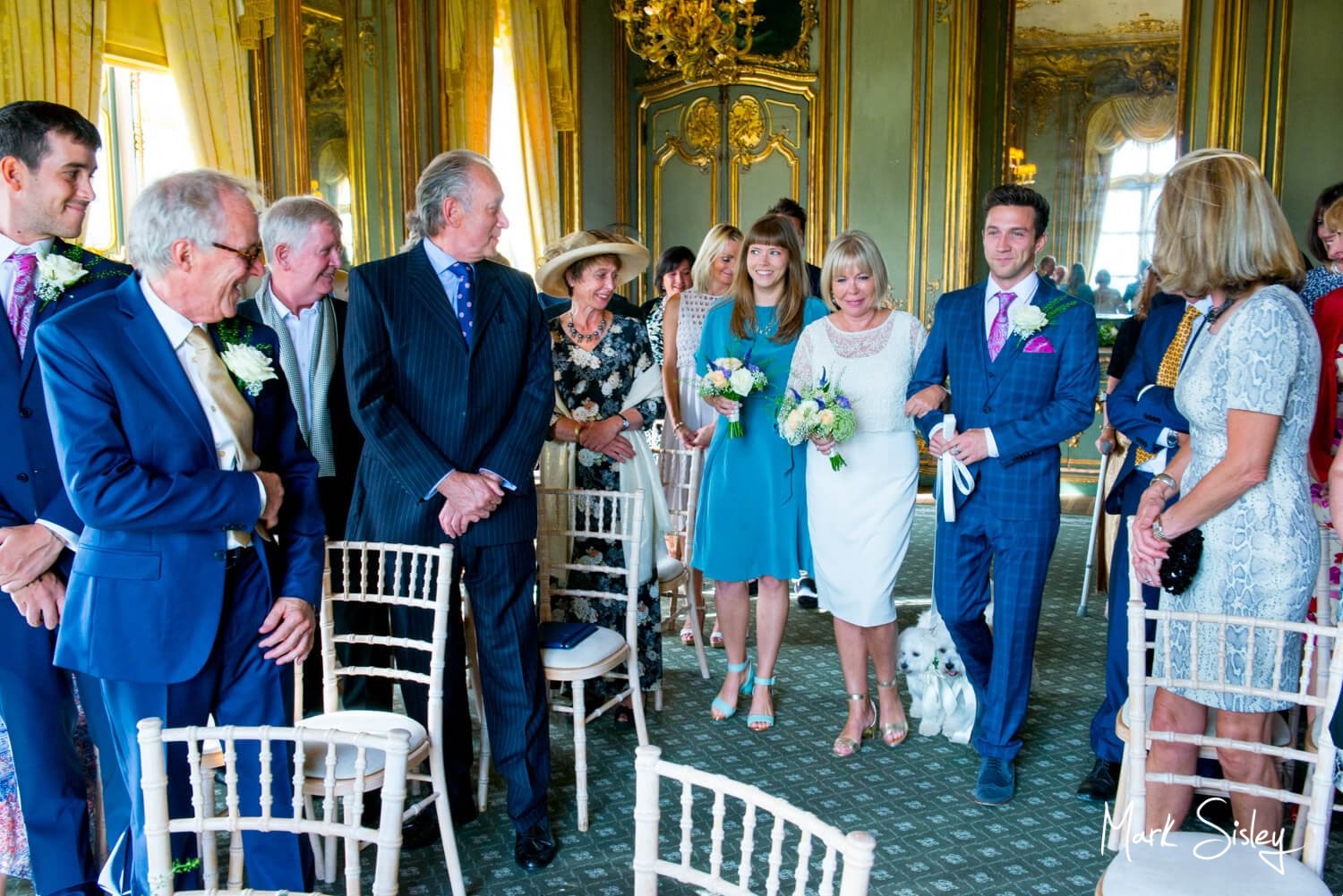 Drinks Reception & Pictures On The Terrace
Lorri and Philip's wedding was a wonderfully relaxed occasion, and their drinks reception was a great opportunity for their friends and family to explore this gorgeous hotel and to truly relax with a glass of champagne or two! The views from the raised terrace are out of this world, the vista stretches for many miles over the River Thames and beyond.
The laughter and smiles were pretty much non-stop amongst their family and friends, the opportunity for lots of reportage images for my camera was as good as it gets!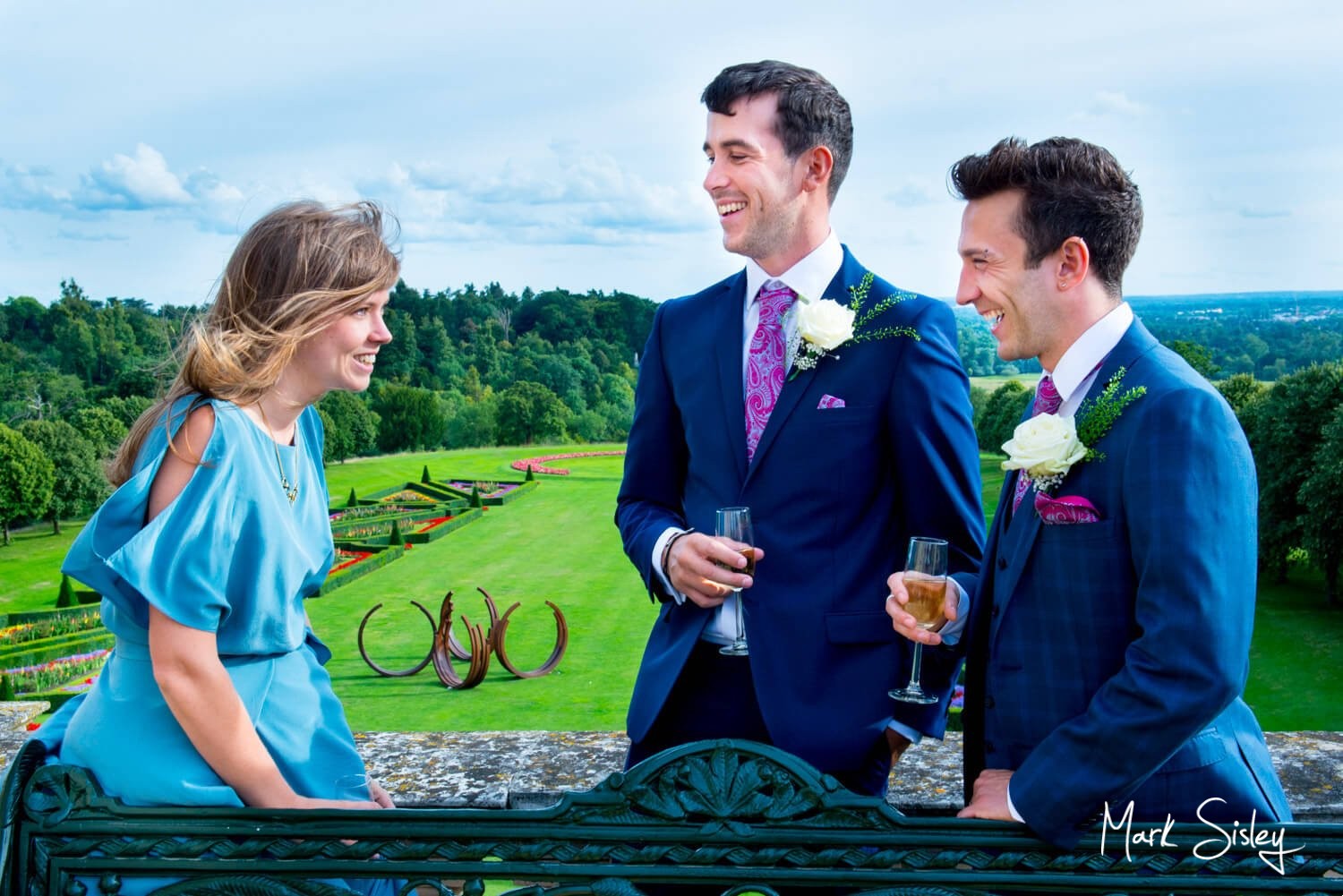 Photographs On The Lawns With The Newlyweds & Their Adorable Dogs
Lorri and Philip were keen to capture lots of images of their adorable Maltese pooches, so a walk through the gardens at some stage was always on the cards. After all the fuss they received from the staff earlier, I bet they've been for so many walks in one afternoon. This was also a great opportunity to capture some really informal moments, and their sons and daughter were thrilled to join us for the stroll. The gardens we walked through were glorious, and it was great to venture out onto these famous manicured lawns for a short while.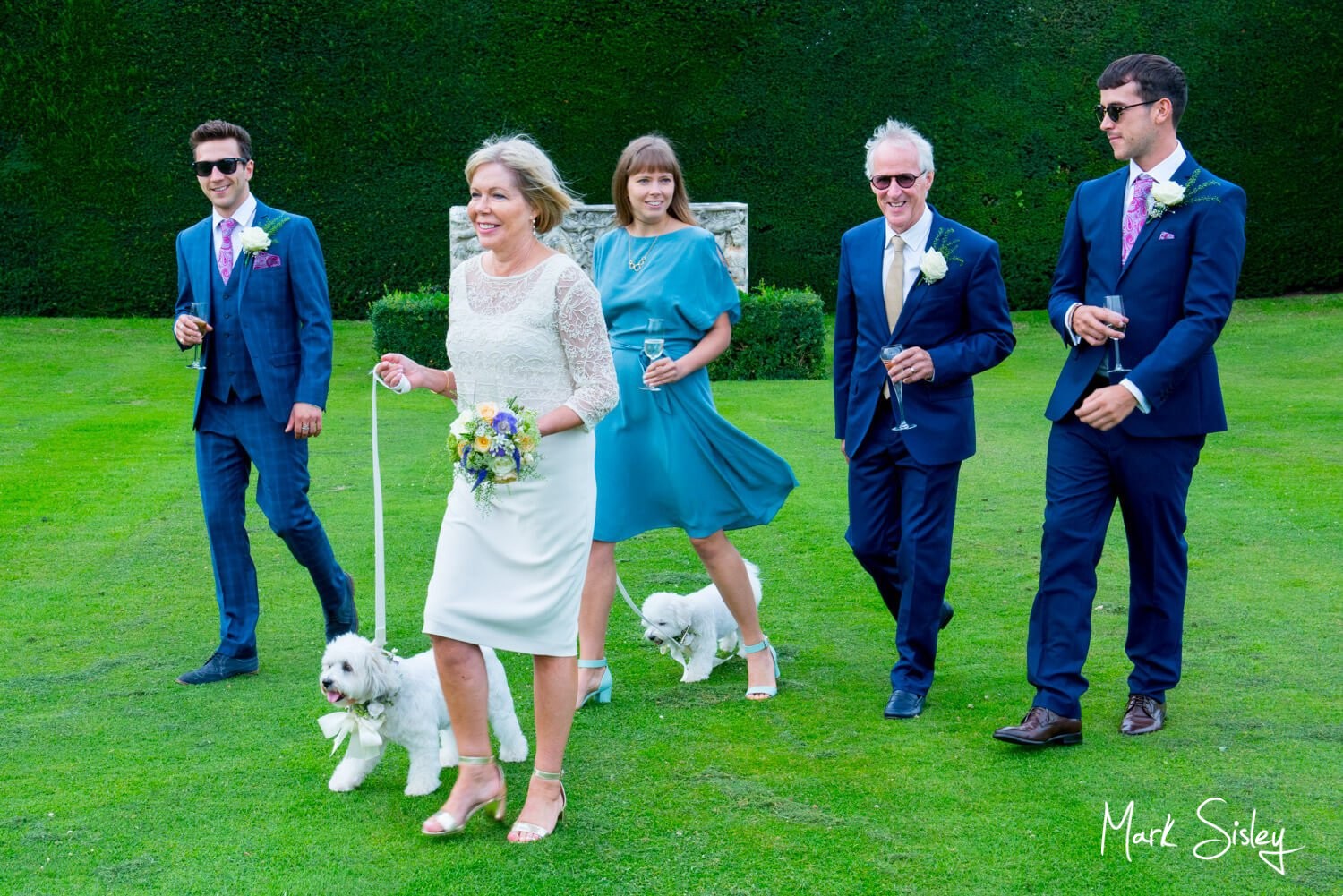 The Speeches In The French Dining Room
The heartfelt speeches were really special too.  Lorrie in particular had everyone in fits of laughter with her tales of years gone by.  I just loved capturing the speeches – the hilarity, the tears and the emotions provided such natural picture opportunities.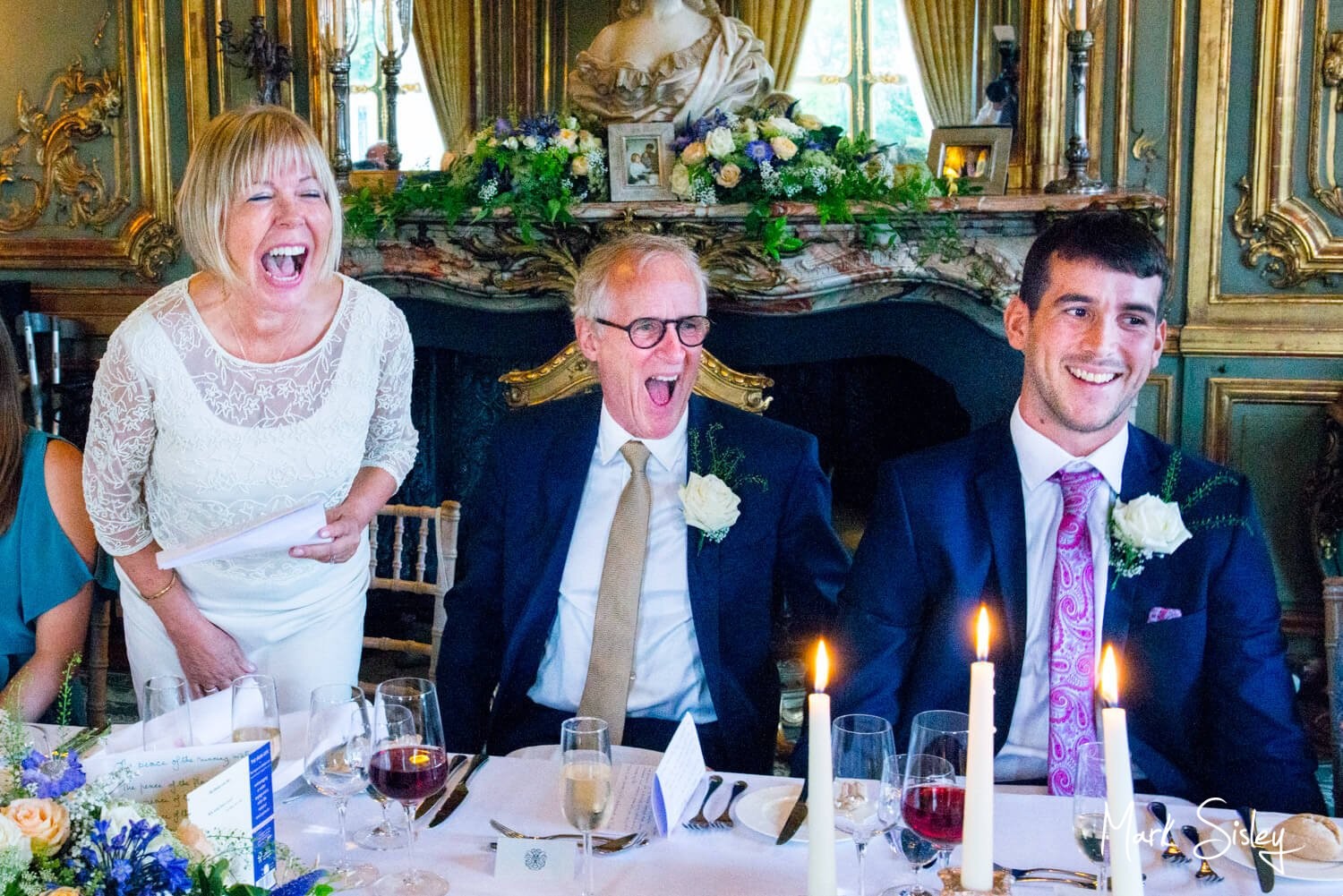 My Favourite Pictures
Lorri and Philip were so full of energy, warmth and kindness, and as a result their big day was brimming with laughter and love. So without hesitation, my favourite images were of the candid moments throughout the day.
Although there was one shot I just adorded, its the one of Lorri and Philip's gorgeous fluffy Maltese pooches. This shot was not as straight forward as it looks, I had several of the staff and wedding guests assisting me. The last thing they had on their mind was posing for the camera, but between us all me managed to pull the shot off with some gentle persuasion!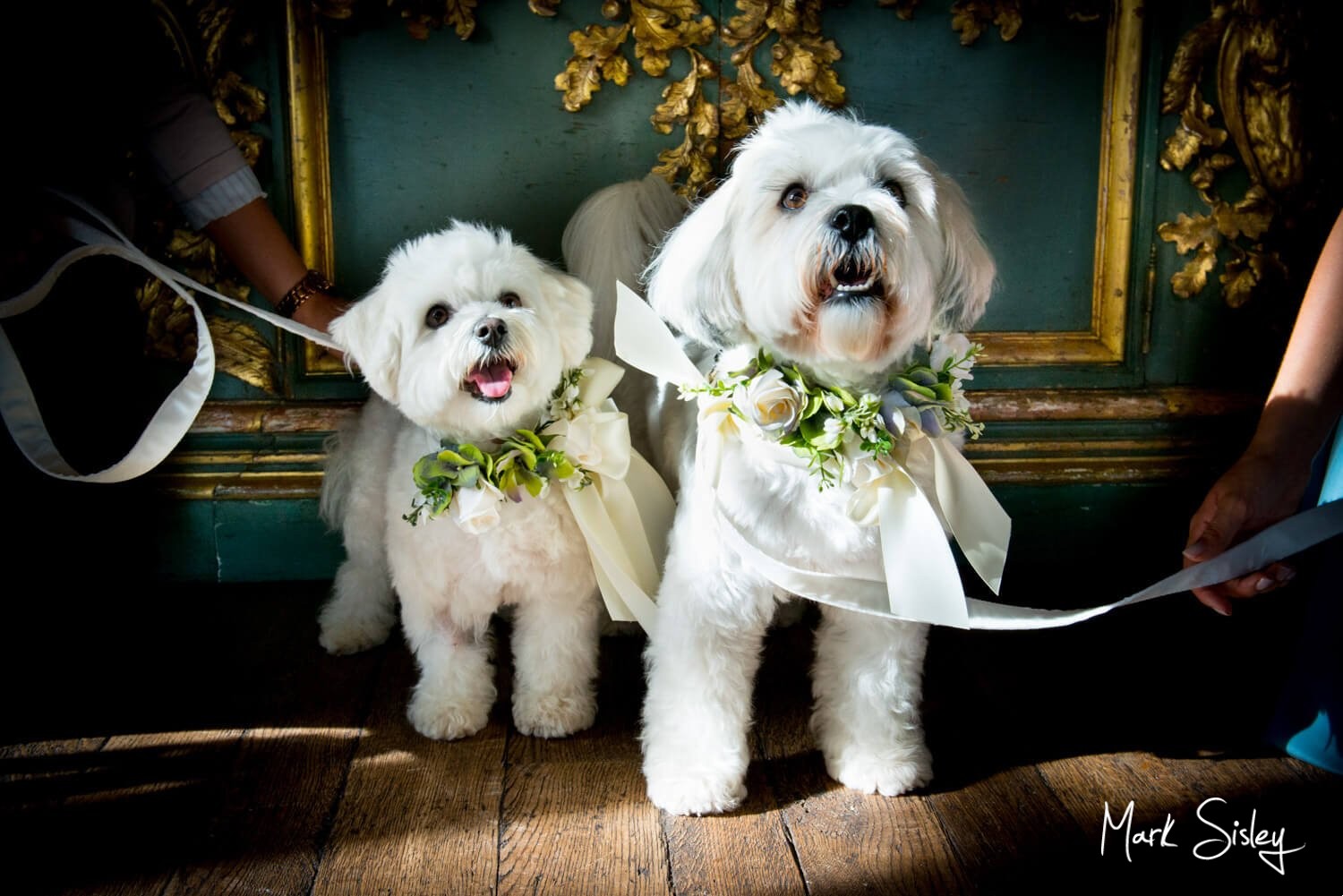 Kind Words
Dear Mark, Wow! 
Thank you SO much – for all the wonderful images you have sent us, taken on our wedding day at Cliveden.  You have photographed everyone and everything (including our two dogs) so beautifully and in such a complete moment to moment way that the whole event is perfectly captured for us, from beginning to end.  
You have such a great manner that although we had not met before we all instantly felt totally relaxed.  You managed to be completely unobtrusive taking casual photos but then were instantly very organised and efficient when arranging the wedding guests for the more formal groupings which we had also requested.
It was fantastic for us that you know the setting at Cliveden so well, as you chose perfect backdrops for the photographs, and we are particularly delighted that you took Philip and me with our three grown up children and two dogs for a walk in the grounds after the ceremony – your resulting images are really priceless.
I have never thought of myself as being in the least photogenic and consequently often feel somewhat self conscious when being photographed but I was comfortable with you behind the camera that friends and family, who have already enjoyed looking at the gallery, have commented on how incredibly photogenic I am – that really is a first!  The same people also commented on the day how fantastic they thought you were and they hadn't even seen the results at that juncture!
We cannot thank you enough for your wonderful photographs, they really are a treasure!  We will be writing to Cliveden's wedding coordinator Lydia who recommended you to let her know what a fantastic job you have done!
With very best wishes, Lorri & Philip