Lovely Intimate Wedding Venue
Izzi and Ricky somehow managed to bag a perfect blue sky day for their mid-week wedding at the Five Arrows Hotel in Waddesdon, Buckinghamshire.  This was only my second wedding at this stunning venue. This is bizarre when you consider that the Dairy next door is like a second home to me, after attending so many weddings there over the years.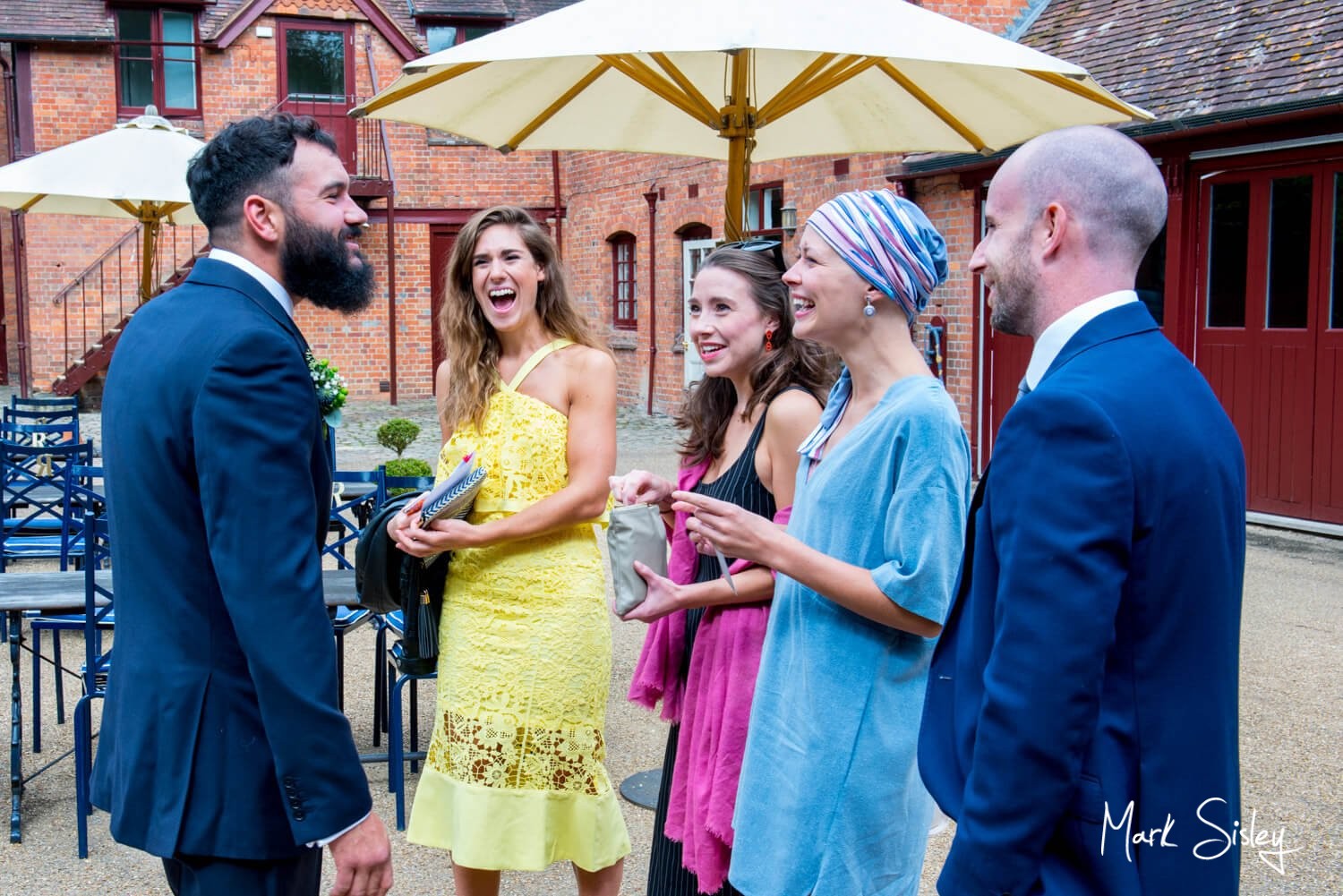 The Five Arrows Hotel
Like the other Rothschild buildings on the estate, it is beautiful with both fabulous interiors and exteriors. The colourful rose gardens are joy to explore, this really is the most perfect venue for an intimate wedding or gathering.  It also happens to be one of my favourite local restaurants – the food is divine!
The hotel was built in the late 19th Century, its purpose was to accommodate the craftsmen and artisans who were working on Waddesdon Manor.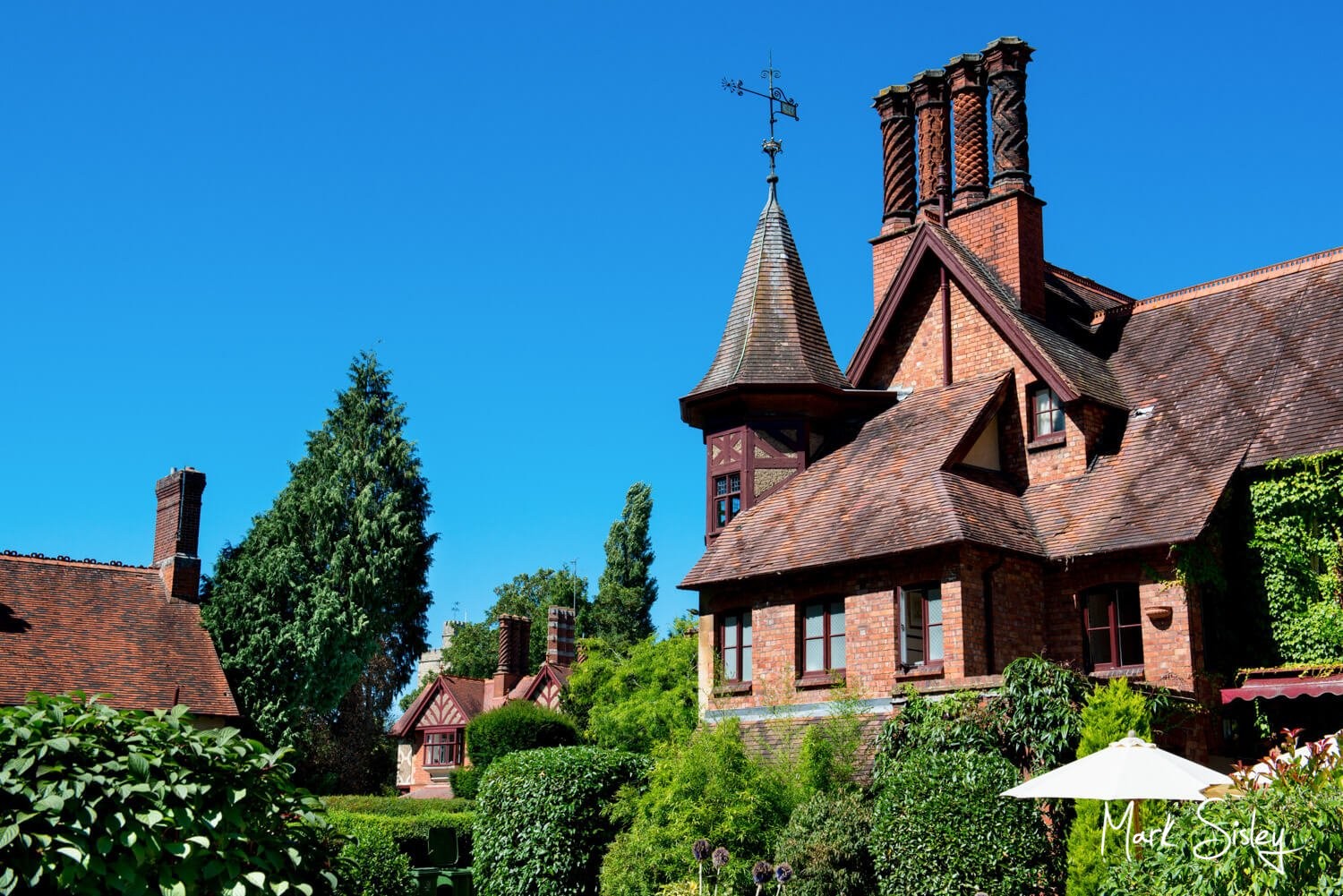 The Civil Wedding Ceremony At The Five Arrows Hotel
The wedding was brought forward to ensure that Ricky's very poorly father, Paul, could be by his side on the big day.  It was a year earlier that I photographed Debbie and Paul's lovely Missenden Abbey wedding, and I was really touched that Izzi and Ricky chose me as their photographer as well.
Naturally emotions were running high as Izzi made her grand entrance, and she looked incredible as she walked down the aisle on her father's arm. There were so many tears around the room, heaven knows how Izzi and Ricky managed their beautiful and heartfelt vows.
These vows had such special meaning, even the many children in attendance were in hushed silence as Izzi and Ricky made their promises to one another.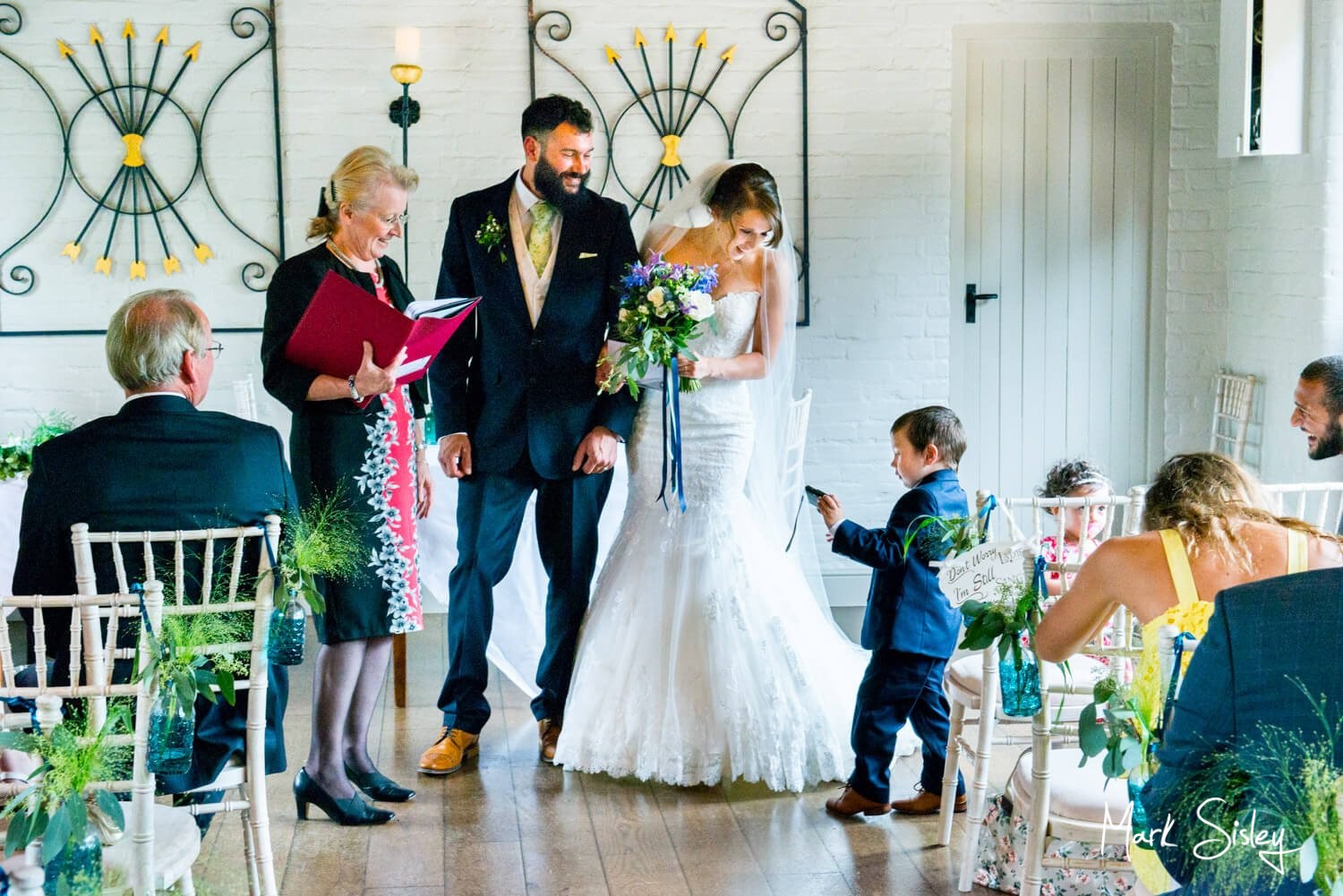 The Drinks Reception & Photographs At The Five Arrows Hotel
The friends and the two families were so kind and warm; I've never seen so many hugs at a wedding. And my camera is always at the ready when the reportage picture opportunities are this good!
Candid pictures were the order of the day, and the chances really were plentiful. The laughter was pretty much non-stop all day, I just loved capturing every minute of the guests enjoying themselves!
Izzi and Ricky's two sons were so full of energy – they kept me on my toes from beginning to end as I set about capturing lots of fun images of them.  They climbed every wall, chased every bubble and hurtled around the pretty gardens non stop all day.  I'm guessing they slept well that night; I know I went home exhausted!
For the classic poses, I included many of the backdrops around this historic building. The courtyard setting was simply stunning, another favourite backdrop was the front of the Five Arrows building. The intricate details in the architecture of these buildings was breathtaking, from the twisted chimneys, through to the amazing tilework, and the sublime gilded wrought ironwork.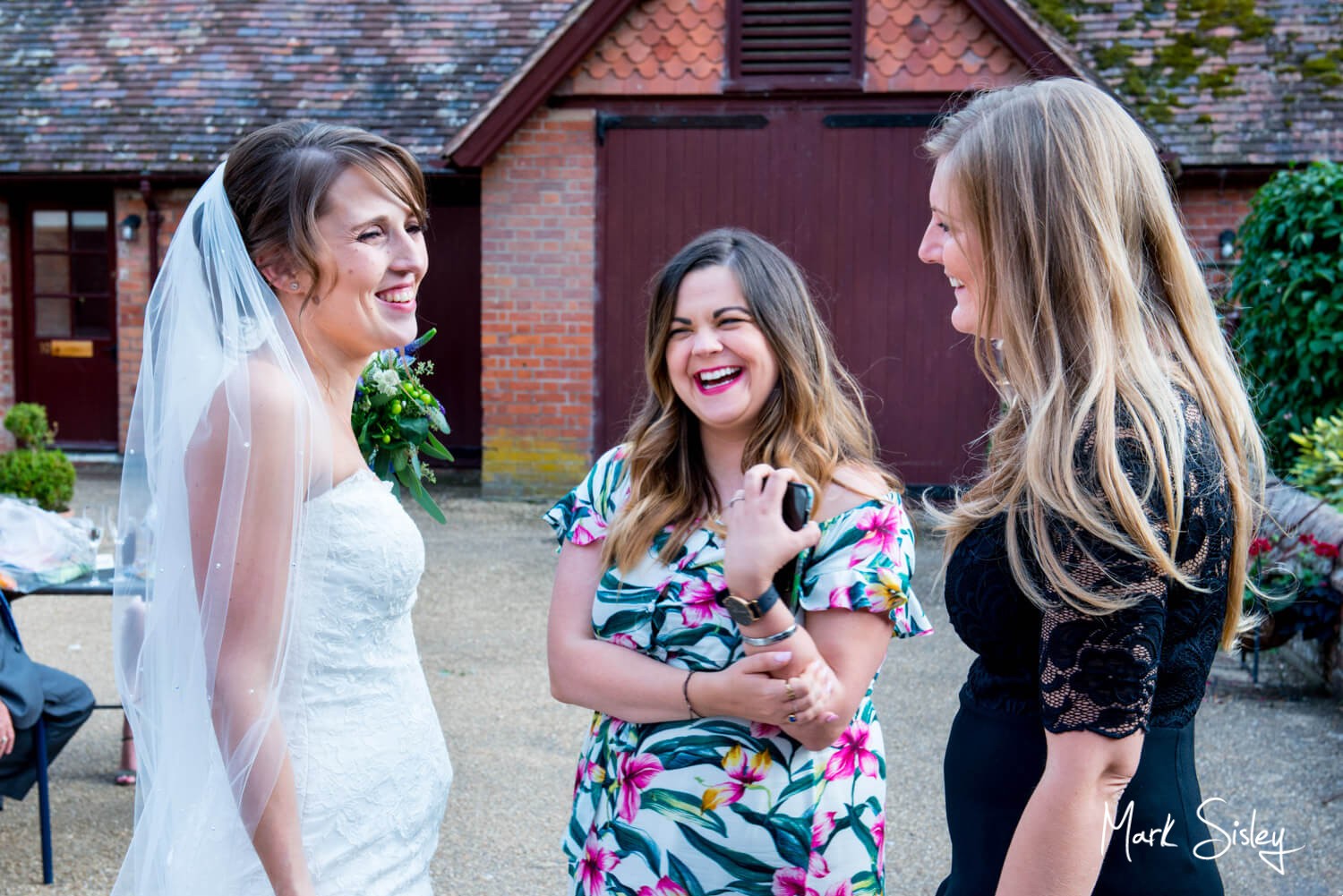 My Favourite Pictures
I just love all the fun candid moments from this wedding, all the fun loving personalities really brought my wok to life! The perfect sunshine, the gorgeous setting, and Izzi and Ricky's warm personas also helped too.
I also loved all the pictures of the children in attendance, some of these are just priceless! Kids are so unpredictable, and its the many magic moments they present that elevate my images to another level on the day. The pictures of the newlyweds little boys chasing the bubbles was certainly one of my favourites, their faces just captured a truly special moment from the day.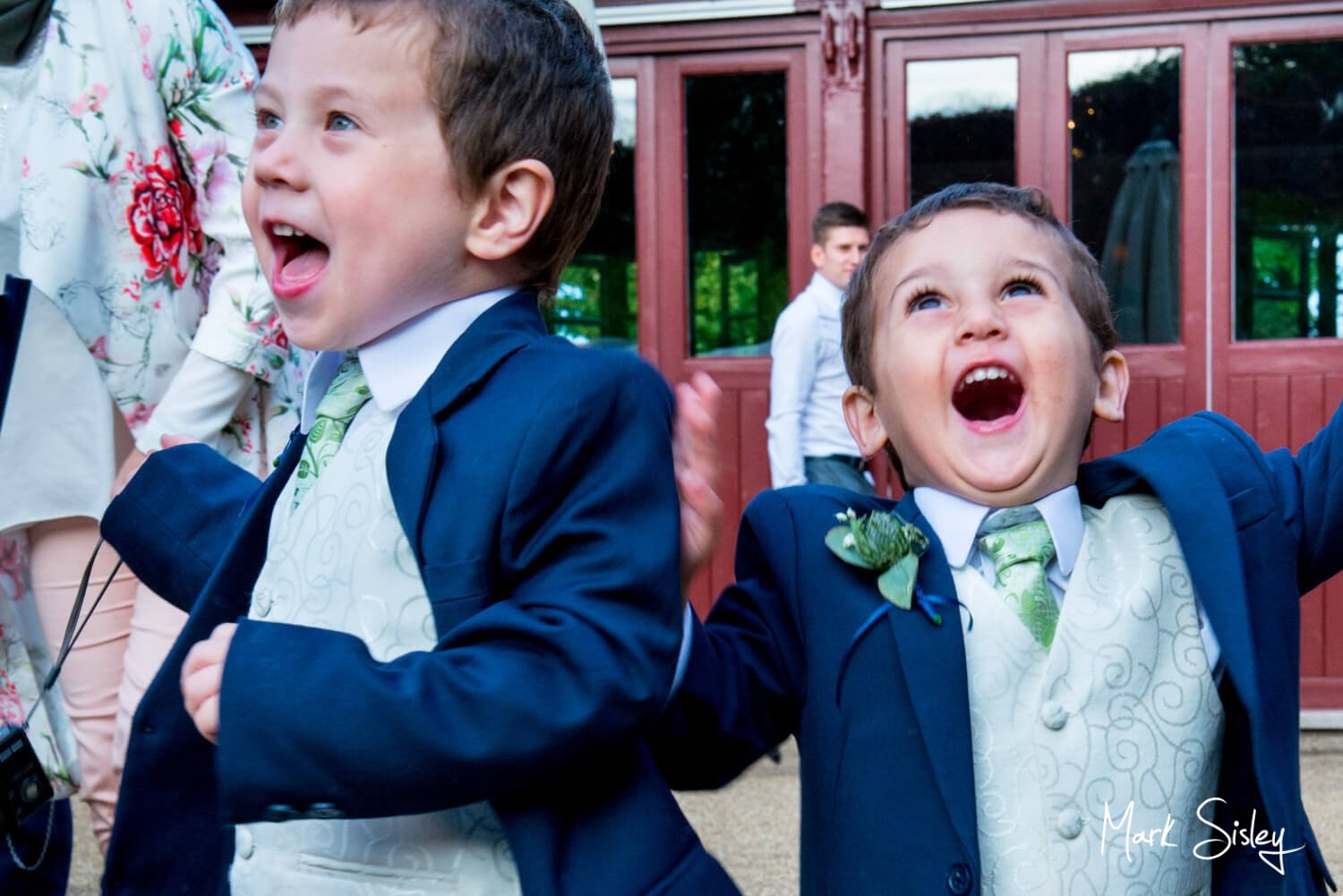 Evening Wedding Breakfast At The Sir Charles Napier Restaurant, Chinnor
The drinks reception and canapes at The Five Arrows was a very casual affair, the main wedding breakfast took place with the immediate family at The Sir Charles Napier Restaurant.  This restaurant is a fine dinning paradise for foodies, it's probably most famous for being regarded as the godfather of the gastro-pub revolution. Not only does it serve incredible food, but it has the most sublime grounds too. The restaurant offers the perfect halfway house between a historic countryside gastro pub and a fine dining establishment.
This was an amazing wedding, and I was so thrilled to be asked to document Izzi and Ricky's special day.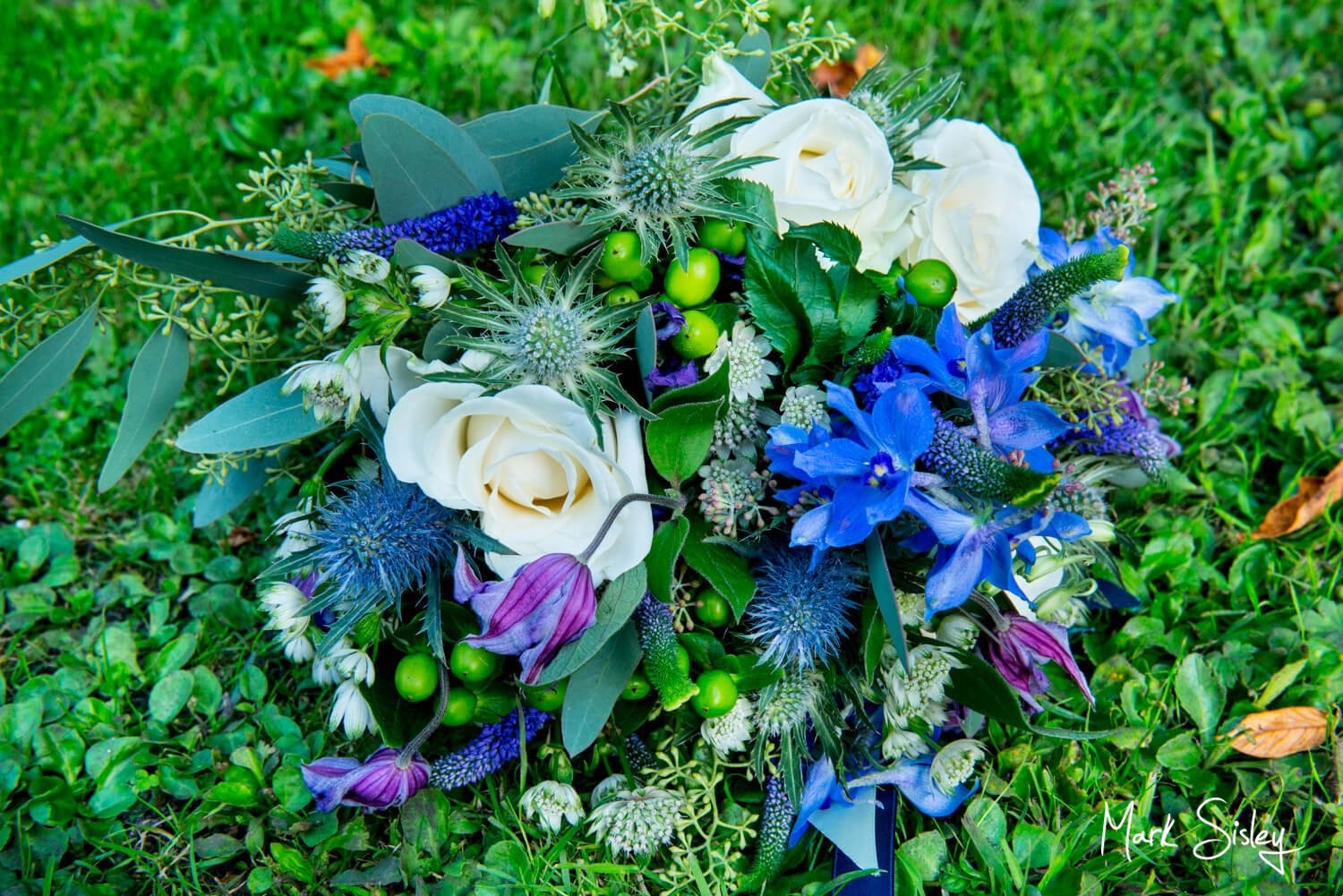 Kind Words
Dear Mark,
Thank you so much for photographing our wedding, we are absolutely thrilled with the results!!! Such a beautiful, varied collection of posed and natural shots that really capture the intimate, relaxed feel of our wedding as well as some very emotional moments.
Having planned our entire wedding in a month due to my father-in-law's health, we had imagined we would have to cut corners to fit various suppliers.  However, you made sure to fit in the time to include thorough preparatory discussions and to ensure that we were happy, despite it being the busiest time of the year for you and very short notice.
All our guests have commented on how incredibly hard you worked throughout the day, as well as on what a lovely manner you have as an individual.  Your professionalism also shone in the smaller details; from the way you tactfully navigated our complex family tree down to how you managed to so quickly round up various groups of people for photos and kept our timings on track in a way that wasn't at all imposing on the day. 
We were also very impressed by the efforts you went to in order to capture special memories of our less than cooperative young children!  We cannot commend your brilliant skill, adaptability and quick thinking highly enough.  You were our 4-year-old's favourite part of the entire wedding – as he has continued to tell us ever since, putting a bag over your head and playing peek-a-boo seemed to really work for Jacob!
Finally, we were so touched by the efforts you went to in order to accommodate my new husband's extremely ill father.  You managed to capture all the images we had hoped for whilst ensuring photography could be fitted around his best times and needs.  We cannot thank you enough for the further efforts you went to in order to produce images for us by the following morning, ensuring my father-in-law would be able to see the photos in time.  It meant the world to us to have him there and thanks to your patience and skill we have those precious memories truly eternalised.
It was an absolute joy to have you there as part of our day; you went above and beyond anything we could have hoped for and we cannot recommend you highly enough.
Our very best wishes, Izzi & Ricky