Getting Ready At The Crown Hotel, Old Amersham
Hampden House is a wonderful location for a wedding, and never more so than at Christmas. Liz and Steve's wedding took place on a gusty but glorious blue sky day in rural Buckinghamshire. Their special day was full of love, champagne, and promises. The ceremony was held at the historic Hampden parish church, followed by a reception next door at the gorgeous Hampden House.
Liz and her bridesmaids got ready at the charming Crown Hotel in Old Amersham. It was a hive of activity with the bridesmaids, lady ushers and parents all getting ready at the hotel. There was a bit of a panic when the taxi taking Liz's mum and the bridesmaids for part of the journey to the church suddenly disappeared! But thankfully I no longer scurry around in a little sporty two seater, so I offered to drive them after a quick de-cluttering of my car!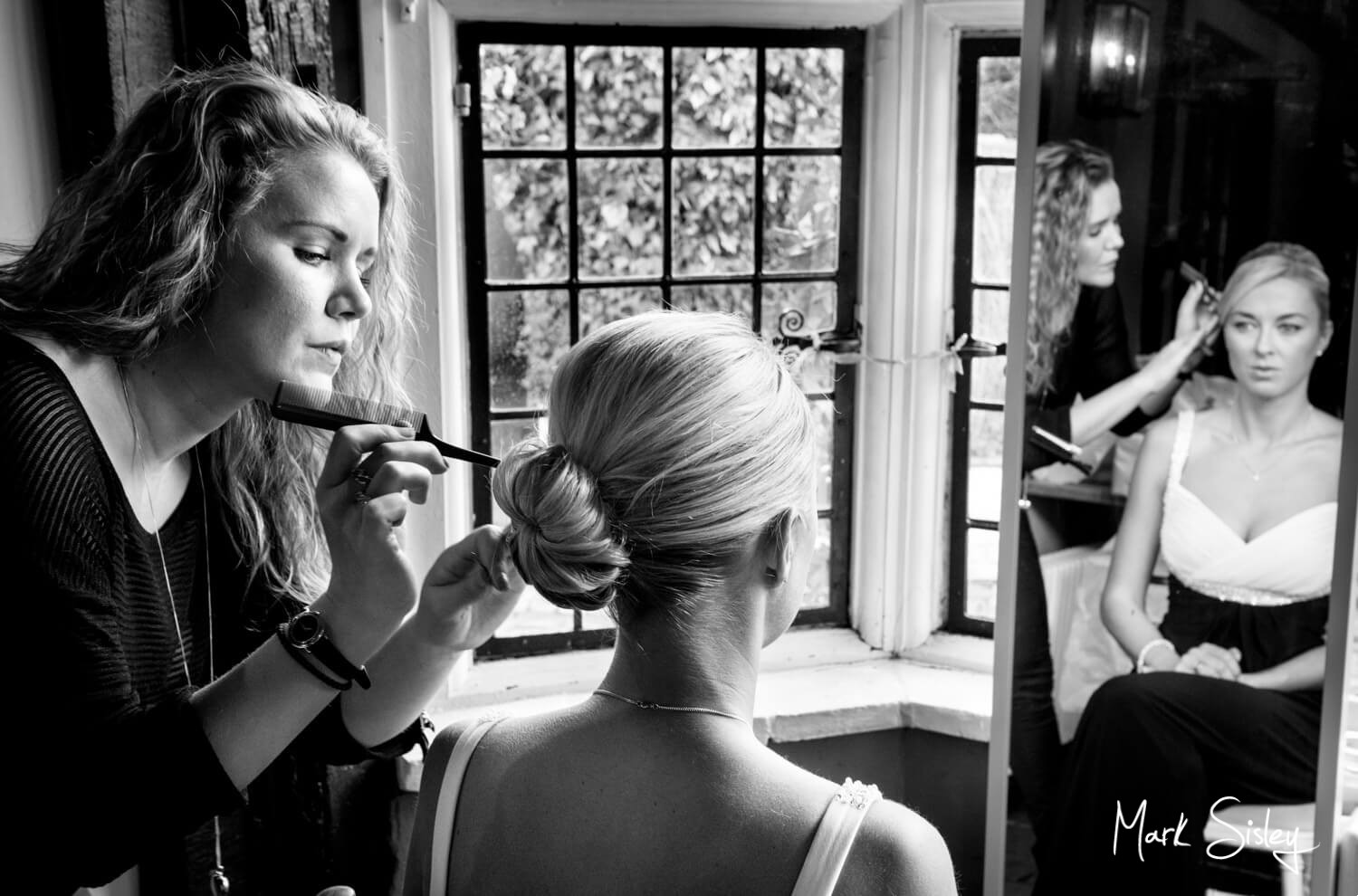 Wedding Ceremony At Hampden Parish Church – St Mary Magdelene
Liz looked amazing arriving at the church in a stunning black Victorian carriage, pulled by two elegant black horses through the majestic grounds of the Hampden Estate. What a stylish and romantic way to start the proceedings! It was mighty cold, and Liz was certainly brave opting for a horse and carriage at this time of year!
We knew it would be much warmer inside the church, and Liz was keen to make her way indoors as soon as possible! Her grand entrance created many tears of joy amongst the gathered guests, not to mention from her fiancé Steve too. The sincere vows followed soon afterwards. This was such a touching and memorable wedding service.
Liz was keen for everyone to see the horse and carriage, and for the newlyweds to be waved off as they went for a short journey through the Estate. I cannot tell you how brave the guests were, as it was mighty cold! I'd announced that only those who wished to stay should, yet amazingly 90% of the guests remained for both their departure and their return 5 minutes later. The resulting picture opportunities were fabulous.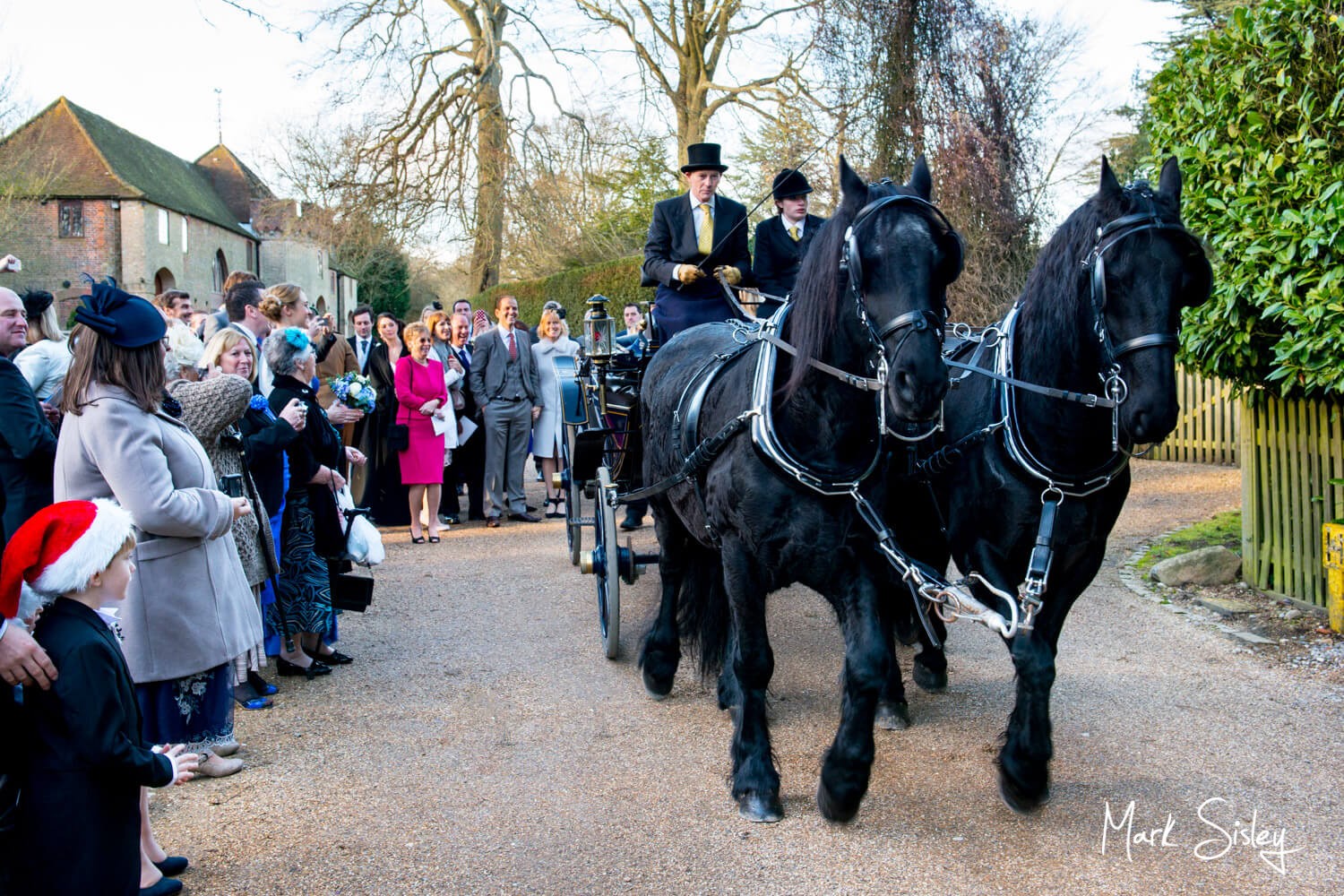 Wedding Reception At Hampden House
Hampden House is just a two minute walk from the church, and the open log fire in the Great Hall was a welcome sight as we all came in from the cold! A Hampden House wedding at Christmas is as magical as you can imagine; the most majestic sight has to be their gorgeous huge 35ft tall Christmas tree in the Great Hall. Of all the venues I visit, this is by far the biggest indoor Christmas tree I've ever seen. They install it every year, and I can't imagine how many hours go into decorating this tree so beautifully!
The venue is privately owned, so most people don't get the chance to ever visit this incredible historic venue. If you love period properties, it has the absolute wow factor on every level. Nothing has been over modernised, yet it offers the perfect combination of old world charm with all the modern facilities you could wish for.
Attention To Detail
I loved everything about this wedding; Liz and Steve really went to town. The attention to detail was incredible, and some serious work went into the planning of their special day! Apart from me stepping in as a taxi driver in the morning, everything ran beautifully. The buzzy atmosphere was pretty relentless from start to finish – these guys really knew how to throw a party. The laughter and smiles flowed pretty much non-stop all day long.
Celebrating a Christmas wedding in such marvellous surroundings as Hampden House is no doubt the experience of a lifetime!
Liz and Steve's wedding was a beautiful finale to my busy year!

The Wedding Photographs
My favourite shots from the day are the floodlit night shots under dusky blue skies. It was freezing cold when we ventured outdoors, but Liz and Steve were determined to capture these shots no matter what! When we were stood in position, it was virtually pitch black all around. Then after a few tricks with my lighting methods, we darted back indoors to warm up by the log fire. Liz and Steve's faces were such a picture when I showed them the resulting images on the back of my camera! The memories of the icy conditions will fade in the years ahead, but the effort was worth it for these stunning images.
My compliments must go to Liz for breaking with tradition and asking four of her girlfriends to be ushers on the day; I've attended 1,400 weddings over the years yet never seen this before! It has to be said, they were some of the most organised ushers I've ever worked with! Thank you ladies for all of your help in rounding up the various guests for the group pictures.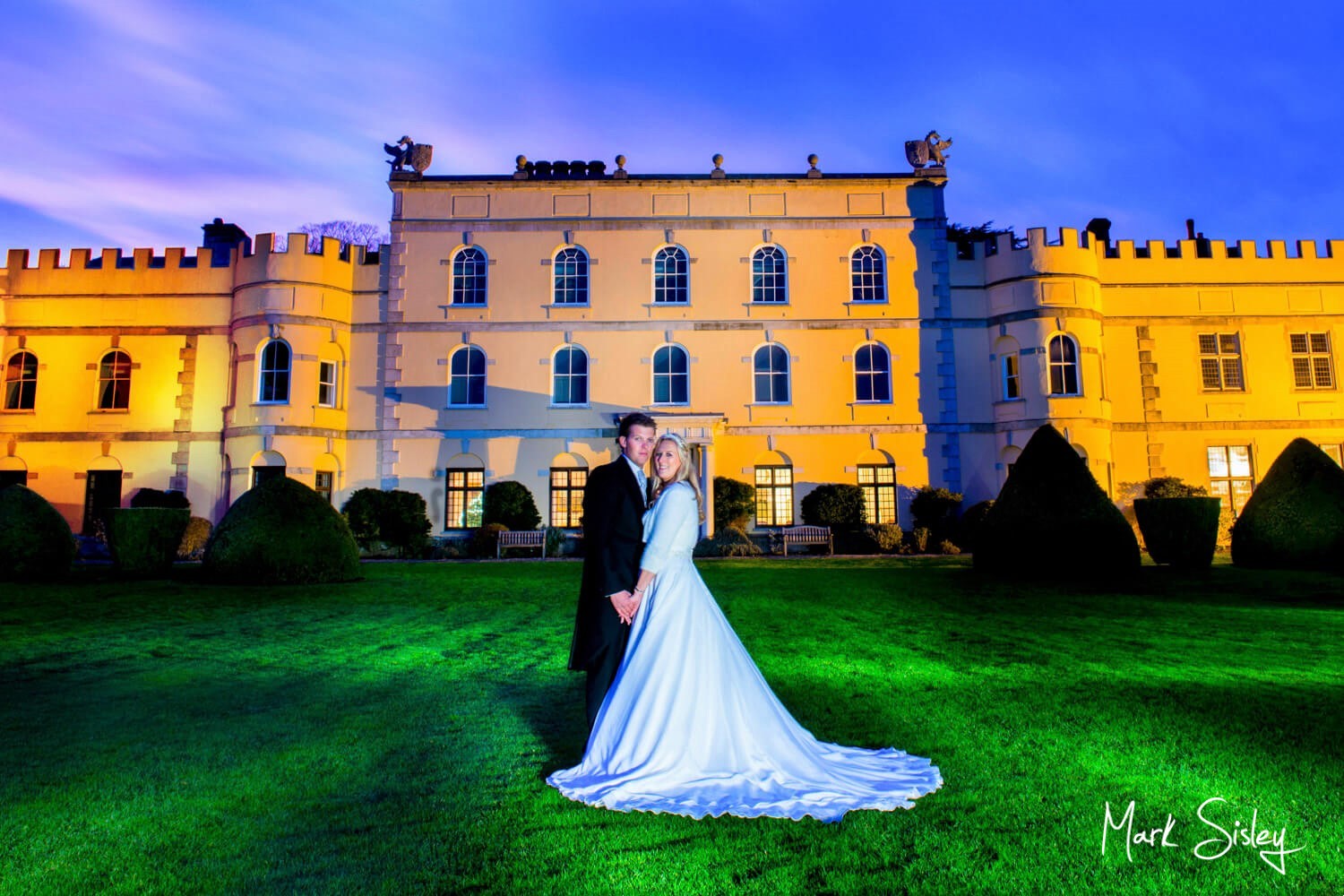 Kind Words
Dear Mark,
Thank you so much for the wonderful photos you took on our wedding day. We can't stop looking through them -you truly captured the magic of our Christmas wedding and so many special moments. 
 Our guests thought you were fantastic and have commented on your professionalism, laid back approach and artistic eye.
 You certainly saved the day by giving my mum and the bridesmaids a lift to the church when things were running behind! 
 Everyone should have a photographer like you!   
Lots of love, Liz and Steve