A Beautiful Day
Kat and Lee married at Haddenham Baptist Church, with a wedding reception at Hampden House on a glorious May day. The staff at Hampden House kindly recommended me to this lovely couple, and boy what a wonderful wedding it was to capture! The couple's colour scheme for the wedding was truly breathtaking, and the floral arrangements really added a fabulous pop of colour!
Hampden House referred me to Kat and Lee, this stunning venue has been recommending me for the past 15 years.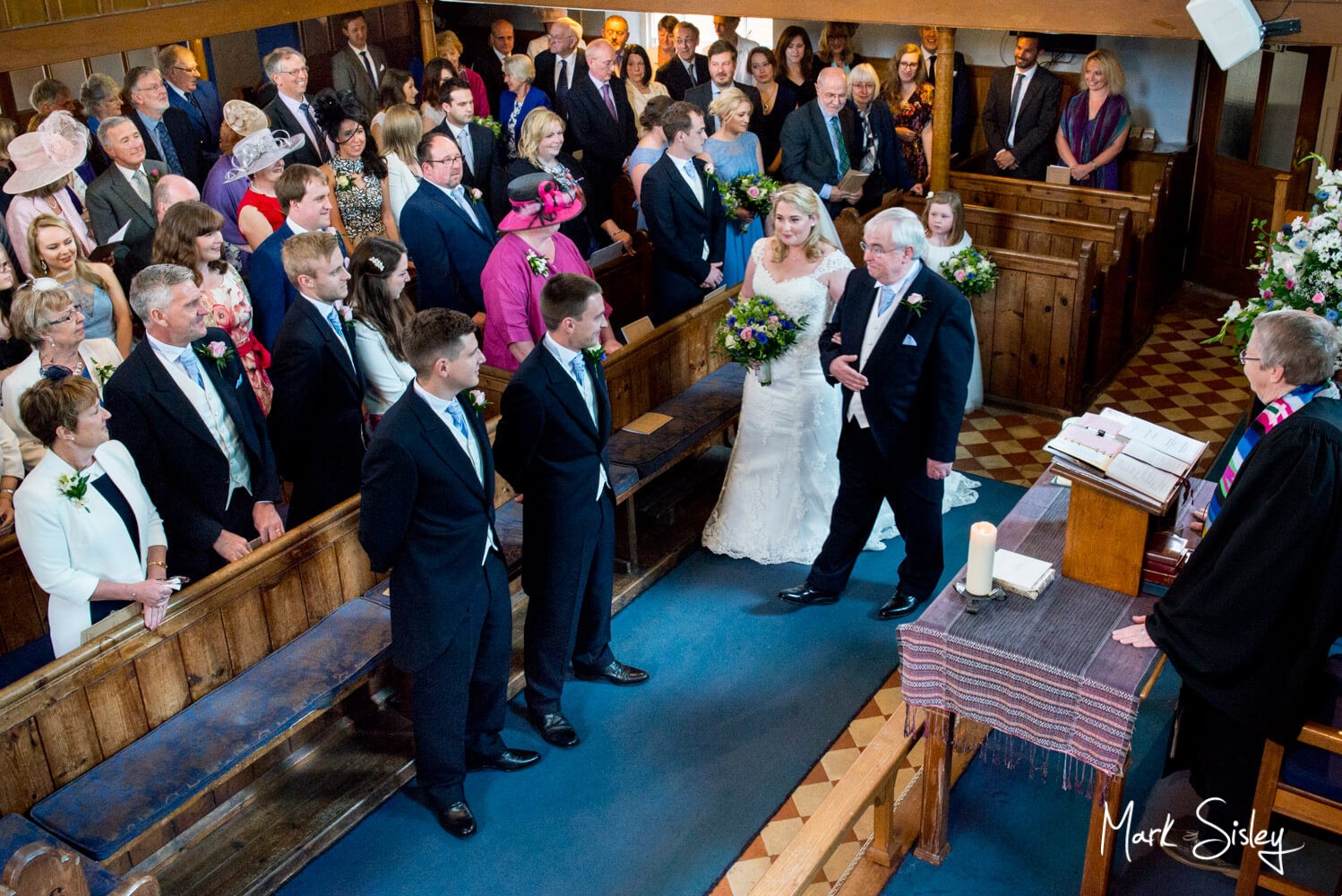 Wedding Ceremony At Haddenham Baptist Church
I had never before visited this charming little tucked away church. For Kat's grand entrance and the ceremony, I loved the balcony with  a birds eye view of proceedings. Being up so high, the wedding guests were oblivious to to my presence. With the camera on silent, and me tip toeing around on the squeaky floorboards during the Hymns, I captured some great images from various angles.
After the ceremony, I took a few pictures before we continued on to Hampden House for the wedding reception. Kat and Lee organised two gorgeous vintage red buses for transport.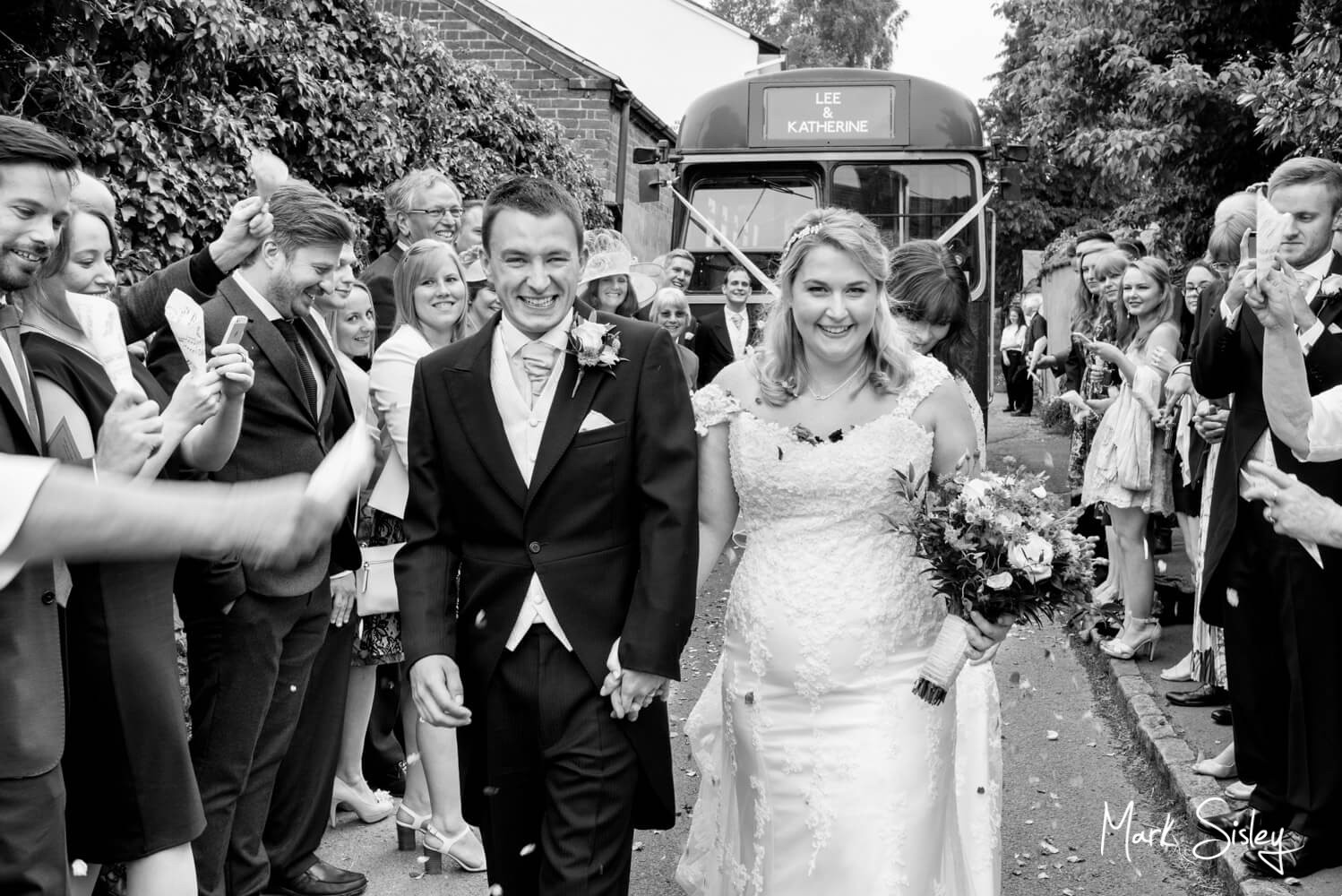 Wedding Reception At Hampden House
After a 30 minute drive through the glorious Chilterns, we approached the reception venue's sweeping driveway. I dashed ahead to capture shots of the buses driving through the estate's wild flower field and Rhododendron hedgerow. The red buses looked incredible in this shot with the masses of contrasting colours all around.
If you live in Buckinghamshire, Hampden House needs little introduction from me. I've now photographed over sixty weddings at this glorious wedding venue, and I just love returning time after time to work at this splendid historic property.
This house has an amazing history, dating back over 1,000 years.  For example, Oliver Cromwell planned parts of the Civil War here with his cousin John Hampden.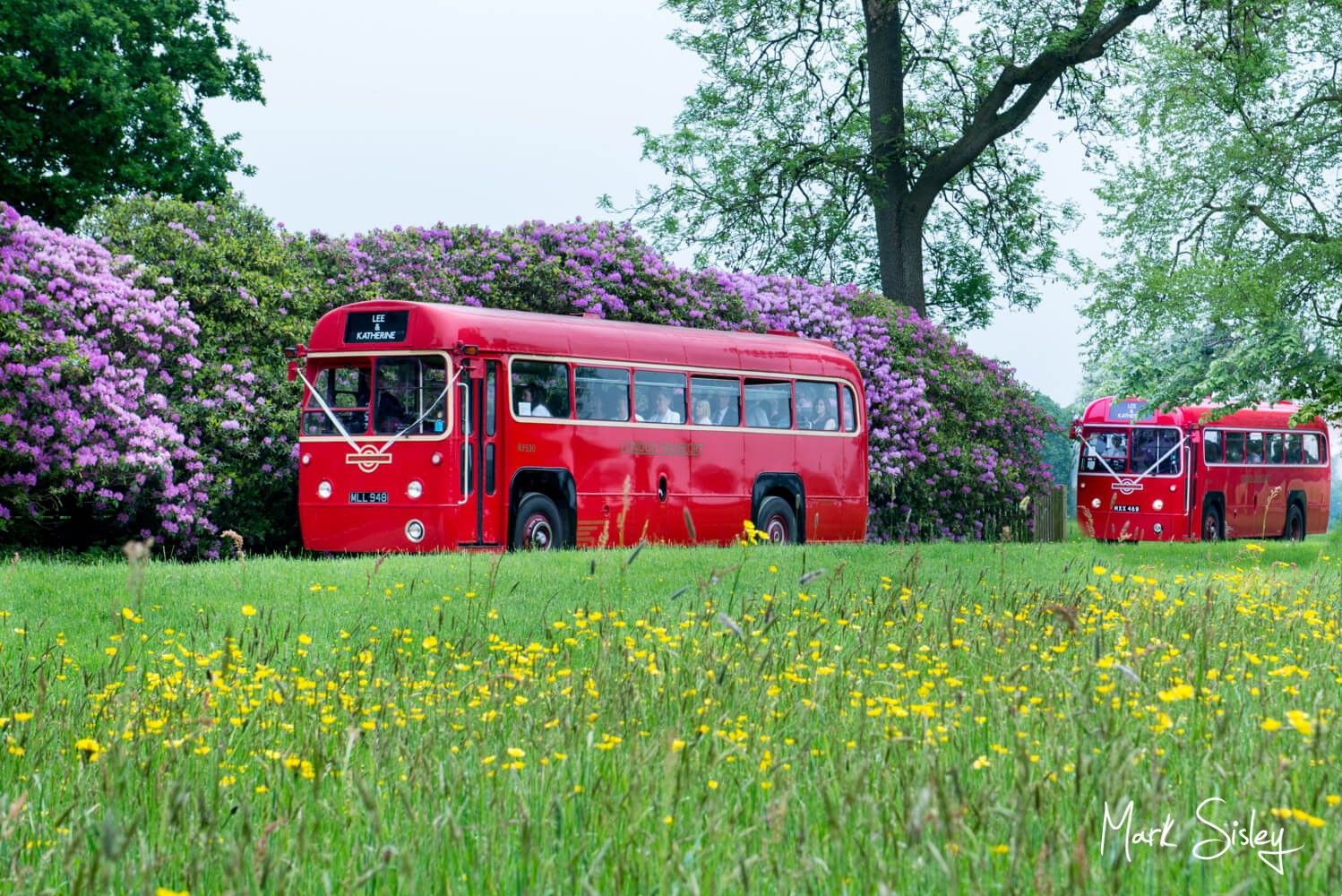 Photographs In The Grounds Of Hampden House
May is such a beautiful time anywhere in the UK; the colours are always at there very best. And Hampden House does not disappoint: in every direction the backdrops are truly stunning. Albeit, my favourite backdrop at this time of year was back on the entrance driveway, where the combination of meadow buttercups, and rhododendrons was a sight to behold!
So after the meal, I suggested that the bridal party join me for a few images back where I'd captured the bus arrival photos earlier. The resulting pictures are my absolute favourites from this wedding.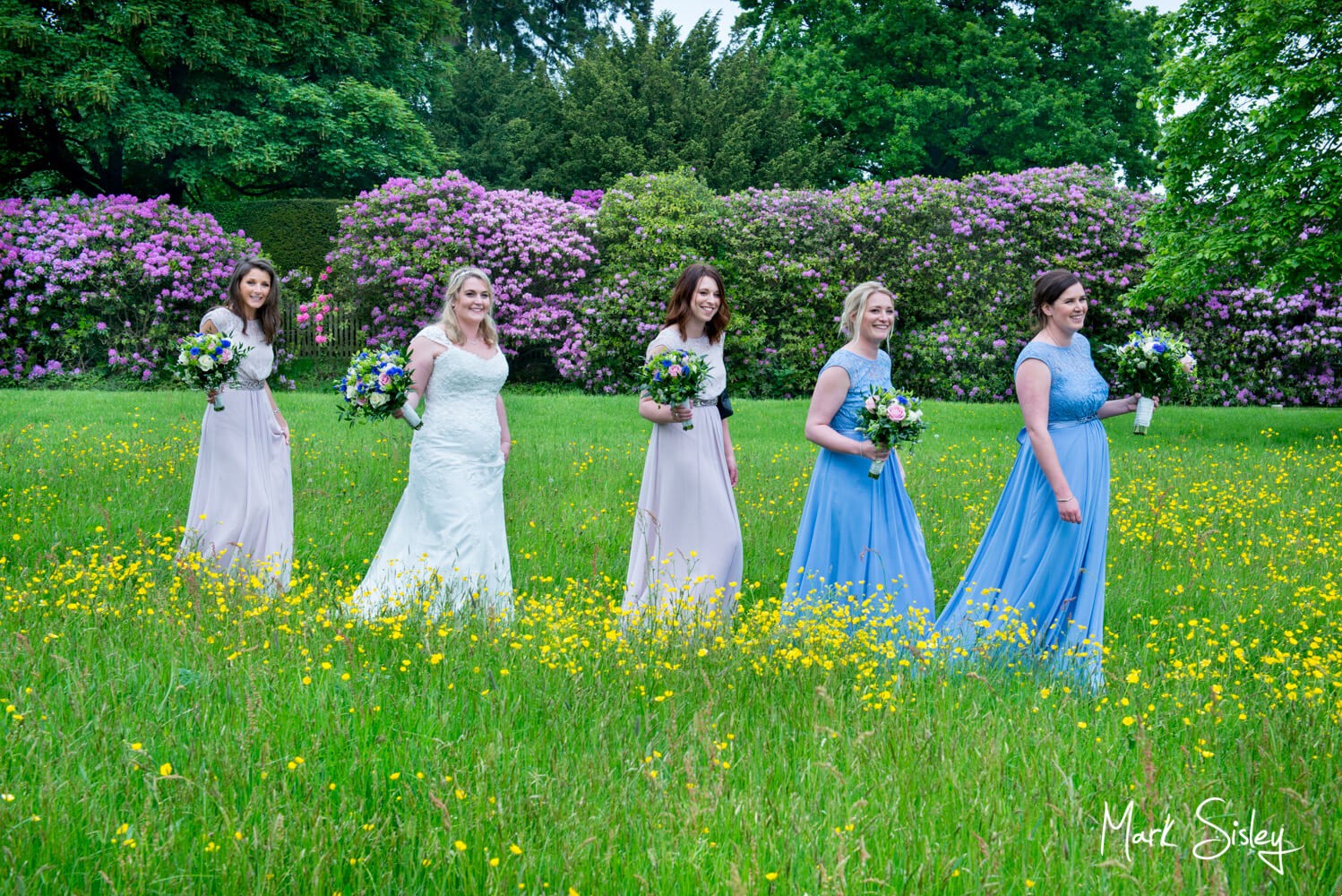 The Partying & Celebrations
With so many fun loving wedding guests in attendance, this was always going to be an amazing day. The smiles and laughter flowed non-stop from start to end, as a result I captured so many great candid moments of the family and friends.
This fun action shot was captured on our way back from the buttercup meadow!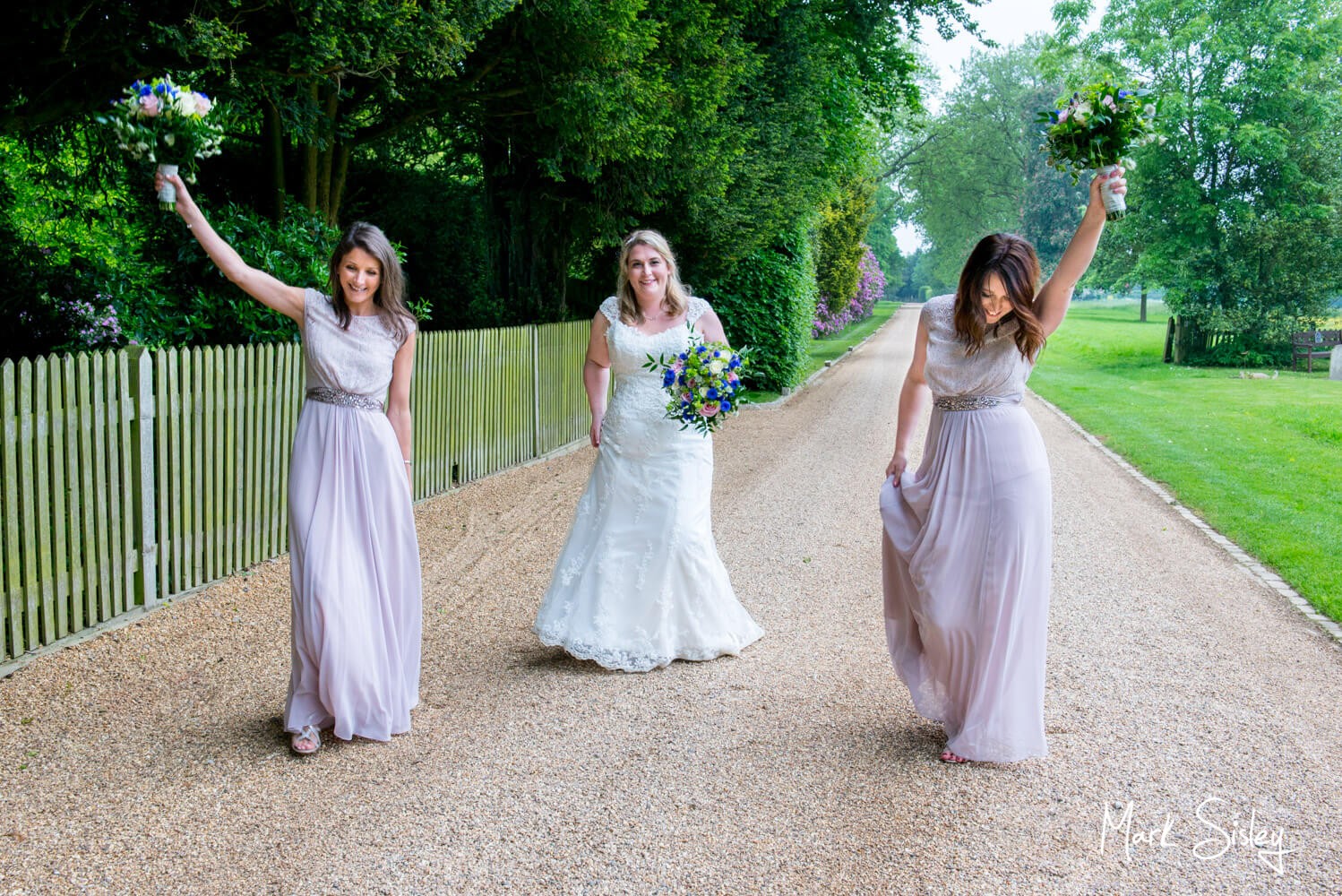 Kind Words
For us, a photographer for our wedding was a must, however we both hate having our photo taken. We were both apprehensive about our initial meeting to discuss our needs, but within seconds of meeting Mark we were put at ease.  Mark explained his approach and it was exactly what we were looking for.  We wanted a relaxed atmosphere without too much formality, but still to have our memories captured.
We found out about Mark through our venue, Hampden House, and they were delighted that we hired him.  Having a photographer that knows the venue as well as Mark does allowed us to have truly memorable photos which encompassed the historical architecture and the striking grounds.  Mark knew exactly what locations within the venue worked best and made use of the spring / early summer blooms to his advantage.
Many of our guests commented how efficient, polite and professional Mark was. He kept the whole day flowing, working with the schedule for the day to run smoothly.
As promised, access to our photographs arrived whilst we were on honeymoon.  They were beautiful, and as two people who hate having their photo taken, there are hundreds of photos that we both love. Kat & Lee