Wow Interiors At Hartwell House
Alison & Malcolm chose the beautiful Hartwell House near Aylesbury for their autumn wedding. I love working at this magical venue; it really ticks all the boxes for the most perfect picture opportunities! With fabulously grand interiors and gorgeous gardens, it is an idyllic setting!
Hartwell House have recommended me for over 15 years; to date I've photographed about 80 weddings at this stunning venue.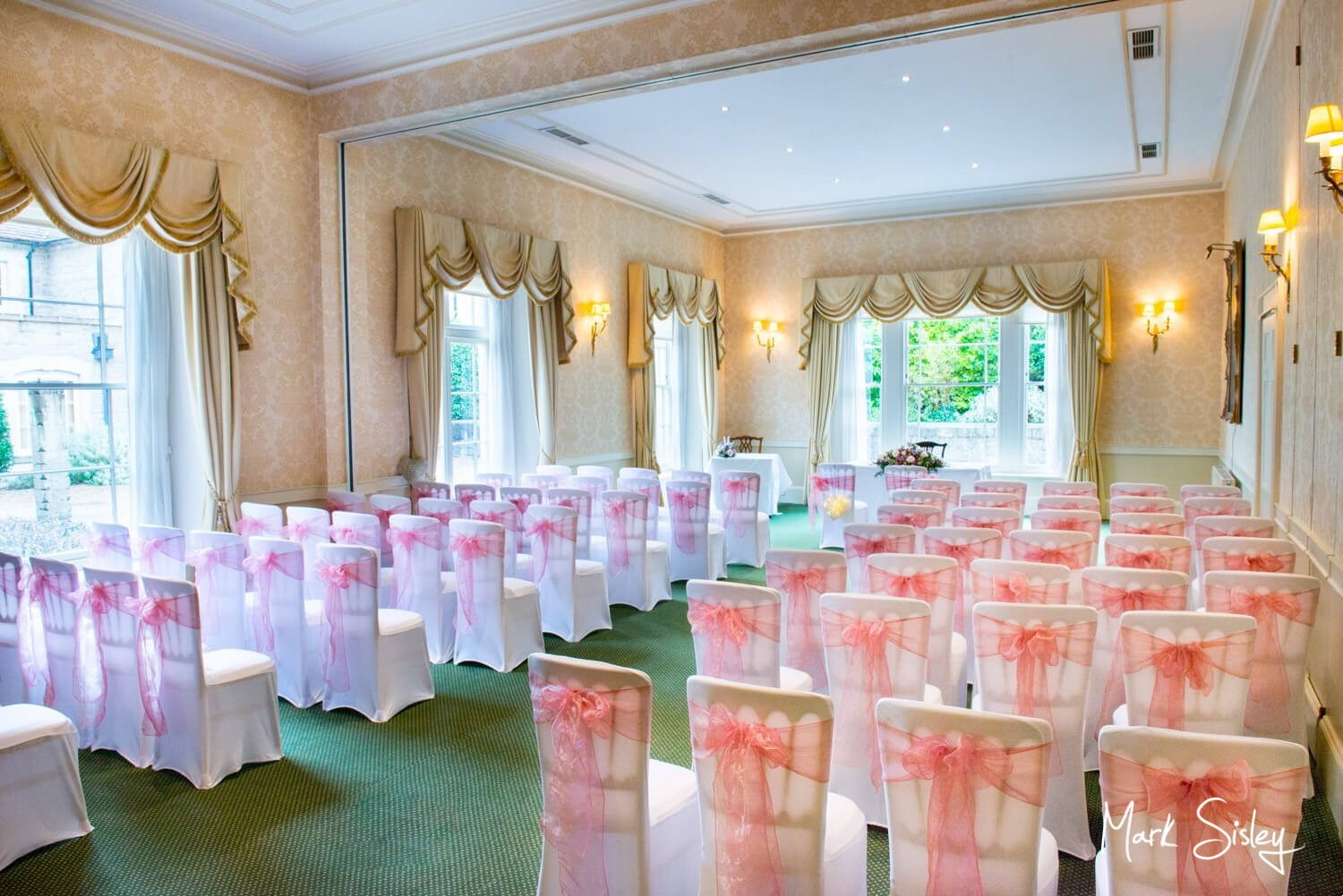 The Civil Ceremony In The James Wyatt Room
Their wedding ceremony and reception took place in the James Wyatt Room. This is in the Hartwell Court area on the 90 acre estate, located in the middle of two very pretty cobbled courtyards. In attendance were their closest 70 family and friends. Alison well and truly took their breath away as she entered the ceremony, she looked amazing!
Being so close to the registrar with my camera, I got to see the tears and emotions close up during this beautiful ceremony. I certainly never take for granted my front row position, and the secret is to be as discreet as possible with my camera!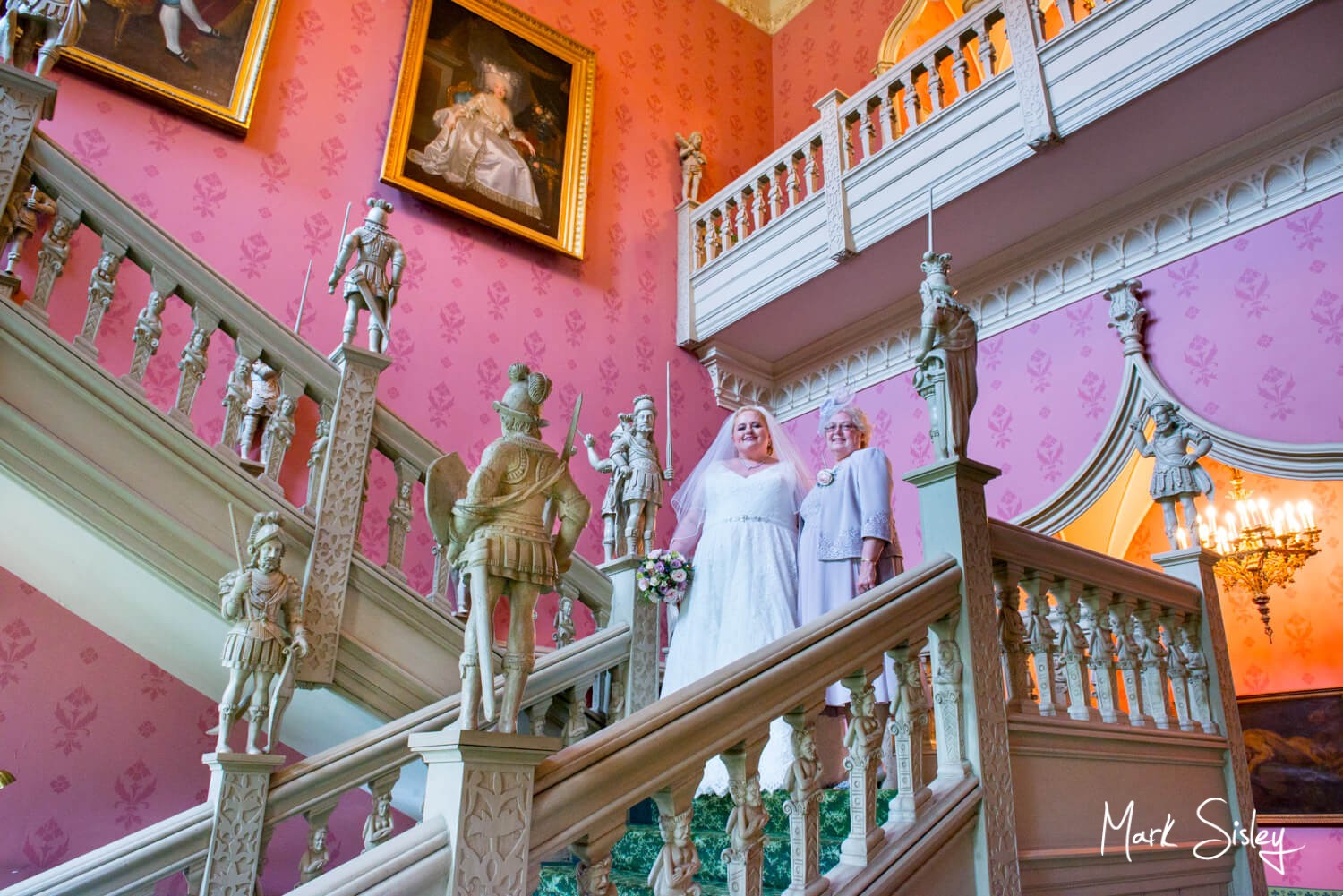 Champagne Drinks Reception & Magic Tricks
Alison and Malcolm made my job so easy with non-stop energy and smiles throughout the day as they interacted with their guests. With such lovely, warm and fun personalities come fabulous pictures.
The non-stop rain we experienced on the day certainly didn't dampen the mood; these guys really knew how to enjoy themselves!
They booked the very talented magician Robert Fox, who entertained the guests with his fabulous trickery during the meal. The guests' reactions for my pictures are just priceless!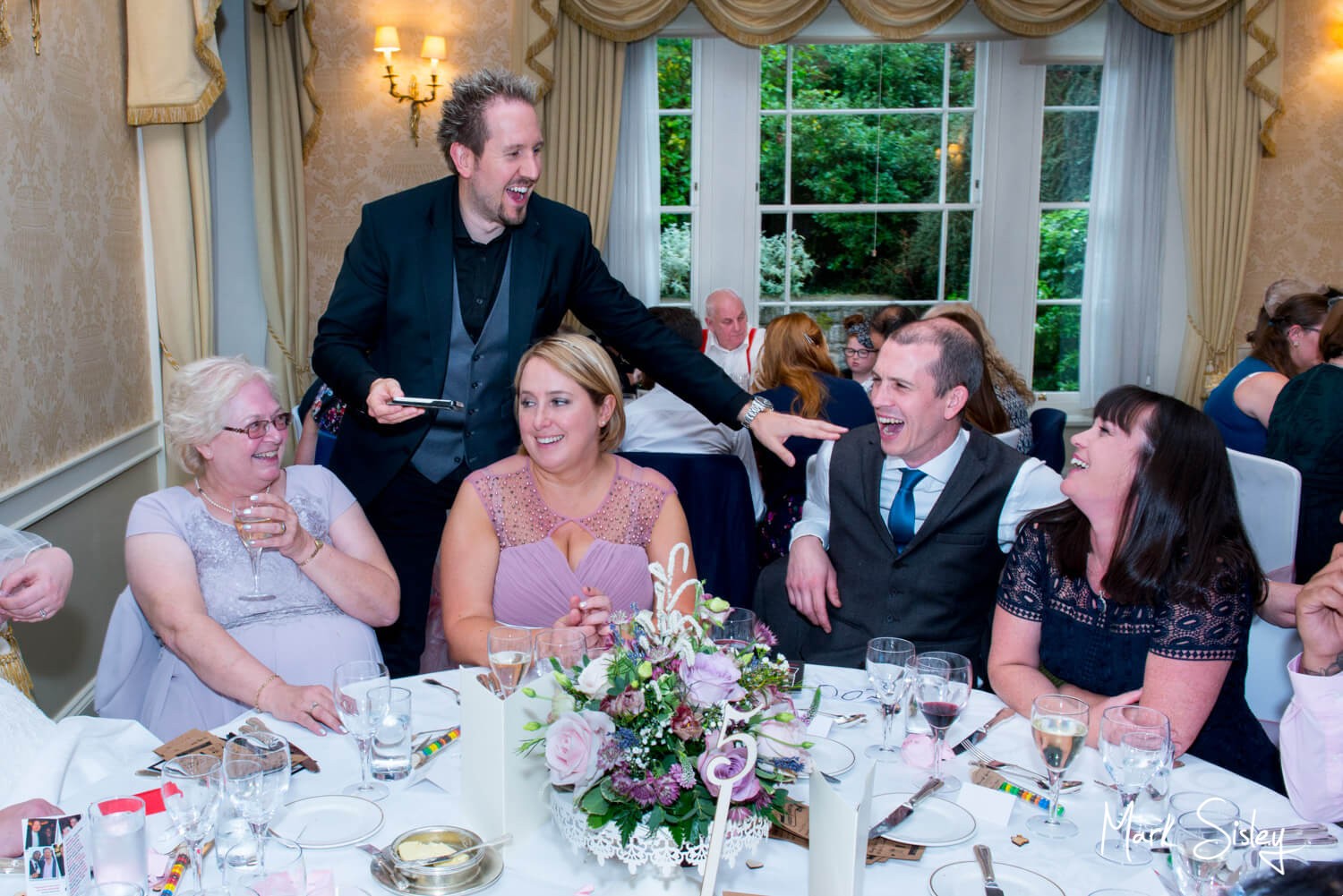 Evening Visit To Hartwell House Manor
After the speeches, I drove the newlyweds down to the main house for a few moody floodlit pictures on the grand staircase. Then we ventured outside with my floodlights to capture a dramatic shot under the dusky blue skies once the rains eased off.
Then it was back to join their guests before they performed their first dance. This was followed by a performance from excellent Gary Barlow tribute singer Dan Hadfield. He sounded and performed just like the man himself. In fact, many of the female wedding guests loved his tribute to Gary Barlow; many even rushed forward to share the dance floor area and join in singing the famous lyrics.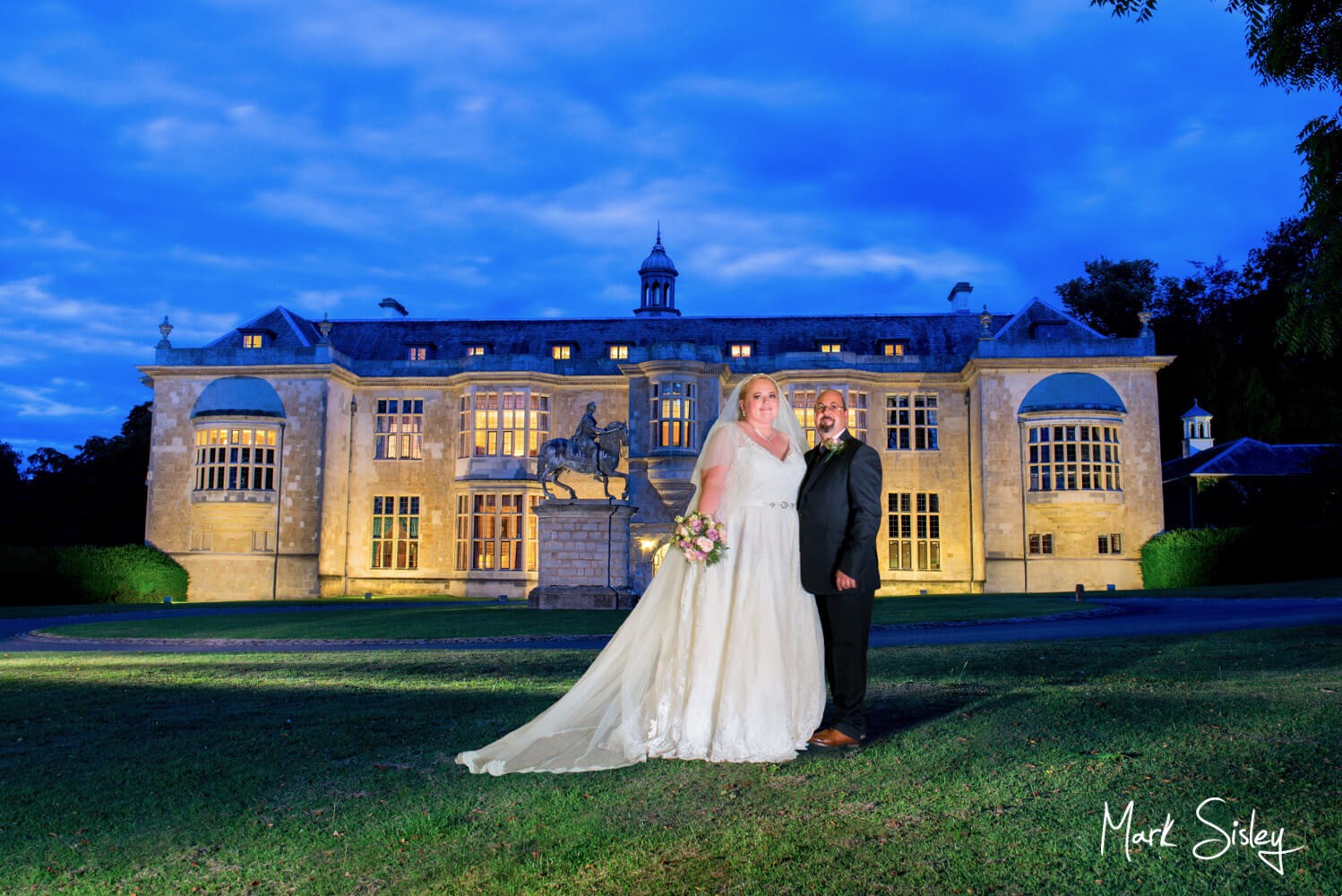 Return Visit To Hartwell On A Sunnier Autumn Day
Alison & Malcolm asked me to revisit Hartwell House with my camera on a sunny day once they'd returned from their honeymoon. Once again they dressed up, and also arranged for a another bouquet to be prepared. This time we had the most perfect blue skies, and the most wonderful autumn colours for the pictures in the Hartwell House gardens that we couldn't capture on their wedding day.
Wedding celebrations don't come any better than this, so a big thank you to Allison and Malcolm for asking me to be part of their special day. I was also touched to receive the lovely email they sent to me soon after the day. You can see this below together with some of my favourite pictures from their wedding, and the revisit.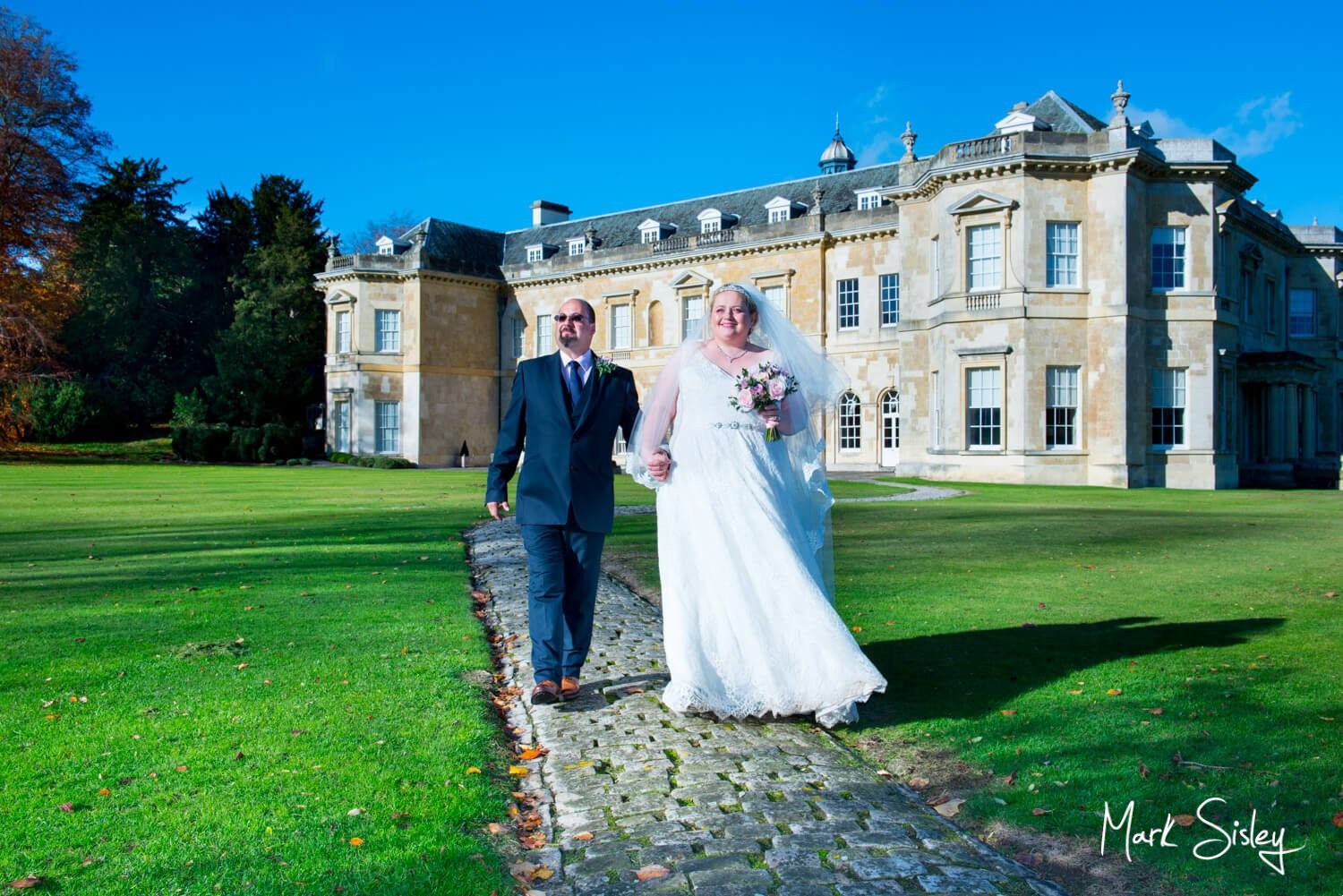 Kind Words
Dear Mark, 
Thank you so much for doing such a fantastic job photographing our wedding.
Looking through the photos, we became quite emotional as you have really captured the fun and spirit of our special day.
Even though we weren't blessed with sunshine on the day, you managed to get the most beautiful shots, expressions of joy on our guests faces, the laughter at the speeches, fun at the reception and you also captured our venue in the most stunning way. We are over the moon with the results. 
A number of our family and guests have commented how thorough and professional you were. They have been delighted to see pictures of themselves that they weren't even aware that you were taking.  
Thank you for such a wonderful service. It was such a pleasure to have met you and witness somebody in action who truly loves their work and does everything possible to get the perfect photograph. 
From first meeting to seeing our photographs, we are so pleased that we chose you.
Thank you for providing us with such beautiful photographs and the memories that they hold. 
Alison & Malcolm