Wedding Ceremony At St Marys Church, Chesham
Katy and Ronan were married at St Mary's Church in Chesham, with a reception at Latimer Estate.  St Marys Church couldn't be any closer to my studio. I can walk between my showroom and the church is less than a minute. If only all weddings could be this local to my work!
Katy looked incredible as she entered the church on her father's arm, and there were tears from the guests as she made her way towards Ronan. They both looked so elated to see one another, I could see the bond these two hold for one another.
After a few family pictures in the church grounds, we travelled to the reception venue. Katy and Ronan treated their guests to a lovely double decker red London bus for the journey to Latimer.
I captured two of my favourite images from the day at the church. I loved the shot of Katy receiving a surprise kiss from the little boy through the window of the car. But my absolute favourite image was of all the guests with the red vintage Jaguar wedding car. Albeit, I did have to precariously balance on a wall to achieve this shot!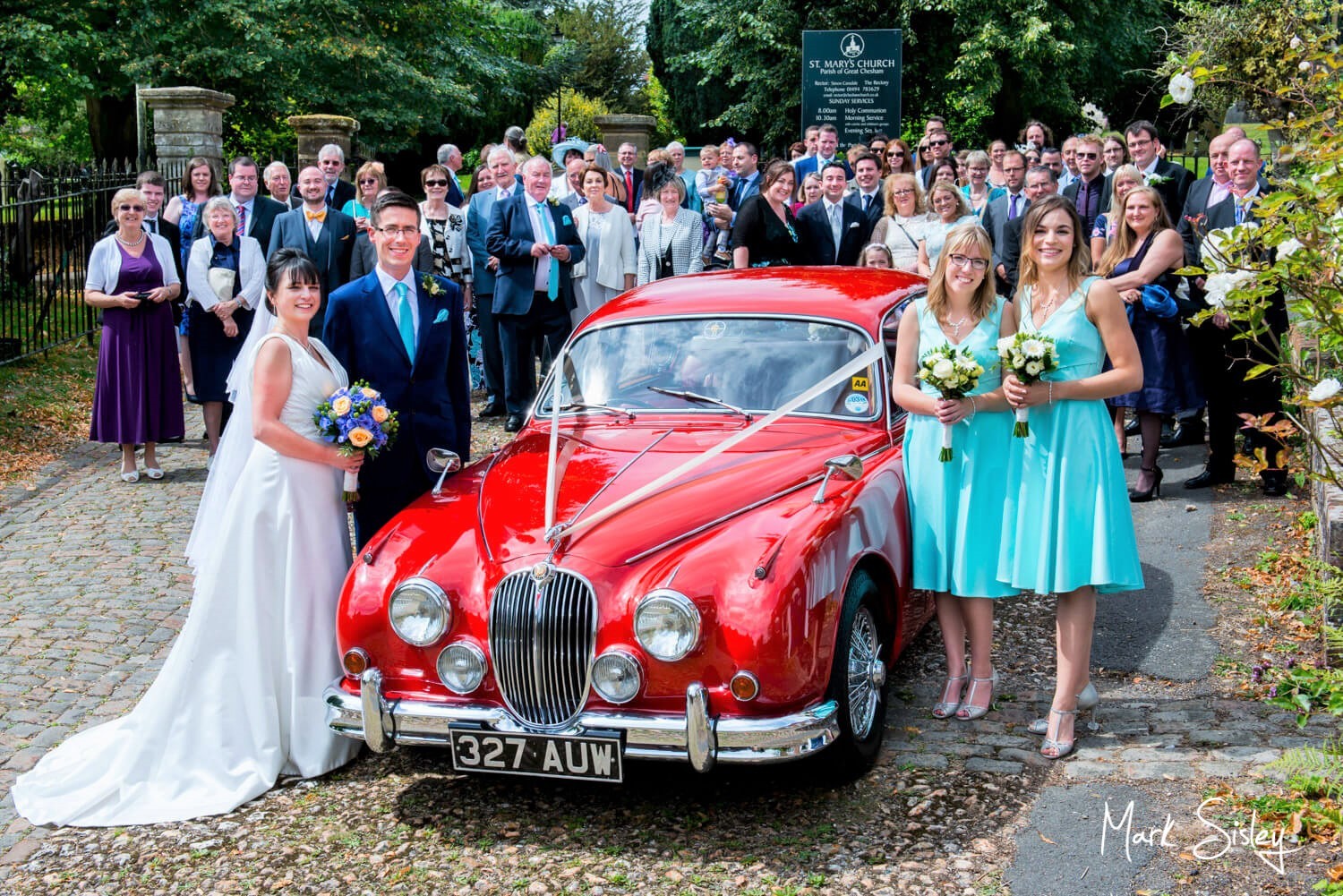 Latimer Estate Wedding Reception
After a ten minute drive through the glorious Chess Valley, we arrived at the reception venue, Latimer Estate. This fabulous manor house is on a spectacular hilltop setting in the rolling Chiltern Hills; from up so high the views are out of this world!
I was thrilled with my next shot; the red Jaguar car and the red London bus looked incredible side by side with the house as the backdrop.
Vibrant flowers and masses of helium balloons were in abundance at this lovely wedding; the attention to detail was amazing. I can't even hazard a guess as to how many hours went into the designs for the table decorations, but the final effect with all the folded maps was wonderful!
The speeches at this wedding were superb, some truly heart warming memories were shared by the speakers. Together with some great entertaining stories about the newlyweds as they were growing up.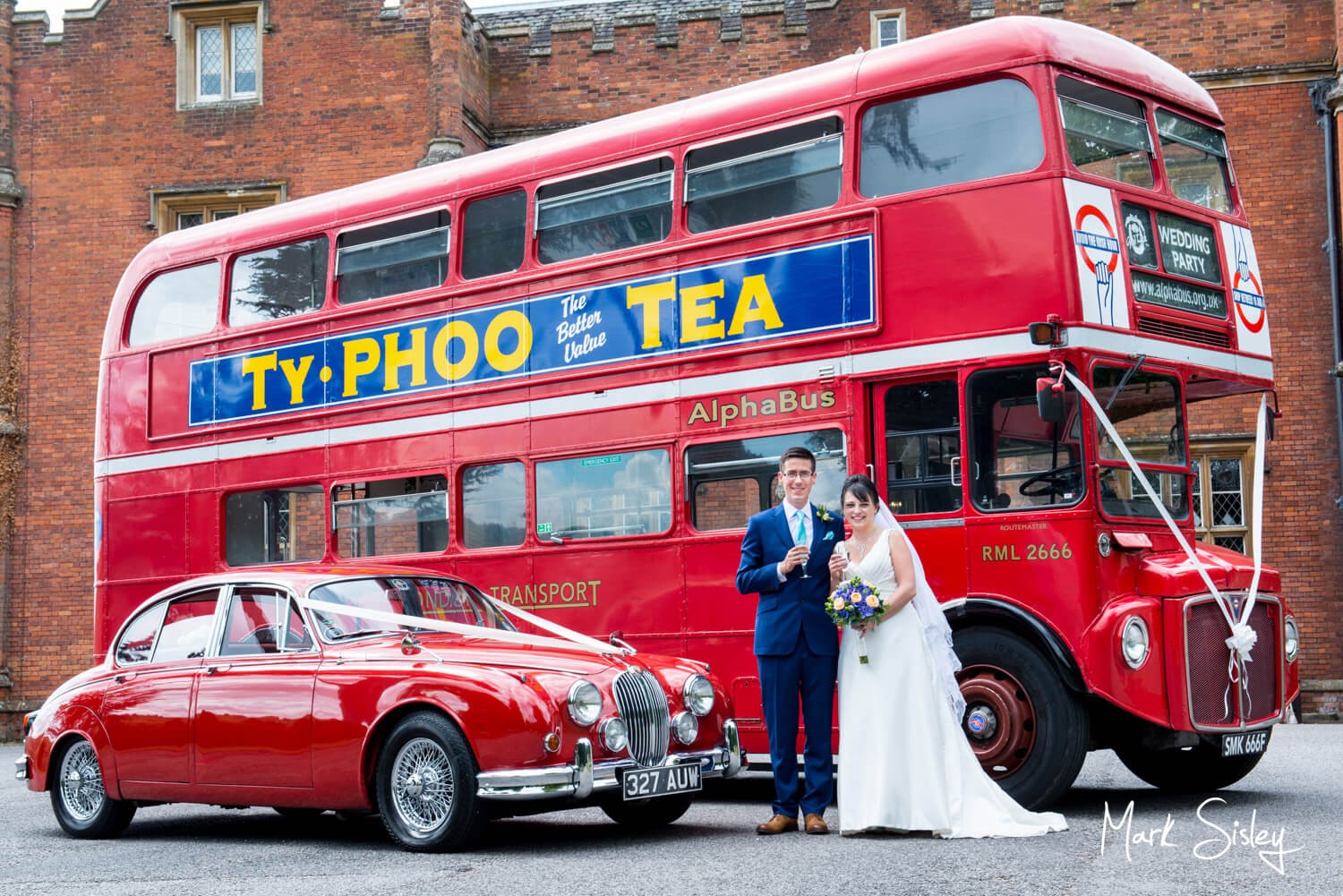 Balloon Release
Katy and Ronan planned a lovely surprise for their guests after the speeches. They asked every one of their guests to take a helium balloon and make their way to the terrace. I was in on the plans from our pre wedding meeting, so I knew they wanted me to capture a shot of everyone releasing their balloons. The huge set of steps at Latimer were ideal for this shot, and the gentle breeze and blue skies were perfect too! Also lined up for this shot were two confetti cannons. The resulting pictures were stunning as the balloons and confetti majestically drifted off into the skies above!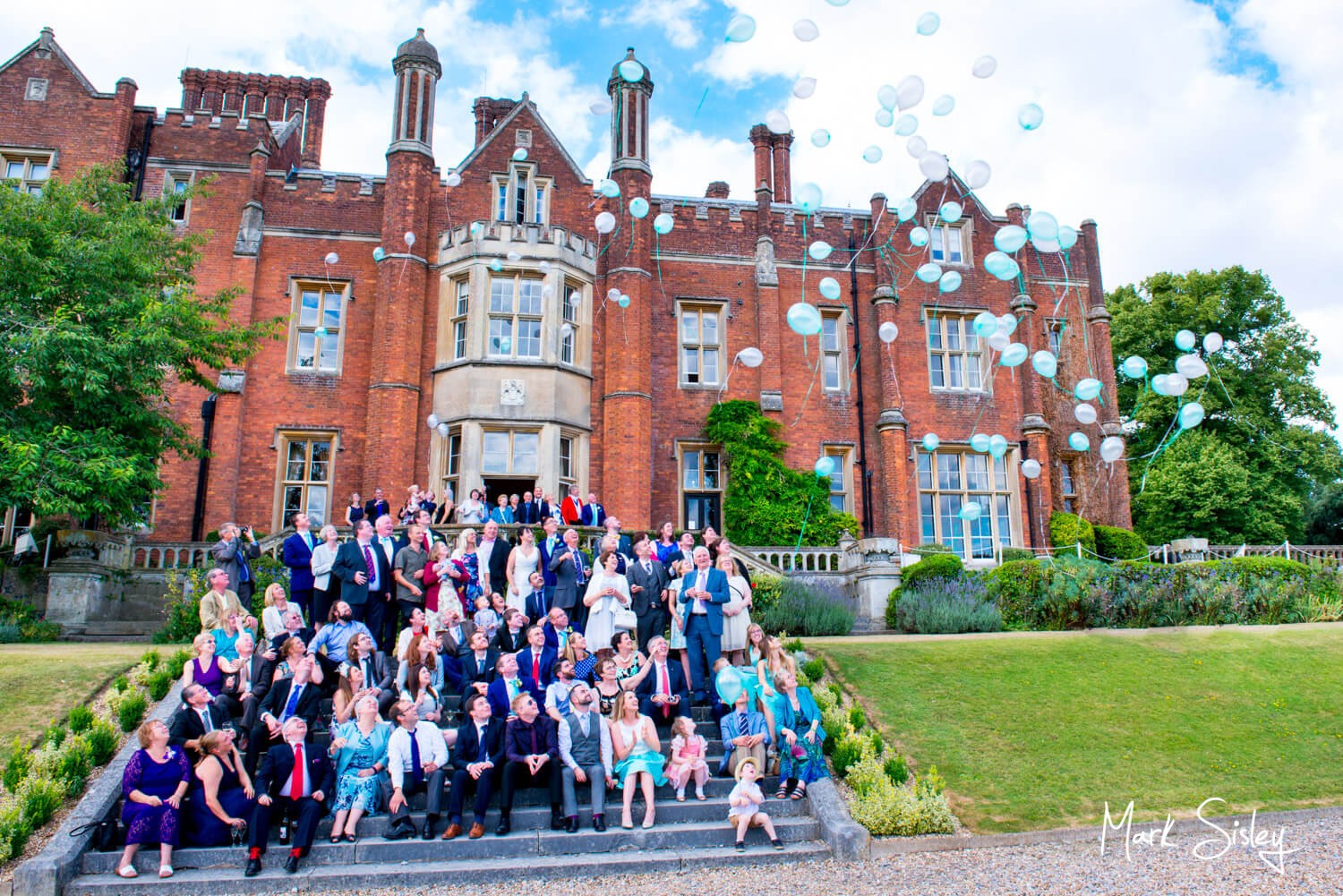 Wedding Photographs With Views From Latimer Estate
Katy and Ronan wanted lots of fun natural pictures, with minimal posed shots. And this lively crowd certainly gave me plenty of candid moments on the day. When the laughter, smiles and partying is non-stop all day, it makes my job so much easier.
The views from the Latimer Estate are pretty surreal, and the couple were keen for me to capture this aspect of their wedding venue. There can't be many local wedding venues where you're up so high, you really can see so far over the serene valley landscape.
It was such a pleasure to be part of this amazing wedding. Thank you to Katy and Ronan for letting me play my part in your wonderful celebrations.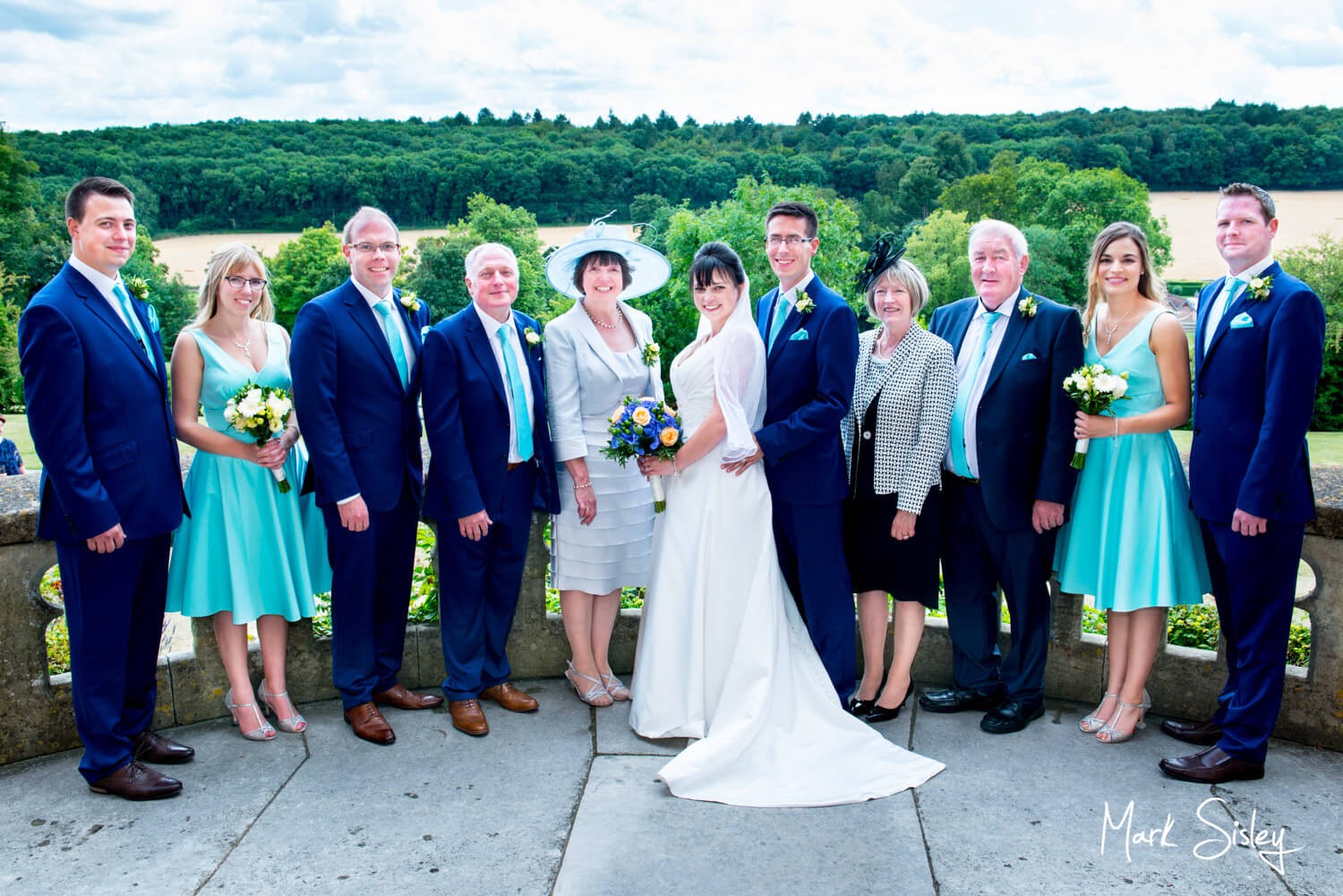 Kind Words
Dear Mark,
We are very  grateful for our wonderful photos.  We have heard nothing but praise from our guests about how hard you worked on our special day and how friendly and polite you were.  
Our photos are a true reflection of how you listened to our requests and ideas for what we wanted.  Your knowledge, expertise and experience has meant that our expectations and imagination were not only met but exceeded.  The natural shots that you have taken reflect how non-invasive you were, leaving us and our guests to enjoy the day, and providing true smiles of joy and an all round sense of relaxation.
The support you offered in the lead up to the wedding and recommendations of other suppliers that helped to create the day we envisaged was a great help.  It especially meant that when we were close to giving up on our ideas and aspirations you gave us the contact details we needed and helped us to create the perfect wedding day.
We both wish to thank you for reading the situations and dealing with them so professionally, especially when we were both getting too hot, allowing us space to breathe and talk to our guests in the air conditioning before continuing.  Most of all, thank you for how easy you have made the process – a true professional! 
Katy & Ronan