Old Marylebone Town Hall Marriage Ceremony
I had the privilege of doing the wedding photography for Amaya and Iestyn, in a number of locations within Marylebone, in London.
The ceremony took place at Old Marylebone Town Hall, the registry office dubbed "the coolest in the UK."  The list of musical legends and Hollywood A-Listers who've got married here is pretty impressive. So it was the perfect choice for this lovely couple to make their own little piece of history.
Old Marylebone Town Hall has staged more celebrity nuptials than anywhere else in the UK. Most notably Paul McCartney, Ringo Starr, Ronnie Wood, Antonio Banderas and Melanie Griffith were all married here. And since its opening, it has hosted over 120,00 marriages ceremonies.
The Art Deco Old Marylebone Town Hall was completed in 1920, and this grade II listed building is pretty impressive. Its grand front, inspired by classic Roman and Greek architecture, makes for some fabulous wedding photography opportunities.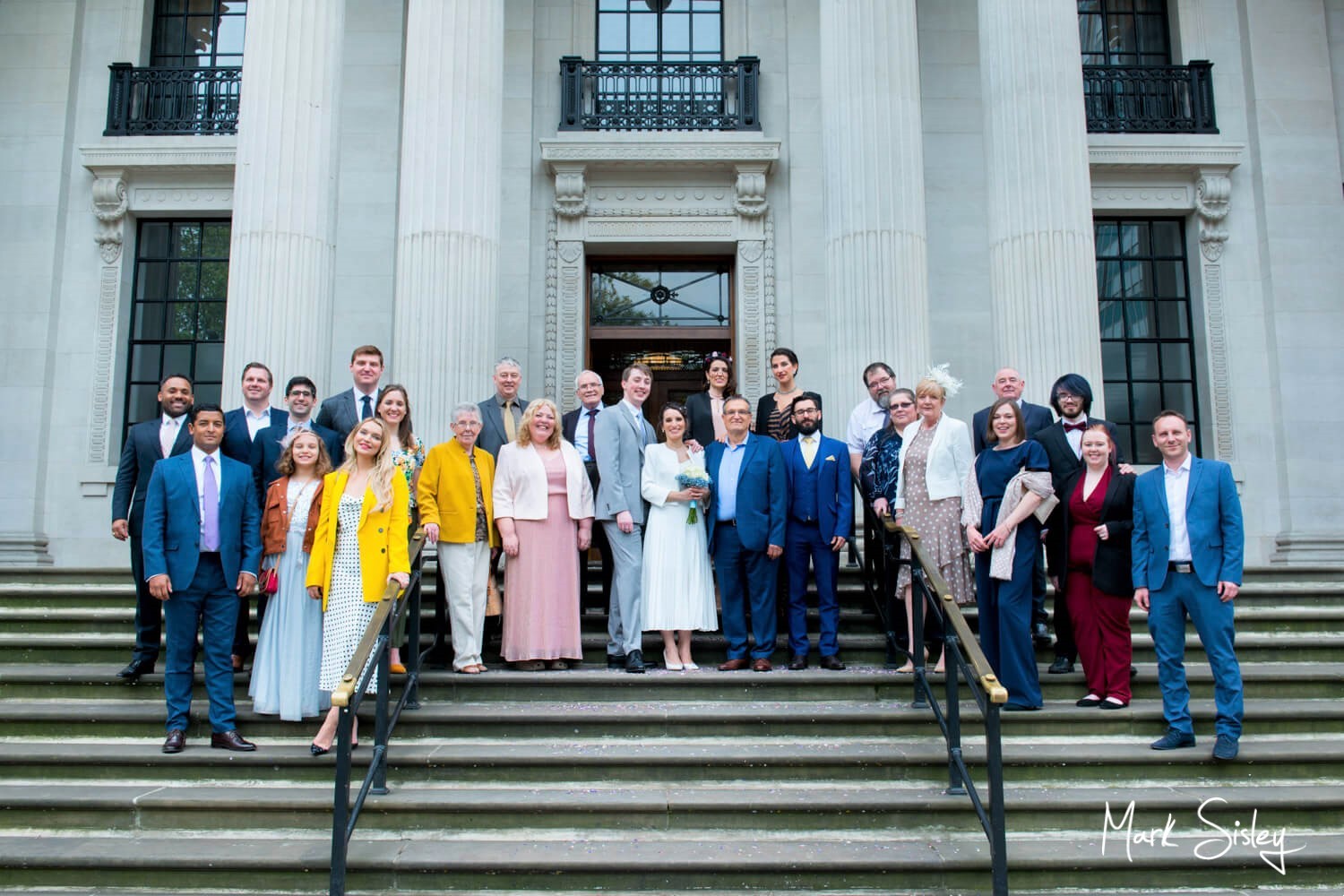 Private Ceremony
The marriage was to be a private occasion, so the first pictures I captured were immediately after the ceremony. A traditional Spanish dance performance had been arranged for the newlyweds as they left the ceremony room. This was such a lovely acknowledgment to Amaya's Spanish roots.
Being such a busy location, I had only a brief window to capture some pictures on the grand outdoor steps. After Amaya and Iestyn left the town hall through the waiting confetti aisle, I captured a few classic poses with their family and friends.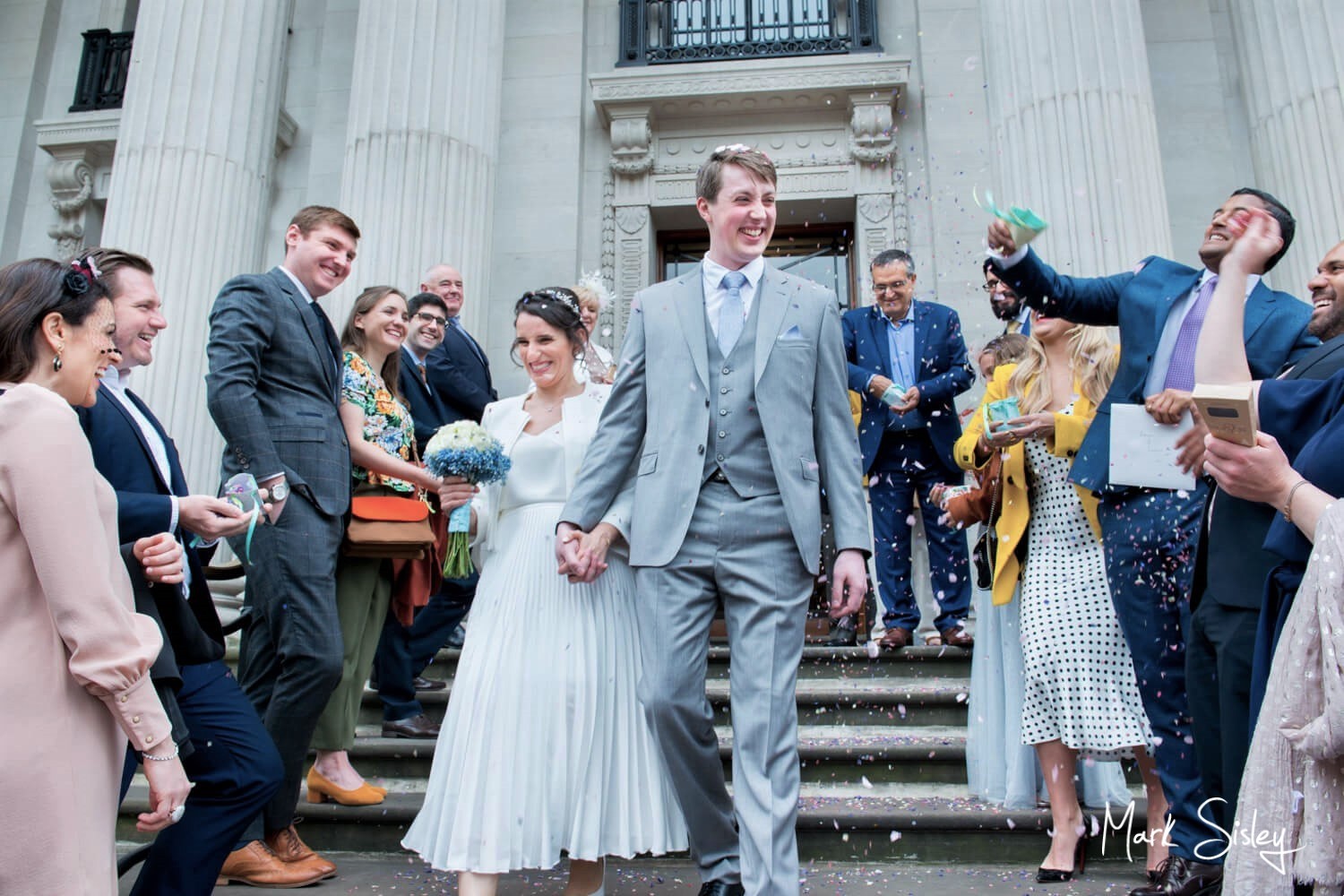 Landmark Hotel Wedding Photographs
Our next stop for photography was the Landmark Hotel on Marylebone Road as Amaya and Iestyn were staying at the nearby five star hotel for their wedding night. So it seemed only right to incorporate this famous hotel in the pictures as we walked towards their reception venue.
The staff were so welcoming as we stepped inside with the immediate family for some quick photo opportunities. The interiors are truly out of this world – the inner glass roofed courtyard with its eight-storey high ceilings and palm trees is something else!
In its early days, the hotel allowed guests to arrive by horse and carriage directly into the courtyard, can you imagine! Or for visitors arriving by train from the Chilterns and beyond, Marylebone connects via Victorian glass walkways straight into the hotel.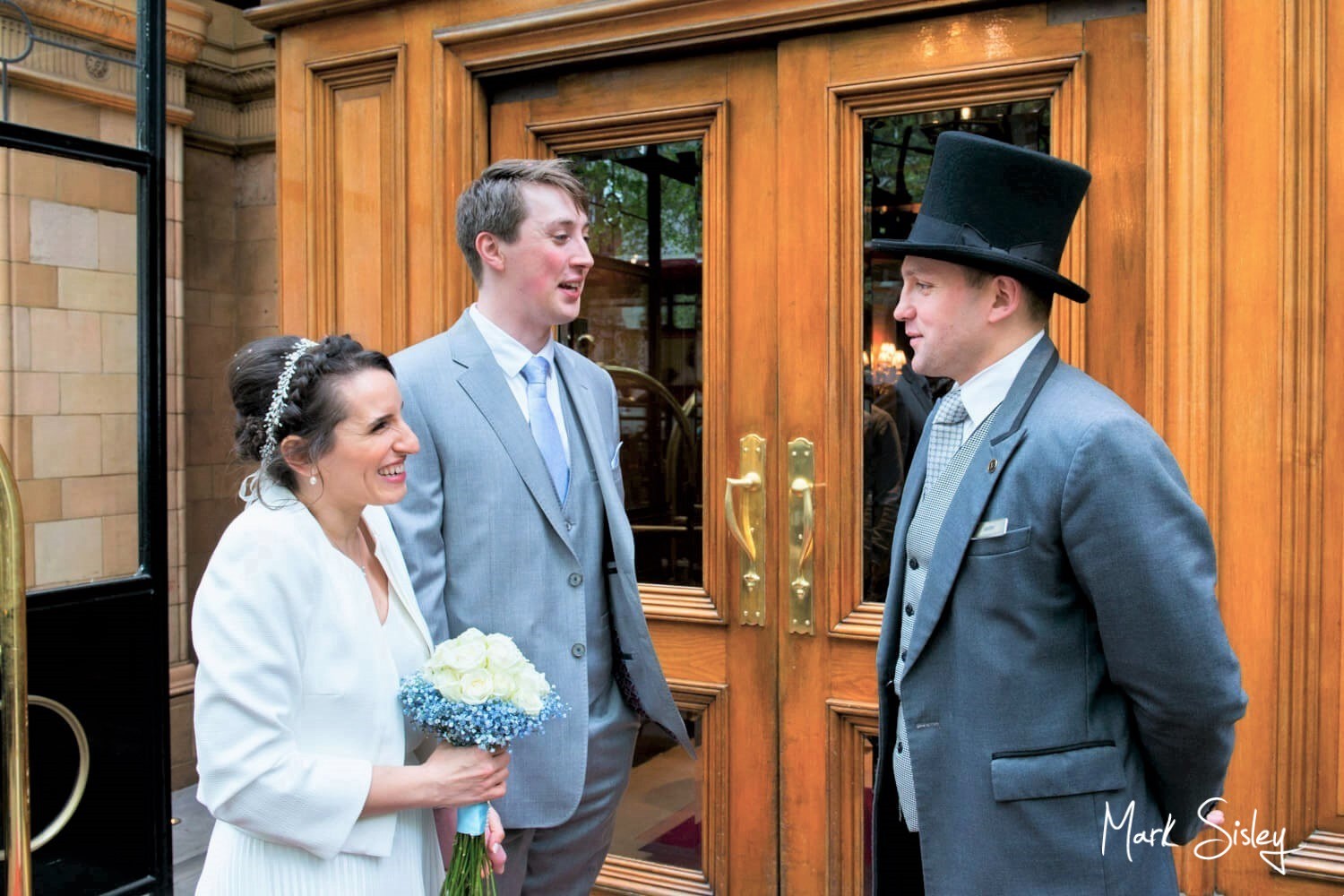 Marylebone Station Wedding Photographs
We then paused for a few wedding photographs at Marylebone Station, often referred to as London's most beautiful station.
I was keen to capture some shots of Amaya and Iestyn at this Victorian filmmakers favourite, and so I had obtained permission from the duty station manager that morning.
Most notably The Beatles filmed 'A Hard Days Night' within these famous walls.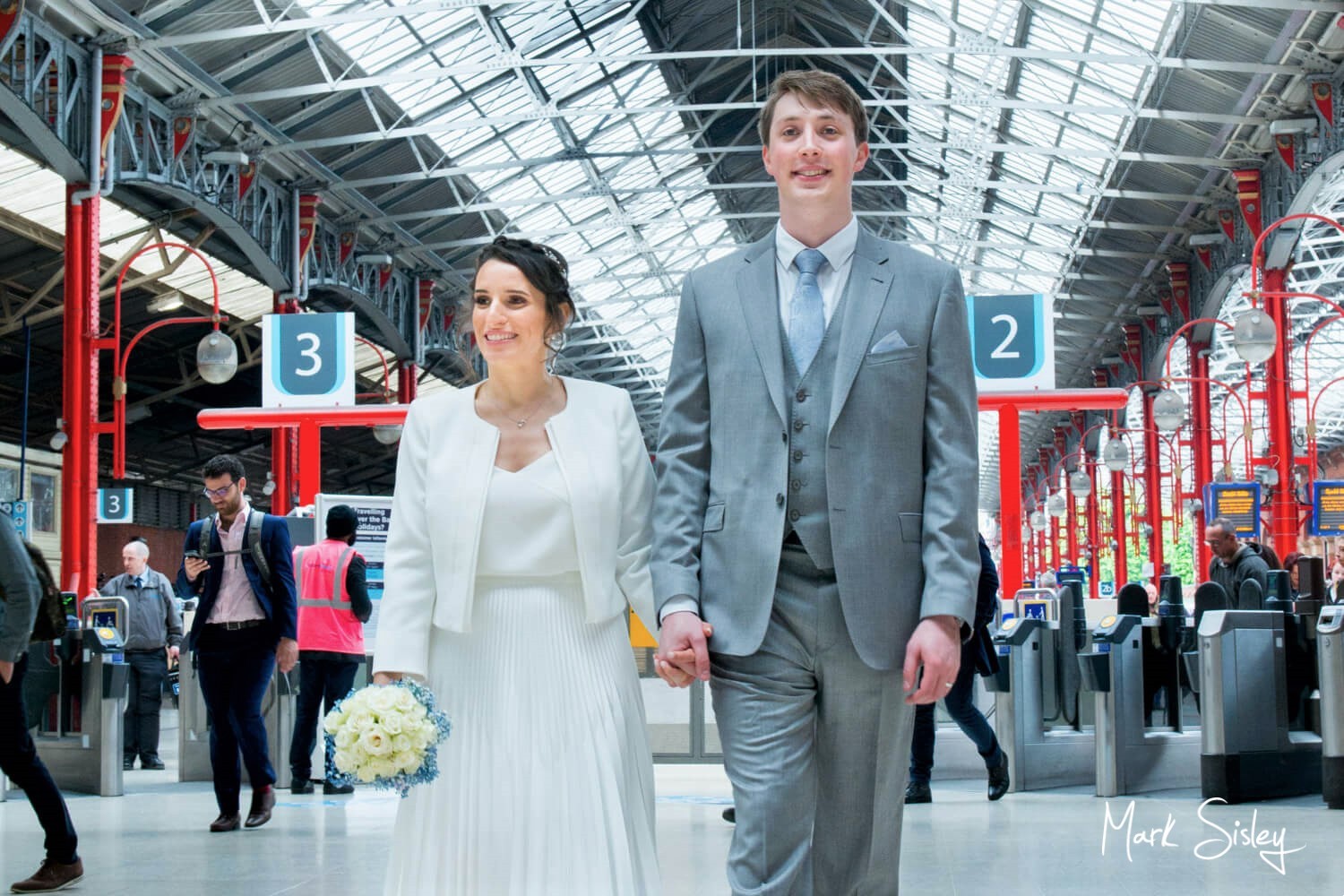 The Dorset Square Hotel Reception Venue
After our short stroll around Marylebone, we soon made our way to the pretty gated gardens opposite The Dorset Square Hotel. All the friends and family had gathered in readiness for their family group wedding photographs; with the rhododendrons in full bloom we had some great backdrops.
The drinks reception and wedding breakfast took place inside the hotel's gorgeous Potting Shed Restaurant, perfect for 30 guests. I loved the funky interiors of this gorgeous building; once again it was a wedding photographer's dream location!
I so enjoyed photographing Amaya and Iestyn's wedding. Their love for one another was so evident on the day – it was an absolute joy to witness. As for the family and friends, I couldn't ask for a nicer a group of people to photograph! They were all so friendly to chat with too as we strolled through the streets of London.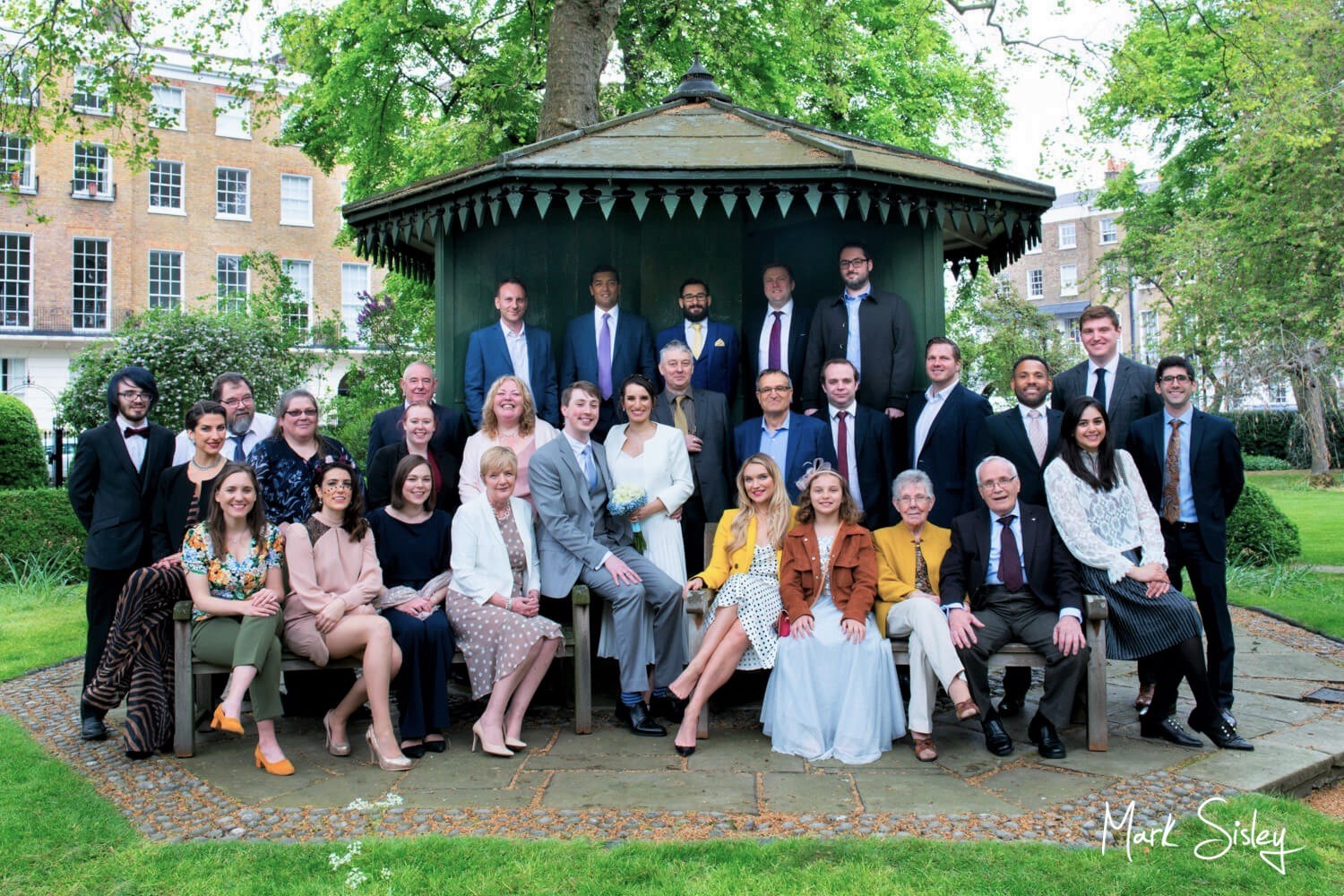 Kind Words
We loved having Mark take our wedding photos! He took away all the stress of organising from us, gave us a call in advance to understand what sort of pictures we wanted and ultimately came up with some beautiful shots.
In particular, Mark was very flexible with what we wanted to do and where we wanted the pictures taken. All of our wedding party praised him; trying to arrange 30+ people into a photograph can never be an easy task, but Mark managed it quickly and kept all the guests laughing.
We're both very happy with the finished album. We'll definitely recommend Mark for our friends' weddings. An amazingly talented photographer – Highly recommended! Amaya & Iestyn