Glorious Fun Abbey Celebrations
Emily and Kaine's Missenden Abbey wedding was so much fun to photograph, and I'm certain their guests will have loved the party celebrations as much as I enjoyed documenting the day!
The energy and everyone's personalities from this very special day is something I won't forget for a long time.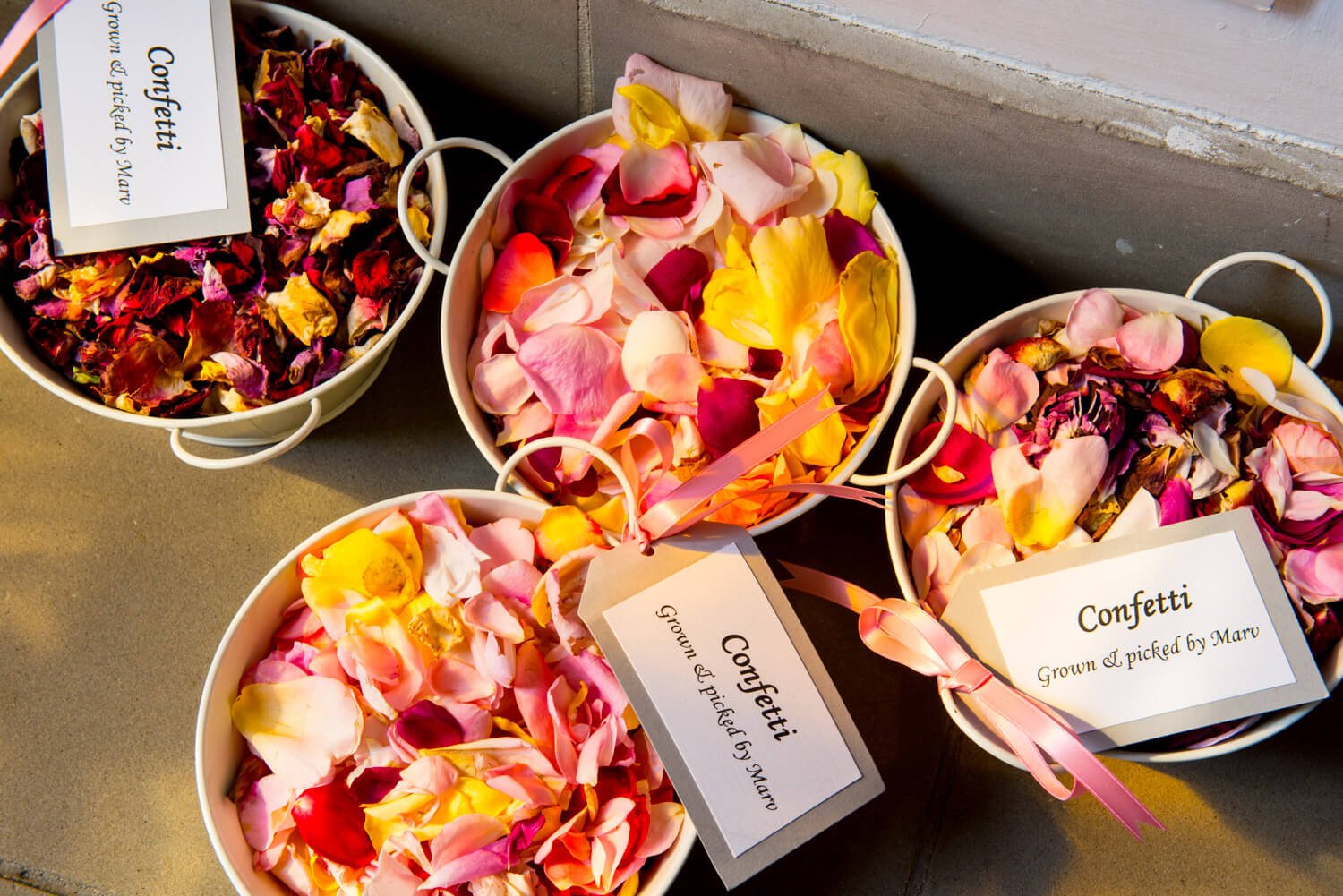 A Brief History Of Missenden Abbey
The 12th Century abbey never fails to impress, its idyllic location on the River Misbourne has to be seen to be believed! It is set in 10 acres of private grounds, at every turn this stunning building blends history with contemporary design. The vaulted ceilings and stained glass windows will take your breath away, then add to the mix a dramatic landscape for one truly magical location.
Missenden Abbey was founded in 1133 by a group of Augustinian Cannons from Northern France. Henry III often accepted the Abbots generous hospitality, he visited on numerous occasions. After the dissolution of the monasteries, the abbey church was demolished. King Henry VIII then gifted the estate to his son, Edward VI, he then later gifted the estate to his sister Princess Elizabeth for life. After her accession to the throne, Elizabeth I granted the use of the new buildings and estate to her dashing courtier, Robert, Earl of Leicester. The Earl was a suitor for the Queen's hand for many years, but as we all know, she never did marry.
At the time, women were seen as inappropriate leaders of a nation. To combat this perception she used her unmarried status as a way of strengthening her political control in England and abroad. During her 46 years as Queen she built a truly formidable reputation; her biggest triumph came in 1558 when her navy defeated the fleet of 130 Spanish ships that had planned to invade England.  The purpose of the King of Spain's Armada was to overthrow the Protestant Queen, and to restore Catholic rule over England.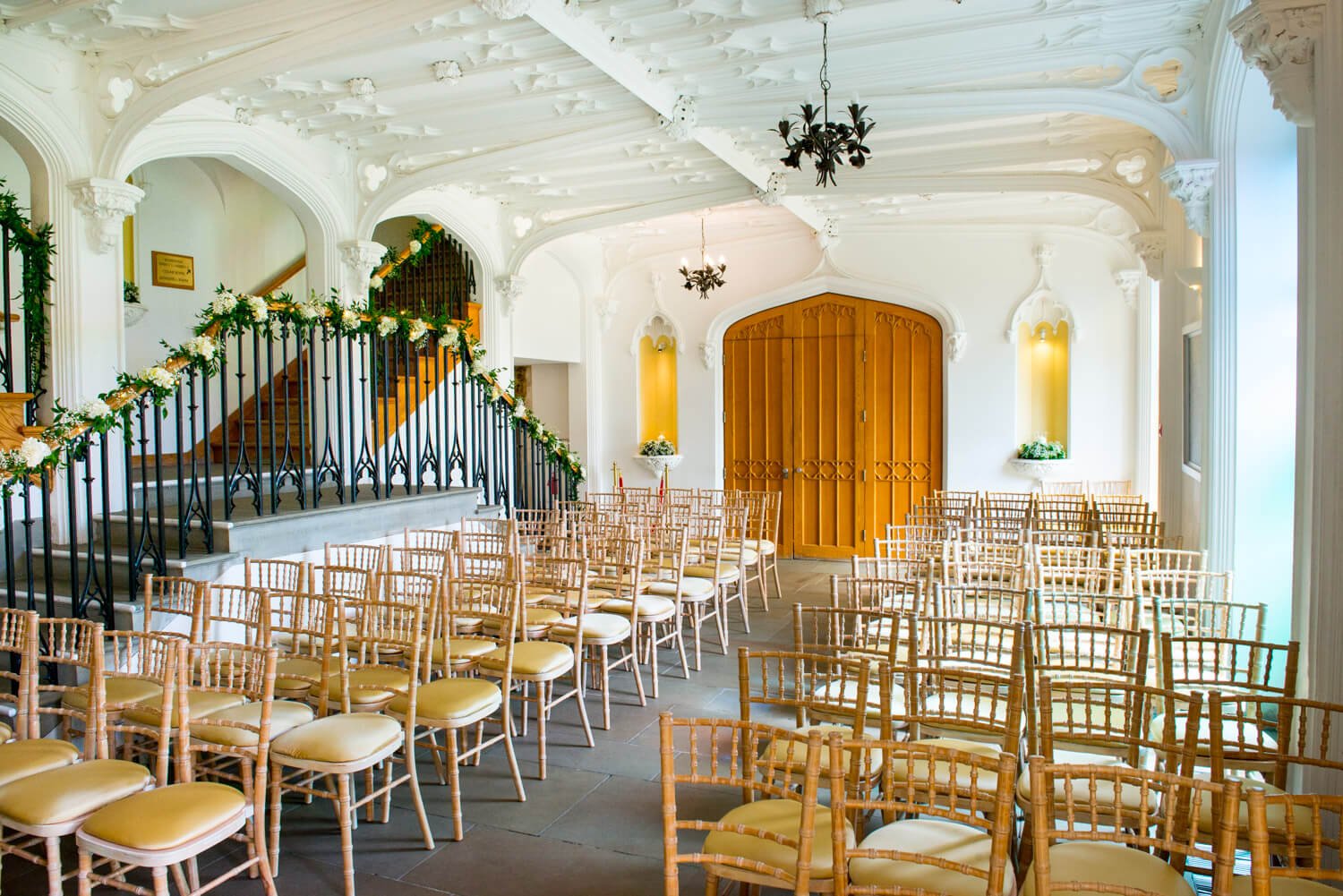 Civil Ceremony In The Garden Room At Missenden Abbey
Everyone held their breath as Emily made her grand entrance, including her future husband 'Kaine'! And they were not disappointed, she looked incredible in every way, and her gorgeous flowing wedding gown was quite the showstopper. Then came the wonderful smiles as Emily and Kaine made their first eye contact, in perfect symmetry the entire room lit up with smiles and so many tears of happiness. These magical instants are what weddings are all about, and from that very moment I knew this was going to be one fabulous wedding day! The connection these two had for one another was evident for everyone to see, the eye contact and tenderness they shared was a sign of true love.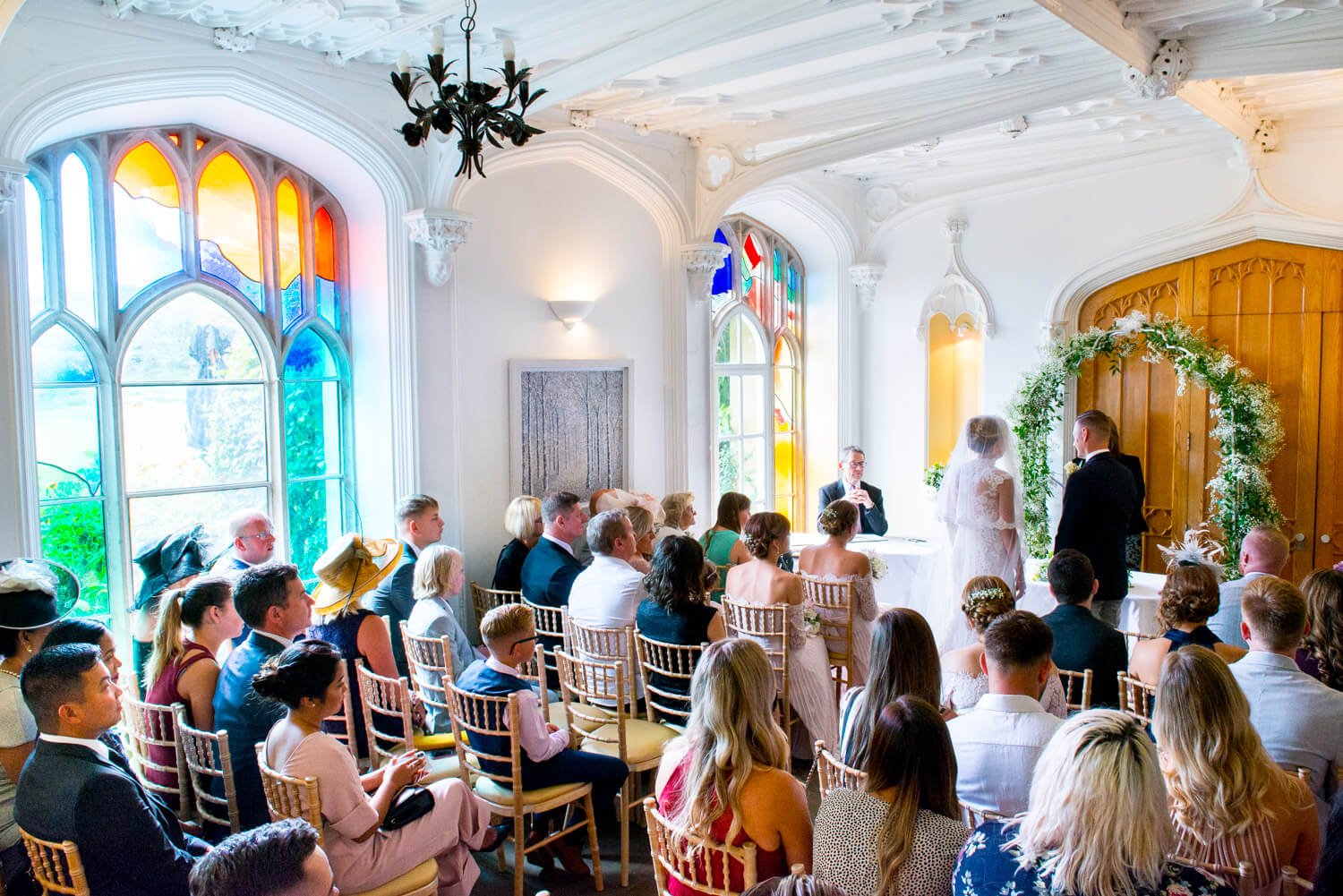 Champagne, Canapes & A Bouncy Castle On The Lawns
Emily and Kaine brought so much energy to their wedding celebrations, and their joyous vest for life was evident throughout the day. Their cheeky smiles and antics also made for some great picture opportunities. Especially so when Kaine decided to energetically dive in with a photobomb moment, this picture of Emily and her bridesmaids was captured whilst they were gracefully sat down on the bouncy castle. As you can imagine, not only did the ladies get a surprise kick back, but we also got some fabulous smiles and the resulting laughter in my images!
The guests were in high spirits all day too, and the laughter and smiles were highly infectious during the drinks reception. When everyone is in fun loving party mode it certainly makes my job so much more pleasurable, and at times like this I don't feel like I'm really working at all!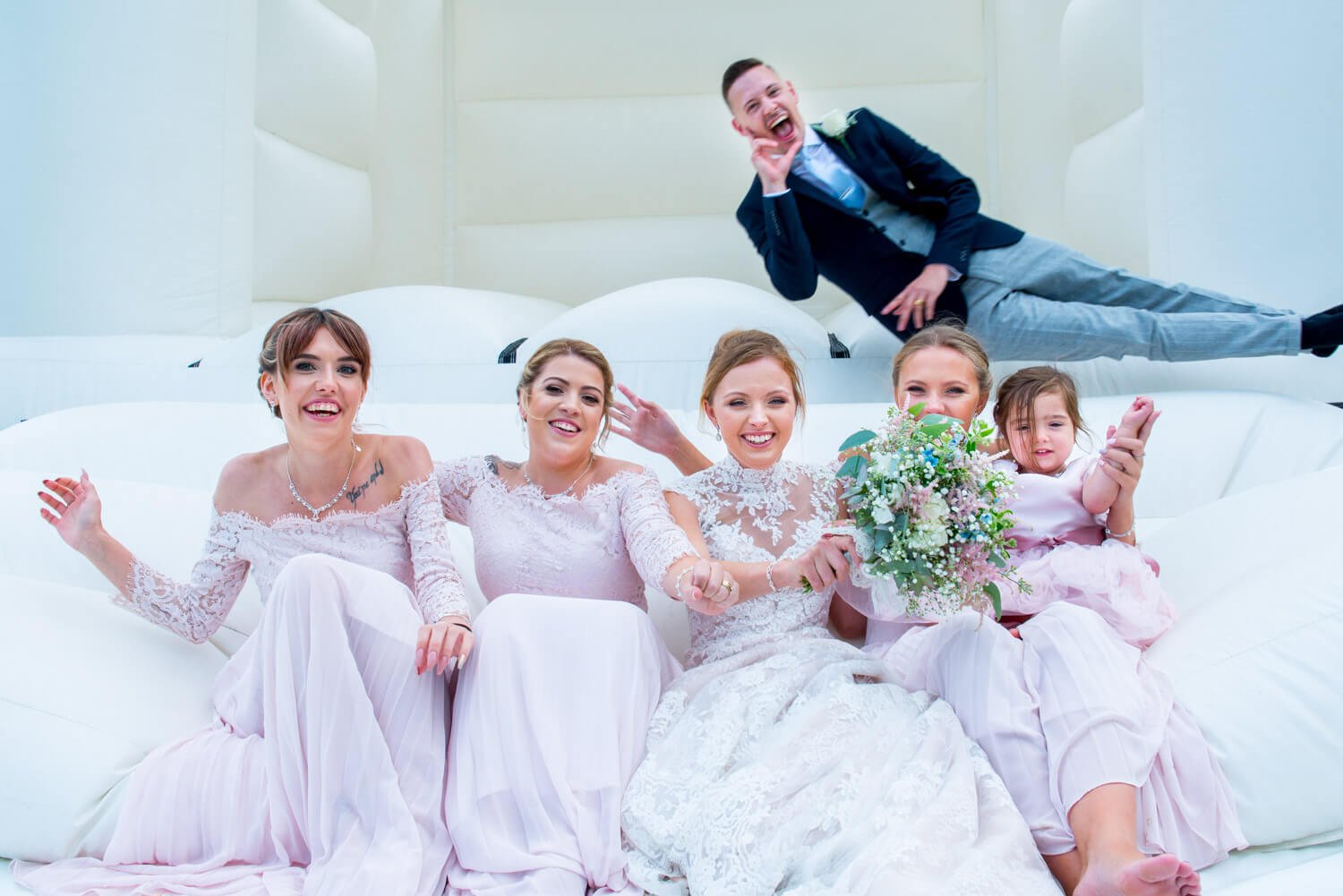 Picture Opportunities
The abbey has so many stunning backdrops, it really is a photographers dream wedding location! When I'm working, I do my best to include as many different vistas as possible to showcase this glorious building. Emily and Kaine booked me for the whole day, so we had plenty of time at various stages during the day to venture off for some romantic poses.
The newlyweds did request a few family group poses, but my main brief was for a more reportage style of imagery.
I also captured lots of great wedding detail images on the day, these included some stunningly gorgeous floral arrangements. Their giant illuminated letters were also really striking for pictures, as was their fabulously detailed wedding cake!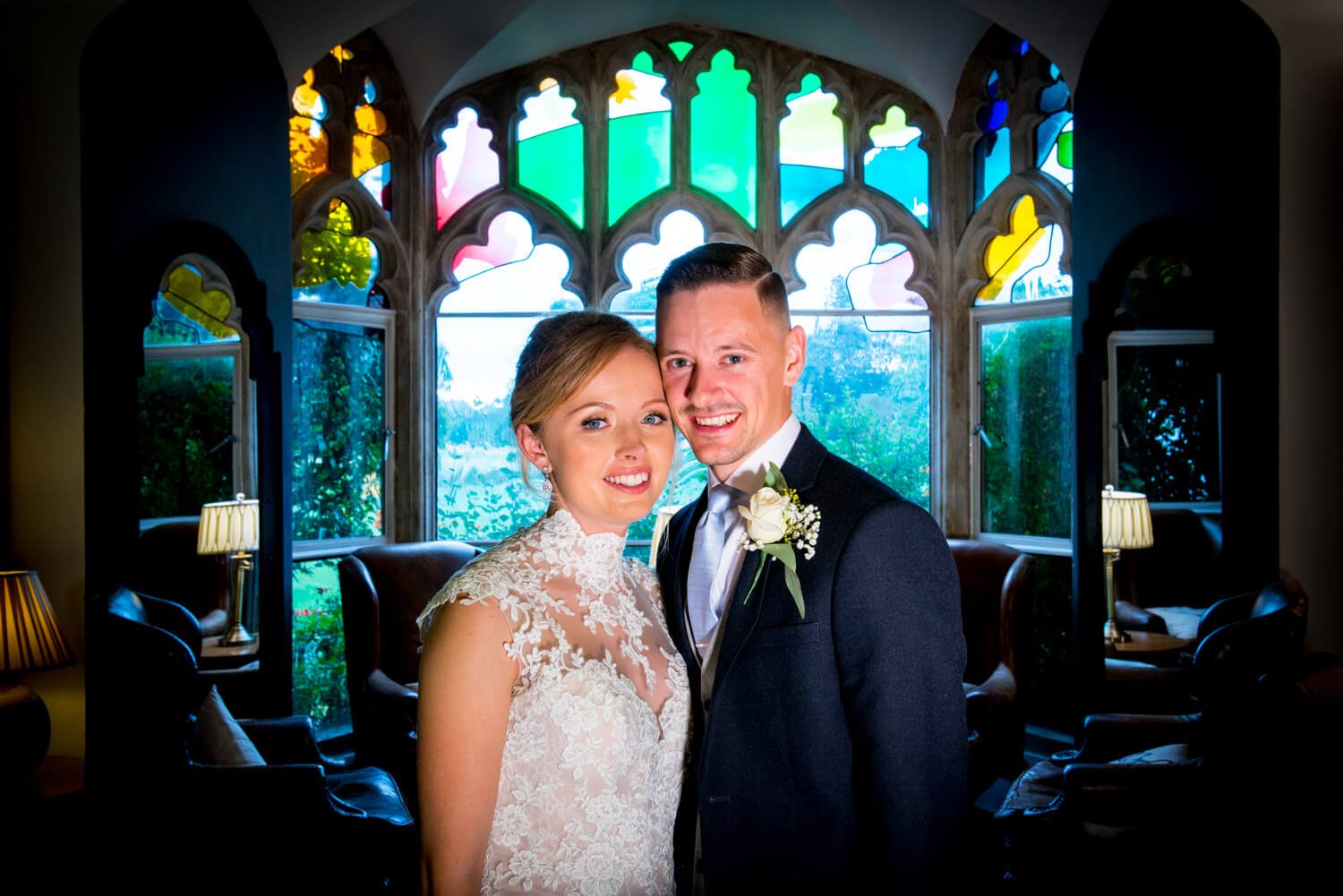 Speeches & Evening Reception
The speakers delivered some highly entertaining memories from Emily and Kaine's past, these special moments were so enjoyed by everyone. You could tell the speeches were excellent as the guests kept laughing out loud non-stop, the buzz in the Garden Room was pretty special!
Come the evening, I thought everyone would be flagging, but no chance! Once the music came on, the dance floor was pulsating with funky dance moves as the wedding party continued celebrating into the small hours!
By the end of this wedding, I was exhausted after doing my best to keep up with Emily and Kaine's lively friends and family from behind my camera!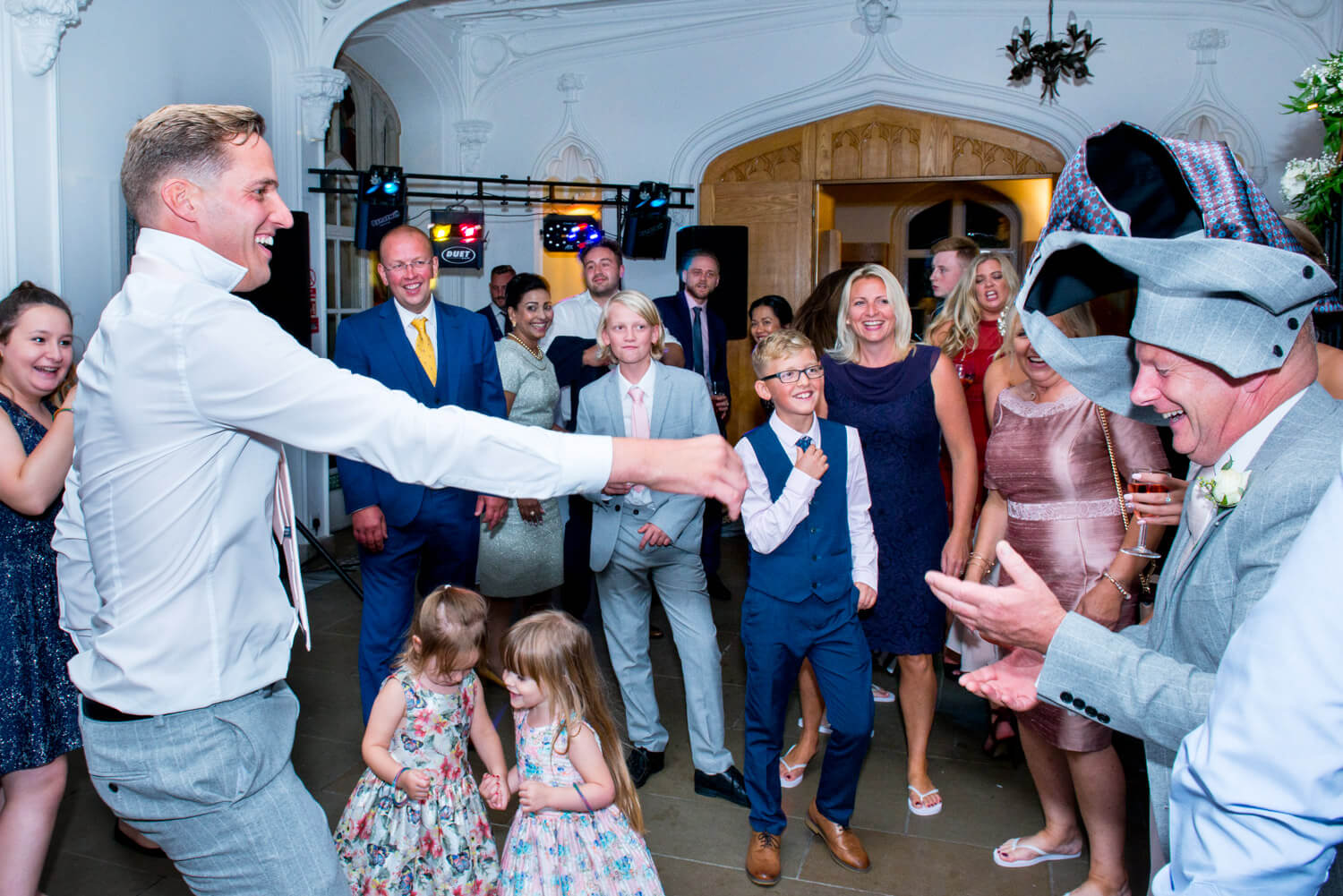 My Favourite Pictures
The candid moments are always my favourites at the livelier weddings I attend, and this wedding was no exception. Non-stop opportunities were presented to me all day long, I was in dreamland that's for sure!
But my absolute favourite shots were captured after nightfall, the lighting after sundown is always so surreal. The abbey's breathtaking backdrops always help to elevate my images to another level, these dramatic pictures also provide a fabulous finale to the day too.
A big thank you to Emily and Kaine for choosing me to be your Missenden Abbey wedding photographer – I loved everything about your special day!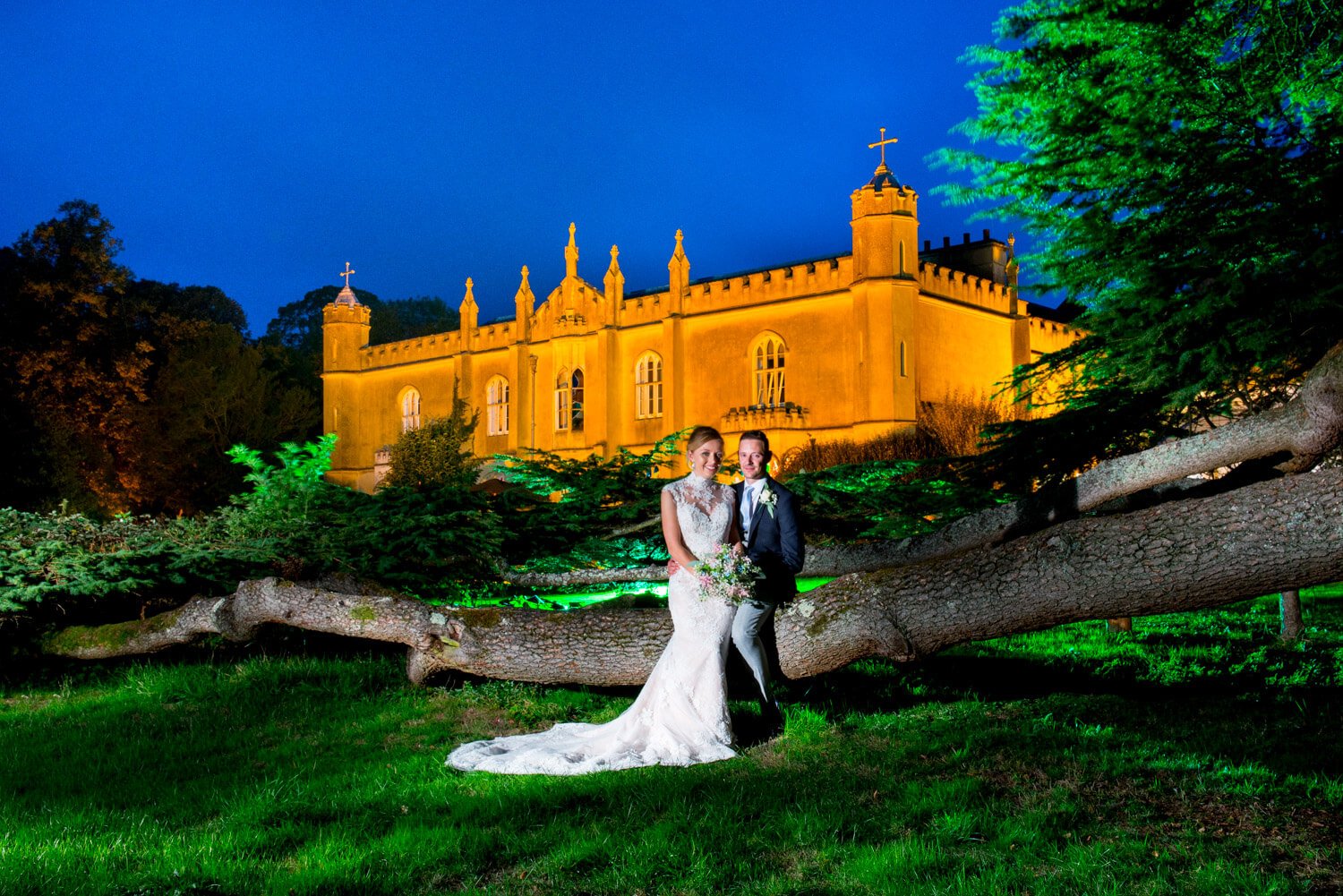 Kind Words
Dear Mark,
Your portfolio was the first we had viewed and its safe to say no others came close. 
As a couple who really do not enjoy having our photo taken we were dreading having a day filled with awkward posing and non stop smiling. After meeting with you at the venue, Missenden Abbey, your enthusiasm and passion put our worries to rest and we felt completely at ease that we had chosen the right photographer for our special day. 
Throughout the day we had candid photos as well as the essential family shots and whilst we knew our photo was being taken, you had it under control. Each photo was captured quickly and no detail was missed. During the family shots we were not stressed at all and you managed to organise large groups (some more difficult than others) whilst being completely approachable and calm. 
Guests were approaching us during in the day and the next morning to compliment our photographer and how they just could not wait to see the photos! You were certainly the talking point at breakfast the following morning amongst our guests. 
They loved your impeccable attention to detail and enthusiasm for trying new shots. I am sure at times the best man & usher thought they were posing for Vogue. 
Now we have viewed the photos we cannot thank you enough. We are in love with them and could not have wished for anyone better to capture our day and leave us with the most breath-taking photos to remember the best day of our lives. It was rather emotional looking through pictures reliving the whole day, you captured everything!
 Thank you from the bottom of our hearts,  Emily & Kaine