Magical Chilterns Wedding at Missenden Abbey
Nicole and Atilla's special day was full of laughter, emotions, loads of fun. And, they booked the most fabulous wedding venue too!
The groom looked very dapper in his navy suit and pale waistcoat. Whilst the bride looked sensational in her gorgeous flowing and intricately embroidered gown.
The weather was on our side too, so we were all set up for one incredible day here in the Chilterns!
I challenge anyone not to be bedazzled by this gorgeous historic property!
The 12th Century medieval abbey sits within ten acres of gorgeous grounds, in the heart of the Chilterns. The abbey seamlessly blends old and new architecture, and provides incredible levels of hospitality. And, if you're a history lover, you'll be mesmerised by the tales of its past 900 years!
Ceremony in The Garden Room
Nicole and Atilla tied the knot in their dream wedding venue 'Missenden Abbey' The ceremony took place in the incredibly gorgeous Garden Room. And the floor to ceiling windows provided breathtaking vistas over the gardens and distant Misbourne Valley.
The anticipation in the room was immense just prior to Nicole's grand entrance; you could have heard a pin drop!  And Nicole did not disappoint, she not only looked supremely confident, but she looked incredible too!
From excitement and joy to heartfelt compassion, this ceremony had it all! There was some serious magic in the room, and plenty of tugs on the heartstrings as Nicole and Atilla made their life long promises to one another!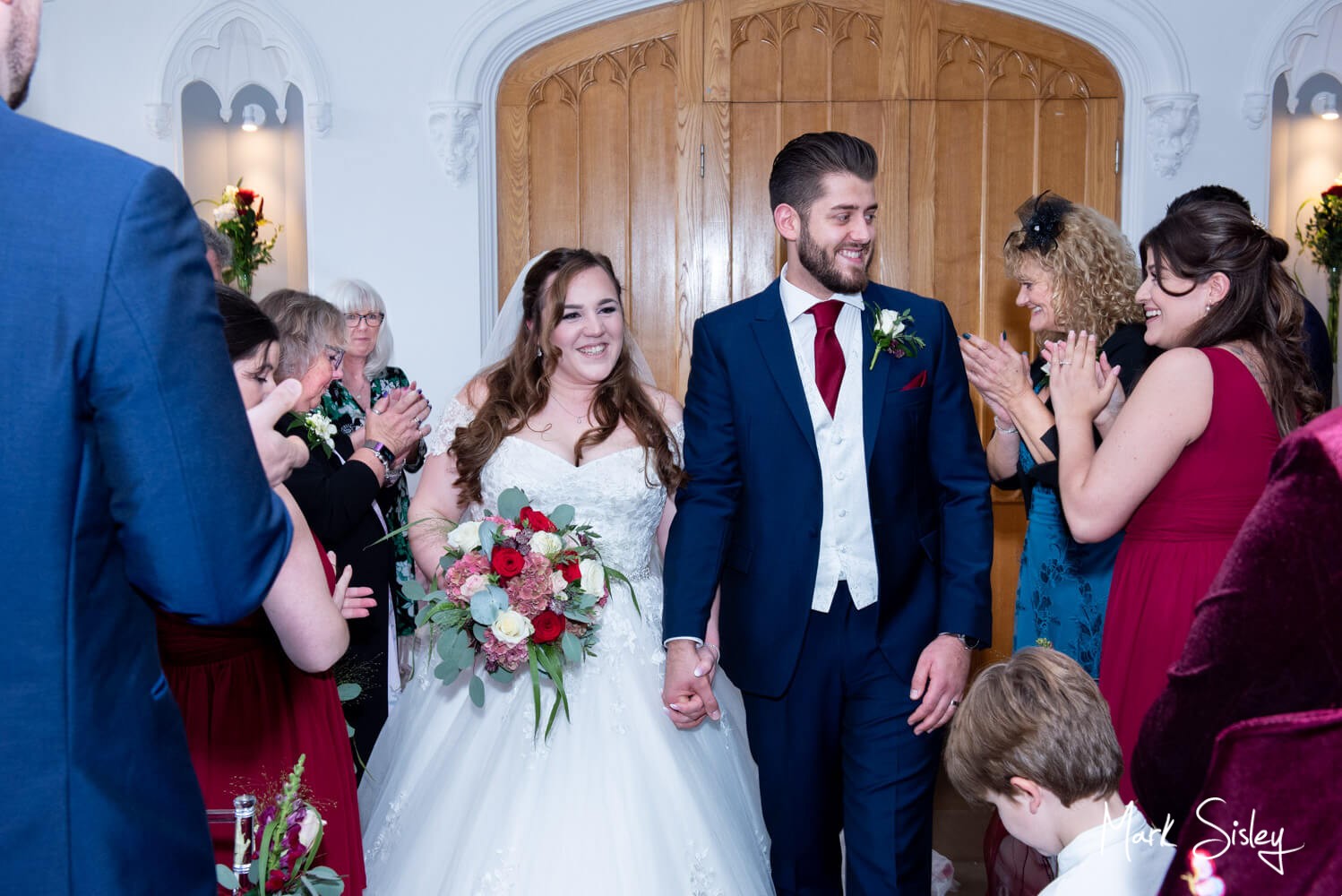 Drinks Reception & Photographs on the lawn
The partying on the lawn kicked off with a fun confetti aisle, followed by drinks and canapés. I was in reportage heaven capturing this fun loving crowd!
Two family members arrived dressed head to toe in really dapper vintage style Peaky Blinders outfits. The guys looked really cool with their tweed attire, flat caps and cigars. And I definitely wasn't going to miss the opportunity for a few fun shots and classic poses.
Halfway through the drinks reception, I joined the newlyweds for a stroll with their attendants in the gorgeous grounds. The backdrops at Missenden Abbey are breath taking, so visiting these locations was an absolute must! After lots of natural shots during our walkabout, we were soon back with everyone and capturing the family group poses.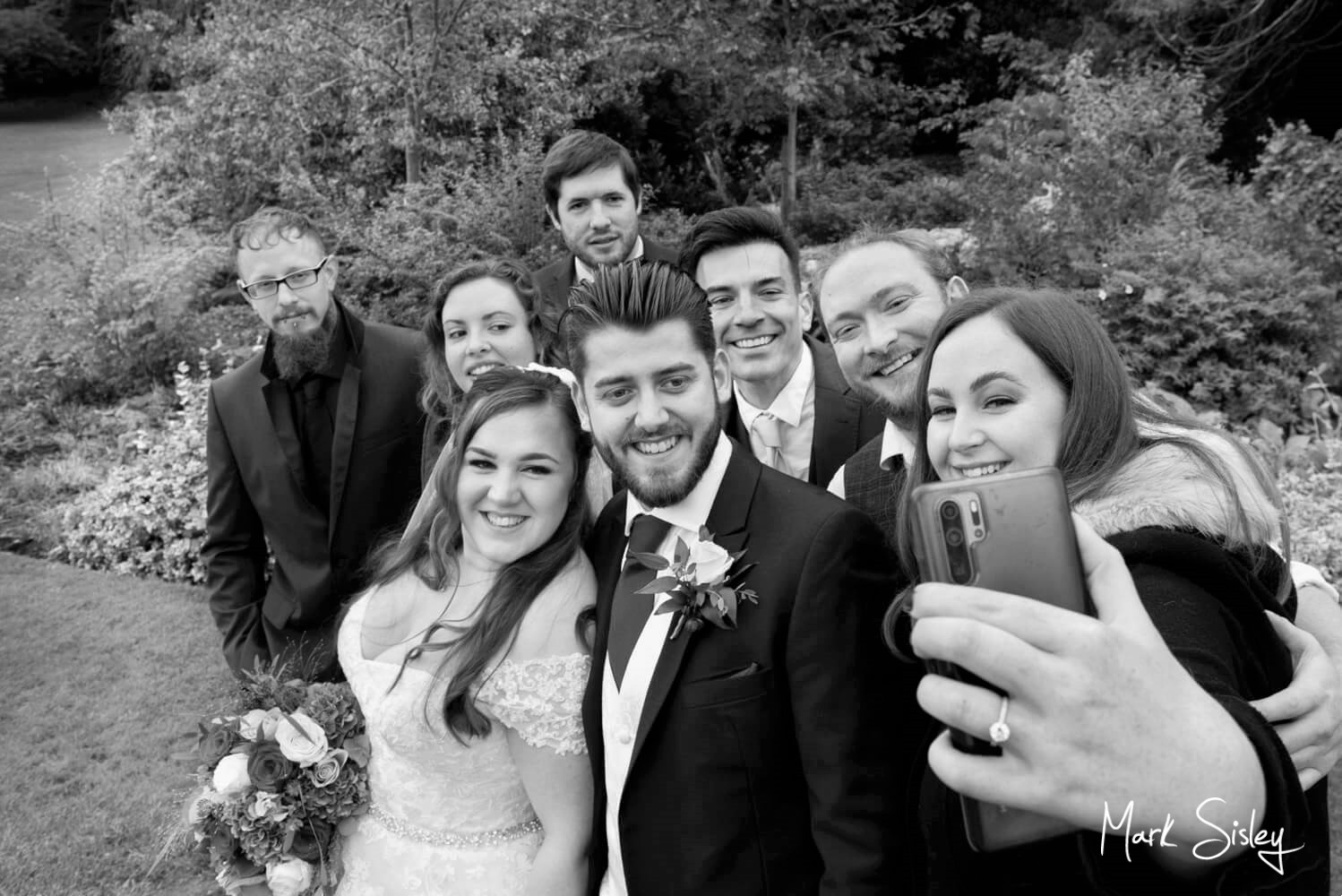 Meal & Speeches
The room was decorated with an abundance of gorgeous floral arrangements, and the colourful table centrepieces certainly added the absolute wow factor!
The wedding breakfast kicked off with lots more laughter. It was evident by now that these guys were going to party non-stop all day long! Whilst the lively and entertaining speeches were really well received by this appreciate crowd!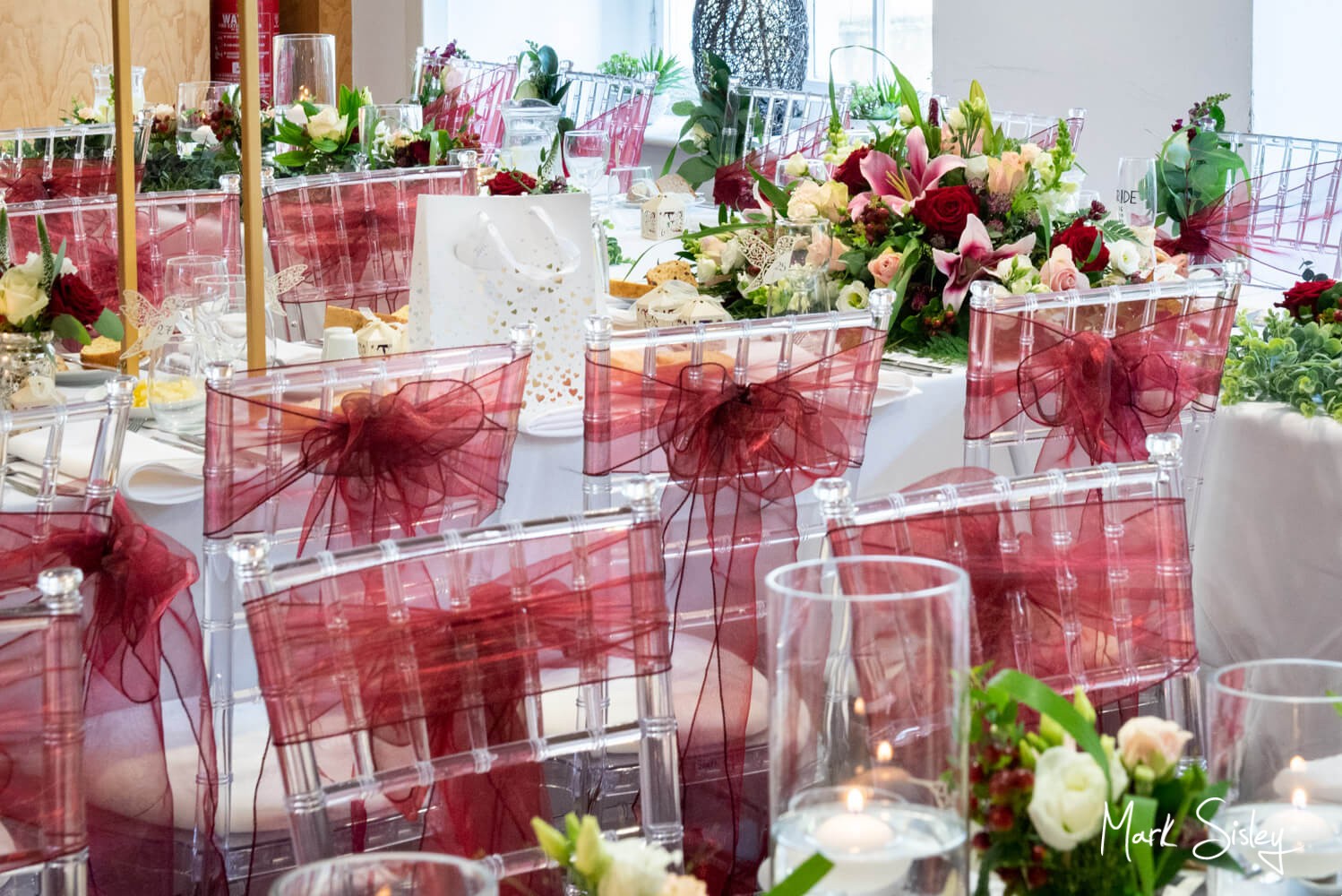 Fog Rising Over The Misbourne Valley
I always have one eye on the weather, and this wedding was no exception! Even when the bulk of the photos are in the bag, the weather can throw up a multitude of surprises for more opportunities. As the evening approached, I could sense that the conditions were 100% perfect for fog in the Misbourne Valley. I've photographed over 100 weddings at the abbey, yet I've only ever seen this occurrence a handful of times. But I was more hopeful than usual, sometimes you just know when something's stirring!
So every 5 minutes I'd dash outside to look over the distant fields, but nothing! Then just as I'd almost given up, the blanket of fog appeared like magic on the horizon and was slowly heading towards the abbey. Quick as a shot I went in and spoke to Nicole and Atilla, then in the blink of an eye they dashed outside together with their ushers to make the most of the conditions for a few atmospheric poses. I've photographed 1,200 weddings in my career, but I've only experienced these perfect foggy conditions half a dozen times at most!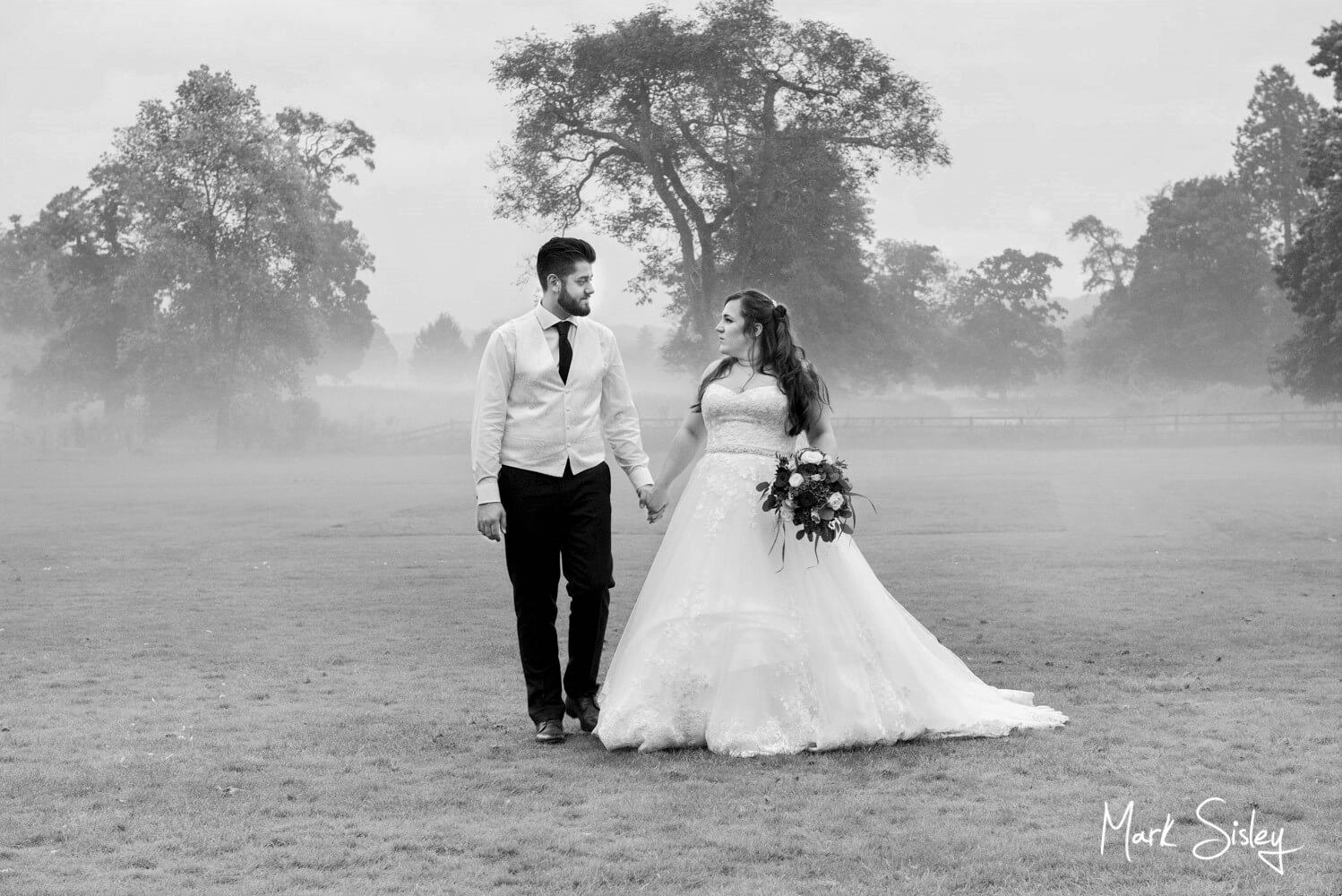 Dancing the Night Away
After the newlyweds' romantic first dance, Nicole stayed under the disco lights for an emotional dance with her father. So many tearful eyes were watching the dance floor throughout these first two tracks – but I could also sense that these guys were ready to party themselves!
The enthusiastic children led the way, soon followed by so many of the adults! There were some seriously good dancers amongst the wedding guests, and I was there to capture every moment!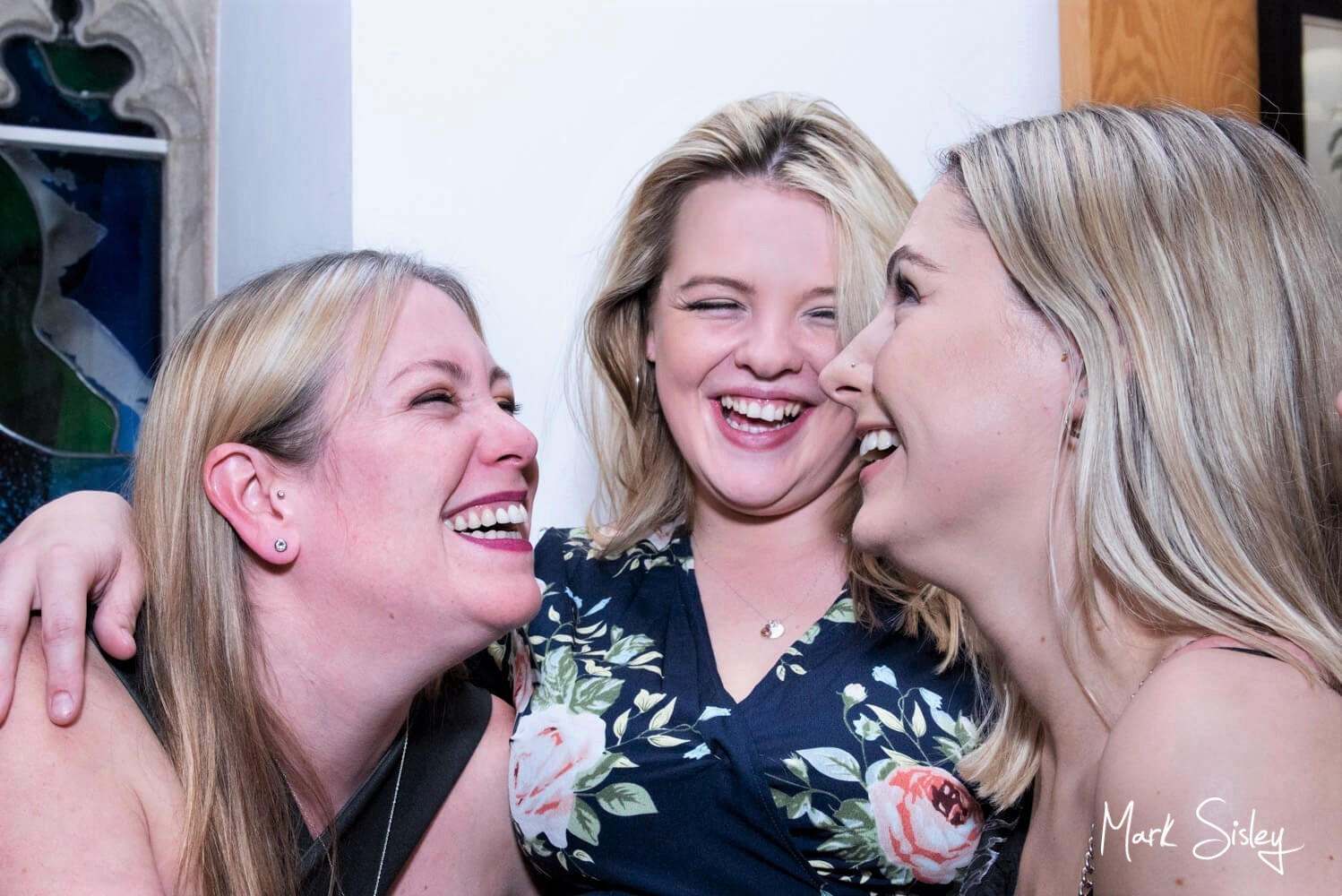 Special Effects Photography at Dusk
Come nightfall, there are so many fabulous picture opportunities for floodlit wedding photography at Missenden Abbey. I love using the abbey's historic facade, which lends itself to some dramatic after dusk poses. In the picture below I opted to backlight the couple with some strong directional lighting, and I was really thrilled with the contrasty silhouette effect!
Then about an hour later I suggested another shot under their huge cedar tree, and this time it was pitch black all around apart from the moonlight. I think Nicole and Atilla thought I was pushing my luck trying to pull this shot off, especially since this pose was a first for me, but again the shot worked really well. Sometimes I need to remind myself that it's worth stepping outside of my comfort zone!
A big thank you to Nicole and Atilla for choosing me as your Missenden Abbey wedding photographer. It was truly amazing to be part of your special day!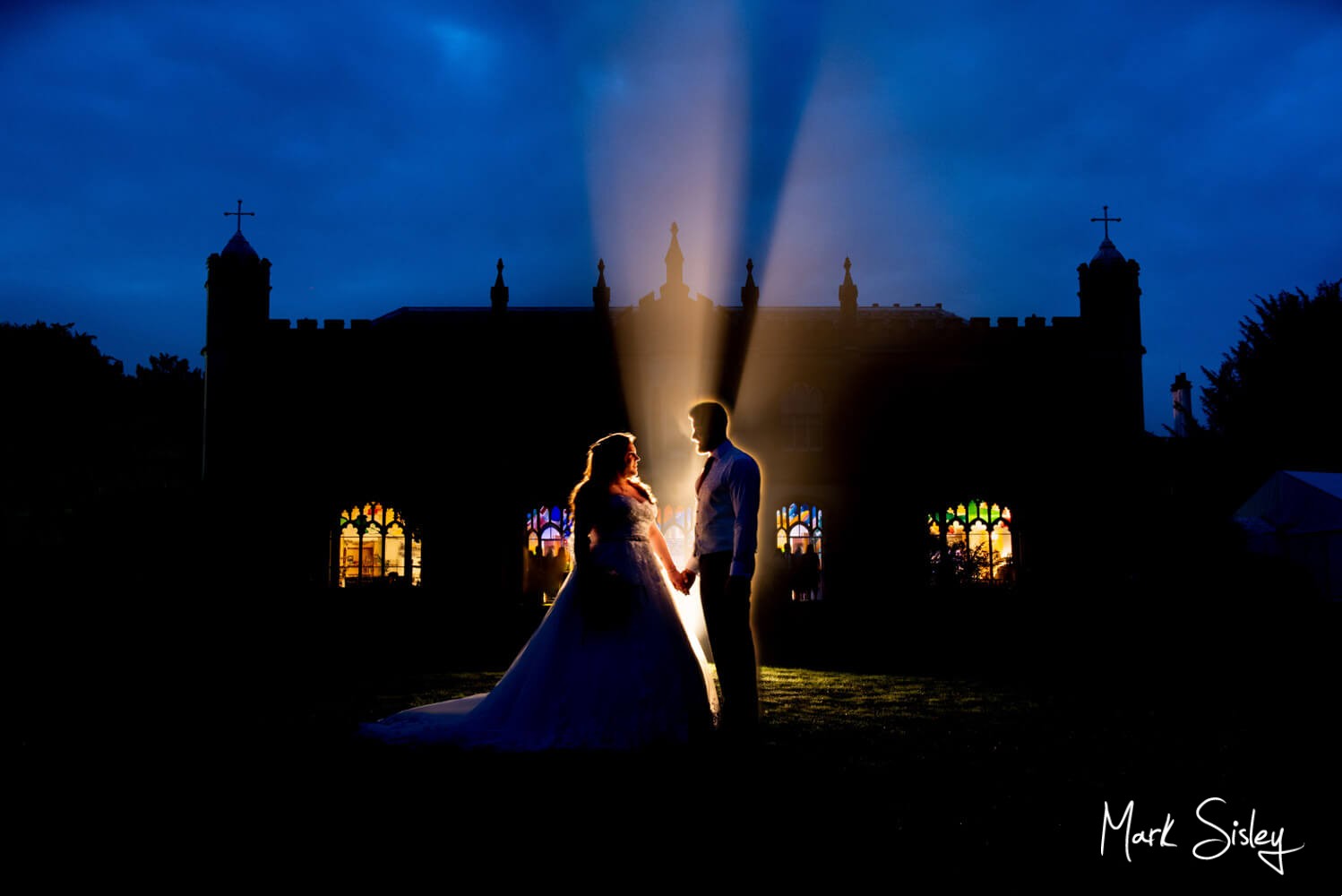 Kind Words
Wow! We have just received our wedding photos and we could not be happier!
We knew we wanted to book Mark as soon as we saw his work at a wedding fair and am so glad we did! Our photos are amazing and everything and more than we hoped for!
We're not going to lie; we knew Mark was going to provide us with some beautiful wedding photos but when we were pulled out into the dark woods after sundown, we weren't sure how this was going to happen – but he blew us away! The photos we have received are incredible!
He is a very talented man, and he has such a friendly manner, we felt completely at ease and that is hard for us when dealing with a camera and completely out of our comfort zones! We put all our trust in him with our wedding day and we think without him, we might have been a bit lost!
No regrets, many of our family and friends commented on how lovely our photographer was. They have complimented his work and are astounded, some of the captures are so natural and he has really captured our wedding day in the best way possible.
One of the best parts of our wedding has been the wait for our photos – the day was such a blur, our photos helped us remember parts of the day we'd forgotten about!
We can't wait to get our photo album printed!
We can't thank Mark enough.