Notley Tythe Barn Fairground Themed Wedding
Feast your eyes on Ana & Jason's mind-blowing Fairground themed wedding  – words just do not do justice to the gorgeousness of their  Notley Tythe Barn wedding.
Perfect blue skies and lots of fun and laughter – such lovely people too – weddings don't get any better!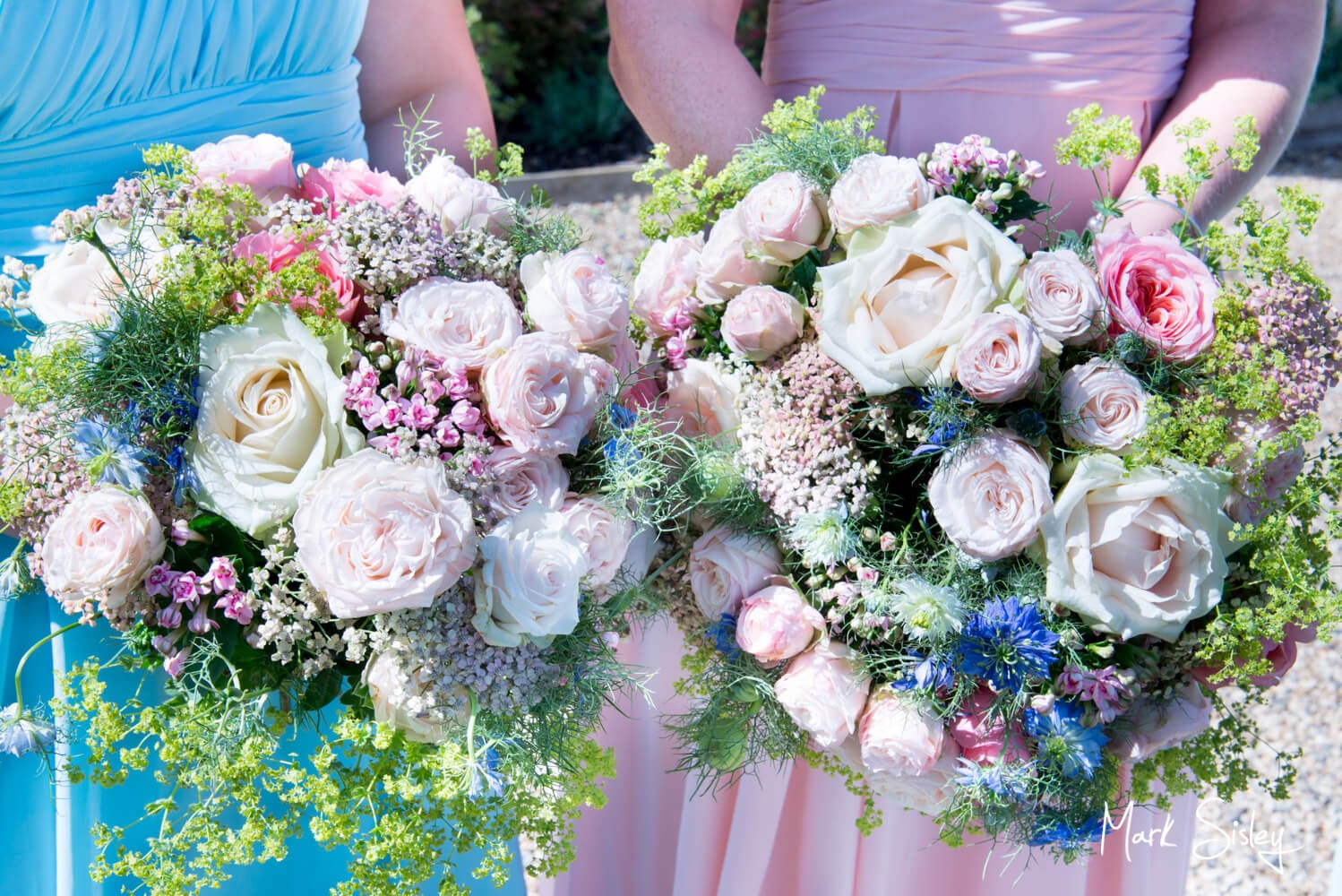 Informal Barn Wedding Ceremony
I knew this wedding was going to be special when I saw how Ana had choreographed the dramatic arrival of her nine bridesmaids. The ladies in their gorgeous flowing gowns approached through the gardens and entered the ceremony proceedings one by one. Ana made her emotional entrance through the gardens and down the aisle towards her fiancé Jason. She looked  absolutely stunning as she made her way into the ceremony on her nephew's arm.
The informal ceremony was conducted by the celebrant Peter Taylor, who gently guided Ana and Jason through their vows.  This was such a magical occasion for everyone present at this stunning outdoor ceremony.
Ana and Jason's beaming smiles were captured beautifully in the images you see below.  Once the formalities were over, the newlyweds were soon in full on party mode. Laughter and champagne flowed throughout the drinks reception and into the evening.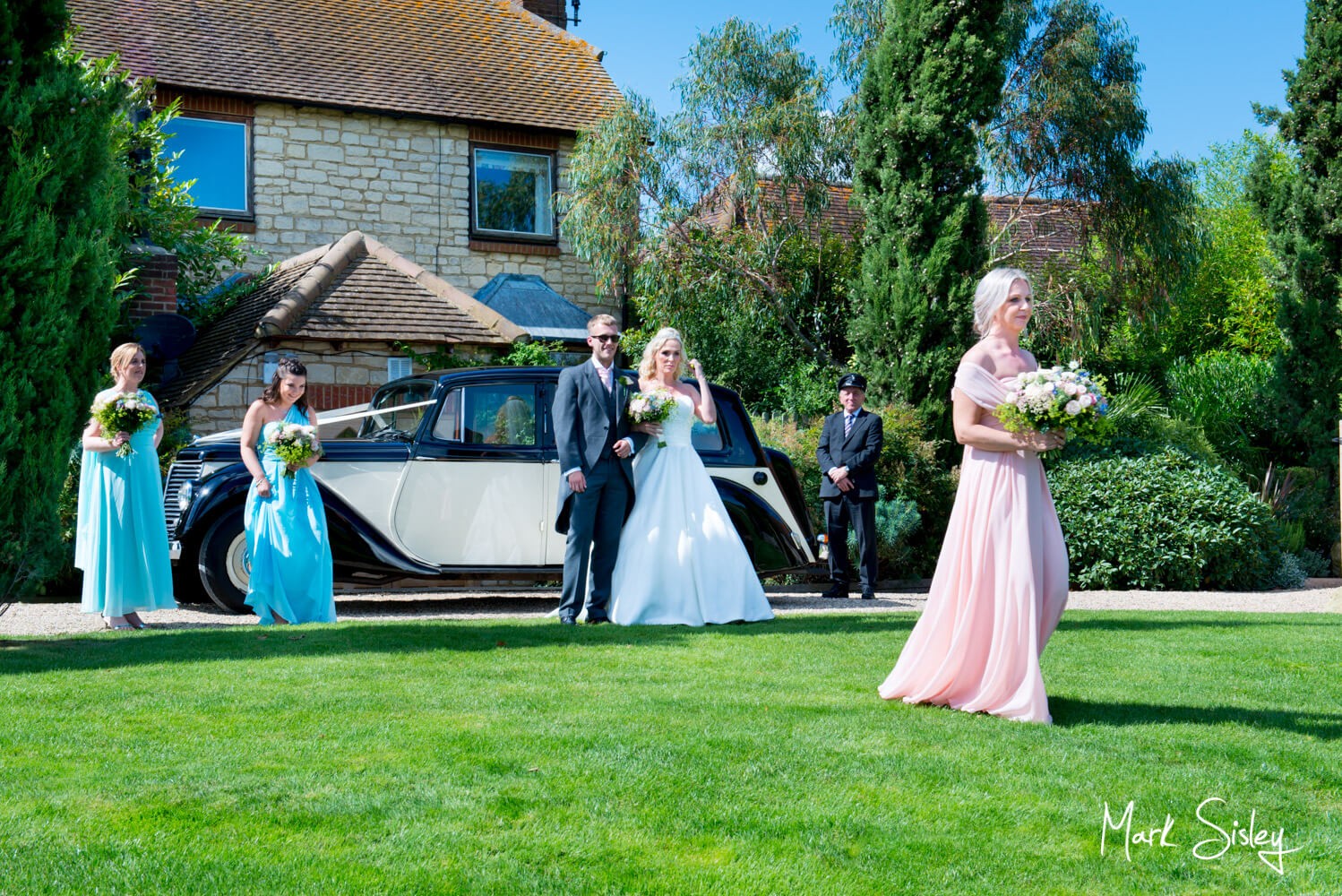 Vintage Fairground Attractions
After the ceremony, Ana and Jason had a lovely surprise for their guests! You can imagine the look of awe as the children gazed on the magical fairground attractions.  The grounds of their wedding venue 'Notley Tythe Barn' were jam-packed with vintage fairground themed games!
They had enlisted the super-talented Dolly Dimples Weddings to stylise and provide the games for the gardens. The classy vintage fairground celebration during the drinks reception was a master stroke. Not only did the kids love everything that was laid on to entertain them, but I saw many of the adults joining in with the fun and games too! Add to the mix  a glorious sunny day, and we couldn't really ask for more.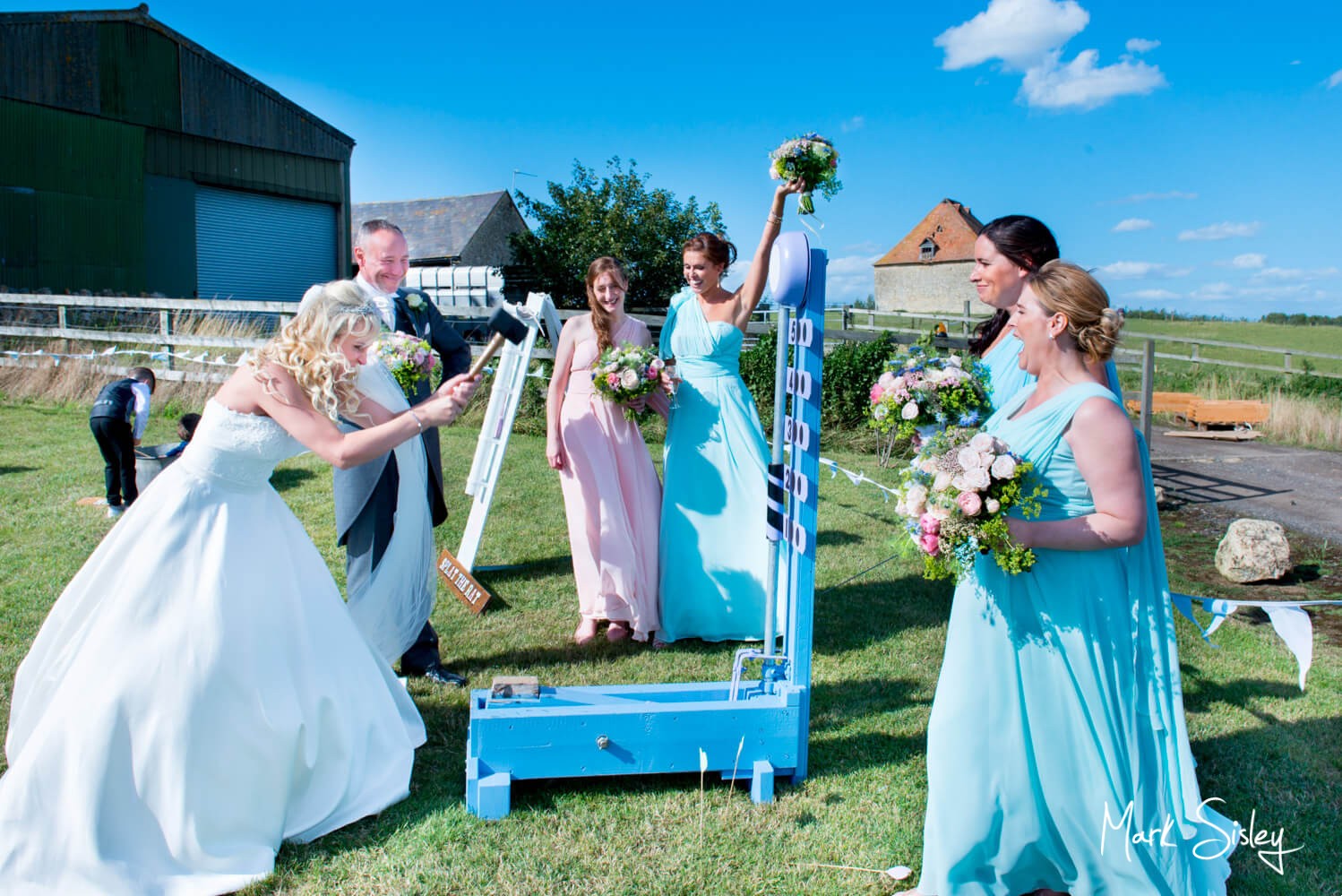 Lucky With the Weather
I can't tell you how lucky Ana and Jason were with the weather on the day! All week long the forecast had been for heavy rain on their special day.
On the morning of the wedding I set off from my Chesham studio with dark clouds circling above. Later, just before the ceremony, I received a text from my assistant at the office. She asked how I was coping with the heavy downpours!
Amazingly, Notley Tythe Barn had its own little weather bubble happening on Ana and Jason's special day. On the horizon throughout most of the day I could see the dark clouds, but all above us was non-stop perfect blue skies! When I returned back to my studio late that evening, I couldn't help but notice the waterlogged ground all around.  Thame was clearly the place to be on this surreal July day!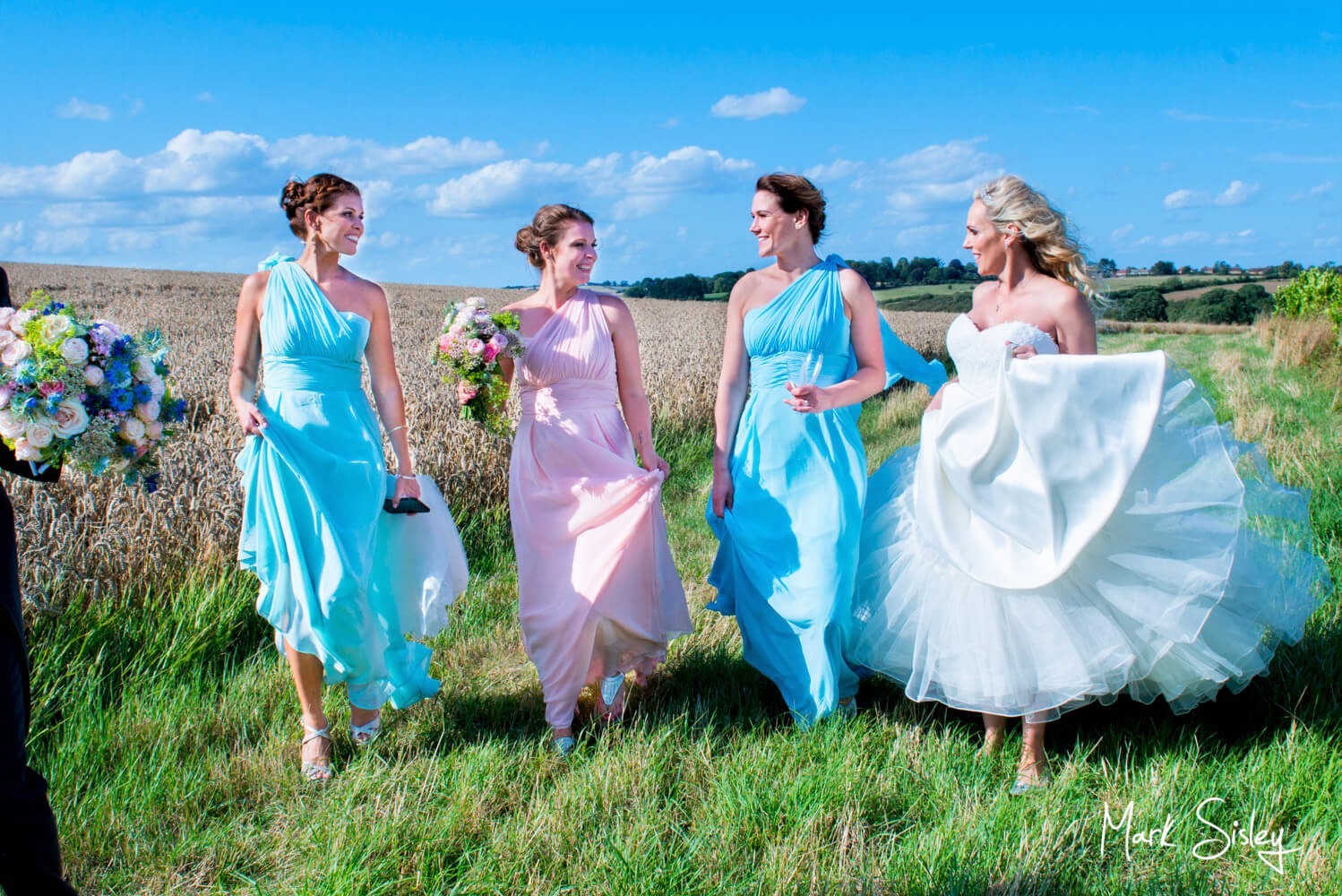 Sunset Wedding Pictures In A Beautiful Wheat Field
My favourite images from the day – I am a total sucker for wedding portraits captured at sunset! There is something simply mesmerising about this golden 5 minute period. I always prime my couples to venture to higher ground with me so that we can catch those magical rays of light as the sun descends over the horizon.
Ana and Jason were troopers, and despite the soggy wet grounds from the week of rain preceding their wedding day, we ventured up the nearby hill to create something truly magical together.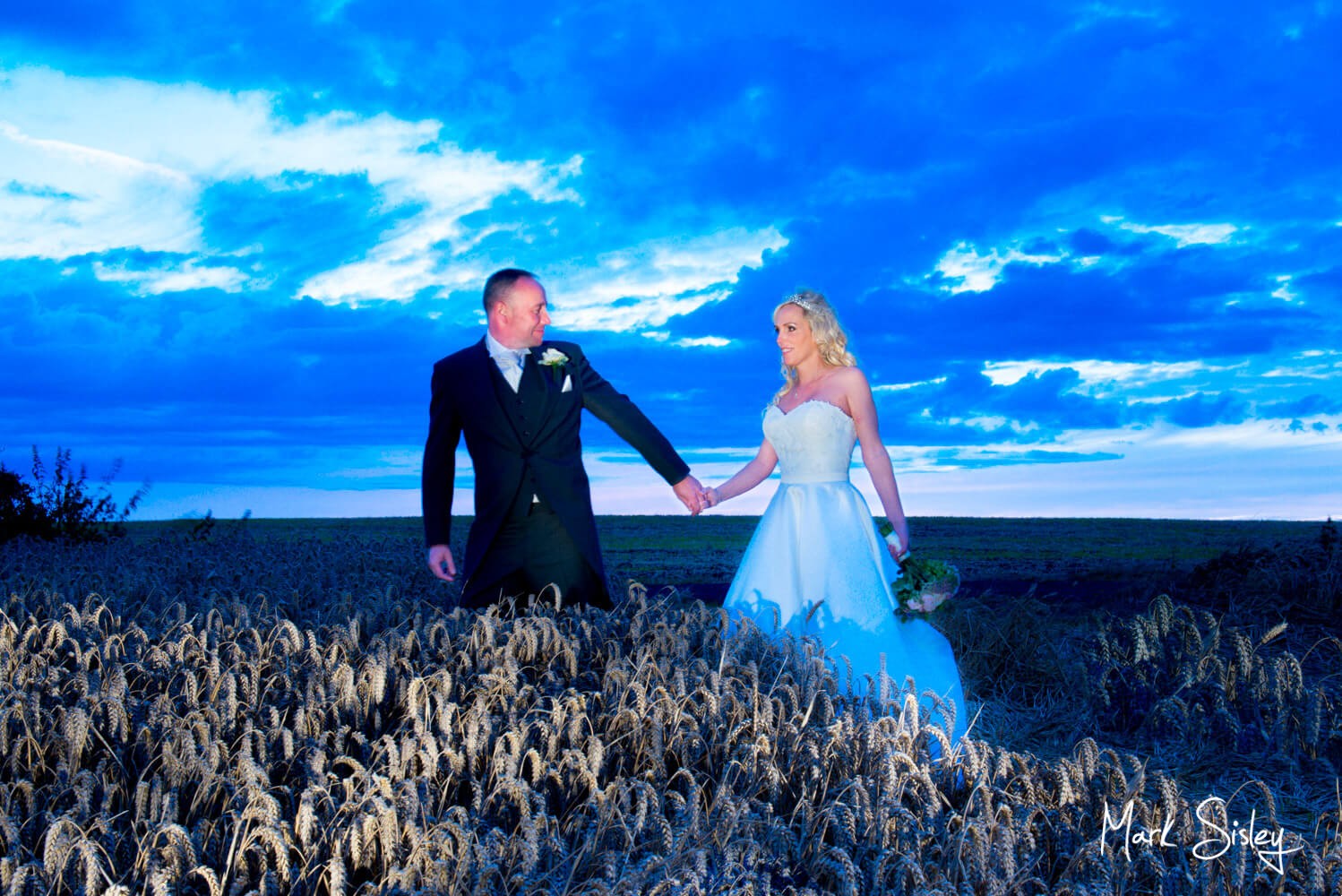 Dancing The Night Away
A special mention should go to Ana's aunty Eileen. She was such a good sport when the DJ played Dexy's Mid Night Runners track 'Come On Eileen'. Ana beckoned her onto the dance floor, and she was soon dancing like there was no tomorrow! It was only afterwards when I was chatting to Eileen that she mentioned about her current back issues. I guess there's nothing like an upbeat party atmosphere and a persuasive bride to reignite those flamboyant dance moves!
Witnessing the close union that Ana and Jason shared was incredibly humbling. This was no more evident than during Jason's truly heartfelt speech that didn't leave a single dry eye in the room.
I still can't believe how lucky I am to get to document such intimate, raw and honest moments. I wouldn't have it any other way. I've captured several Notley Tythe Barn weddings over the years – have a look at my gallery for more images from this gorgeous venue.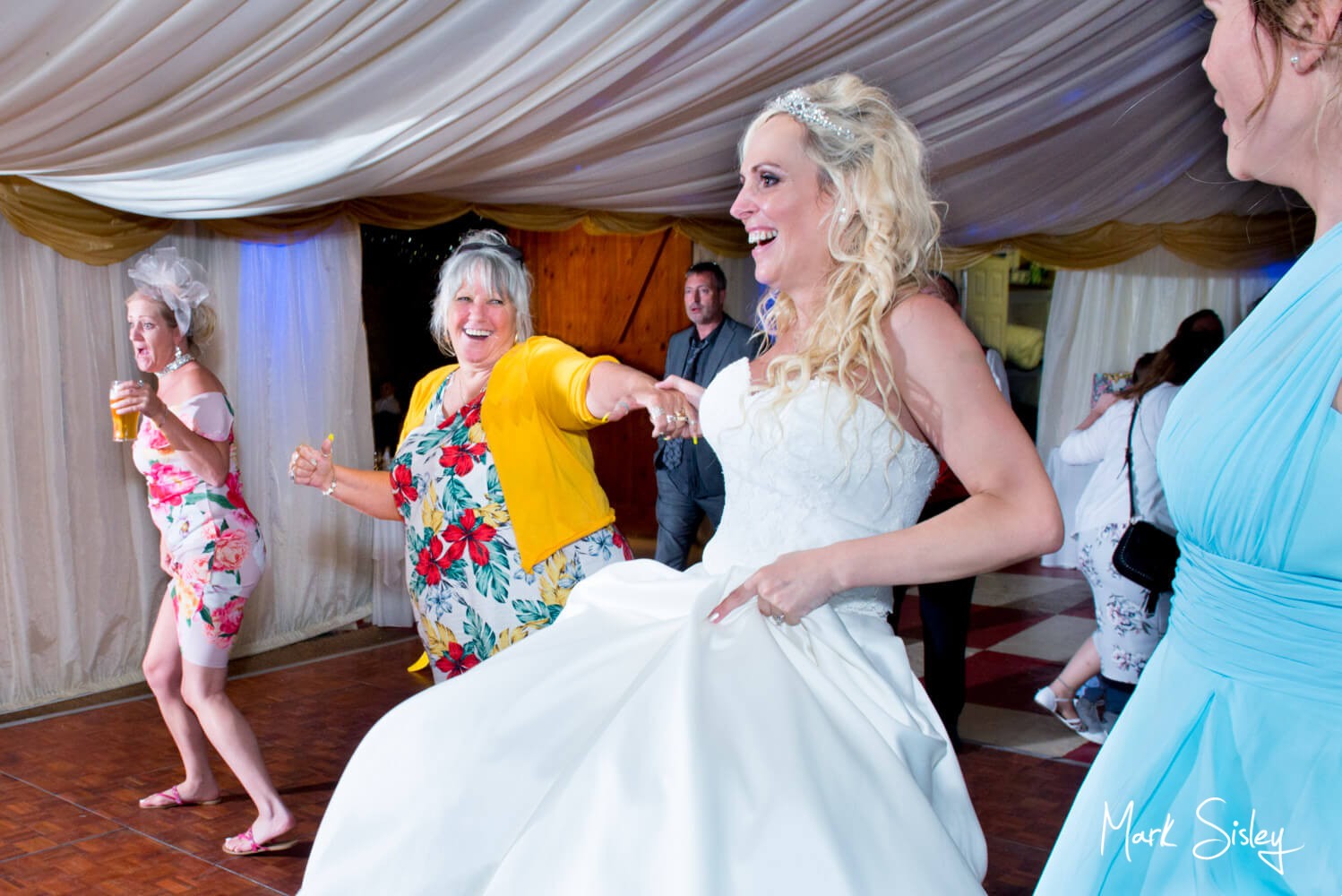 Kind Words
We met Mark at the Missenden Abbey wedding fair and fell in love with his style of photography, especially the photos where the light is fading into night time which are some of our favourites from our wedding. Mark is quite obviously a professional photographer and his confidence and obvious experience with wedding photography really put us at ease in the run up to our wedding.
We have just spent the weekend going through all the fantastic photos that Mark took from our Notley Tythe Barn wedding, it is going to be so difficult to choose the ones we want to go into our wedding album as literally every photo is great!
Mark has been so easy to deal with and in fact 10 days before our wedding when we met him at our venue that's when we really started to get excited. Although Mark was not particularly familiar with our wedding venue his eye for what would make good backdrops was obvious. All our guests mentioned how professional he was and have all commented on how natural all the photos are, which is exactly what we wanted.
We had a large number of kids at our wedding and Mark has captured them all having so much fun. The photos of my husband and myself of course are the most important ones and again Mark has given us so so many breath taking shots, we may need a bigger house to get them all on the walls!
We cannot recommend Mark strongly enough, he really is worth every single penny and more!
Ana & Jason