A Glorious Wedding Day In Sunny Hertfordshire
Zoë & Tom's wonderful small wedding ceremony took place at Hatfield Registry Office, followed by their wedding reception and photographs at nearby Sopwell House. So few of my weddings take place in Hertfordshire, and so this was a lovely change of scenery for me. I always enjoy going to venues that are new to me, albeit I did attend a friend's wedding at Sopwell House as a guest about 15 years ago.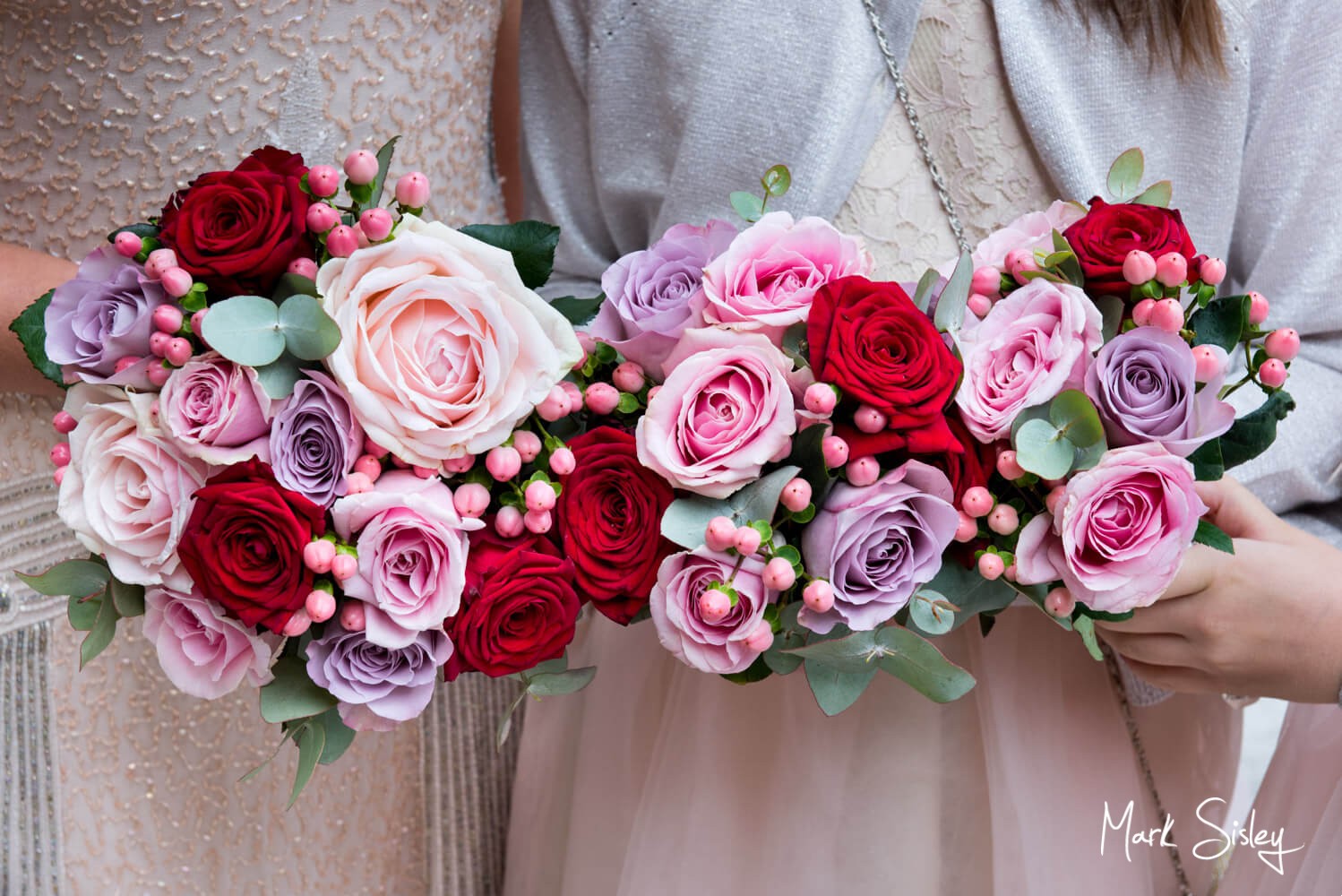 Horses & Carriage Arrival At Hatfield Registry Office
Zoë looked so radiant, brimming with energy and happiness as she arrived at the registry office with her father. The white horses and carriage that brought them to the ceremony were quite the showstopper too! Zoë was in her element being transported in style, and I captured some great shots of her with the gorgeous horses before the ceremony.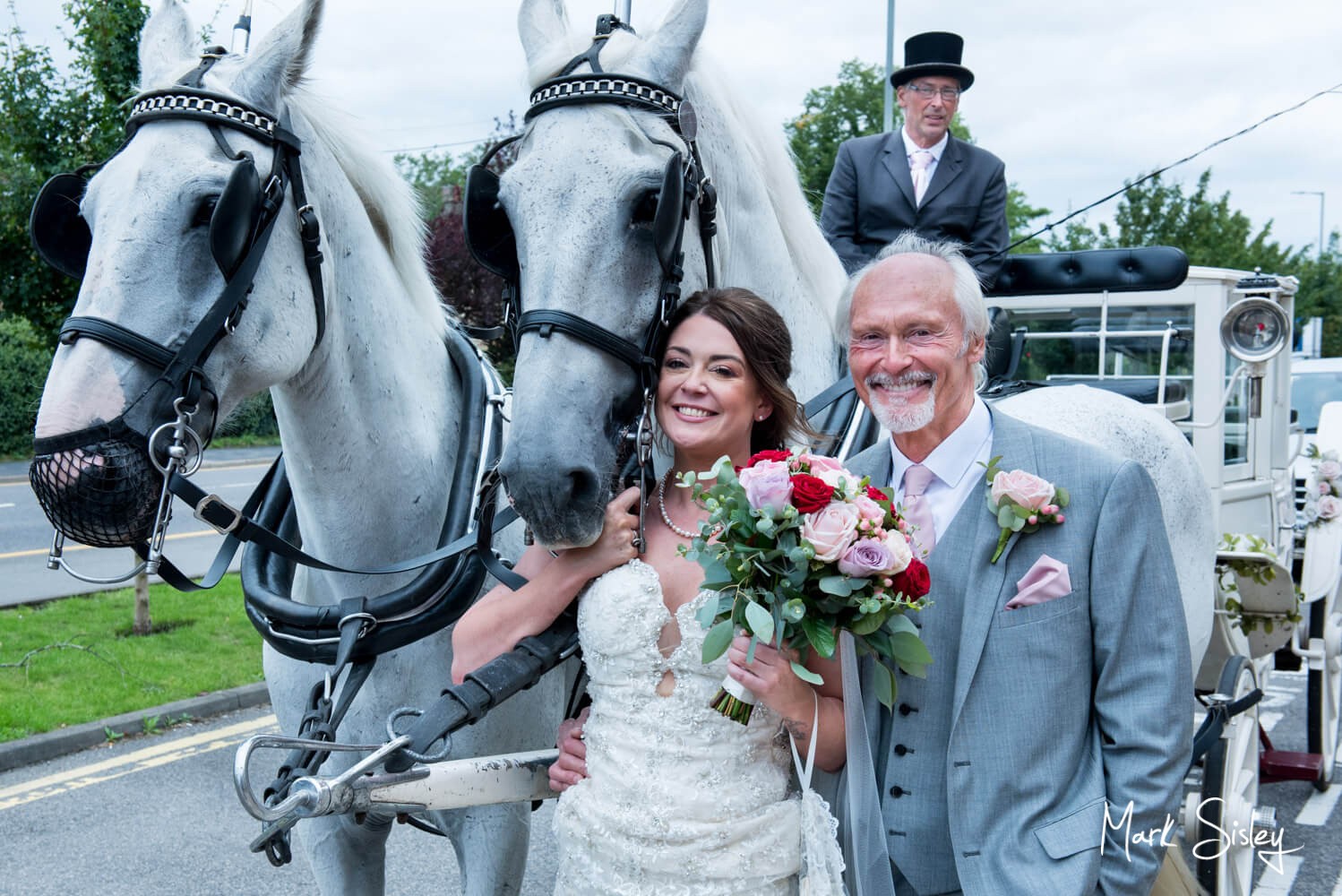 Fun & Laughter During The Civil Ceremony
During the vows there was a real buzz in the room, with plenty of smiles and jovial moments. There was certainly no sign of nerves shown by either Zoë or Tom during the formalities; they seemed to take everything in their stride. As ceremonies go, this was one of the most relaxed I've seen in a long time. Zoe's energy and fun loving personality made for great picture opportunities!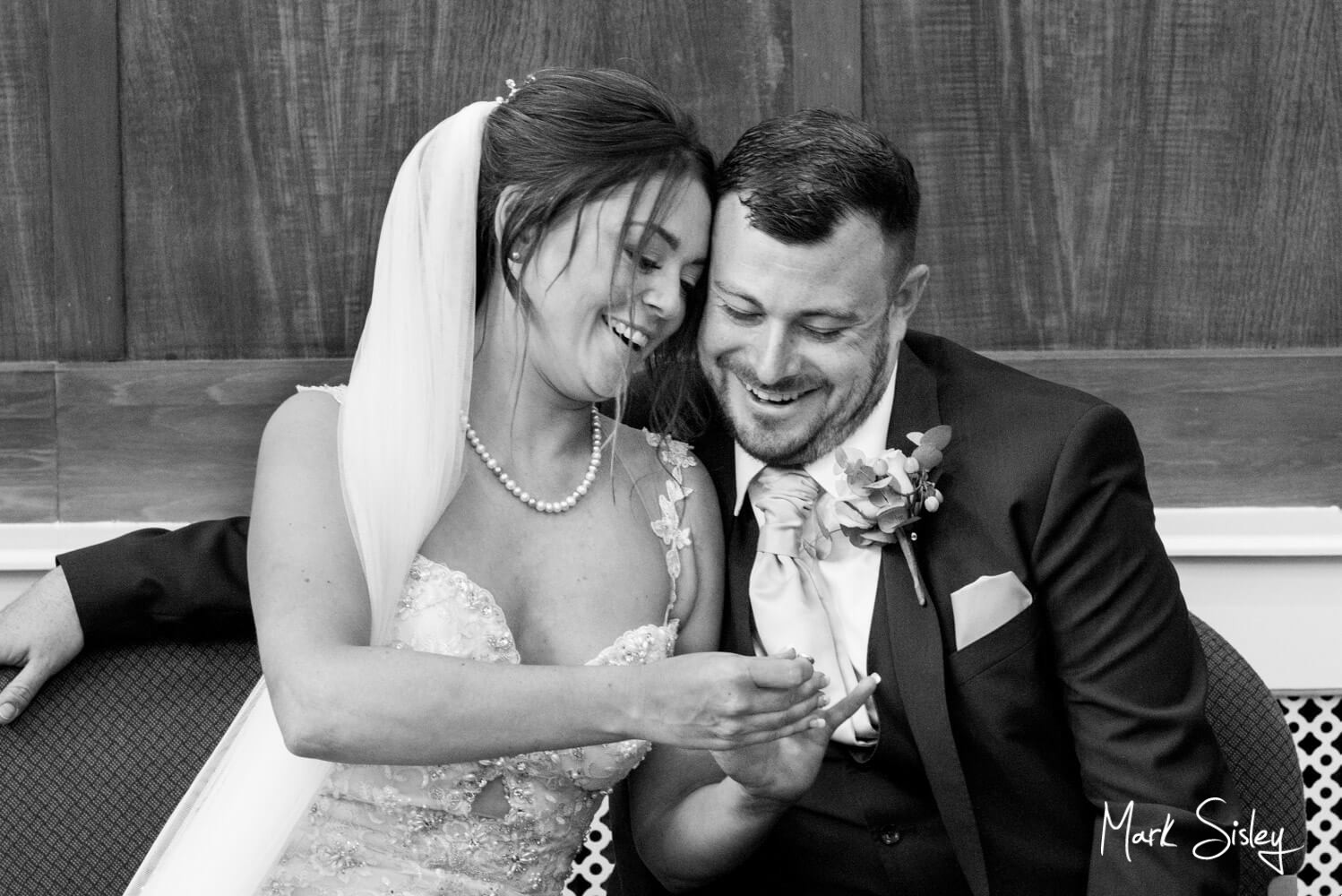 Family Pictures
After the ceremony I captured a few posed pictures on the steps of the registry office, plus lots of candid moments of everyone enjoying the moment. Then just fifteen minutes later the newlyweds were waved on their way. The horses and carriage provided a truly romantic and magical mode of transport for Zoe and Tom's journey to the reception venue in St. Albans.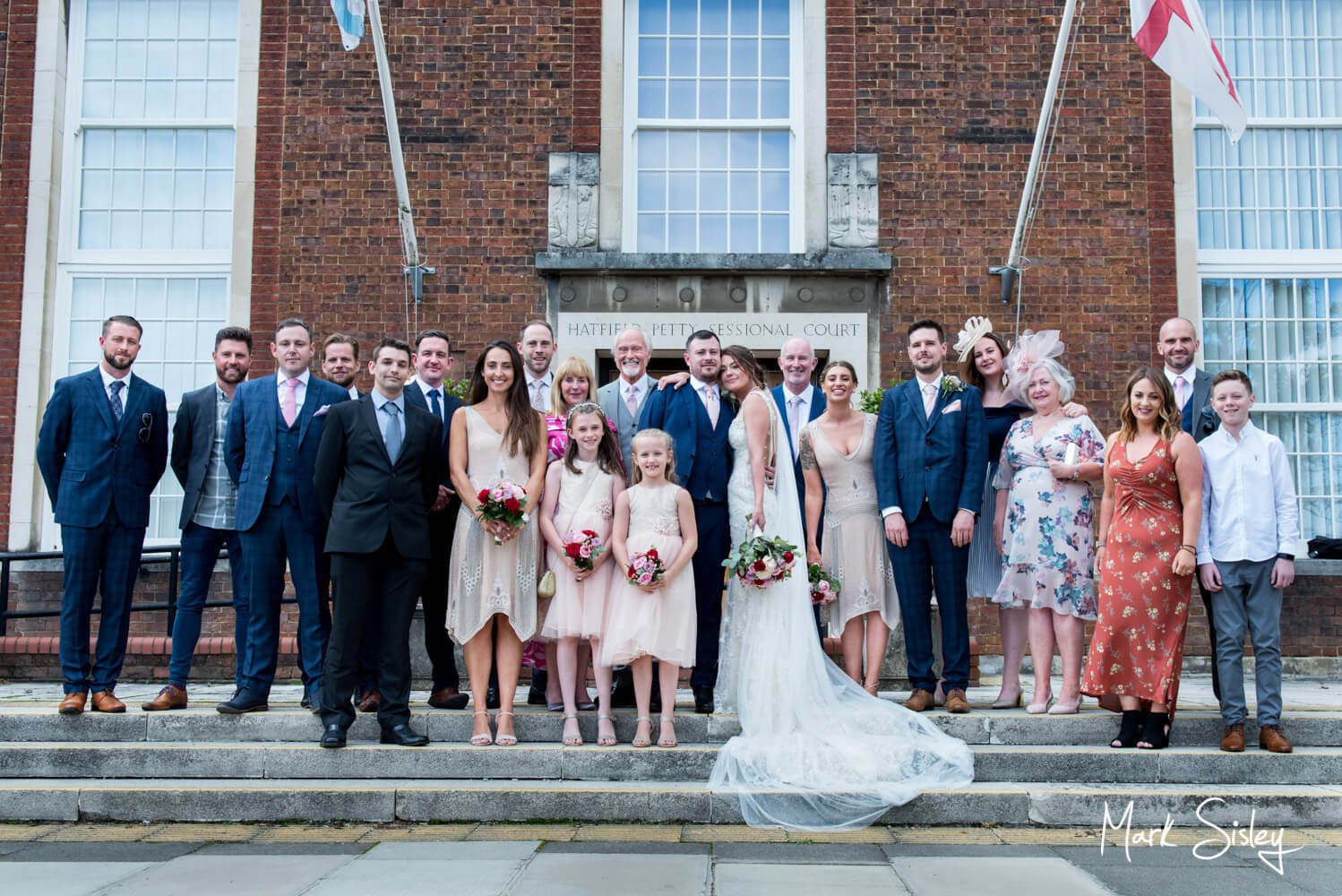 Reception At Sopwell House Hotel
The hotel's front lawns looked fabulous surrounded with masses of white hydrangeas. The combination of the white carriage, white Georgian facade, white horses, and masses of white flowers looked incredible.
For the newlyweds' arrival, I arranged for the guests to form a welcome aisle for the carriage to proceed through. This was also a great opportunity for everyone to greet Zoe and Tom once they stepped down from their carriage.  I loved the resulting images captured at the front of the hotel. Zoë's passion for horses really showed as she posed for some pictures with these gorgeous creatures.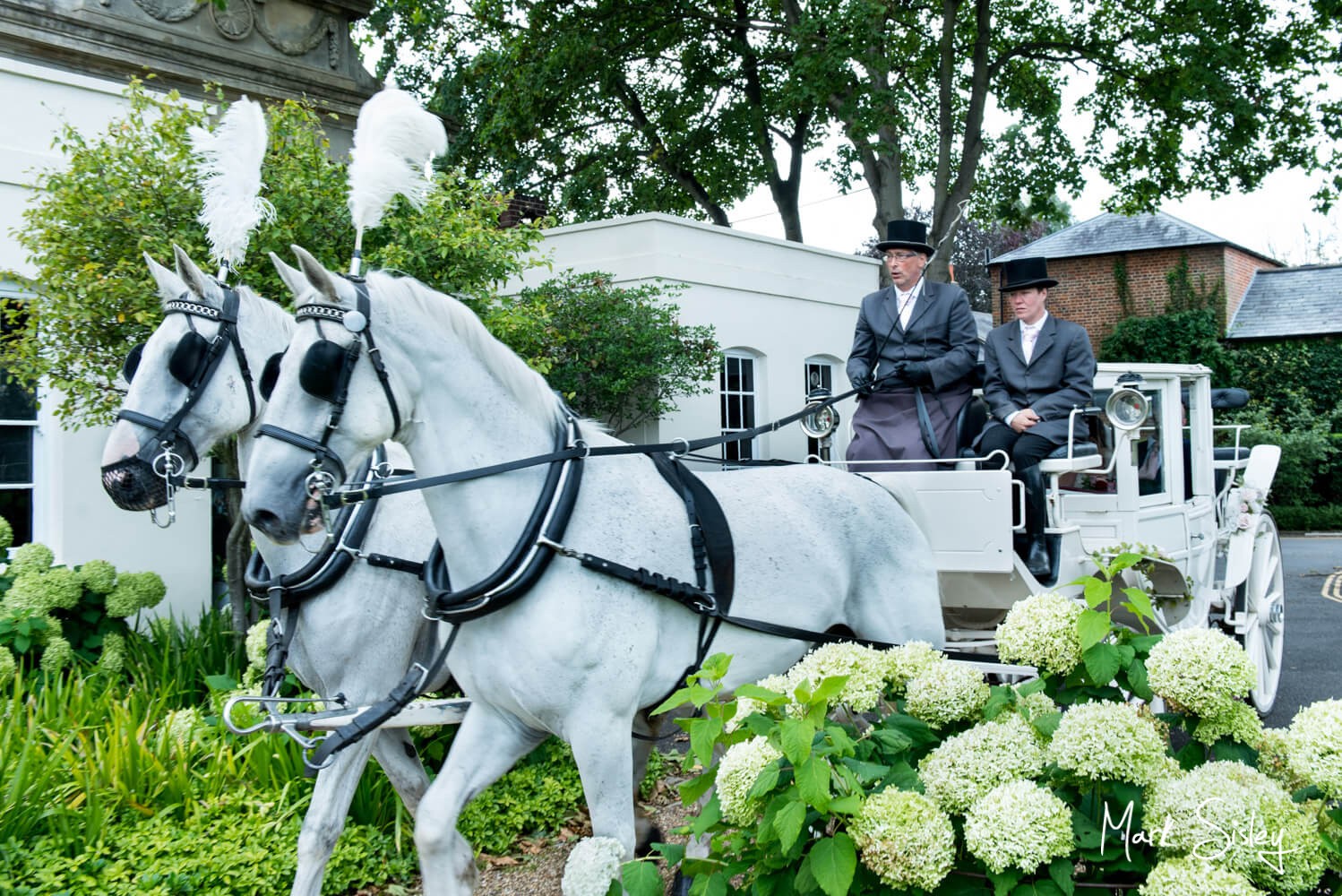 Champagne in the Sopwell House Gardens
The drinks reception at Sopwell House was a lively affair; these guys certainly knew how to have a great time. Whilst the many backdrops for pictures were great at every turn at this luxury Hertfordshire hotel, I particularly enjoyed working in the serene and picturesque water gardens.  Zoë & Tom were keen for me to capture the fun of the day, together with a few classic poses in the gardens. With so much lively conversation and laughter all around, my job of documenting their wedding was an absolute pleasure.
The two lovely flower girls, Daniela & Sophie were also great fun to work with; their energy knew no bounds! Not only were they doing cartwheels for my camera, but I had them dashing around throughout the gardens to showcase this beautiful setting in my imagery. If they were exhausted after all the pictures, they certainly didn't show it!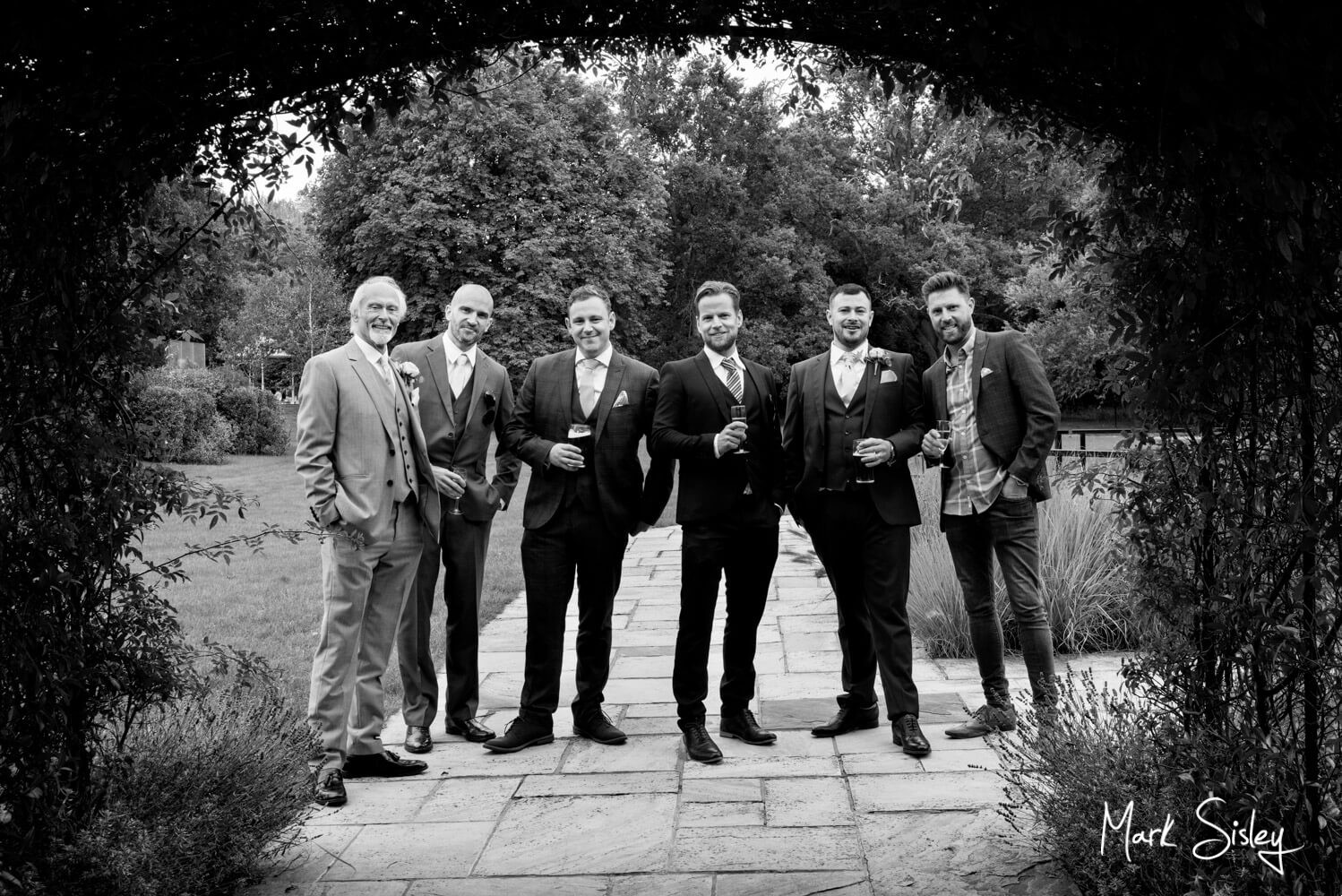 Group Pictures In The Water Gardens
Zoe and Tom only wanted a few group pictures on the day, and the water garden area at the hotel was the most idyllic setting for these family poses. The bridge and the reflections on the water really added to these classic style shots. Once I'd finished the family group poses, it was time for me to pack away my cameras for the day.
This was such a fun filled wedding to photograph, and Zoe and Tom were one of the loveliest couples I've worked with this year.
I know their celebrations were just for their immediate family at this stage. Then over the next eighteen months they plan to throw a big party for the extended family and friends. If their gathering is anything like their Sopwell House celebrations, I look forward to the prospect of getting back behind the camera to capture Zoe and Tom's big party!
Brand New Sopwell House Wedding Picture Gallery
I love attending venues that are to me, and it's always great fun working with a different set of backdrops. It's also a fabulous opportunity to try new ideas, and to meet lots of new people along the way. Also, it means I get to have lots of pictures for a new venue gallery on my website.  Have a look at my  new Sopwell House gallery – I look forward to adding to it in the future.
Kind Words from the Bride & Groom
As a Covid bride this year you can imagine the stress and anxiety of cancelled weddings, venue changes and never ending changes to the guest numbers!
Despite all this Mark was simply fantastic. He went the extra mile to make sure he was available for all the changed dates at very little notice. He quite frankly made the day. Without his experience and expertise we would never have got the amazing photos we did, in a venue none of us had ever been to before, and all with only a couple of weeks notice.
He got every shot we could have asked for and more. His professionalism and dedication to making our memories of the day so perfect, was impressive and everyone who attended could not comment more highly on Mark.
Fantastic photographer, highly professional and would 100% recommend.
Zoe & Tom