Old Amersham Wedding Ceremony
Jacqui & James' wonderful wedding ceremony was held at St. Mary's Church in Old Amersham.
Churches don't get much closer for me, as I live just a short stroll away from this historic place of worship. Old Amersham is such a charming beautiful old town full of traditional tea rooms and independent shops. I frequently take a stroll along the cobbled walkways on Sundays to escape the hustle and bustle of work, and yes like everyone else I'm usually tempted by the coffee and amazing cakes!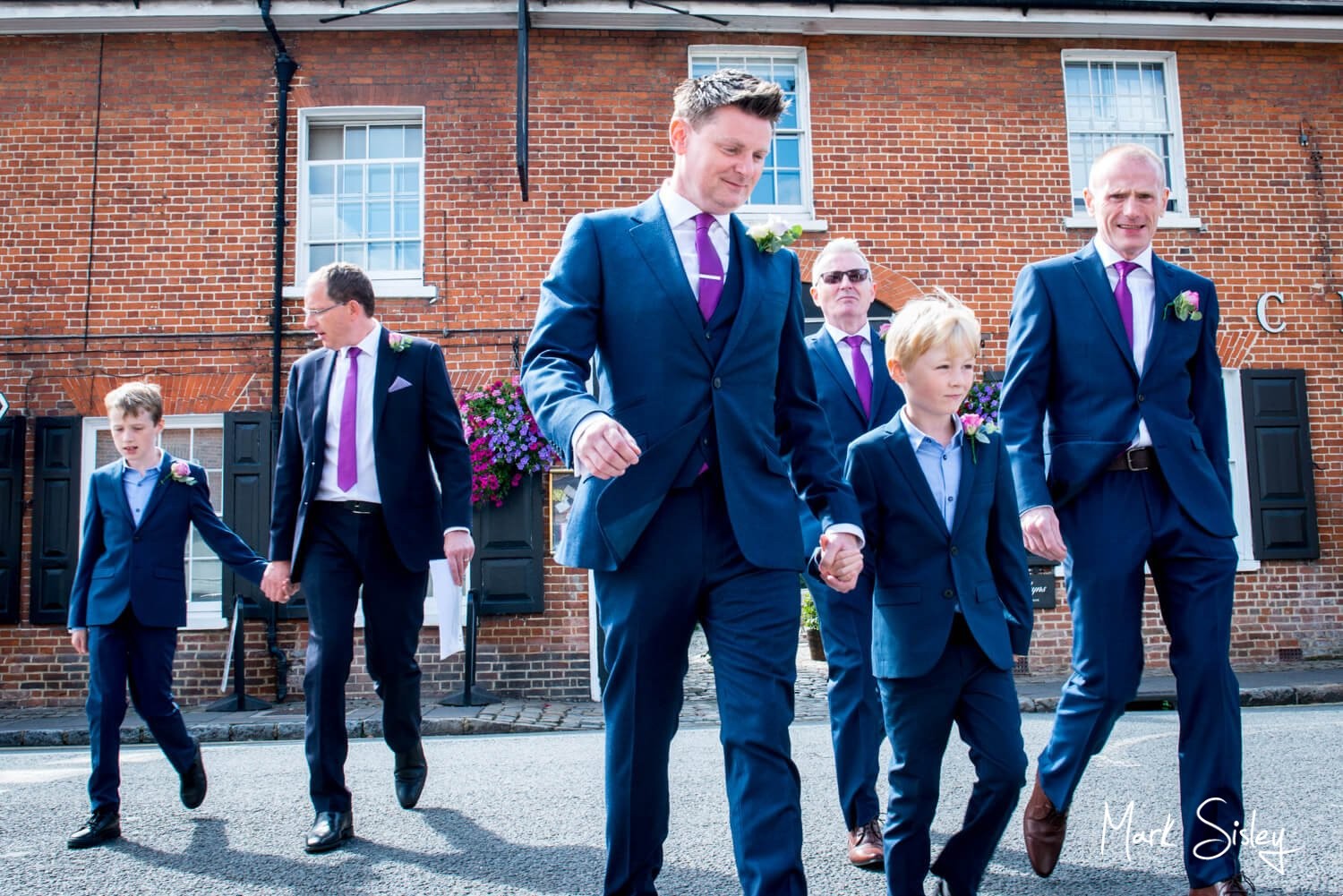 Gorgeous Wedding Gown
My day started at the couple's home just a few minutes drive away from the church. Then after a few images of the make-up, dress, bridesmaids and Jacqui's parents, I dashed over to the church to capture James with his ushers as they made their way from the Crown Hotel.
I must compliment both Jacqui on her wedding dress, I loved the stunning design, and it photographed so beautifully too. She didn't go for the long flowing classic wedding gown, and I so admire it when a bride does something a little bit different – she looked incredible! Whilst James and the lads looked very sharp in their matching navy blue suits.
The ceremony was so relaxed, everyone just seemed so chilled out, and in such high spirits. The traditional elements were there too, but as church services go this was one very laid-back ceremony.
After a few group pictures at the end of the service, there were a few moments for the newlyweds to relax and catchup with everyone by the car. Then a short while later Jacqui and James were waved on their way, I then followed the car convoy to Taplow House Hotel as we all weaved our way through the pretty country lanes.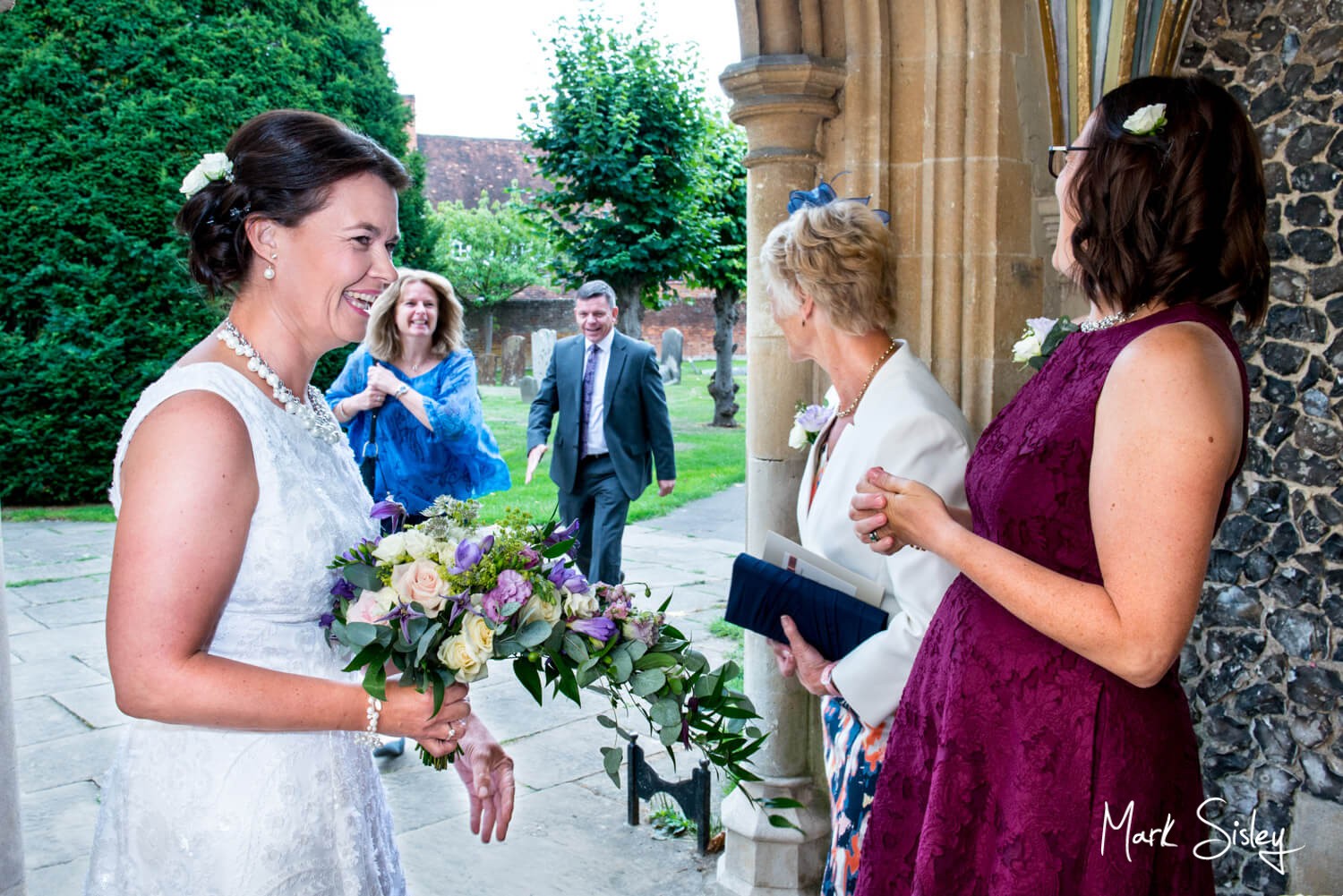 Taplow House Wedding Reception
Taplow House is a venue I've photographed many times, I just love this fabulous country house hotel. It's full of wonderful period charm, big windows, high ceilings and chandeliers. The staff are always so professional, and the food is delicious! Whilst the hotel also employs some seriously talented chefs, so its no surprise really that this lovely hotel is so popular as a wedding venue!
I loved Jacqui and James's decor and design touches at the hotel, in particular the Tulip Tree Room totally took my breath away when I entered the hotel! The classic white interiors contrasted with the big bold splashes of colourful flowers, the final effect looked so striking!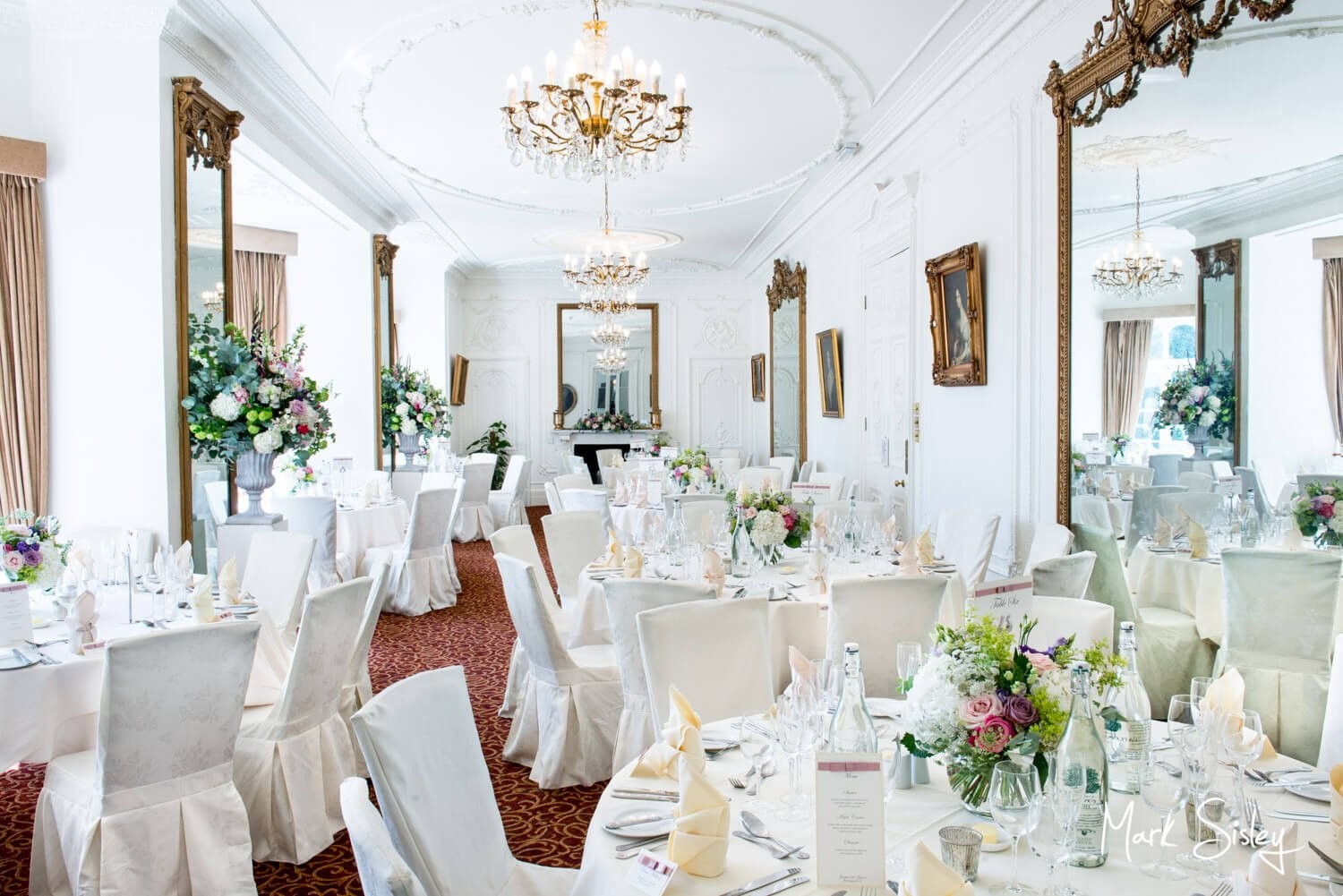 Drinks Reception On The Hotel Terrace
When we arrived at Taplow House, everyone was looking forward to a glass of champagne to quench their thirst. They didn't have to wait long before the staff were on hand with the drinks and the amazing canapes.  Once the drinks were flowing, the party vibe really kicked up a notch or two, and there was such a great buzzy atmosphere in the air the whole time too. I certainly had no shortage of picture opportunities as the lively guests enjoyed the afternoon's celebrations.
Their lovely friends and family who travelled from far and wide were treated to a relaxed and fun wedding celebration. And this close knot group of family and friends seemed to thoroughly enjoy themselves too.
My brief was to capture lots of candid shots of the couple and their guests, and their drinks reception was an ideal time for these natural moments.
I captured the family group shots on the lawns with the hotel as my backdrop, this gorgeous building always looks great. And especially so when the hotel's famous Tulip Tree is also included in the frame. The two Tulip Trees that take centre stage in the Taplow House's gardens are pretty impressive, they are about 250 years old!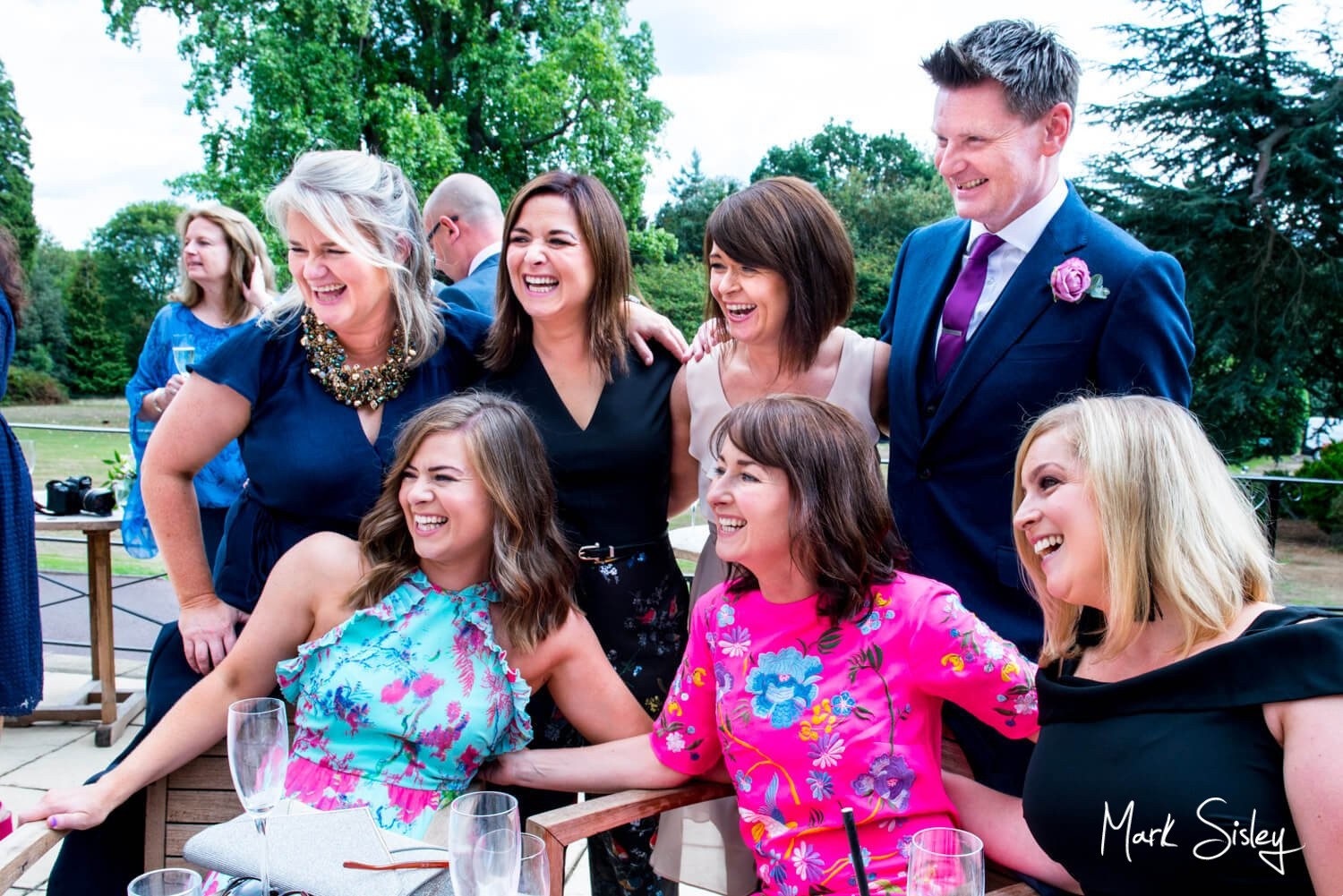 Bold & Beautiful Colours
Jacqui chose the most gorgeous colours for her floral displays and bouquets. The colours were cleverly mixed with contrasting colours for her bridesmaid and flower girls dresses for stunning effects!  I so enjoy working with rich vibrant colours – it always raises the wow impact of wedding pictures up a notch or two!
The two young bridesmaids were also wearing contrasting colours, the whole vibrant wedding colour scheme can together pefectly!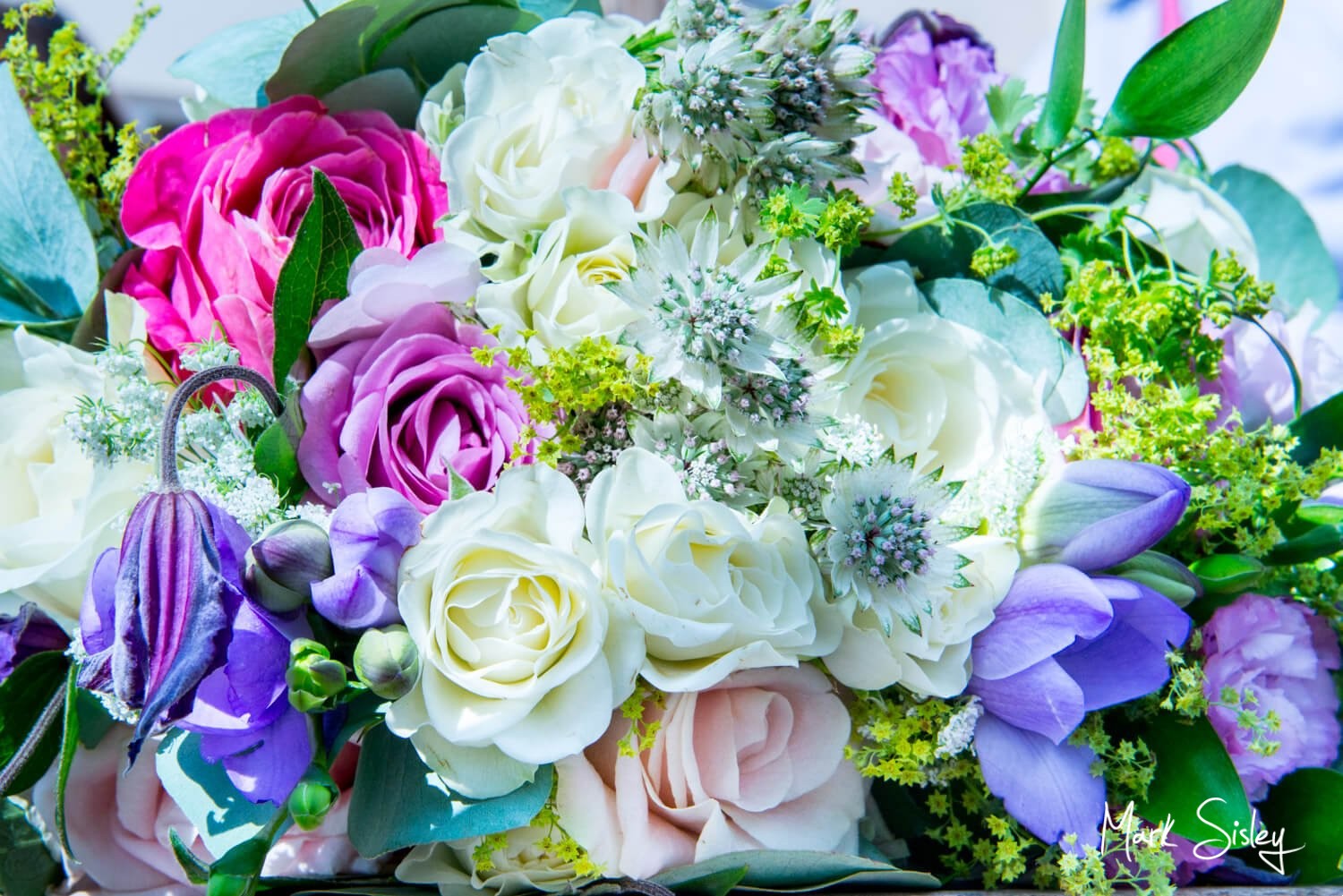 Picture Opportunities At Taplow House
This wonderful hotel has so many great backdrops for pictures, at every turn there are opportunities both inside and out. Most of the rooms have huge big windows that illuminate the interiors beautifully, and the grounds provide stunning vistas of the landscape too.
This lovely arched window is one of my favourites at the hotel, it makes for such great portraits and sillouette options. And when the images are turned into black and white, they take on a completely timeless feel.
I was booked right through until the speeches, this enabled me the chance to capture a true storybook style set of images.
Jacqui and James and their family and friends couldn't have been more welcoming and friendly, so a big thank you to you both for inviting me to be a part of your special fun-filled wedding day. And I wish you many, many happy years of marriage.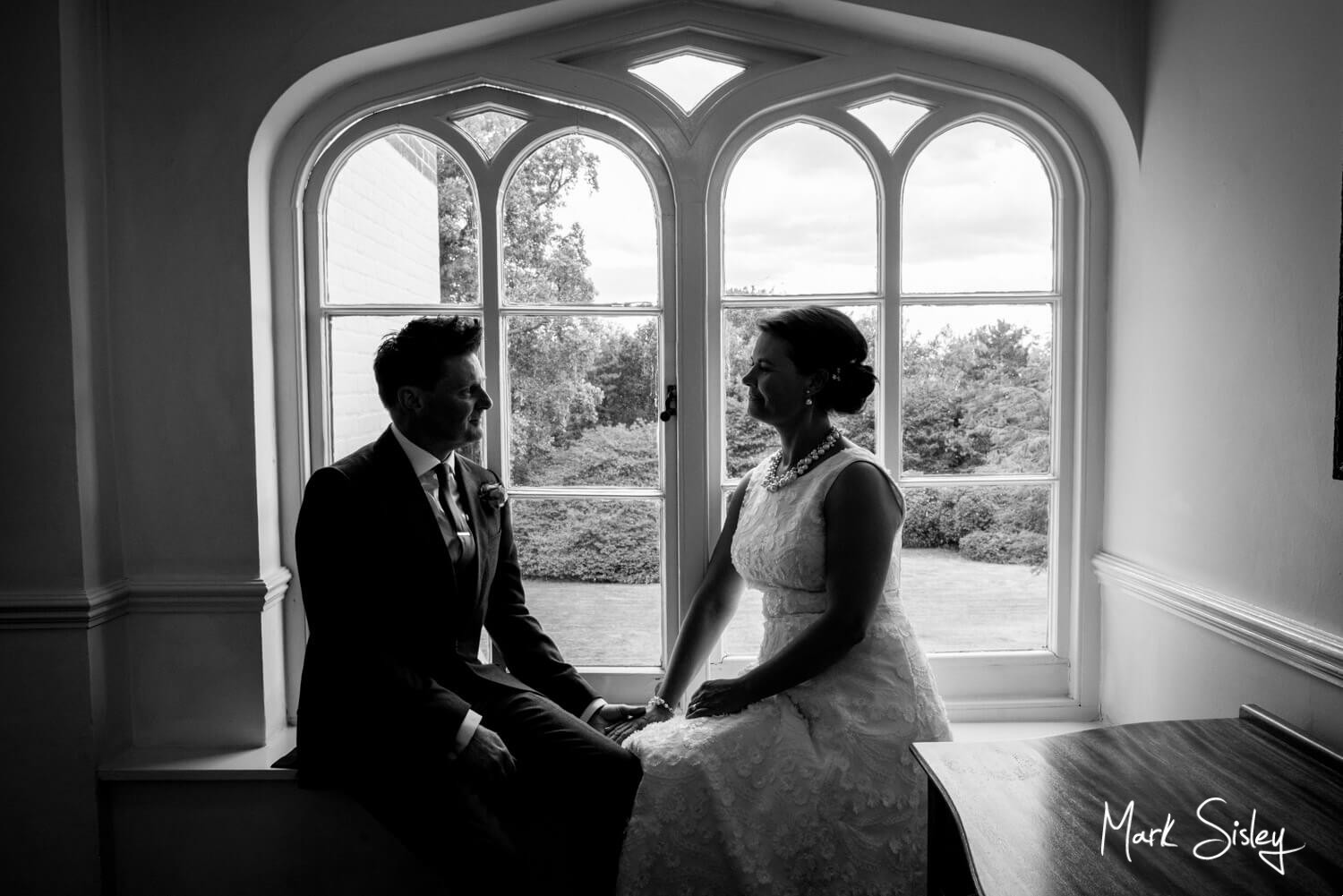 Kind Words
Dear Mark,
A huge thank you for the wonderful photos that you took at our wedding in August; they are just perfect.
When we met with you and talked about how we wanted the photos and the informal manner in which we envisaged them we knew you would be able to accommodate our request; however they have turned out even better than we expected and this is down to your expertise so thank you.
What we also really valued Mark was your guidance and advice both before and throughout the day to get the best out of the shots; your attention to detail is second to none.
So many of our friends also commented on both your great style on the day for getting just the right shot but also the fact that half the time our guests didn't even realise these lovely shots were being captured. Once again thank you so much, you have provided us with a wonderful memory of our day.
Jacqui & James