Taplow House Hotel's Great Wedding Photography Backdrops
Cathryn and Paul's gorgeous wedding took place at Taplow House Hotel, and I was privileged to take the photos for it.
Taplow has the absolute wow factor on so many levels! When I'm thinking of a dream venue for wedding photos, I'm hoping for high ceilings, big windows, wow interiors, and glorious gardens, well Taplow House has the lot! The fact that they've recommended me for 15 years is a lovely bonus.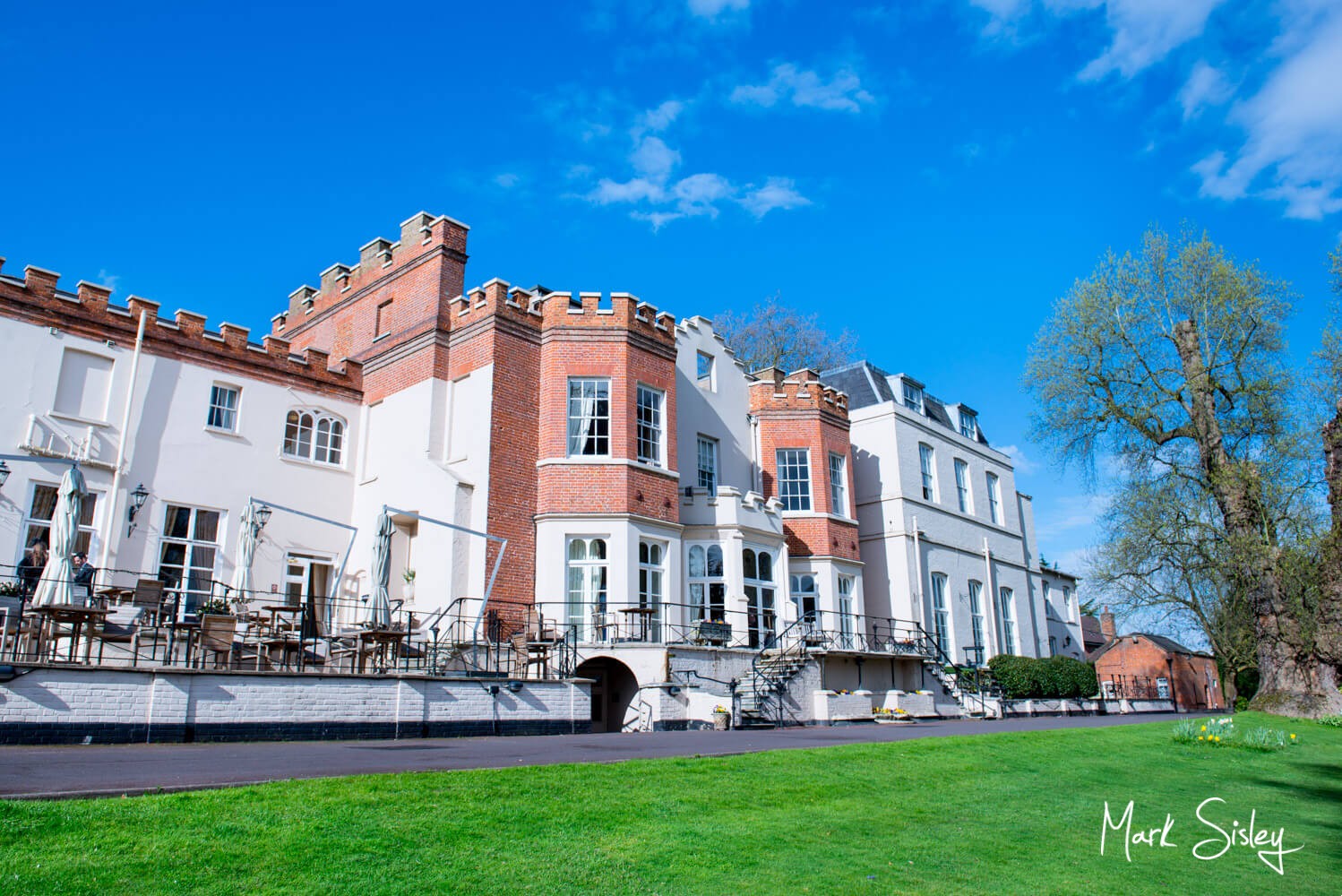 Reportage Photos – Capturing The Moment
On the morning I captured images of the ladies in their suite, and they were certainly in high spirits. No doubt the odd glass of champagne, and the fun atmosphere helped to ease any pre ceremony nerves.
Seeing Paul's face light up as Cathryn entered the ceremony was a joyous sight. It was so evident at this moment that this couple are madly in love with each other! The emotional vows were very memorable, and sometimes I have to fight back the tears too. And yes, this was one of those weddings that I could feel a tear in my eye, albeit alongside all the other guests in attendance.
Once the formalities were over, the laughter and celebrations continued throughout the day. As for pictures, the newlyweds wanted a few group shots, but mostly they'd requested lots of my reportage style images. When the guests are in such high spirits, the picture opportunities just keep flowing!
I'll never forget the heartfelt speeches at this wedding. Again the tears flowed as the speakers unearthed memorable stories from both Cathryn and Paul's past! The speeches present so many great picture chances for me. Cathryn's jovial and flummoxed reactions in particular were a joy to capture.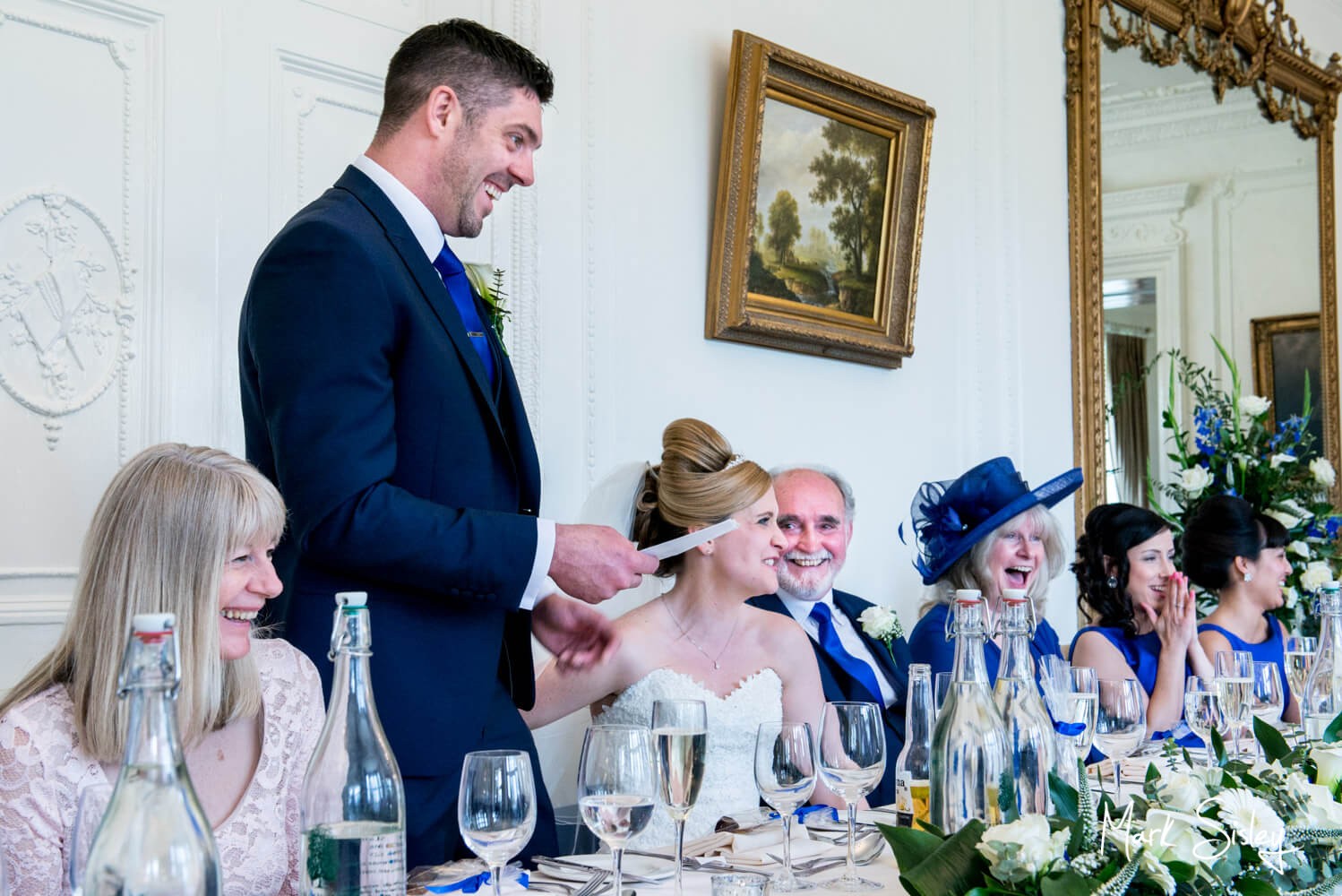 Fun Wedding Game – A Great Photo Opportunity!
Straight after the speeches, the newlyweds were thrust into a game of Mr & Mrs. This was such a fabulous way to start the evening partying, everyone in the room was loving the moment as the newlyweds were interrogated!
The aim of the game is to see how well the bride and groom know each other, and to match up as many answers about one another as possible. Each time the presenter asked a question of the two of them, they would raise their shoe in response to a yes or no answer. Some of the questions were a little risque, but this did result in wonderful audience reactions and crowd participation as they answered each question.
The couple were positioned back to back, so they couldn't see the response of their partner as the shoes were raised. But the guest reactions would always give the game away! This often resulted in a whack over the head from Cathryn's shoe aimed at her new husband. I really couldn't have asked for a better scenario for lots of fun images!
This was one heck of a wedding, I certainly loved every minute of it! Taplow House not only provided a stunning backdrop for the wedding photos, but it also made for a fun, relaxed day!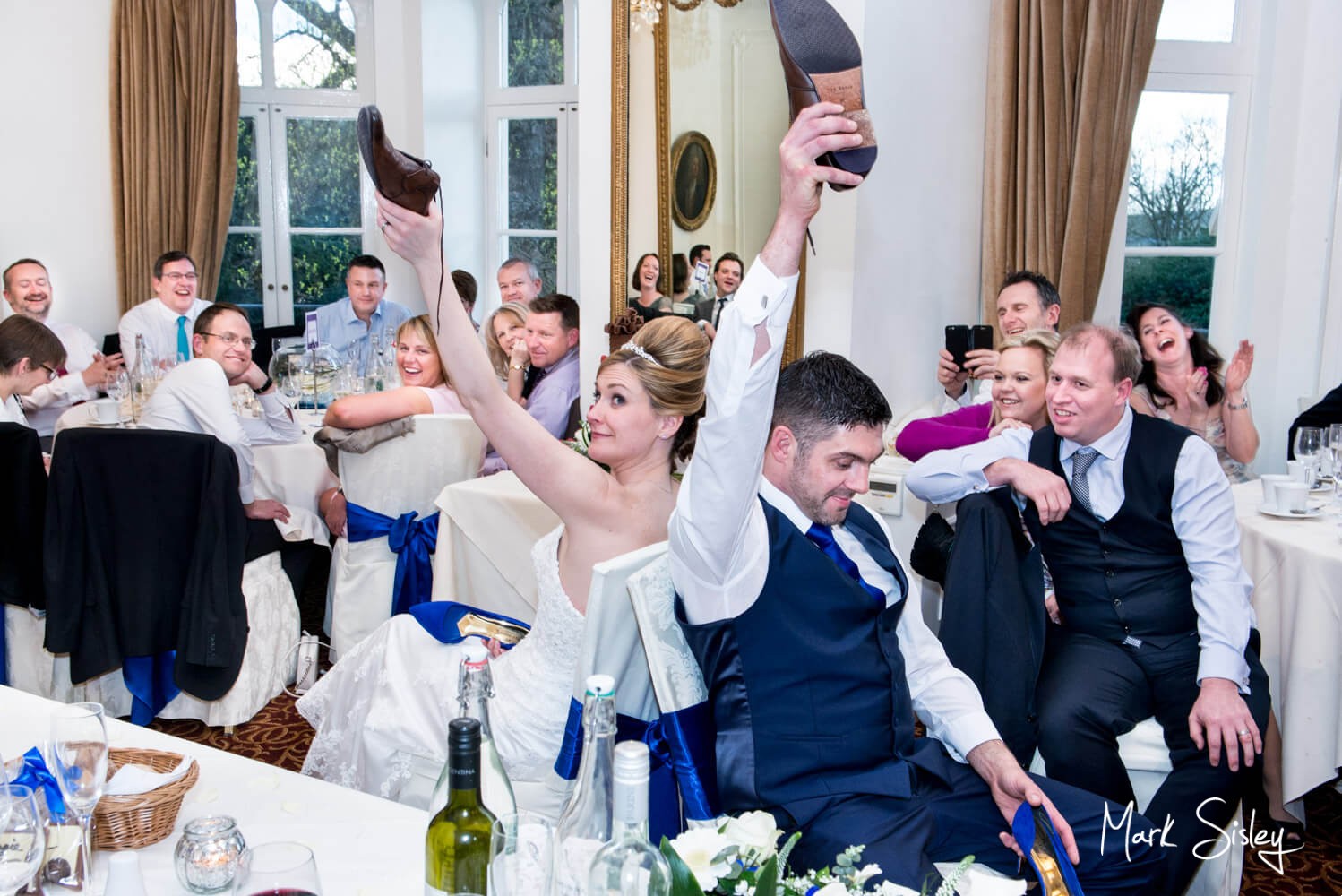 Kind Words
Dear Mark,
We wanted to thank you for your hard work and dedication. On the day itself, you were calm, yet assertive. It's not an easy job to round up wedding guests for the required photos, but you managed to do so without any issue or delay.
I think your friendly demeanour really helped to relax Paul. If you recall I told you he wasn't one for having his photo taken, yet he looks very calm and handsome! In four and a half years of being together, we have never had as many wonderful photos of us.
We didn't even realise you were there most of the time. Yet, you have captured some magnificent moments of the fun and laughter that filled the day.
You really made our day and we have thoroughly enjoyed looking at all of the photos. They are fantastic memories of a wonderful day. We are delighted that we chose you. The photos are a credit to you and your hard work, they're certainly worth the money! We're going to have to deliberate for quite some time to decide which ones will go in frames as we are spoilt for choice.
Thanks for being part of our special day, Mark. It was an absolute pleasure to meet you and I'm so pleased with our photos. 
Kindest regards, Cathryn & Paul