A Beautiful Venue For A Wine-Themed Wedding
The Dairy on the Waddesdon Estate was the perfect choice for Sash and Russ's wine themed wedding last summer. The owners of this grand Estate are renowned for their wines. In fact, the Rothschilds have been producing their world famous wines for over 100 years!
The Dairy nestles within the vast 6,000 acre Waddesdon estate, with stunning water gardens that are truly breath taking for a summer wedding. It has the absolute wow factor on so many levels, and the attention to detail is quite surreal. The architectural features, the eclectic decor, and the beautiful landscaping make this a dream wedding venue.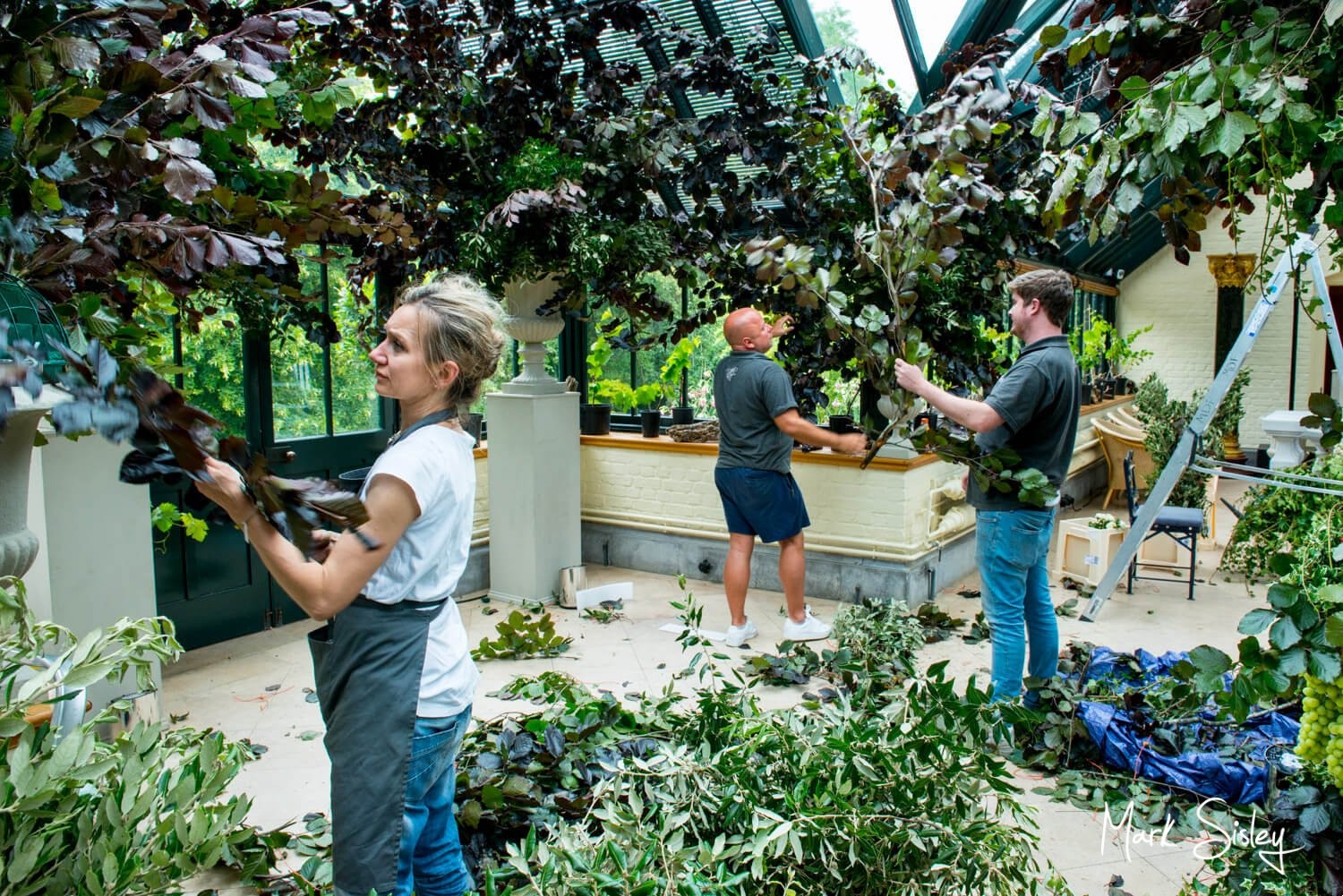 Wedding Day At The Dairy, Waddesdon
I love photographing a wedding that is very different, (tick!) with vibrant colours, (tick!) amazing attention to detail everywhere, (tick!) a wow setting, (tick!) delicious food, (tick!) an interesting theme (big tick!) and a fun-loving couple (big tick again!)
I can't fault the incredible summer wedding of Sash and Russ at The Dairy on the Waddesdon Estate.  They certainly threw every ounce of energy into making their day as magical as possible.  I knew from the moment I met them at The Dairy's Wedding Inspiration Event that this couple knew how to throw an amazing party.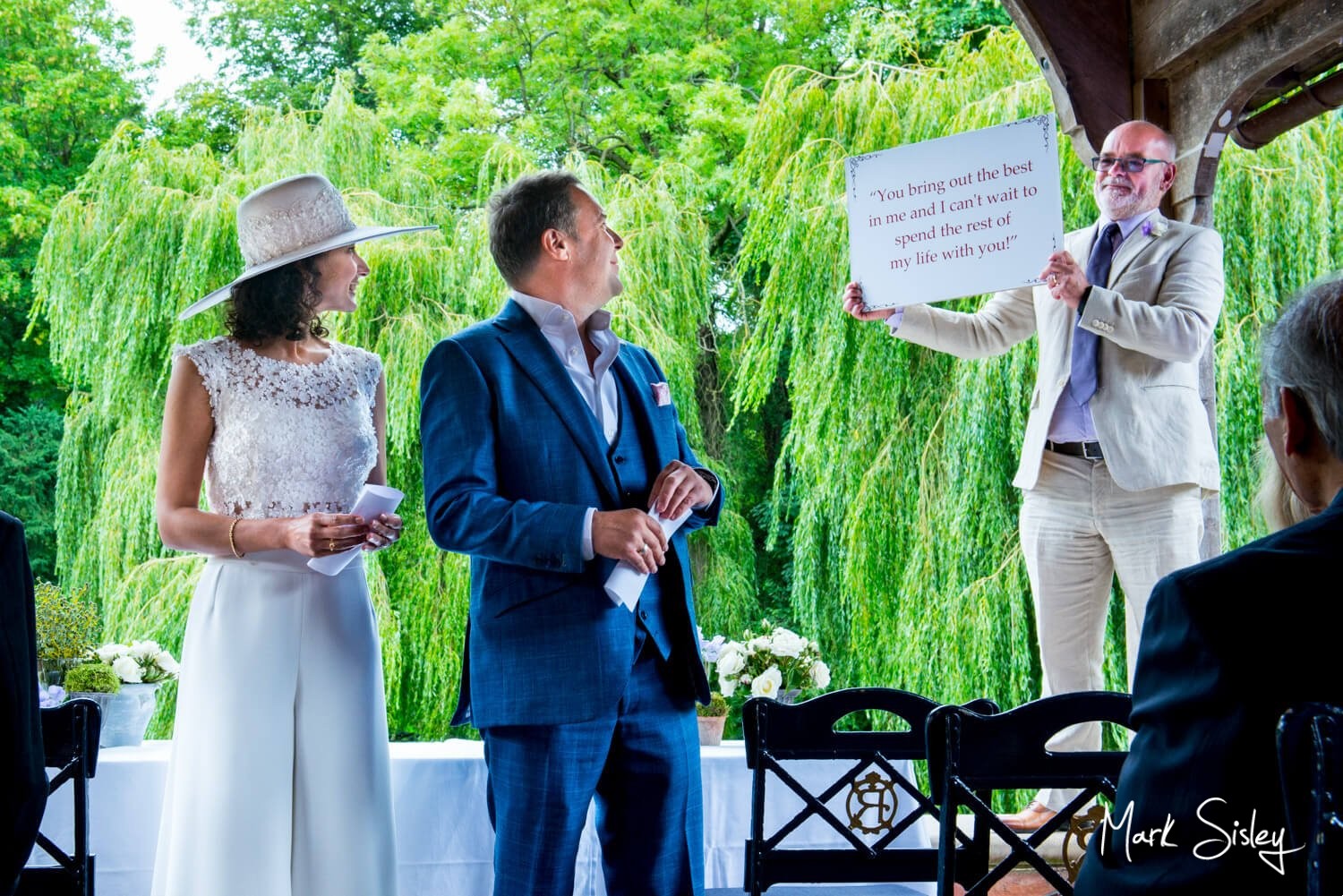 Doing Things Differently
They broke a few rules along the way, and why not! Like the two-hour drinks reception they hosted before the civil ceremony, and turning the reception venue into a fabulous rustic vineyard setting.  This was certainly going to be a wedding their guests would never forget.
I've been looking forward to photographing this wedding all year; sometimes you just get a vibe that this one is going to be special!  The wedding was a wonderful celebration of love and the couple's passion for fine wines, plus a sensory delight for the eyes and taste buds.  Their family and friends certainly had a great time – it was full on smiles, laughter and merriment from start to finish.
I must compliment Sash and Russ for their vineyard theme in the Dairy's Wintergarden and the wine-themed table centres; these creations were something else.  Again I do hope my pictures do your florist's and wedding planners' masterpieces justice.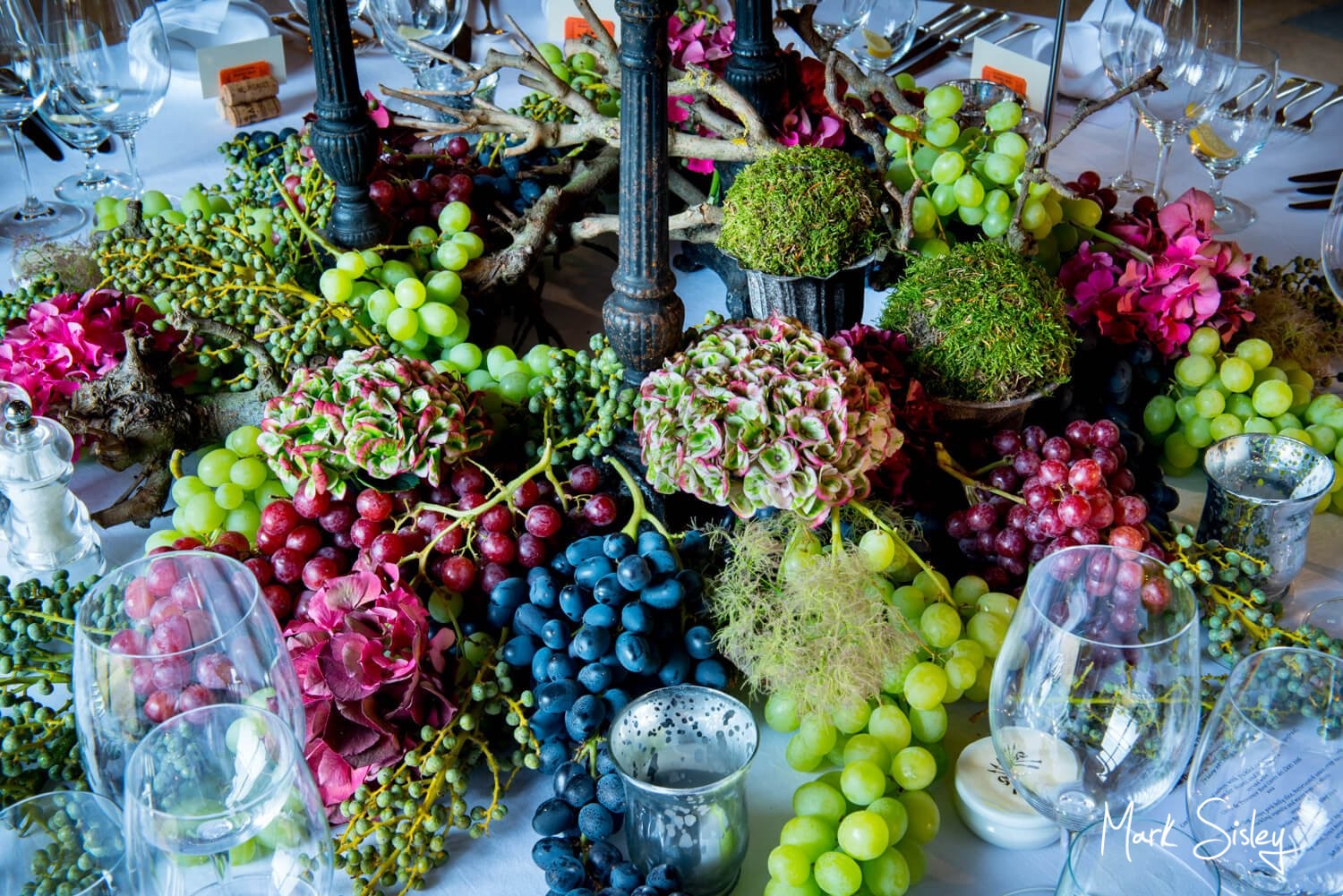 The Wedding Photographs
This wedding had such a fun loving group of friends and family in attendance, and the resulting reportage images that Sash and Russ requested were by far my favourite shots from the day. When the buzz and laughter is all around, it presents so many great natural picture opportunities. Reportage images are so emotive, and really capture the essence of the day!
The shot you see below was an option that I'd suggested instead a traditional confetti aisle. This was a first for me incorporating champagne flutes instead. I was really pleased with the pictures taken just prior, and the image you see here.
There were too many other memorable moments on the day to even begin to list them, so I'll let my pictures do the talking.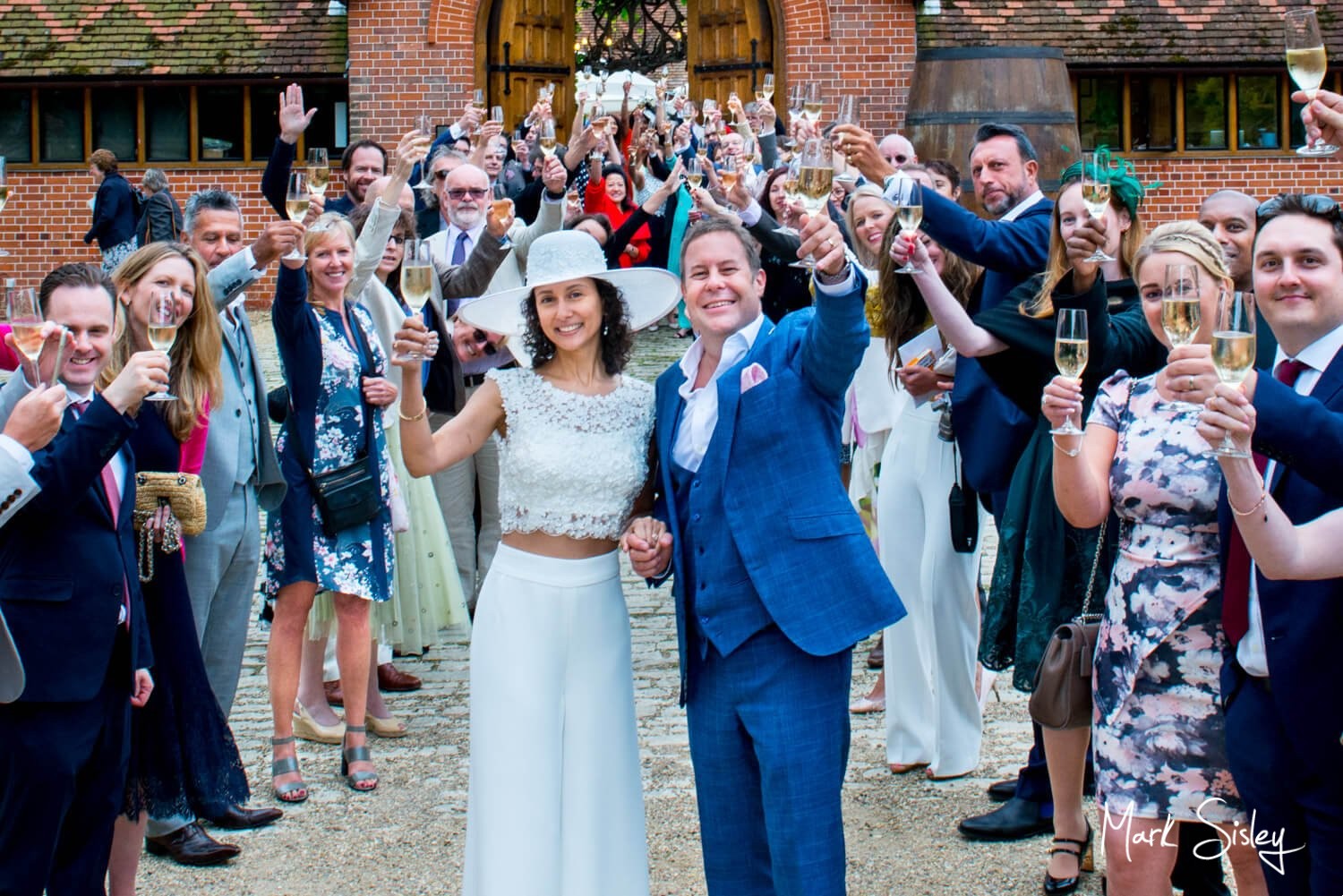 Evening Entertainment & Night Time Photographs
I stayed throughout the day to capture the various proceedings, but this party really went up a notch or two after night fall! Sash and Russ booked the most fabulous party band, and they had the dance floor pulsating all evening with their upbeat tunes! The enthusiastic wedding guests barely left the party zone; these musicians knew how to keep their audience entertained.
Also attending was the super talented magician Paul Megram, his tricks always were out of this world! And as always he had the guests laughing non-stop with his cheeky banter, naturally my camera was at the ready at all times.
The huge Roman urn in the Wintergarden looked incredible with the florists stunning designs. But, once the party lights and candles came on it looked sensational! This image was captured with a long time exposure to blur the dancing guests.
I captured my last pictures of the day at dusk. Sash and Russ asked for some of my special lighting night time shots of them across the lake. These lighting tricks create the most surreal results for some truly atmospheric images to end the day.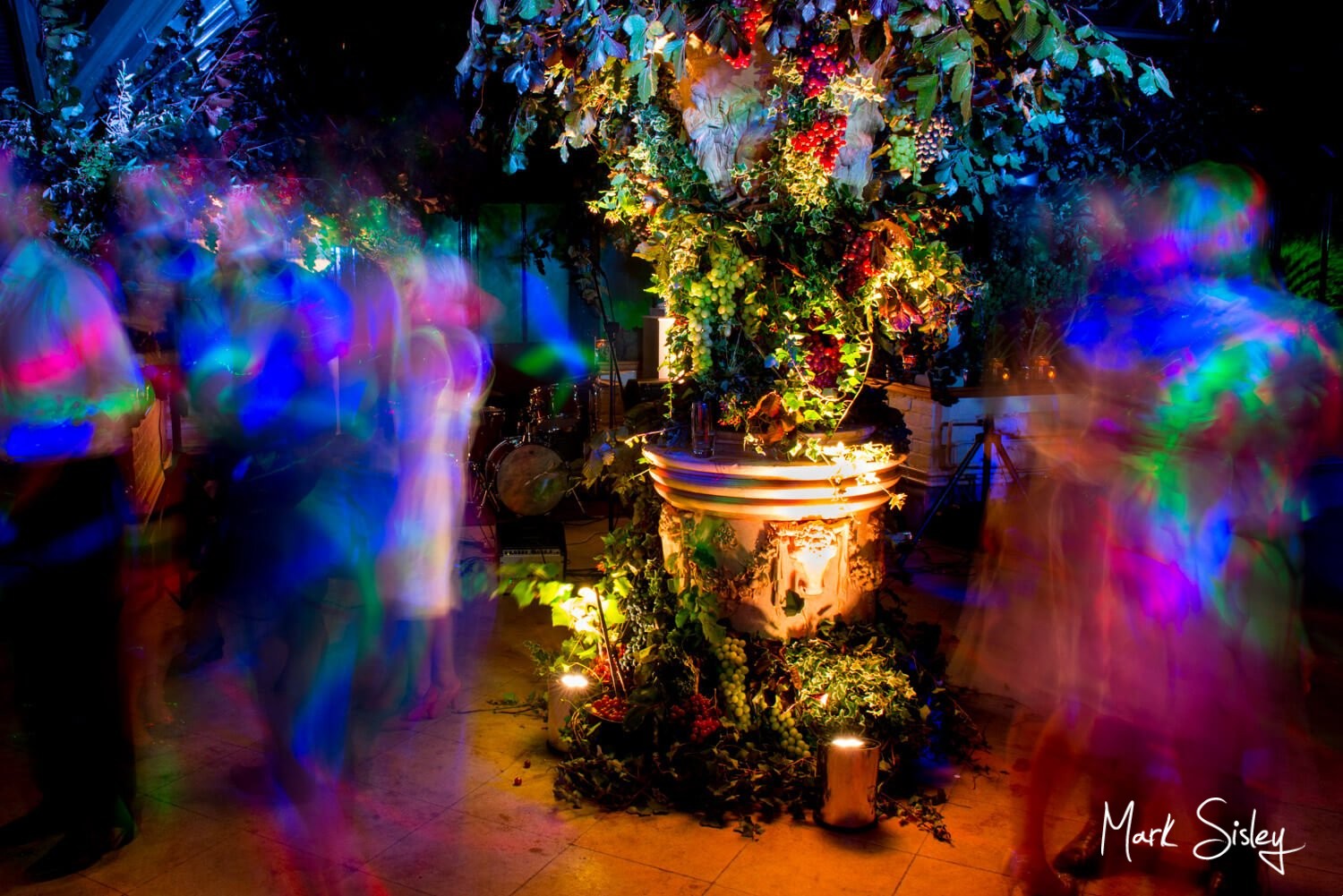 Kind Words
Dear Mark, 
Thank you so much for doing such an amazing job of photographing our wedding!  It was such a pleasure for us.  We completely relaxed on the day, knowing that you had everything under control.  You were so professional every step of the way and were amazingly inconspicuous despite seemingly being everywhere throughout the day!
Looking through your photos, we are now reliving the day, but in so much more detail!  You have captured every beautiful element, including things that we missed seeing ourselves on the day. 
You have also nailed our brief of capturing the emotion with your amazing reportage style photos of all our friends and family.  Your lighting is just something else by the way!
Thanks again for enabling us to relive our amazing day for years to come.
Kindest regards, Russ and Sash