Colour, Colour Everywhere
Fabulous photos of the Dairy on the Waddesdon Estate come easy when I have a stunning wedding like Lucy and Chris's to capture.
I was introduced to this lovely couple by the staff at the Dairy, they've now been recommending me for the past 15 years.
I adored Lucy's use of colour throughout her wedding, she really went to town with her flowers and decor. I particularly always love to see big bold summery sunflowers being used, and these fabulous displays did not disappoint.
Lucy and Chris are such a warm, kind and loving couple, and they were an absolute joy to work with on the day.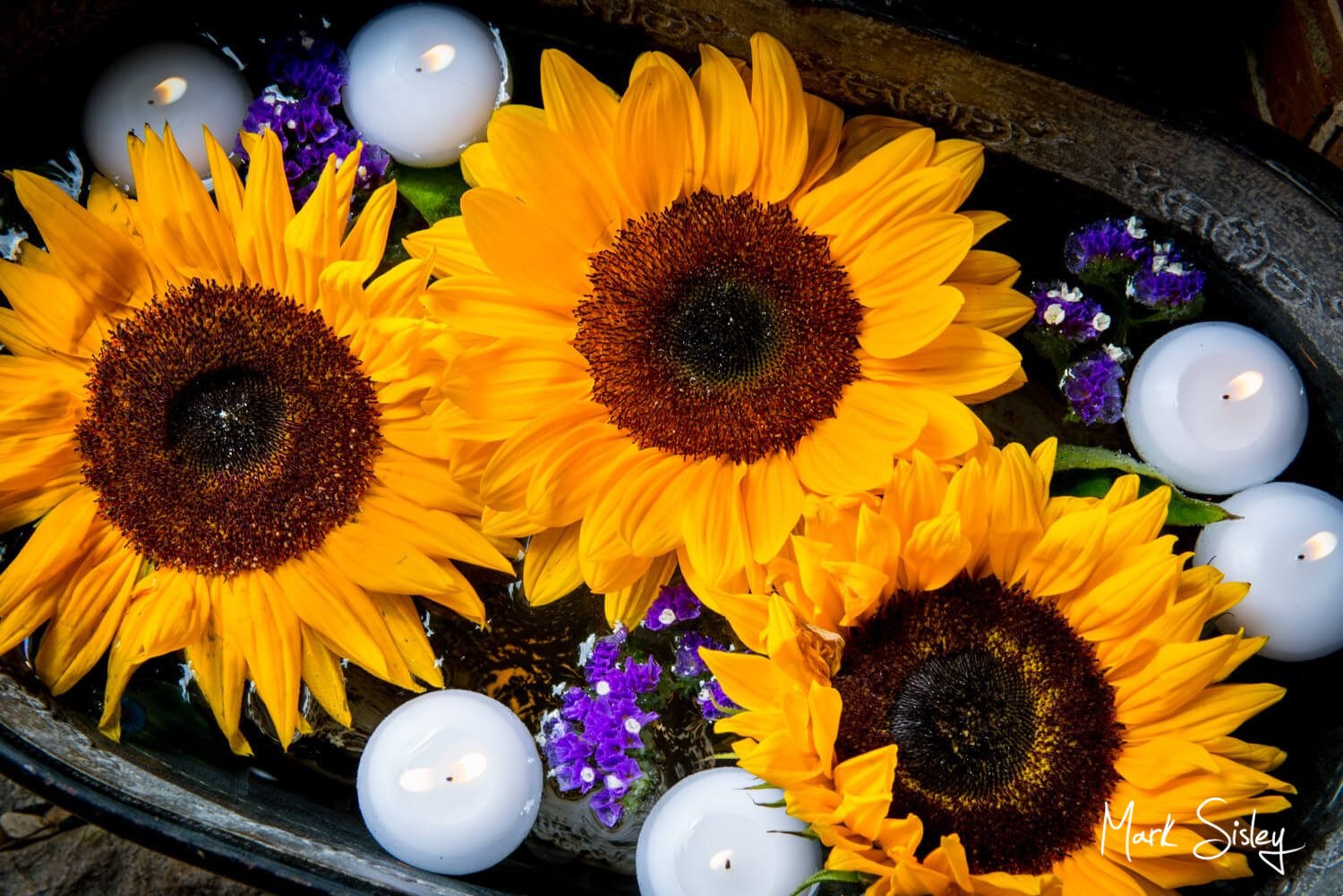 The Wedding Venue – The Dairy, Waddesdon
Lucy and Chris's wedding took place at The Dairy in Buckinghamshire, on the Waddesdon estate.  No doubt this is one of the most majestic waterside wedding venues in England.  I might be slightly biased, as I work there a lot!
Both the interiors and exteriors at The Dairy are out of this world! It's hard to believe that this is where the Rothschilds once kept their prize winning cattle!
No matter which way you look, there are so many magical backdrops to explore, and to photograph!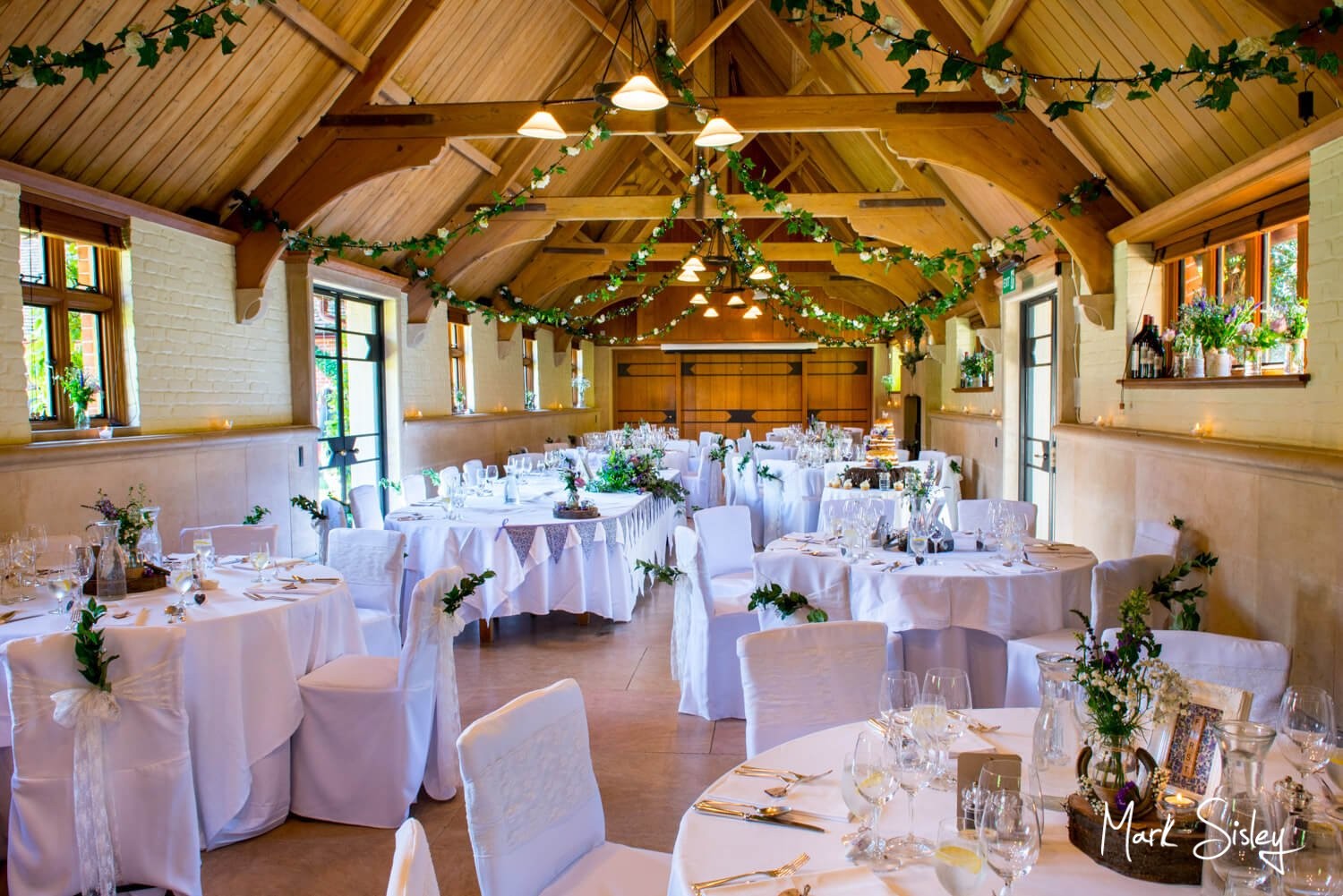 Horses & Carriage
Further to our initial meetings, I knew this wedding was going to be very special.  Probably the highlight for me was the fabulous horses and carriage that Lucy and Chris had arranged.  I've attended many weddings with horses and carriages over the years, but this is one of the finest I've seen in a long time.  With Lucy's equestrian background it was clearly a priority when the details were being mapped out for the day.
Lucy set off with her proud father on the carriage as they journeyed through the village of Waddesdon.  The weather on route was so changeable, with patches of blue skies and lots of dark clouds swirling above our heads.  Until the very last minute, the Dairy staff didn't know whether Lucy's dream of an outdoor ceremony was at all possible.  When I was at the venue earlier, everything was set up for an indoor ceremony as nobody believed the dark drizzly skies would shift. Naturally Lucy wasn't at all thrilled to hear this through the grapevine!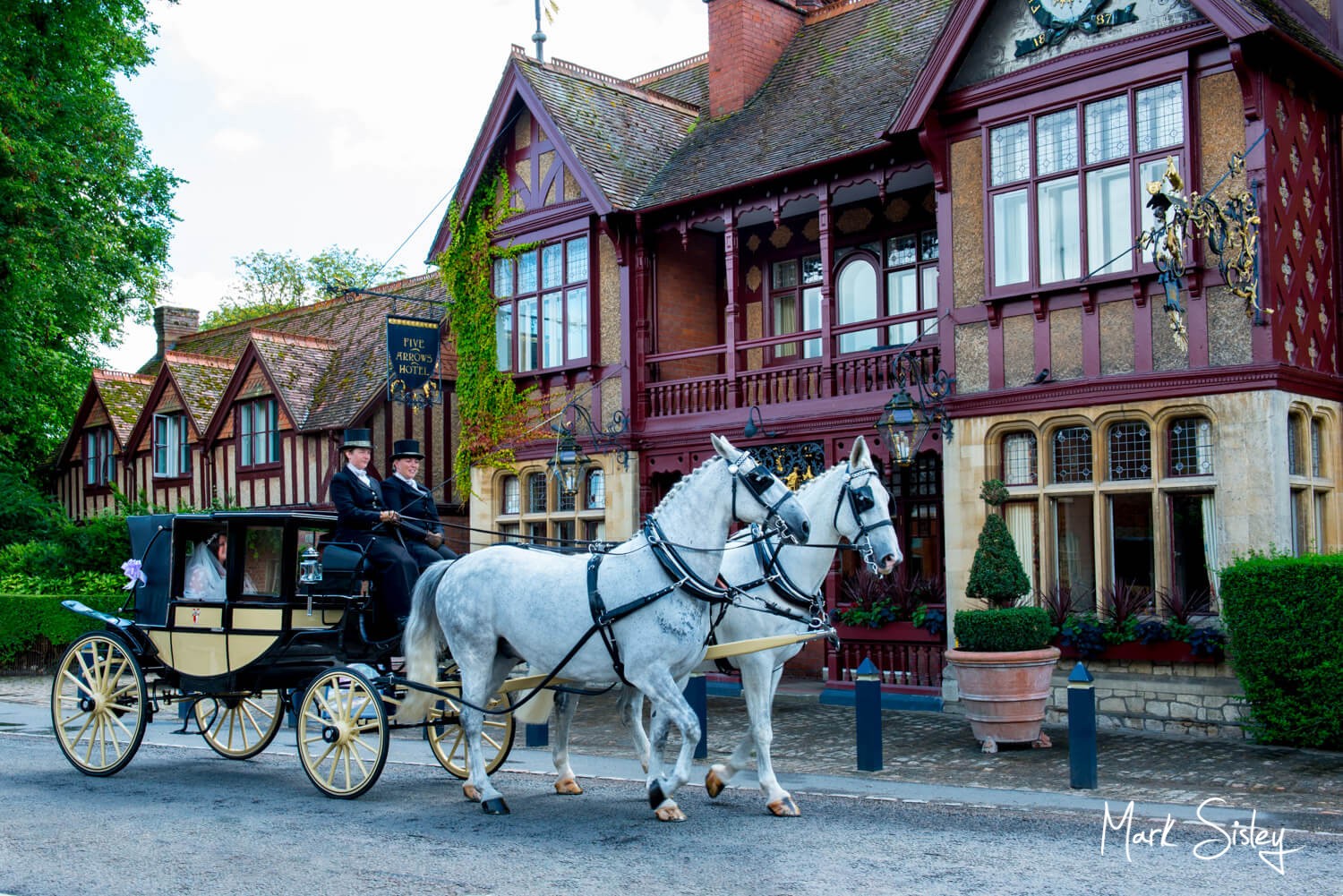 The Outdoor Civil Ceremony
Miraculously, just minutes before the carriage arrived, the skies brightened and the staff hurriedly moved all the chairs outdoors into the waterside pavilion.  When Lucy heard the great news, her face was such a picture.  Happy days!
This waterside setting for civil ceremonies is truly spectacular, picture a lake surrounded by weeping willows. Then add to the mix exotic ducks floating nearby, lots of giant carp swimming around, and the most heavenly ambience. Outdoor wedding ceremony locations really don't get any better!
The ceremony itself was beautiful, and very emotional at times, most importantly Lucy and Chris looked so happy as they exchanged their wedding vows!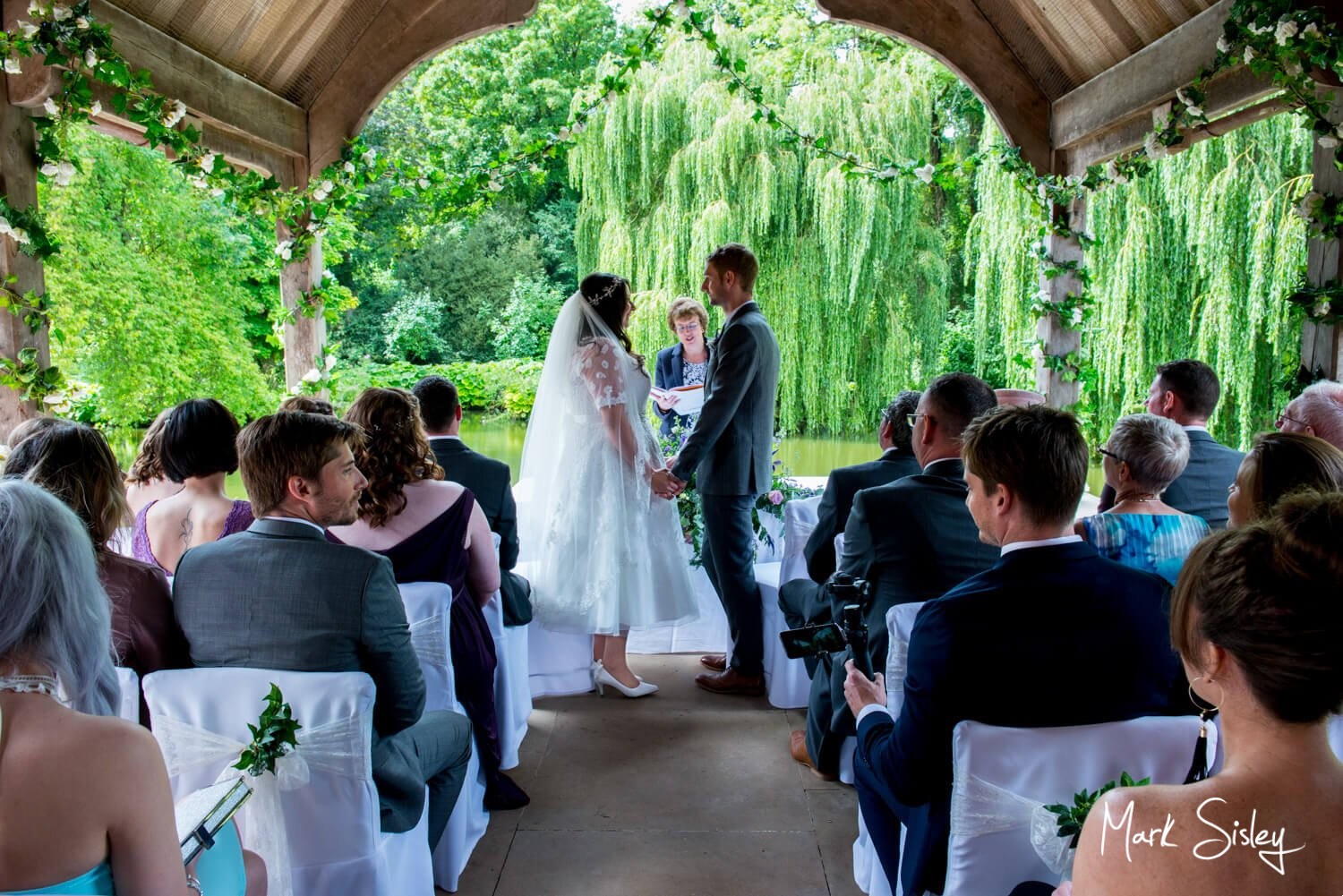 A Ride Through The Waddesdon Estate By Horses & Carriage
Fortunately, the dry conditions stayed with us after the ceremony, so the newlyweds made the most of the opportunity to go for a short ride through the Waddesdon estate.  Obviously I was in hot pursuit to maximise the picture taking opportunities of their beautiful horses and gleaming carriage. They didn't go far, but the route we'd pre planned gave me plenty of scope for some cracking images.
Lucy and Chris were a little nervous about having so many pictures taken on their special day – I get this initial concern from so many couples when they are planning their weddings.  I give lots of tips on how to pretend that me and my camera are not really there, which I much prefer when I'm capturing the natural candid images. It was particularly flattering to receive a lovely glowing email soon after they returned from honeymoon, when ultimately the pictures were something they were dreading!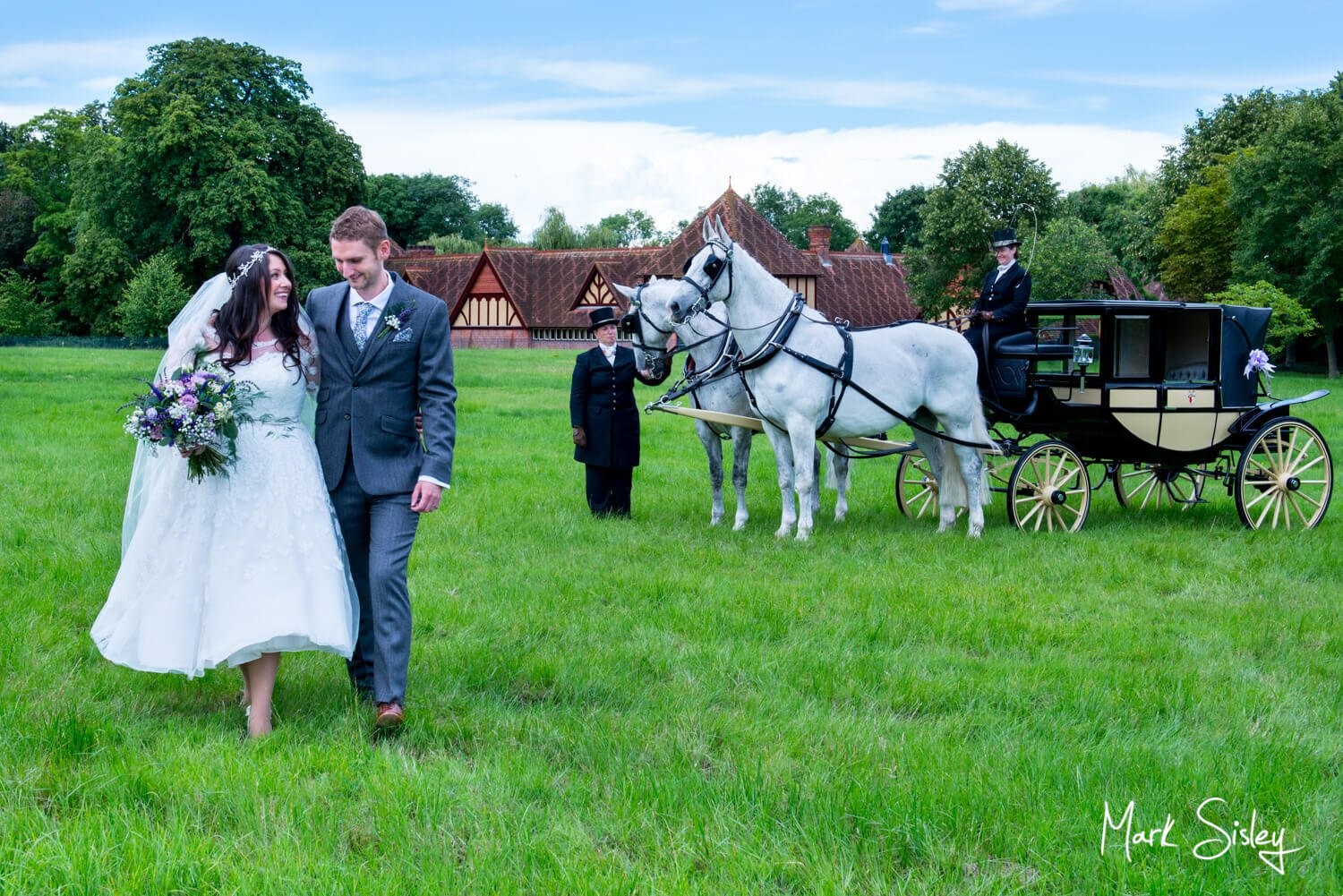 The Drinks Reception & Pictures
There was such a fun atmosphere in the air for Lucy and Chris's drinks reception, everyone seemed to know everyone. And if they didn't, they soon got to know each other. There's nothing to beat plenty of champagne and laughter when you're meeting old or new friends. Then throw in a few lawn games, and you have the perfect recipe for a fabulous afternoon. Jenga is always fabulous for pictures, the guests get so involved in the game that they totally forget I'm even there! All I have to do is get the timings perfect, then as the stack goes over the reactions are usually priceless!
Minimal group poses were requested on the day, mostly I was asked to capture lots of reportage un-staged images. This is definitely my favourite way of working, candid images tell the real story of the day in a way that can't be replicated by any posed photos.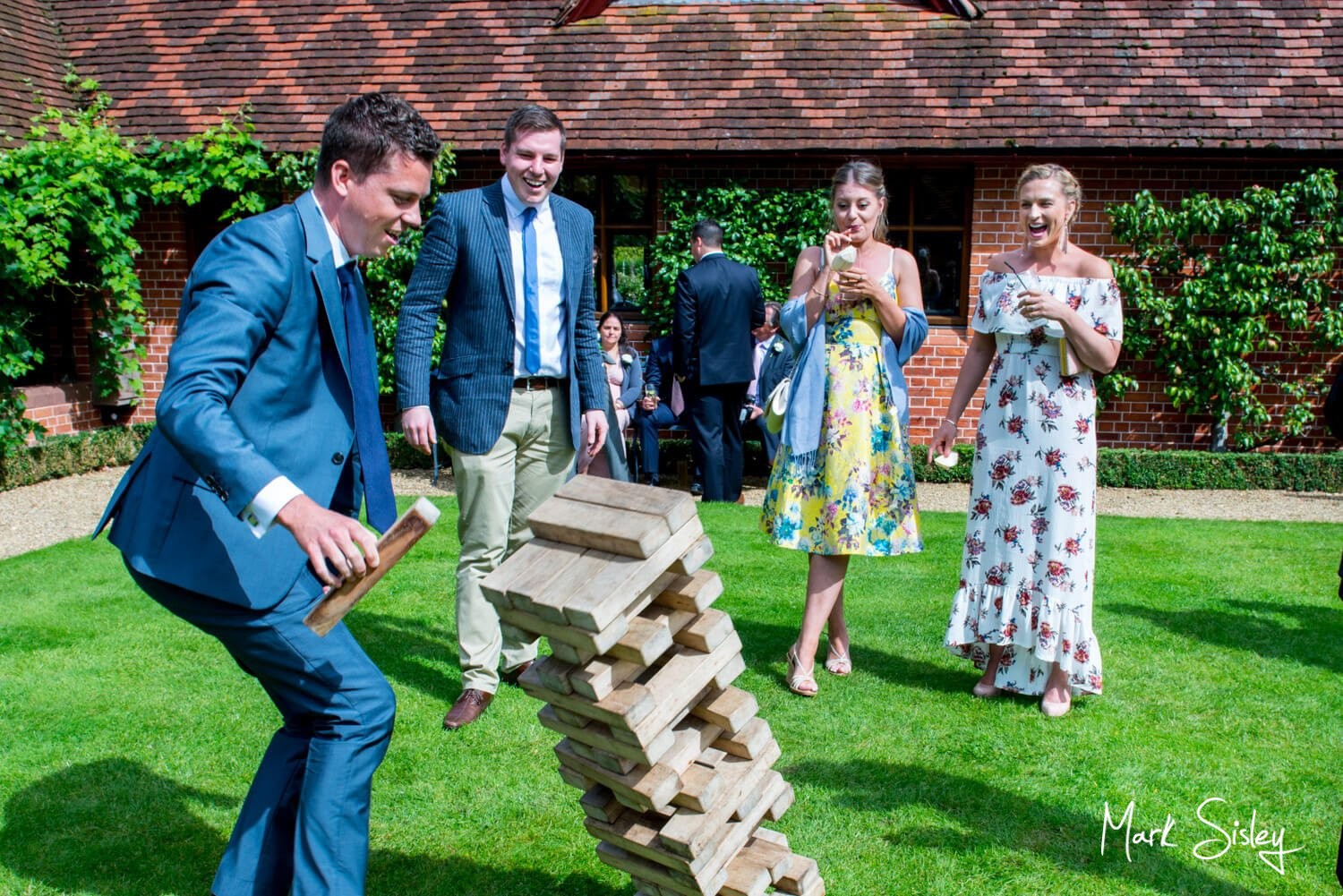 Magic Entertainment By Paul Megram
After a good photographer, a fabulous magician is the next luxury extra that couple's should seriously consider for their wedding day. No only will they entertain your guests for several hours, they'll also provide endless opportunities for loads of fun pictures. Paul Megram is a magician I work with on a regular basis, he is superb at getting everyone laughing whilst he performs his amazing tricks. The facial expressions I captured of the guests at Lucy and Chris's wedding were priceless! The guests loved every minute of being entertained, watching endless clever tricks is such a great ice breaker at a wedding.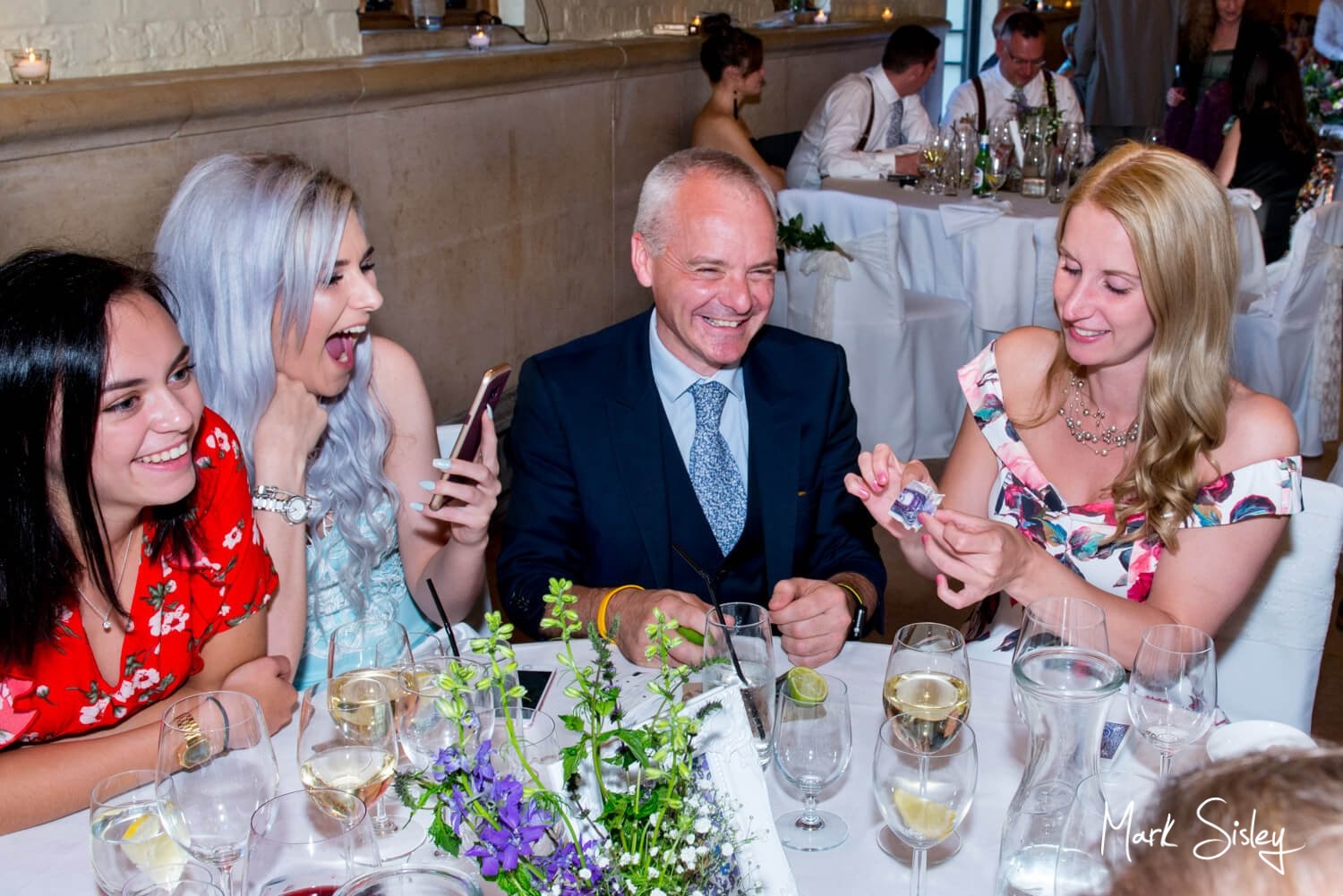 After The Meal
Lucy and Chris were keen for me to capture some of my floodlit shots, and the most popular one I do is over the lake towards the pavilions. My floodlights are always at the ready after sundown, especially when I'm at such a wonderful venue like the Dairy. The reflections and glow of the building across the lake are breathtaking, and all the trees and plants in the foreground give the shot a real fairytale look!
As if these night shots were not enough, Lucy and Chris also arranged for some sparkler moments too for their guests.  Again, these made for some really special moments for my camera.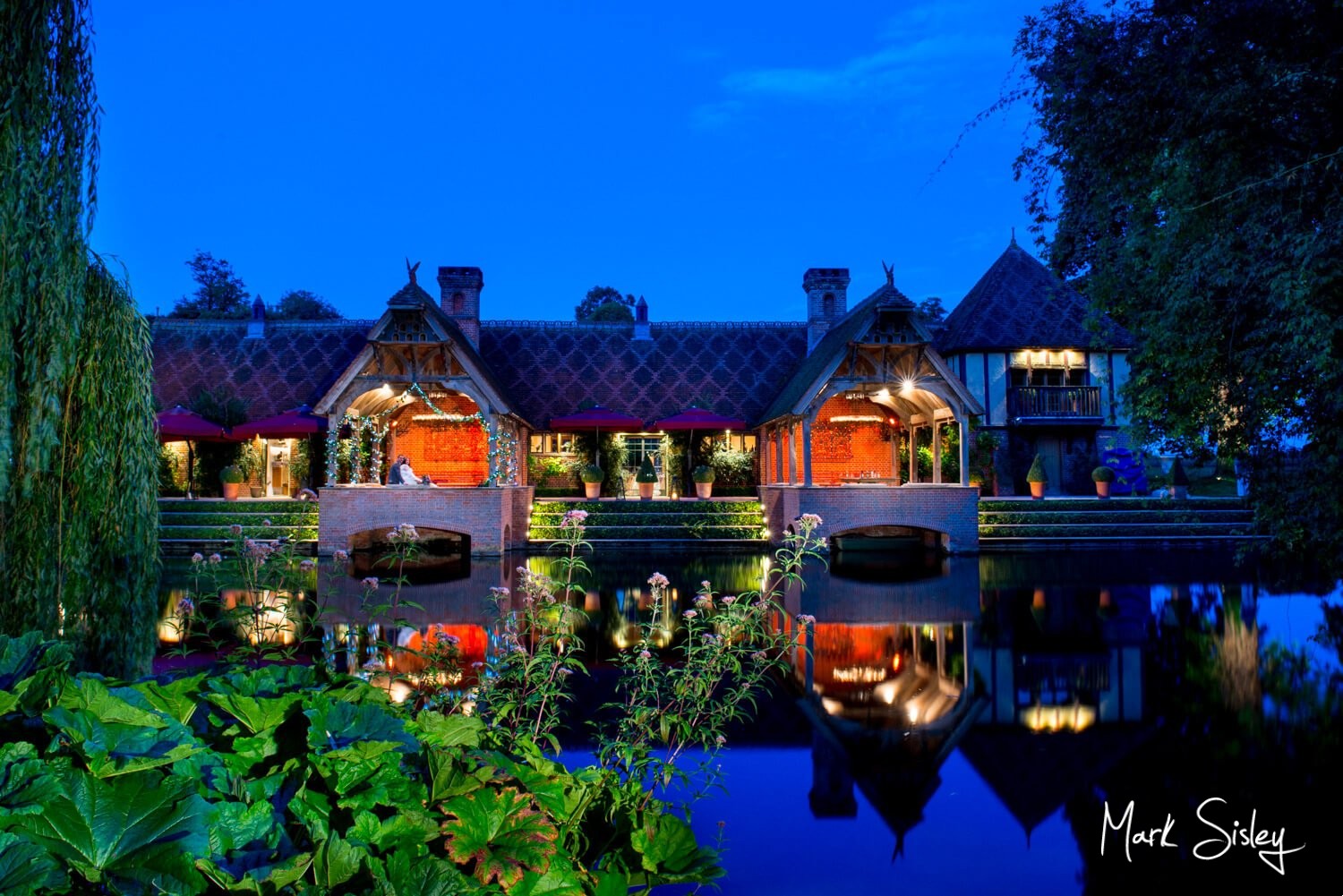 Kind Words
Dear Mark,
Chris and I just wanted to send a huge thank you for all your help on our wedding day.  We really felt you went above and beyond your role of photographer, by helping to organise everyone on the day and creating some photo opportunities with our guests that were fun and memorable moments of the day.  You took great attention to detail and were conscious of discussions we had regarding our insecurities with some types of photos. 
We have beautiful photos now to cherish and we would highly recommend you to anyone looking for a photographer who will not only provide high quality photography but also fantastic crowd control!  So many of our guests have commented on how fantastic our photographer was. 
Thank you so much, Lucy and Chris