Picture Opportunities Outdoors In Low Light
I've had lots of requests to do a blog regarding my special low light wedding photography techniques, so here goes!
When I started out as a wedding photographer, I was frustrated by the lack of daylight hours, especially during the depths of winter. So I set about doing something to transform my outdoor evening work, thus making the darker nights actually work to my advantage.
All photographers know how to floodlight backdrops effectively. But unfortunately these traditional methods are just not practical for use at a wedding as they'd take far too long. Big outside lights with cables running everywhere is just not an option, and I'd need a team of assistants and outside power generators.
Instead I created a technique that replicates these lighting effects. It does so in a fraction of the time and without cumbersome equipment, cables or assistants.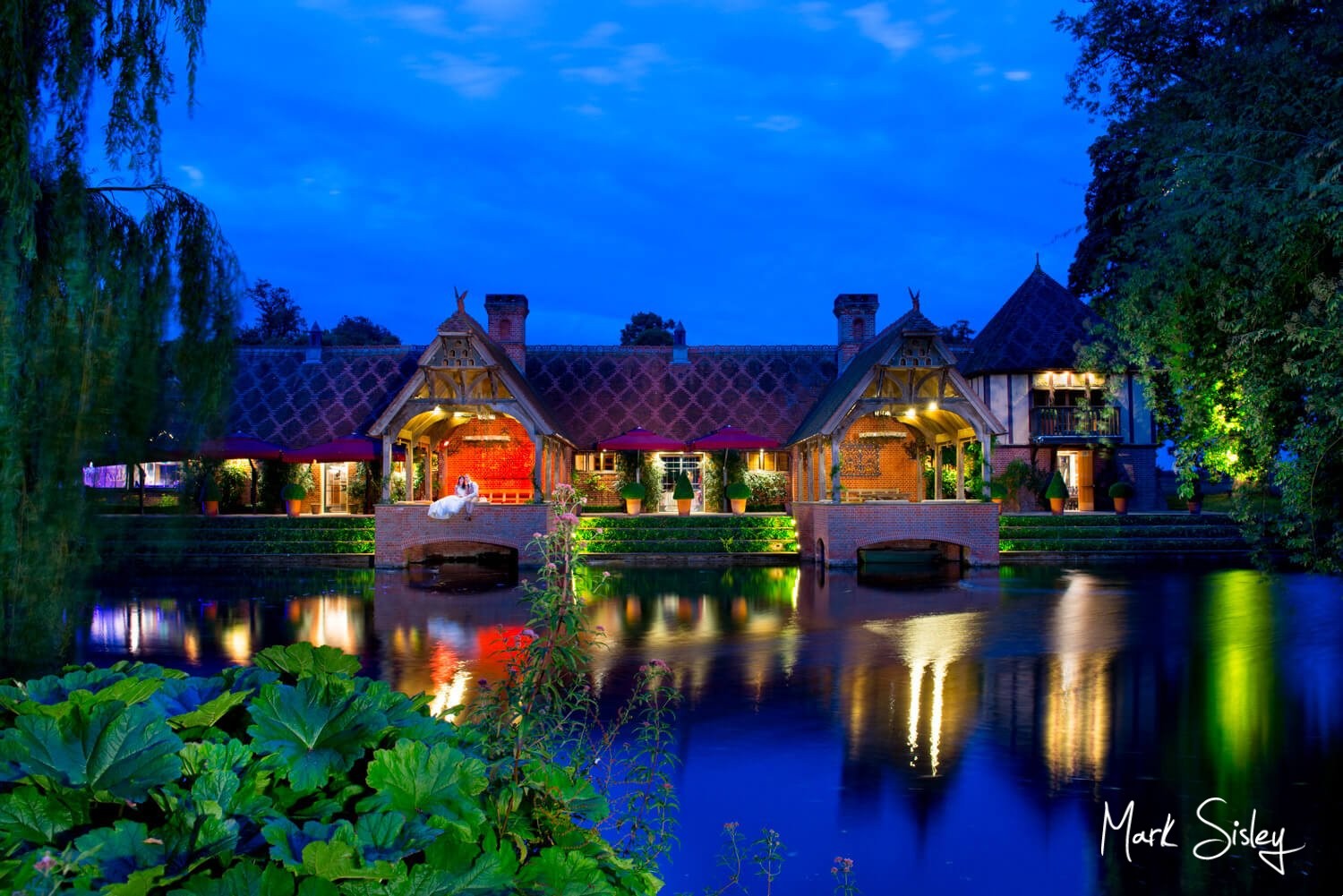 Low Light Photography At Weddings – Dusk, Night Time & Interiors
To demonstrate how transformational these effects are, these before-and-after images show you the challenges I usually encounter.
I usually stand with the venue, the bride and the groom shrouded in complete darkness. At this stage most couples think I'm a little off the wall with my thinking! But I know exactly how these pitch black backdrops will be transformed with the most surreal results!
The illuminated night shots you see throughout my portfolio are virtually impossible to create on the computer. I create these lighting effects  in real time, in camera. I've refined these quirky and unique techniques over the past 20 years using directional lighting.
It is easy for any photographer to achieve these night shots with a floodlit building. However I estimate that 95% of the venues I attend are not lit up at night time. After sundown almost all venues look similar to the pre-lit images you see in the examples below.
My night time lighting works beautifully with dramatic architectural features, and against natural or formal garden landscapes too.  Over the years I've illuminated woodland scenes, wheat fields and countless wedding venues.
My favourite moment is always just seconds after I've created the effects when I show the image to the newlyweds on the back of my camera. The elated wow reaction is the same every time!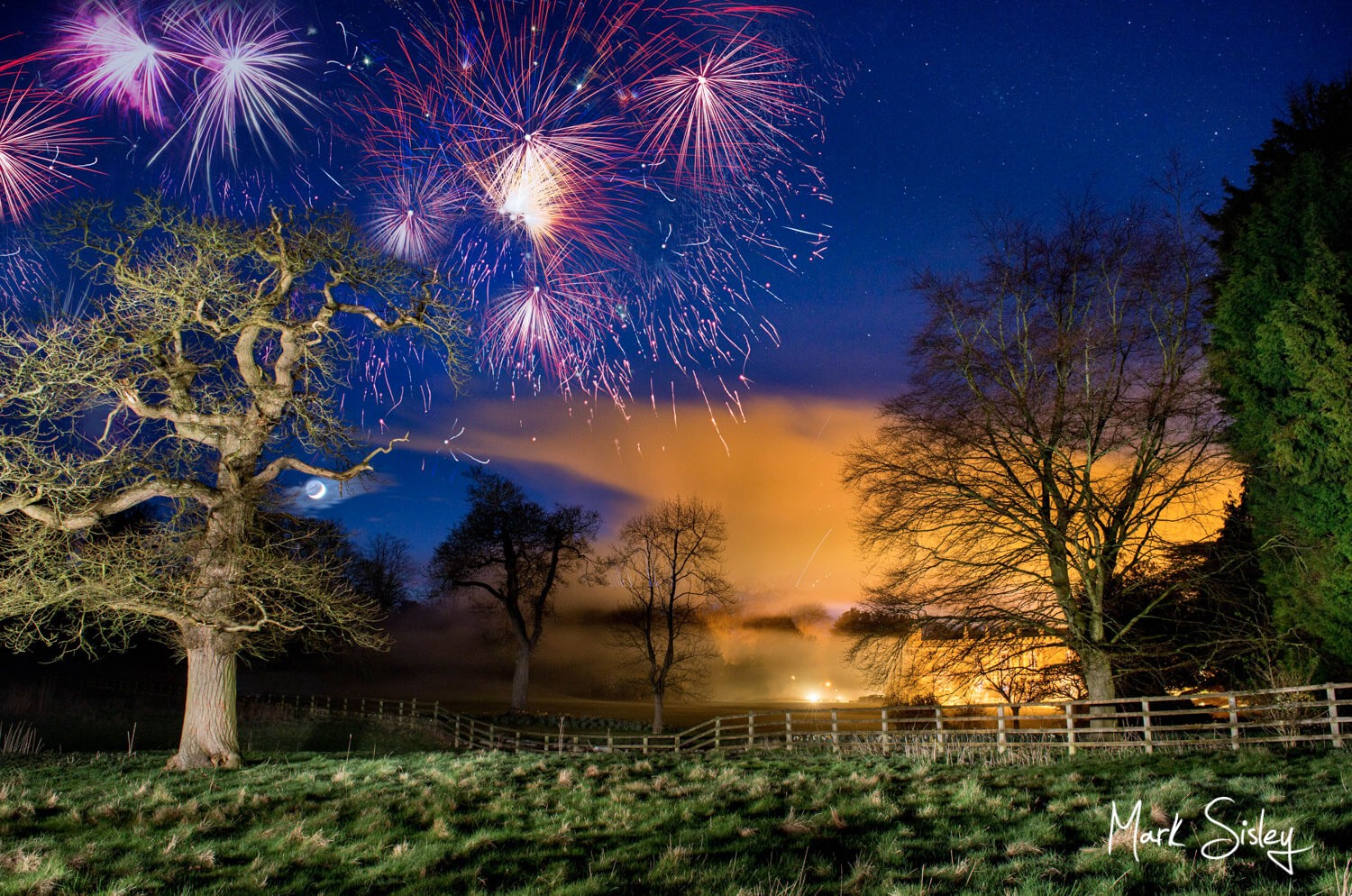 The Dairy On The Waddesdon Estate At Dusk
In this image I'm inside the cloisters of a building at The Dairy on the Waddesdon Estate.
This shot is especially challenging as I wanted to illuminate everything from 5 metres to 50 metres away.  In this pre-lighting effects shot you'd be right to wonder what on earth is happening in my head.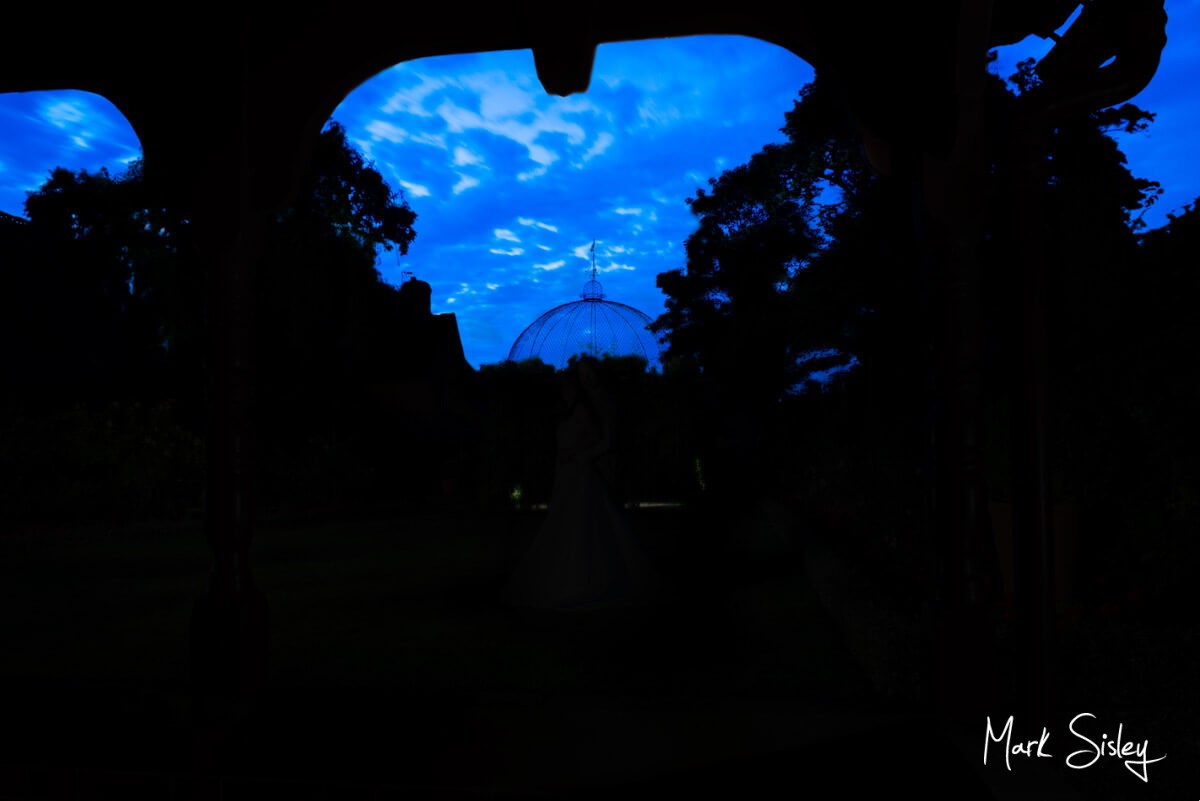 Below you can see the final shot, and I'm sure you can now see why so many of my clients are keen to venture outside for some of these surreal images.
When I'm lighting my images, I want every little flower and minute detail to stand out, and for the image to jump from the page.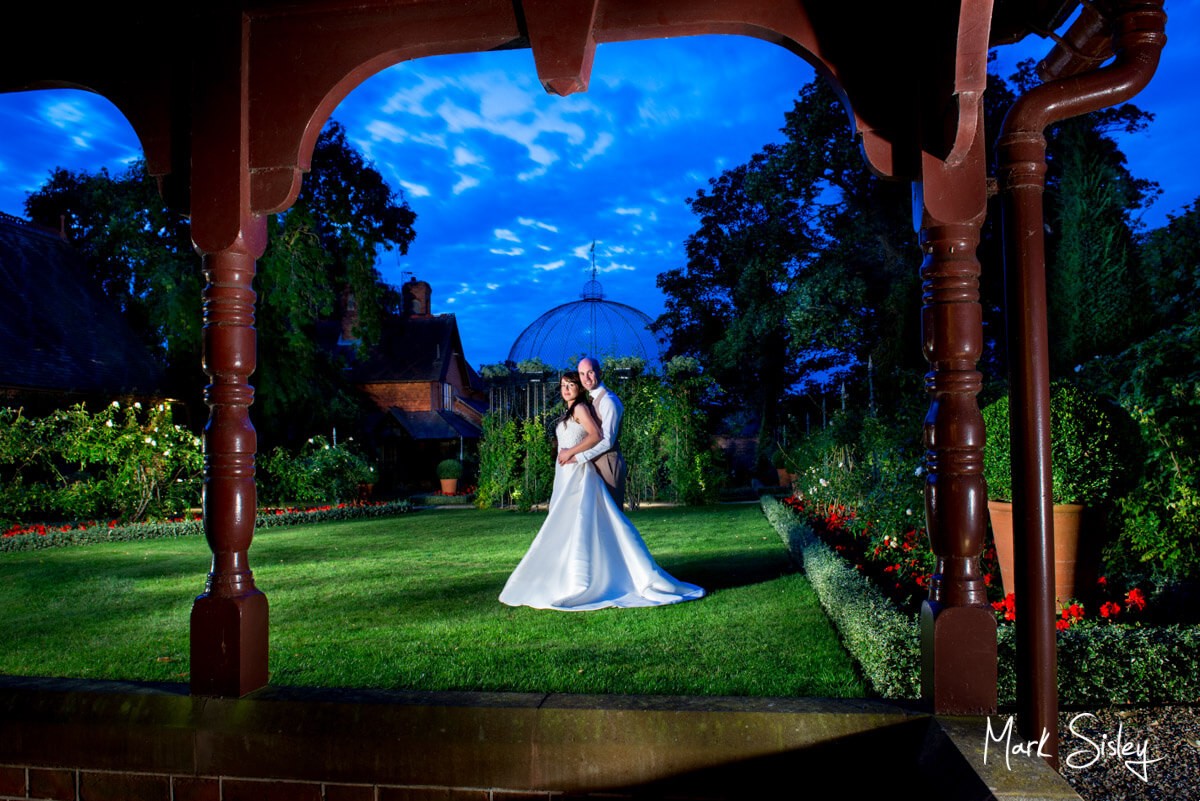 Capturing The Topiary of Waddesdon Manor In A Low Light Wedding Photograph
Again I'm on the Waddesdon Estate for this pose. This is a shot I've wanted to do for ages, and finally at Laura and Steve's wedding I had my chance!
I guided the couple into position along a narrow walkway by torchlight under the darkest of night skies. As always the newlyweds asked if my thoughts for this shot were really achievable. I know that nobody believes me until they actually see the back of my camera!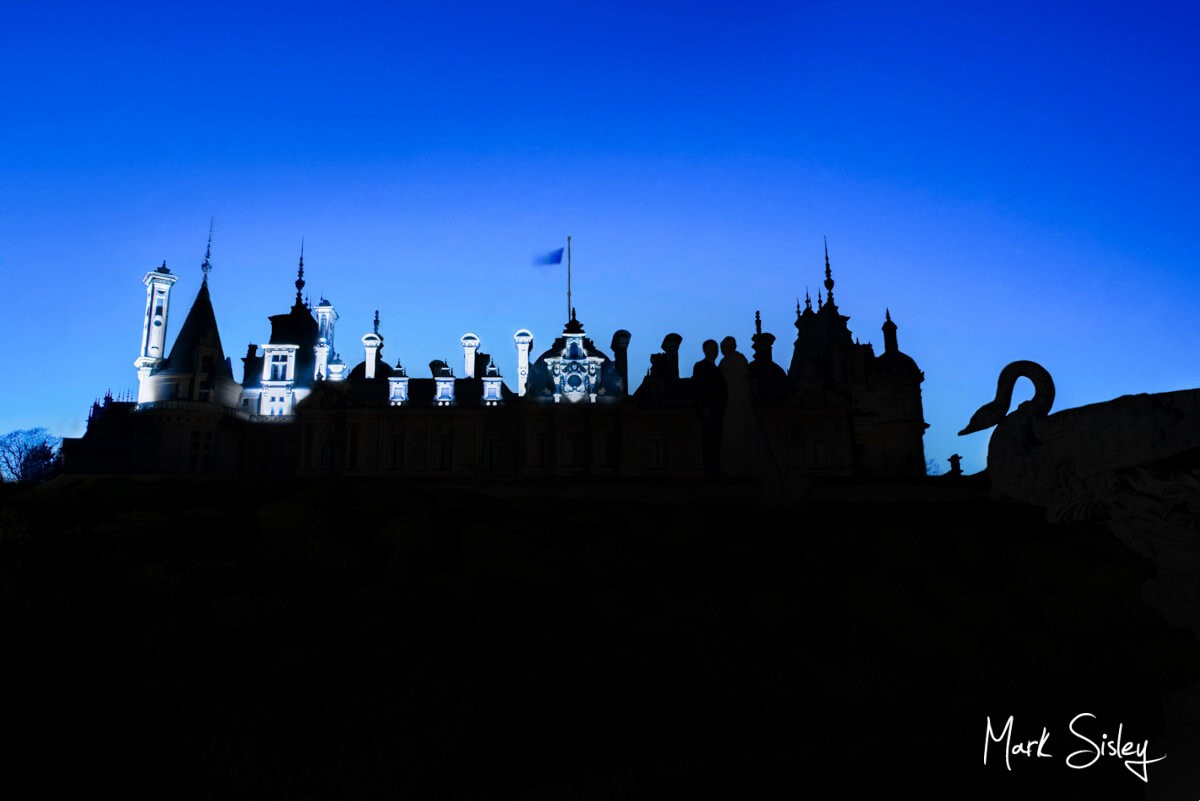 Steve and Laura gave me such a big hug when they took a glance at the back of my camera – they really were speechless!
In this instance I'm illuminating everything from 10 to 100 metres away, with every little detail of Waddesdon Manor clearly visible. The biggest challenge was illuminating such a vast area.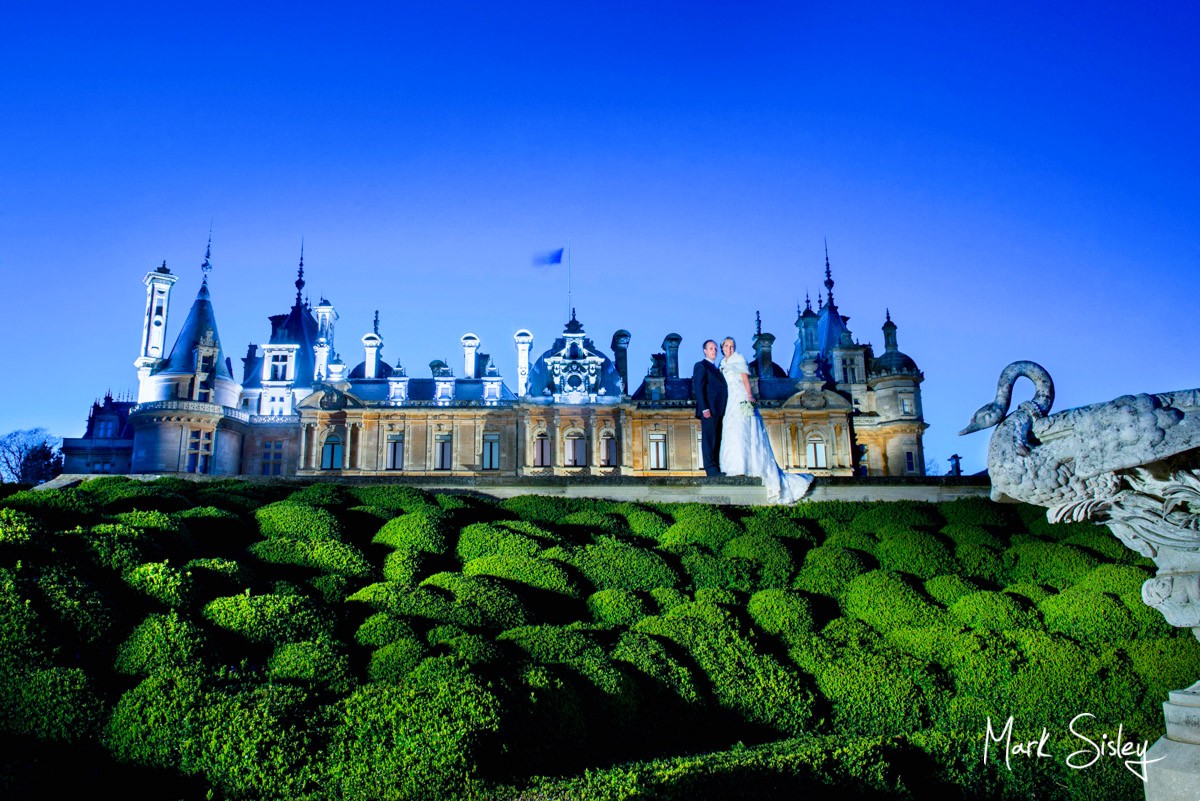 A Beautiful Garden Setting On A Stormy Night
Chenies Manor House in Hertfordshire was the setting for this wedding, with the most colourful and striking flower borders.
You can imagine this couple's frustration when we had non-stop heavy rain for the majority of their wedding reception! Thankfully my lighting tricks enabled us to achieve a few images during the evening once the rains had passed.
Tamsyn & Michal were guided into position by a hand held torch, and they didn't care that they were getting more than a little soggy. Despite the damp and cold conditions, this lovely couple knew this would be the only chance they had to capture an image of them with this glorious garden as the backdrop.
In this pre lighting shot it's hard to imagine how this setting will be transformed, but I'm pleased to report that they had total faith in me!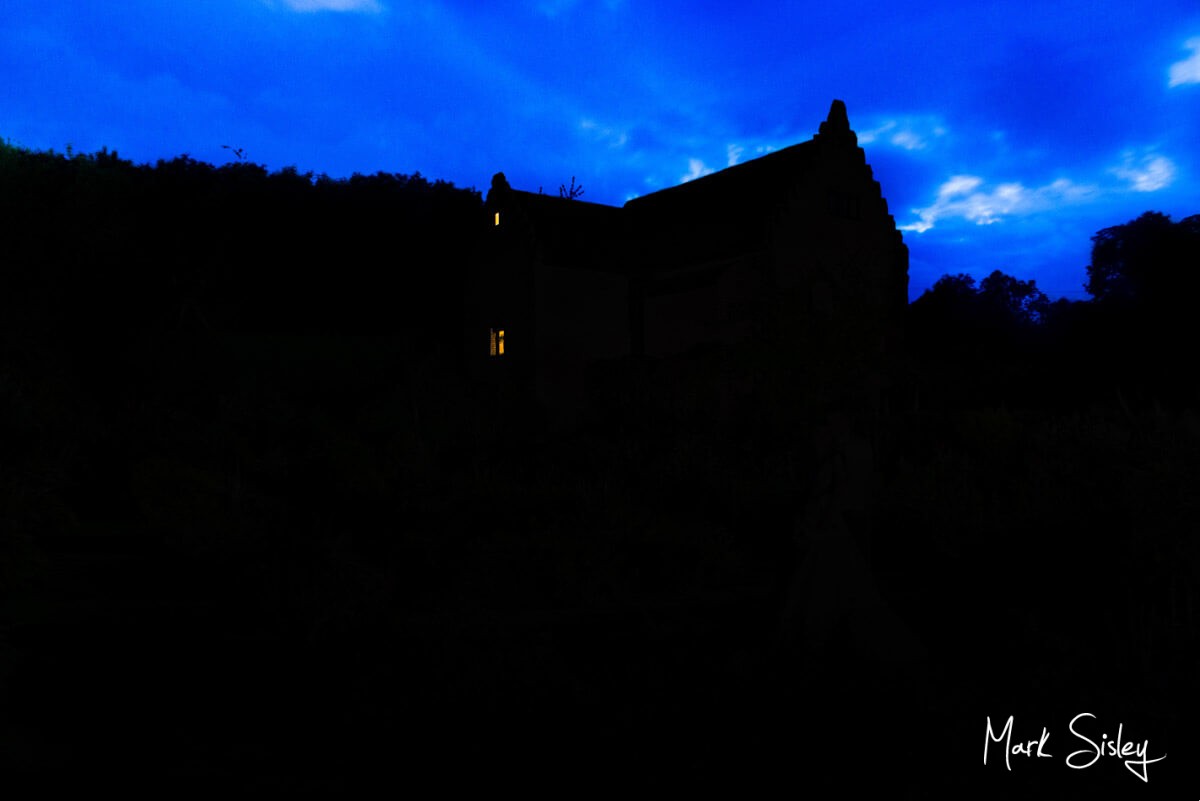 Looking at the final photograph it's hard to believe that the couple were stood in pitch black surroundings and on totally waterlogged grass! Despite the British weather not playing ball, this couple's determination really paid off. How they both smiled so beautifully for this shot I'll never know!
I'm so thrilled with this image that I have it framed as a large display at my studio in Chesham. It's a great example of how the low light photography technique brings atmosphere to this stunning wedding image.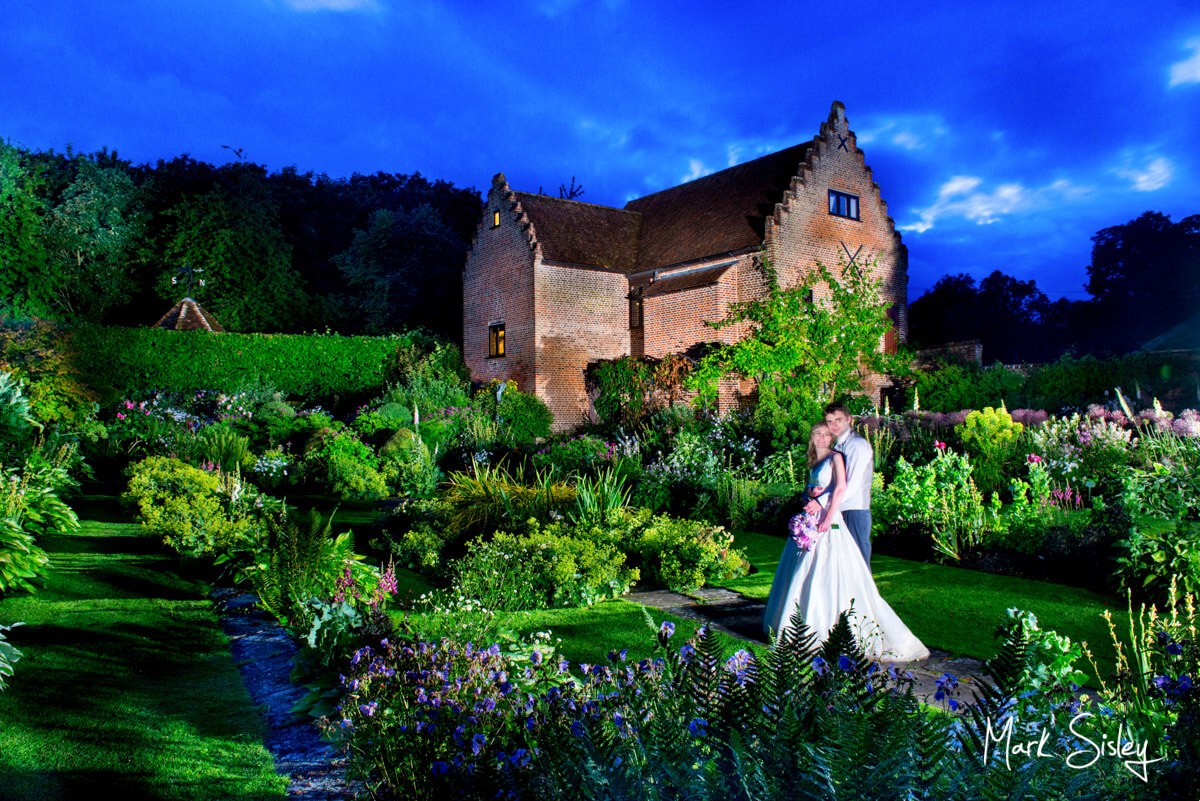 Bringing Interior Wedding Decorations To Life With Low Light Photography
At this wedding I was asked to capture lots of the interiors of Taplow House. It looked amazing with all the uplighters the couple commissioned for their special day.
Both the hotel and the couple wanted me to employ my lighting tricks to really add to the wow factor.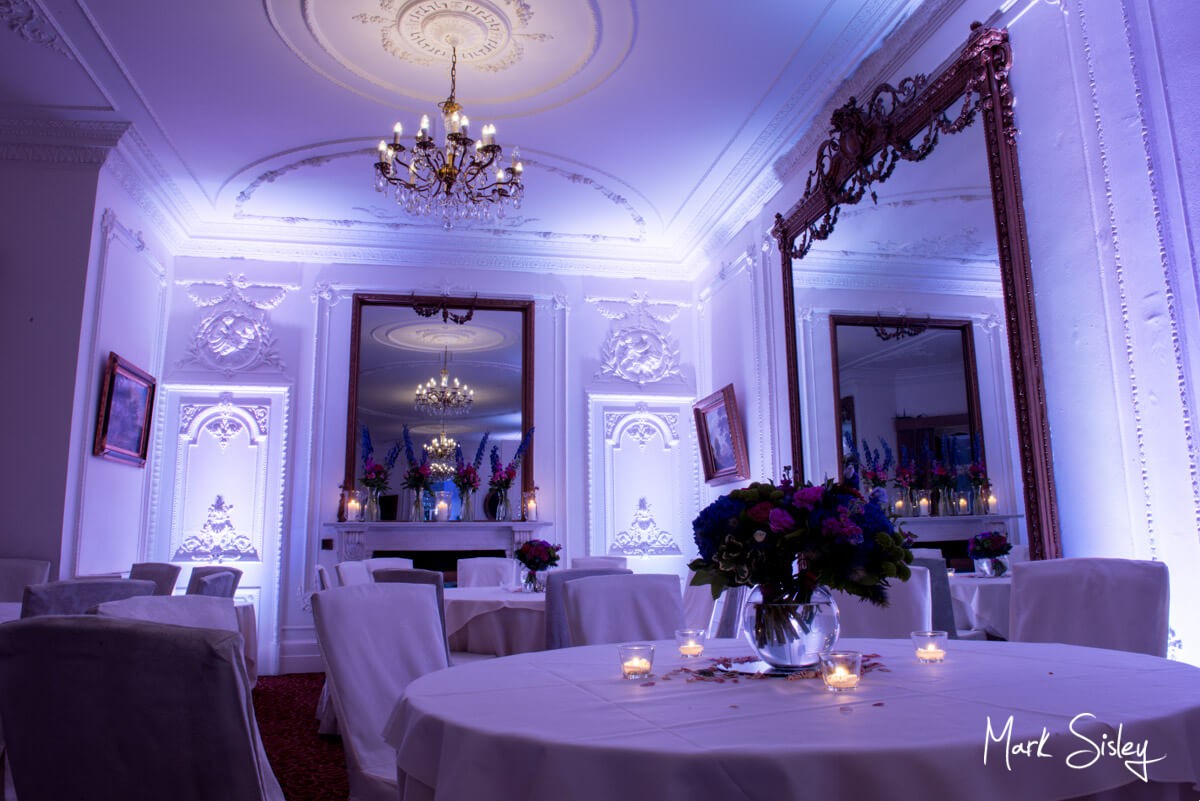 I knew exactly what was required as I stood in this room interior, as so many of the details were not lit up in the way I knew was possible.
With my directional lights in this final shot I've illuminated details that make this photograph jump from from the page. Both the hotel and the couple were thrilled with the final results.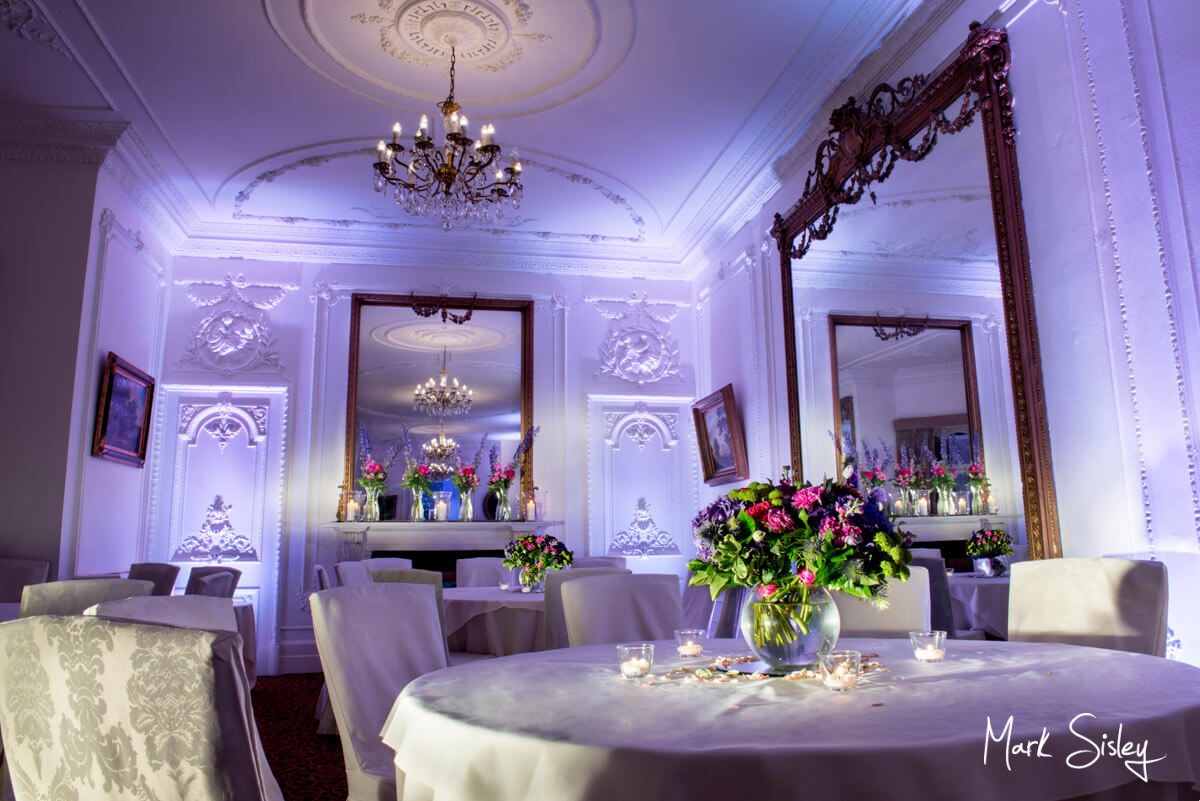 Striking Outdoor Statues & Water Reflections
I fell in love with the Grove in Watford on my very first visit, and I was really keen to use my lighting tricks with some of their stunning waterside backdrops.
When the moment came, I'd already planned my shots and lighting techniques. Now I just needed to add Miranda and Peter, my bride and groom for the day. It was very dark all around, but once again I knew the effect I was after.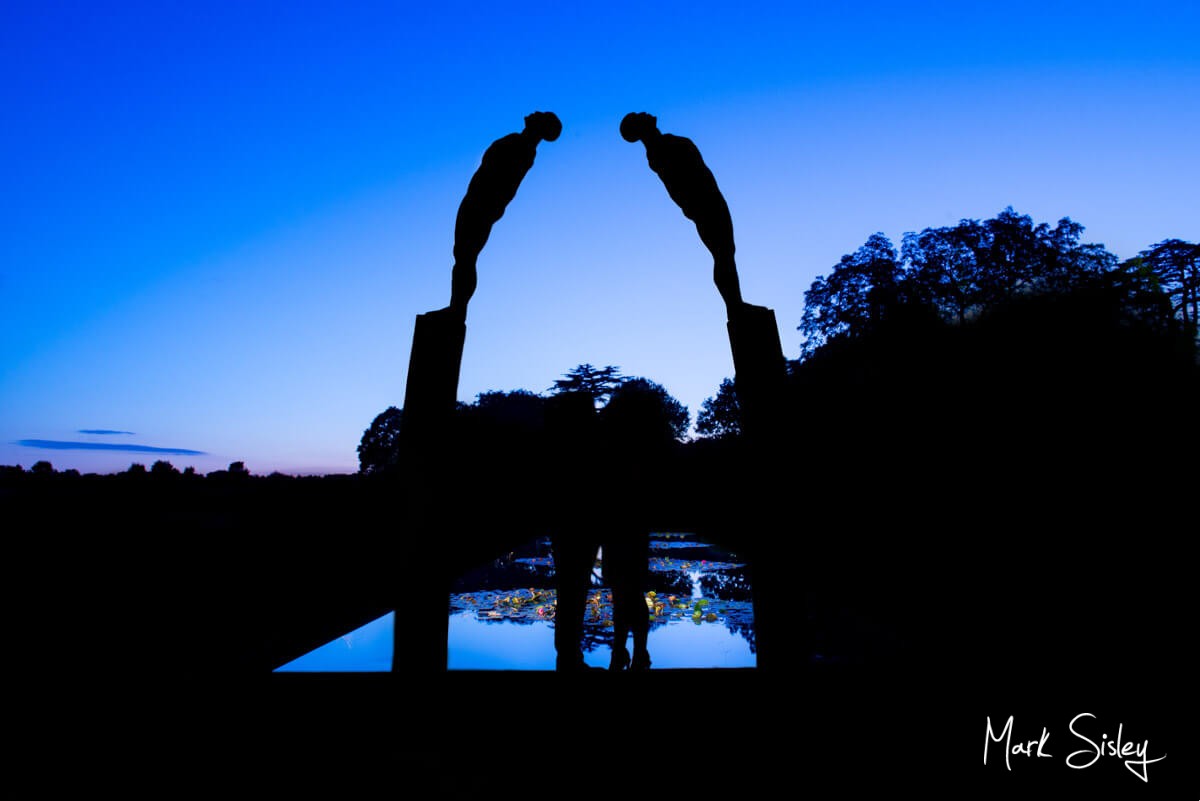 Below you can see the final shot. Again this photograph is now on my studio wall. In this instance I've illuminated everything from 5-150 metres away, and again with every detail showing.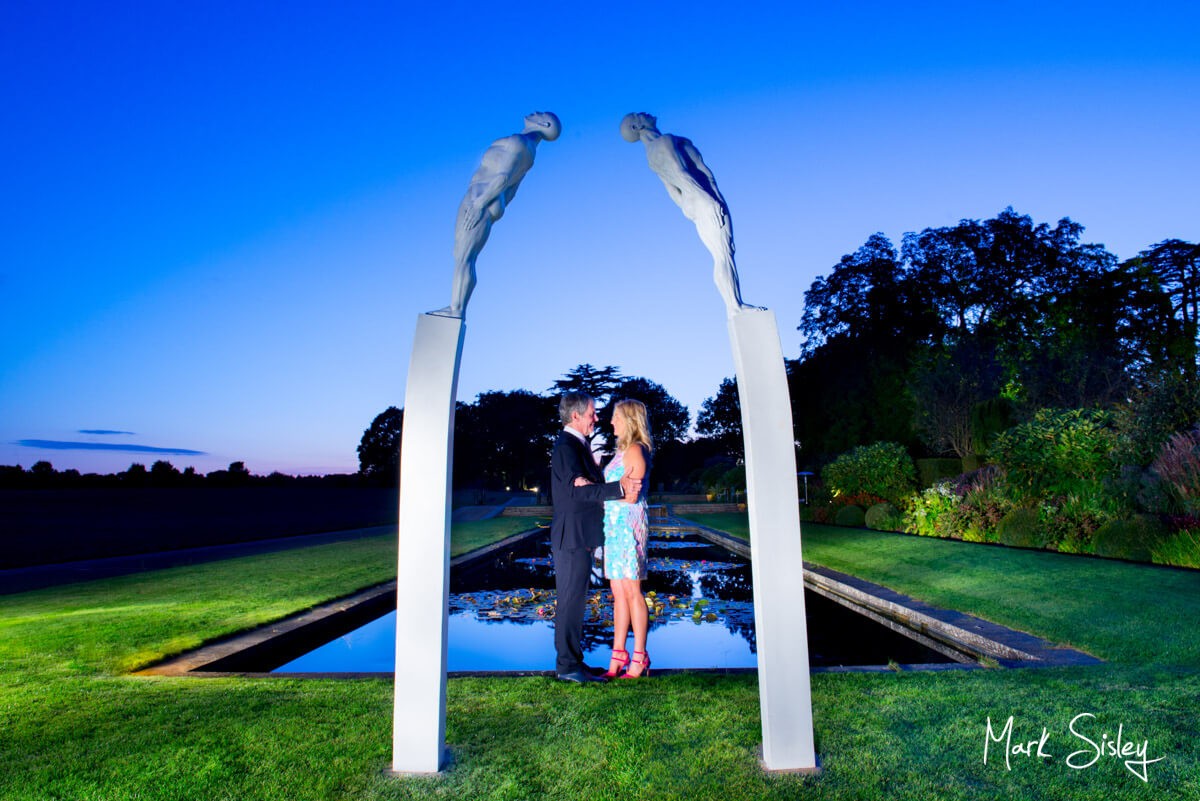 Architectural Details Highlighted In A Low Light Wedding Photograph
This next setting is Nether Winchenden House, and to date this is the only wedding I've ever attended at this glorious venue.
At my pre meet with the couple I proposed a few options for some of my night time imagery. I'm pleased to report that Charlie and Dave were very enthusiastic. This was the backdrop I was most looking forward to capture, albeit the main challenge was illuminating the vast area.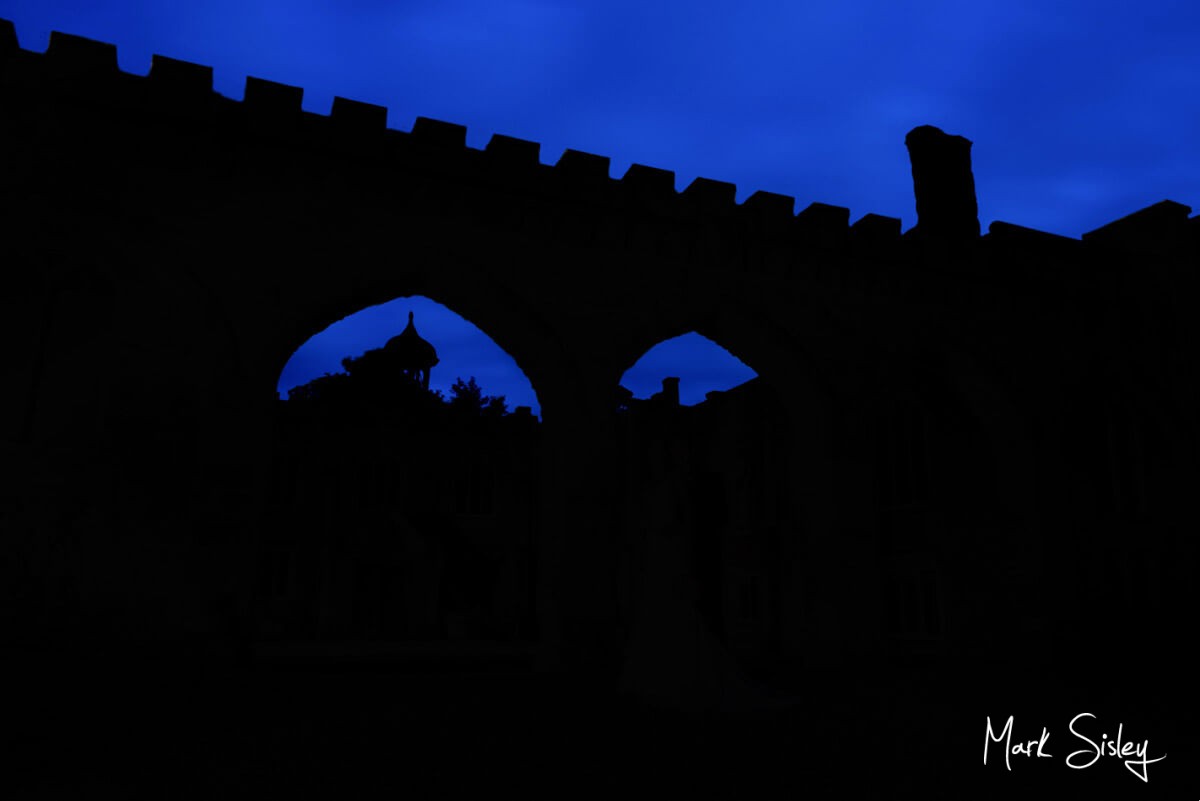 In this final image you can see the results.  The trickiest aspect of this photograph was illuminating the area beyond the arches in the foreground. I was really keen to show every detail in the distant courtyard.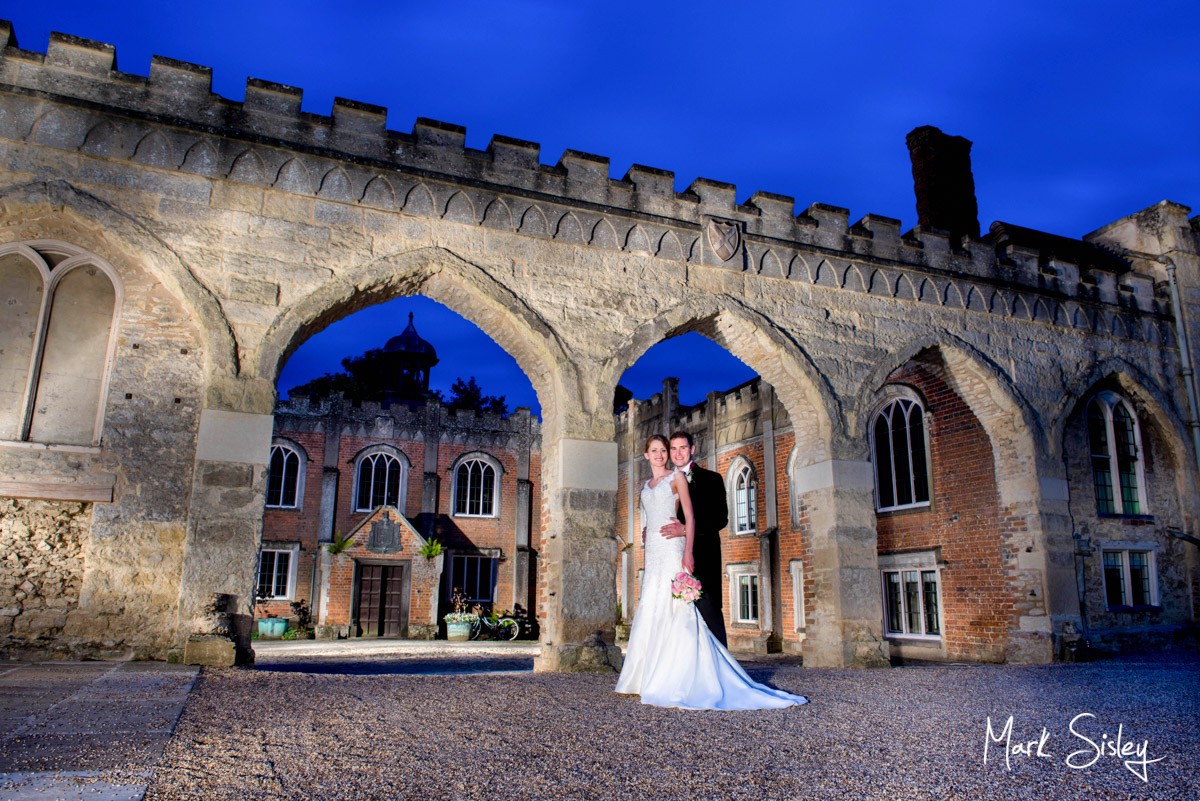 At my Chesham studio I keep many more examples of these dramatic before and after results.
My portfolio has floodlit photographs captured in some truly unique wedding settings – the examples above are just a small indication of what's achievable.