A Truly Magical Buckinghamshire Setting For Family Portraiture
Missenden Abbey has always been one of my favourite wedding venues, with so many incredible backdrops. This stunning venue is very close to my heart, and the abbey has been like a second home to me over the years. To date I've photographed over eighty weddings at this grand property.
A rare opportunity has arisen through Missenden Abbey; they have kindly offered me the use of their fabulous gardens for my family portrait sessions. During your portrait session, why not book in for a lovely afternoon tea and make the most of your time at the abbey?  The pictures could be captured either before or after your delicious family treat.
This opportunity has never been available before, so if you'd like to make the most of this unique experience, I'd love to hear from you.
To read more about the abbey's afternoon tea click here.
To read more about my family portrait sessions click here.
A Brief History Of The Abbey
Missenden Abbey is set in over 10 acres of secluded grounds. In every direction this fabulous building blends history with contemporary interior design. The highly detailed vaulted ceilings and colourful stained glass windows provide the absolute wow factor, then venture outside into the wonderful landscaped grounds to really appreciate the beautiful location of this magical property.
Missenden Abbey was founded in the 12th Century by Augustinian Cannons from Northern France. King Henry III was known to accept the Abbot's generous hospitality during his reign.
After the dissolution of the monasteries in the 15th Century, the abbey's church was demolished. King Henry VIII then gifted the entire estate to his son, Edward VI, he then later gave the estate to his sister Princess Elizabeth. After her accession to the throne, Elizabeth I granted the use of the properties and the estate to her dashing courtier, Robert, Earl of Leicester. The Earl had been a suitor for the Queen's hand for many years, but as we all know, she never did marry!
Gift Vouchers Available – The Perfect Birthday or Christmas Present
Why not treat your loved ones over Christmas to this lovely gift. The afternoon tea and portrait vouchers are valid for one year. The abbey is a breathtaking place to visit with your loved ones, whilst their cakes and sandwiches are truly divine! The session can include as few or as many people as you like – afternoon tea starts at £20 per person – portrait sessions start from £125.
The vouchers are beautifully presented – these can usually be posted to you with a same day despatch.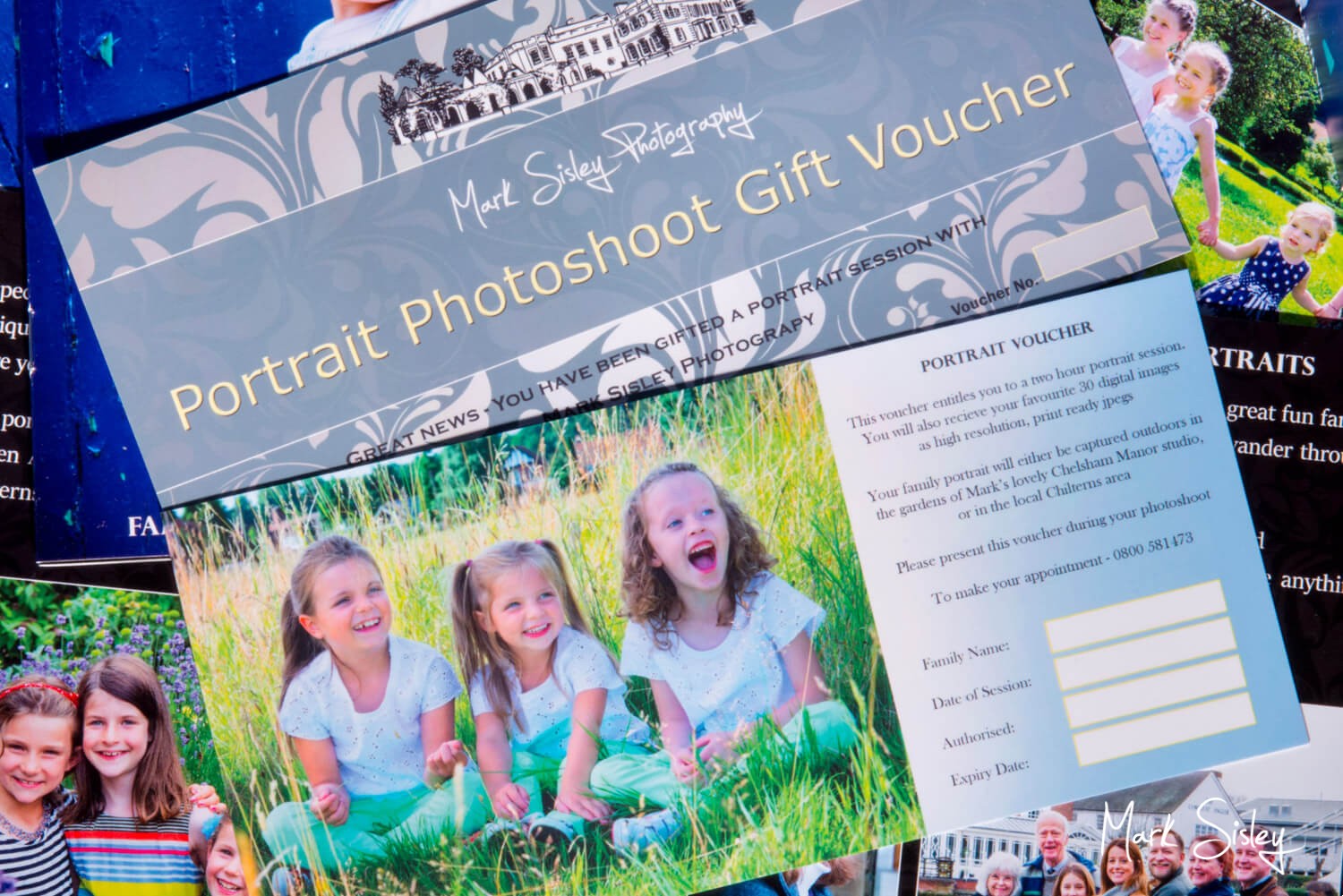 My Style Of Portraiture
My speciality is natural outdoor portraiture, and the Chilterns have been my stunning canvas for over 15 years now. I'm really excited by the prospect of using the abbey grounds for some of my family portraits. The multitude of backdrops, and the colourful flower borders will work perfectly for my creative style of imagery.
A typical portrait shoot with me will just feel like a great fun family excursion, with lots of laughter and giggles as we wander through the grounds at the abbey. My aim is to capture your personalities and light hearted interactions with each other, without forcing you to be anything other than yourselves throughout the photo-shoot.
How To Make A Booking
You'd need to book your Missenden Abbey afternoon tea directly, they can be reached on 01494 866811.  Then you'd need to book me directly on 01494 721020.
If for any reason the weather is not suitable for portraits, I'm more than happy to reschedule your session at the abbey for another time. We'll correspond the day before once we've seen the latest weather forecast. Naturally your family afternoon tea will still take place on the scheduled day, whilst the session may need to take place on another date if the weather is unsuitable.
How It Works On The Day + Viewing Your Pictures/Ordering Prints
About 100 pictures are taken per hour of unlimited poses, and the session can include any number of people. During the session you'll be able to see the images on the camera back.
You're welcome to suggest any ideas you may have, or state your preferred group combinations.
Within ten days of your session, the online gallery will be live. You select your favourites through the secure proof gallery. I optimise them and supply the high resolution JPEGs to you via We Transfer or Dropbox. I'll also provide the details of the online professional laboratory I recommend, who offer trade prices for prints, enlargements, canvas wraps and a framing service.