Magical Setting For A Danesfield House Winter Wedding Ceremony
I've feel privileged to have asked to be the wedding photographer at Danesfield House many times over the years. This hotel location is just fabulous, and shows you how amazingly atmospheric and magical the right venue can be! Danesfield House definitely has the wow factor for a winter wedding, the backdrops are stunning!
The high ceilings, big windows, grand chandeliers and ornate plasterwork are a treat for the eye and creative picture possibilities.  I've captured many weddings over the years at this wonderful hotel, and with every visit I'm spellbound by the beautiful architectural interiors and exteriors and the 65 acres of manicured gardens!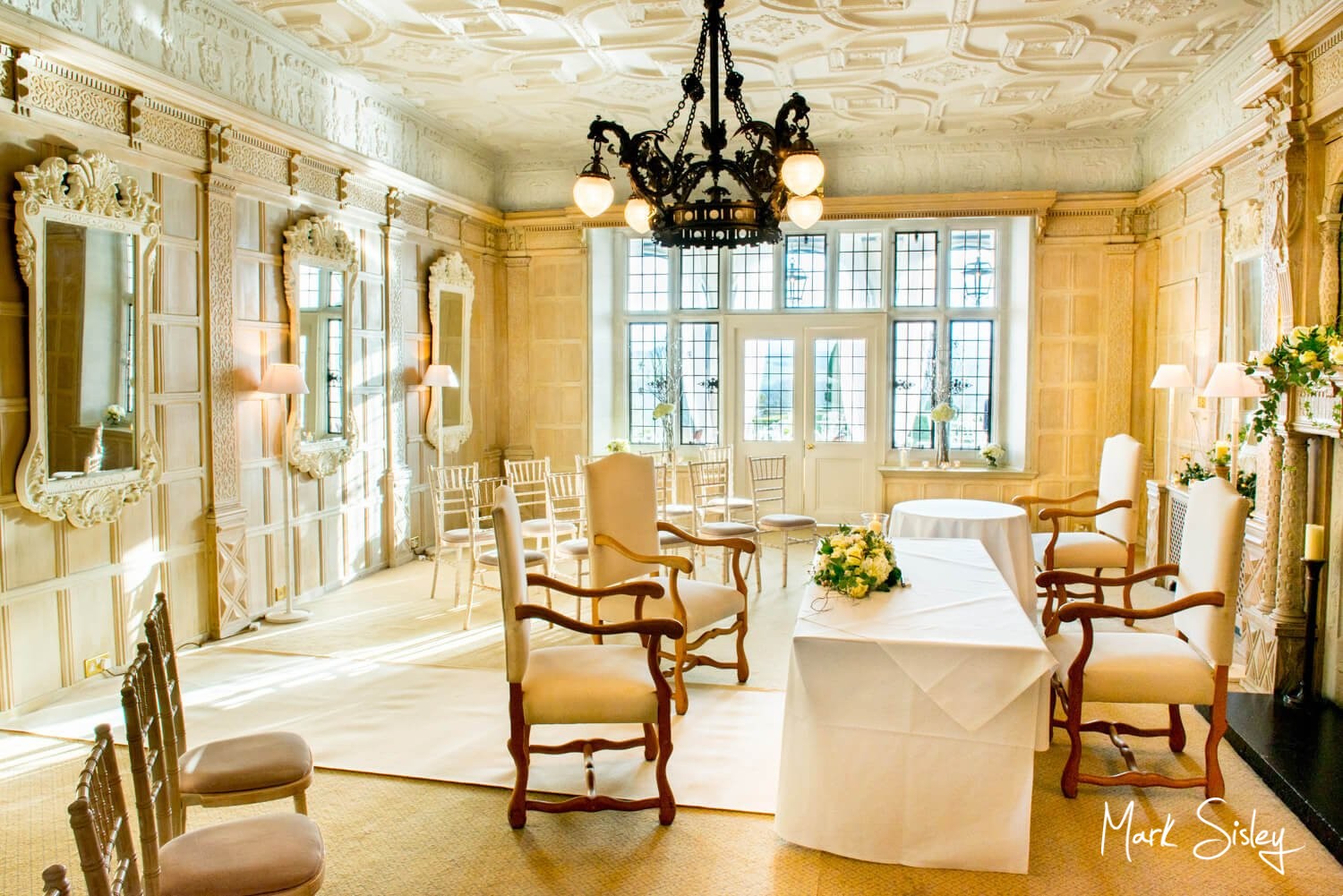 Danesfield House – Some Interesting Snippets Of History
The wealthy heir to the Sunlight Soap Company, 'Robert Hudson', built Danesfield House in the Italian renaissance style in 1901.
He used snowy white chalkstone, native to this part of South East England, in its construction. As a result, its dreamlike appearance and very ornate exterior resulted in locals knowing it as 'The Wedding Cake'.
During the second world war this grand building played a major role in the Allied victory. The Royal Air Force requisitioned Danesfield as an intelligence base. In fact, during its occupation they renamed it RAF Medmenham!
To accommodate all the support staff, temporary wooden structures appeared throughout the grounds.  Initially there were forty interpreters, and these numbers grew quickly as the vital importance of photography interpretation advanced.
By war's end  there were about six hundred staff working on site, and more than half were women.
Walking around this stunning venue, I can't help but think of all the secret intelligence discussions that took place here. If only the walls could talk!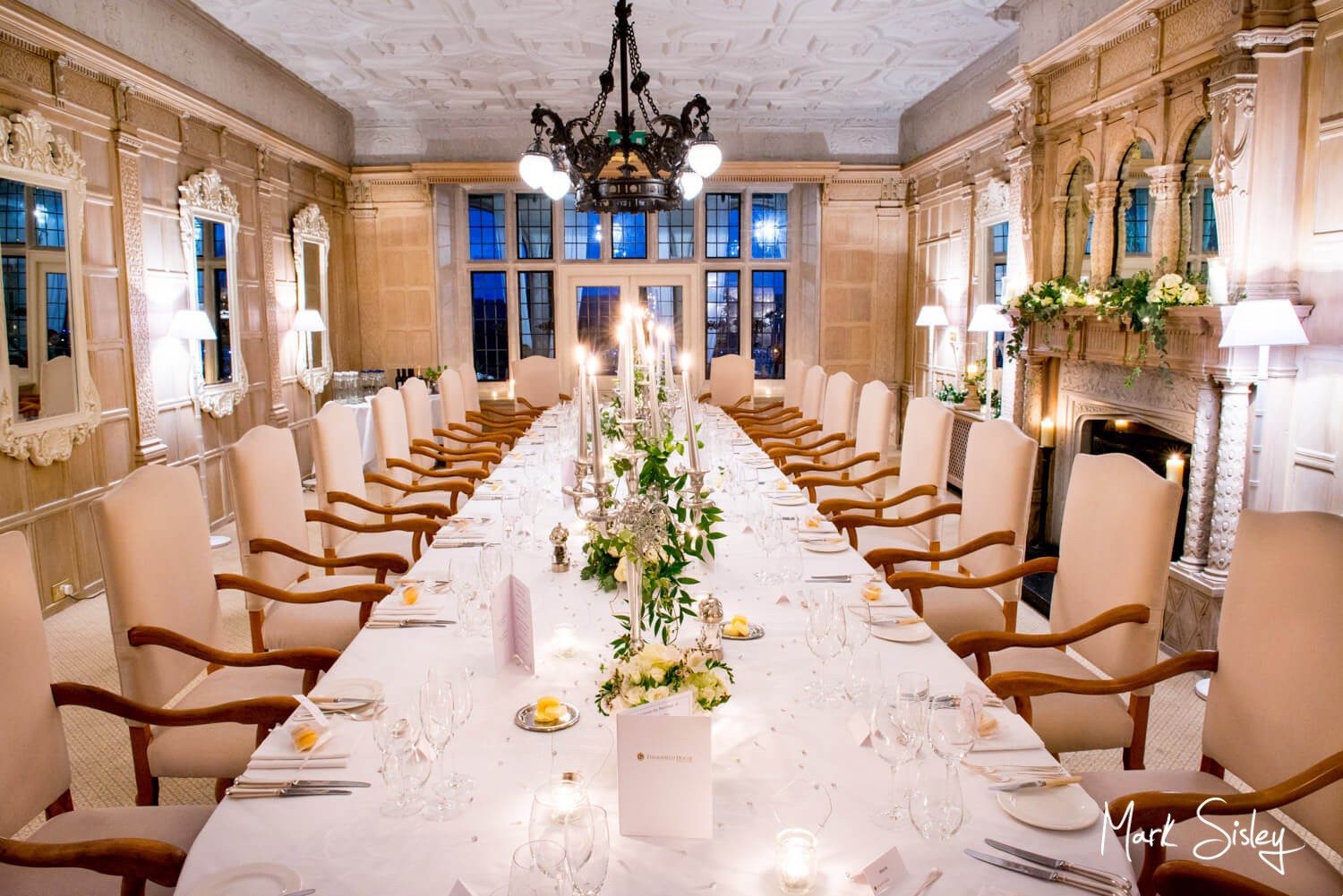 Danesfield House Civil Ceremony
The intimate ceremony was held in the stunning restaurant, the classic cream interiors and complementing flowers were gorgeous. The winter sunlight streaming through the huge leaded windows illuminated the room to perfection for my photography, this was Danesfield House at it's very best!.
Natalie's dress was just divine, I knew the moment I saw the gown that it would make for amazing pictures!
Steadily guided by her proud daughter, she walked slowly and calmly up the aisle in front of her nearest and dearest. Natalie and John overcame any wedding nerves as they sailed through their marriage ceremony with their beautiful heartfelt vows to one another. As they proudly walked out from the ceremony as husband and wife they drew huge smiles from all of their thrilled guests.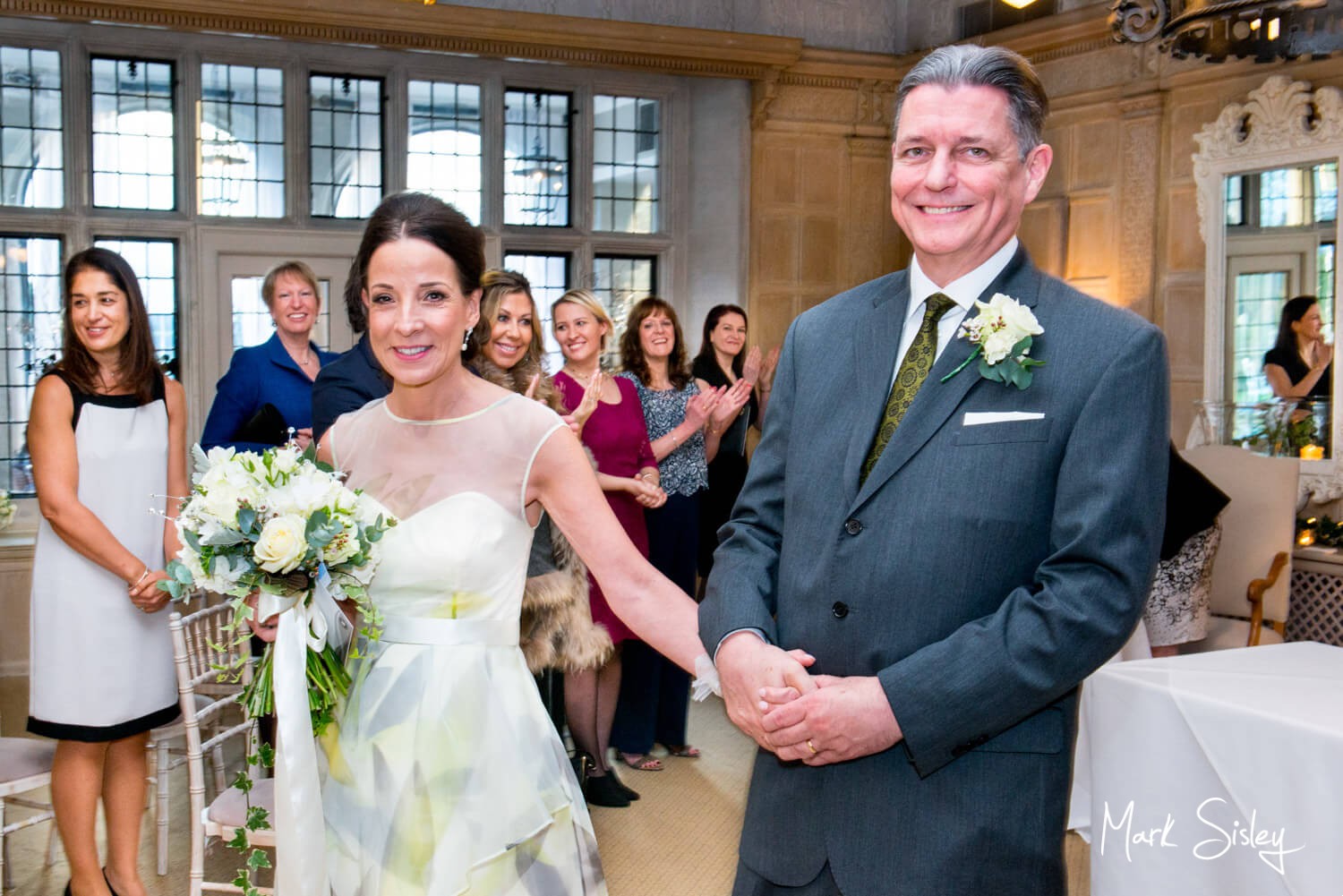 Champagne In The Great Hall
After the civil wedding ceremony, the guests enjoyed a very relaxed drinks reception in Danesfield House Great Hall. The friendly wedding guests were a pleasure to photograph, and their fun loving personalities really shone through in the pictures. Being so close to Christmas, they were no doubt still in festive party mode which helped.
After lots of fun reportage pictures, I managed to tempt a brave Natalie and John outdoors for a couple of pictures in the chilly conditions. When you're somewhere as breath taking as Danesfield House, it seems only right to capture some of the magical backdrops on offer. Danesfield House offered up so many great options winter wedding pictures. Although it wasn't long before we were back indoors by the open fire, our spirits soon lifted as the warmth from the glowing embers were as toasty as could be!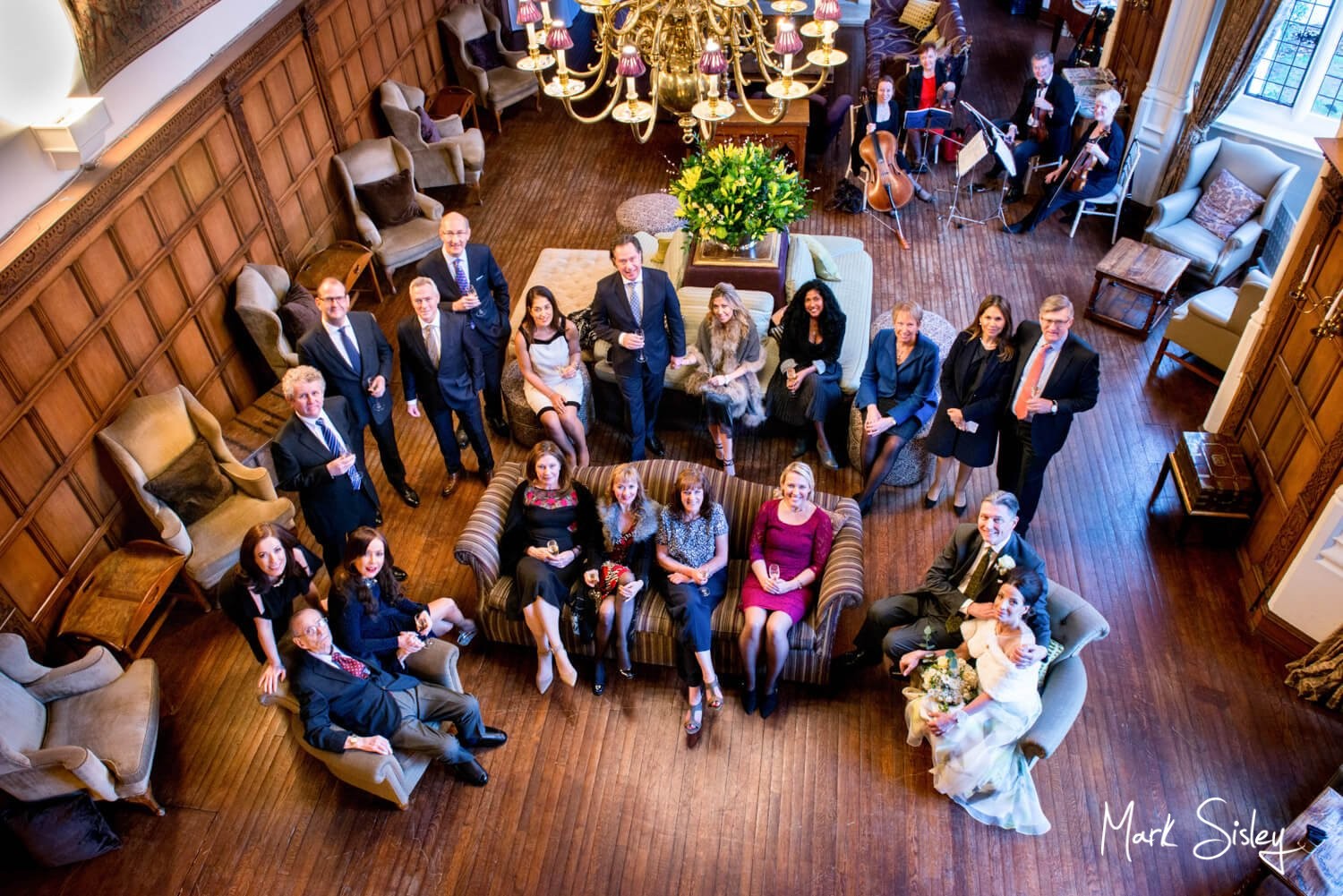 Night Time Winter Floodlit Wedding Pictures At Danesfield House
For a bit of bling and sparkle, I couldn't resist the opportunity to feature Danesfield's beautifully lit tree aisle that approaches the main building. Once the sun disappeared thousands of blue fairy lights dramatically lit up the trees. When the backdrops are this magical, I truly appreciate being booked as Danesfield House wedding photographer for the day!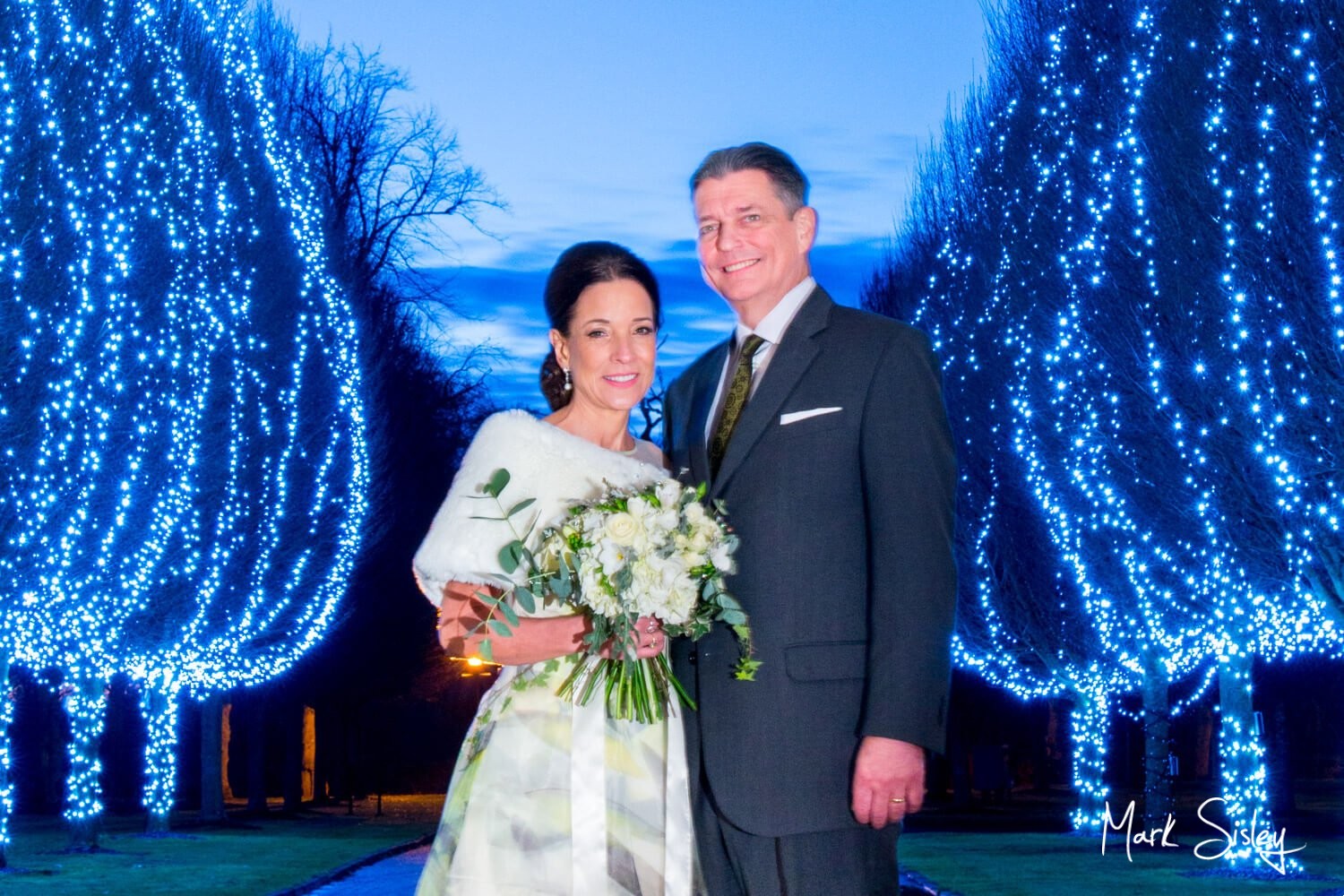 My Favourite Photographs
I just love capturing winter floodlit poses after sundown, the backdrops at Danesfield House just lifted my work to another level!
I captured the two images here with my special flood-lighting effects. On the above shot I only used additional lighting on Natalie and John, as the trees were already lit perfectly. On the image below my lights have been used far more extensively to illuminate the whole building and foreground, the very minimal ambient light was coming from the door lanterns and the central flame torches.
If you'd like to see some before and after examples of my flood-lit images, do check out my blog posting Low Light Photography.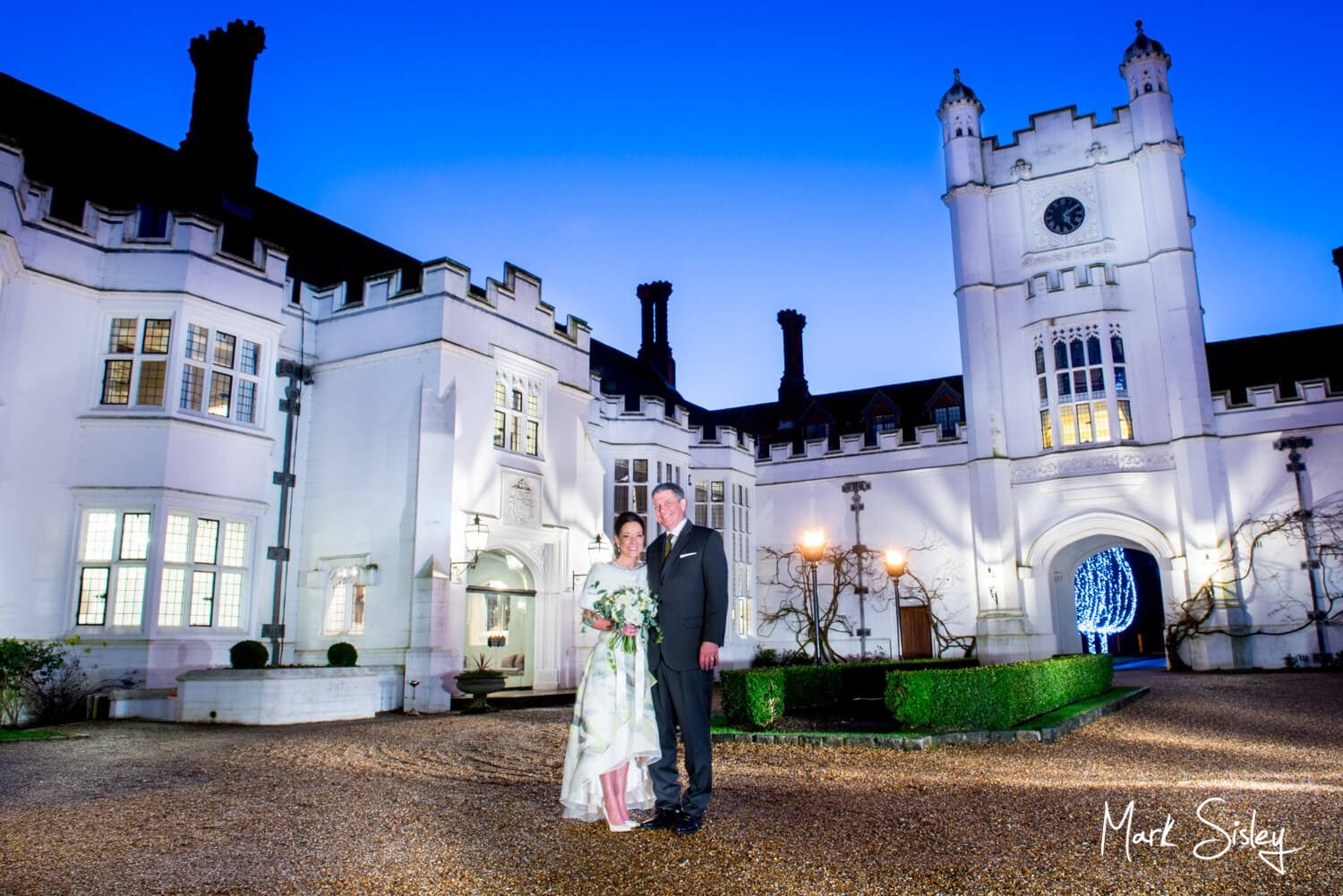 Kind Words
Dear Mark, 
We have just seen the photos you took of our wedding and they are amazing!  They capture the essence of the day so well and will help us re-live it over and over again. We are smiling madly to ourselves just looking at them.
The photography itself is excellent and we enjoyed working with you.  You were very sympathetic to the fact that we didn't want to spend hours posing for photos on the day as we were so distracted with everything else going on, but despite this you produced wonderful pictures.
Thank you once again from us both for capturing our magical day so beautifully. 
Best wishes,  John & Natalie