An Intimate Back Garden Marquee Wedding in Buckinghamshire Sunshine
Melissa and Jamie picked one of the last warm weekend days of the year in Buckinghamshire for their beautiful marquee wedding. From start to finish the sun shone in perfect blue skies! With just 30 guests in attendance, this was to be the most wonderful intimate marquee wedding celebration.
This lovely couple were great fun to photograph; their warm, kind and fun loving personalities really came through beautifully in my pictures. It certainly helped that their family and friends were also such a lively outgoing group of people too. As a result, I was in photo opportunity heaven all day long!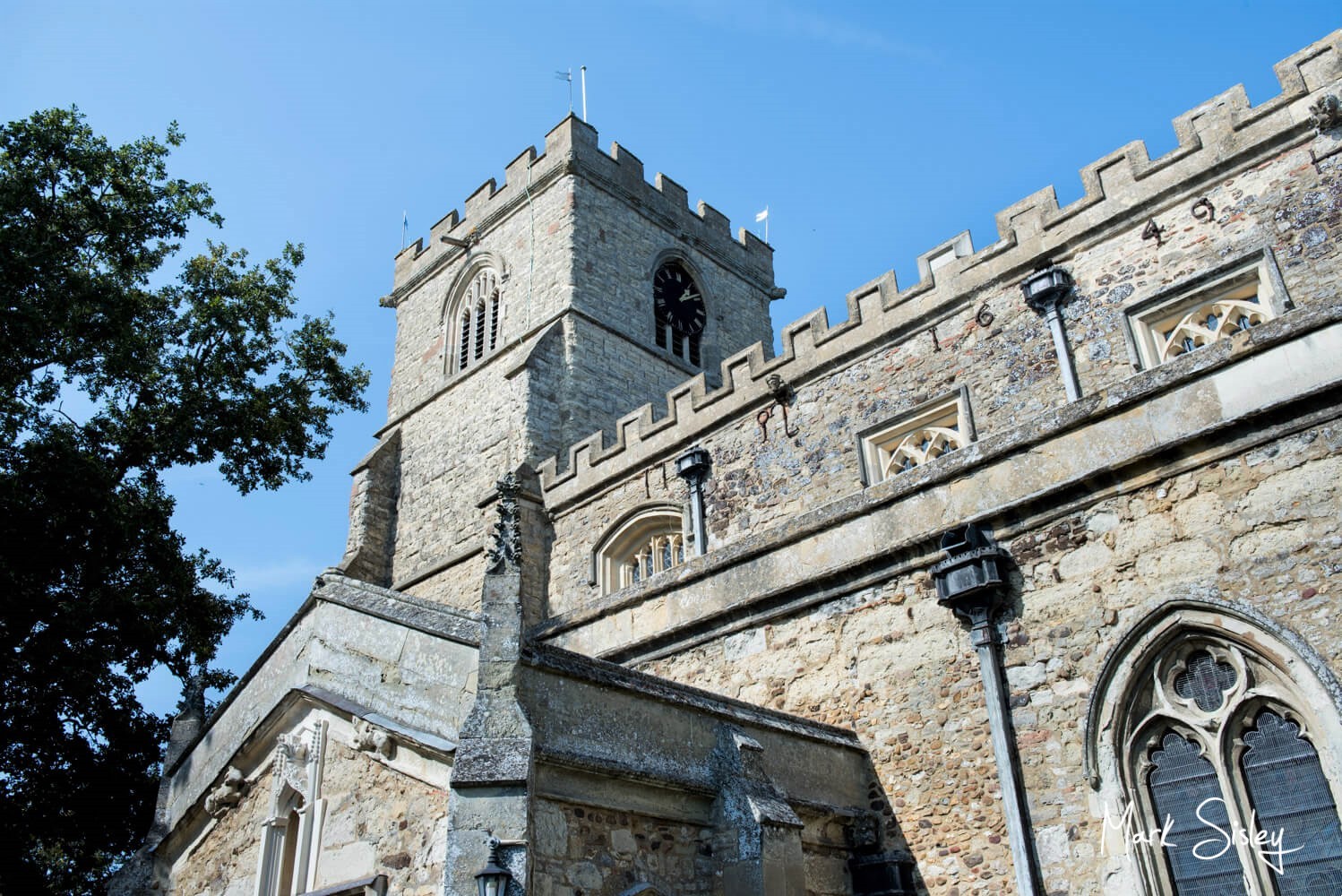 Pre Ceremony Photographs Of The Lads in Wendover
Jamie asked if I could capture the lads getting ready on the morning in Wendover. When I arrived at the property there was such a great buzz in the air.
The lads enjoyed some lively banter as they dressed for the day ahead; I enjoyed photographing the jovial interaction amongst this group of family and friends. After I'd captured lots of natural moments, I was soon on my way to Wing to photograph Melissa.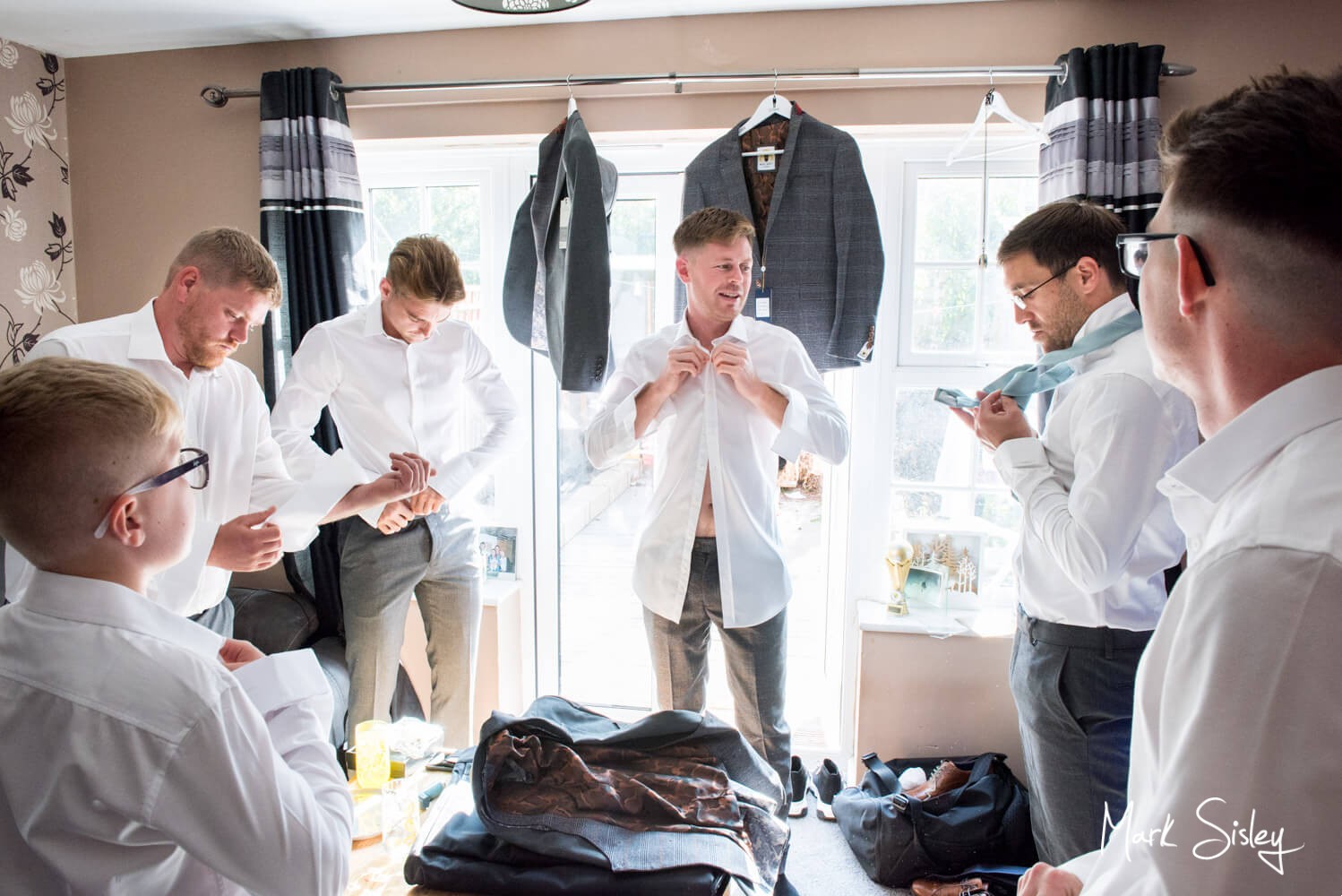 Pre Ceremony Photographs Of The Bride in Wing
Melissa was as relaxed as could be when I arrived at her home! It's so unusual to see a bride on her wedding morning who's not showing any sign of nerves! Hats off to her bridesmaids and parents, they were clearly doing a great job in creating a calm atmosphere in the house.
Melissa looked stunning as made her way down the stairs, and her father's face was such a picture as he saw his daughter for the first time in her breathtaking wedding gown!
It was great visiting Melissa and Jamie's home on the morning, as it gave me a sneak peak of the fabulous setup in their garden for the afternoon's reception gathering. These guys really went to town with the decor, mini marquee, and photo-booth setup, it looked stunning!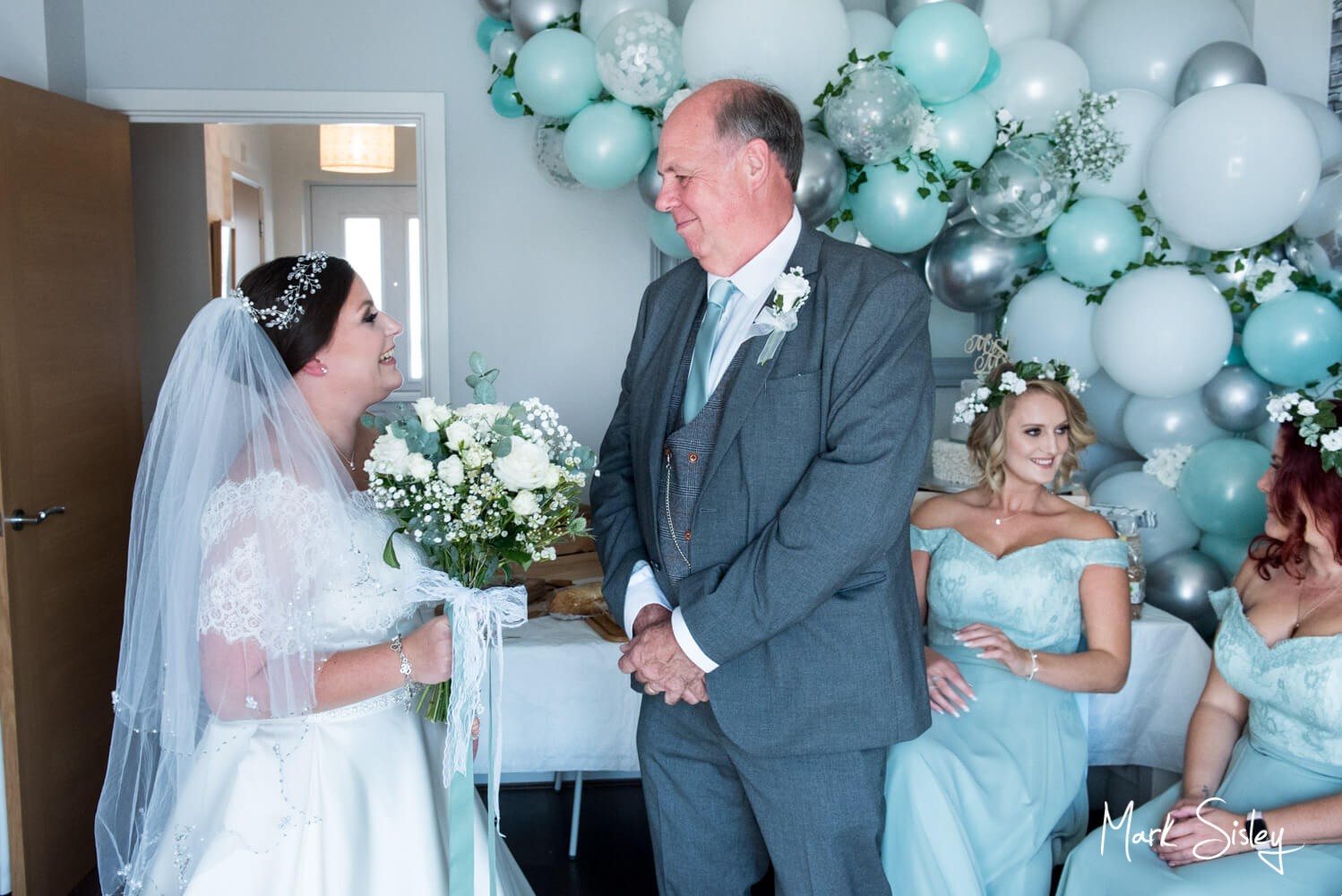 This idyllic and majestic Anglo Saxon church nestles in such a beautiful location. The church was mostly built in the 8th to 11th centuries, making it one of the oldest surviving churches in England. I'm always fascinated by our fabulous and grand churches, so naturally I really enjoyed working in this stunning setting!
Throughout the ceremony the sunlight streamed through the stained glass windows, illuminating the entire interior of the historic church beautifully. When the light is this good for my camera, I'm in absolute dream territory!
The ceremony had the perfect balance of everything you could wish for from an intimate church marriage. The love and magic bond that these two share was there for all to see throughout the heartfelt ceremony.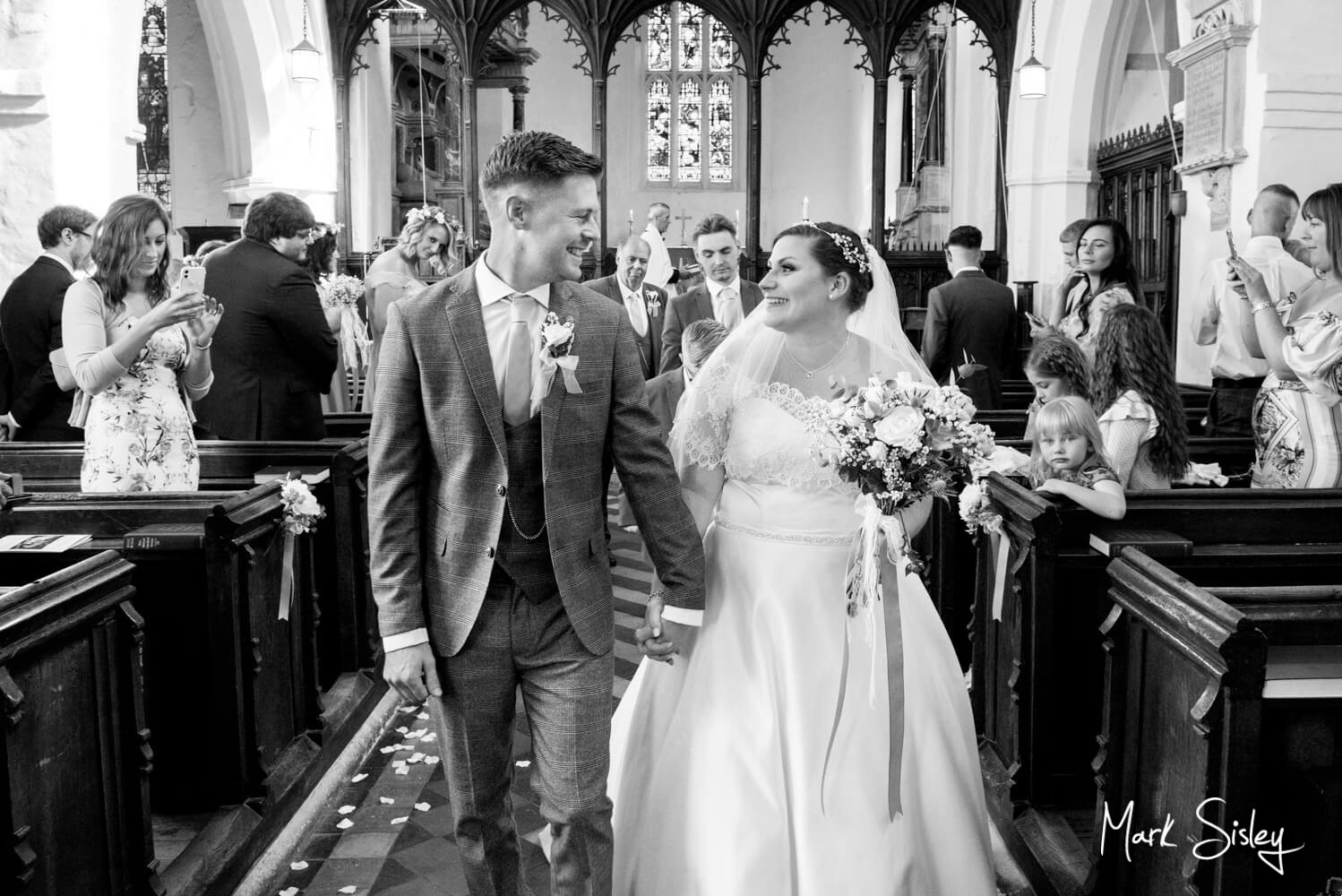 Ice Cream & Sparkling Drinks Reception After The Ceremony
Once the ceremony was over, Melissa and Jamie had arranged for some treats for their guests. They laid on some sparkling celebratory drinks. And, they'd also booked a traditional ice cream vendor! On offer was a multitude of delicious flavours for their appreciative guests. What a great idea!
I've attended about 500 church ceremonies during my career, but this was the first time I've ever seen ice cream being served in the church grounds. Judging by the size of the queue, this was well received by their family and friends. Even the vicar tucked in to an ice cream, and yes I captured a sneaky picture!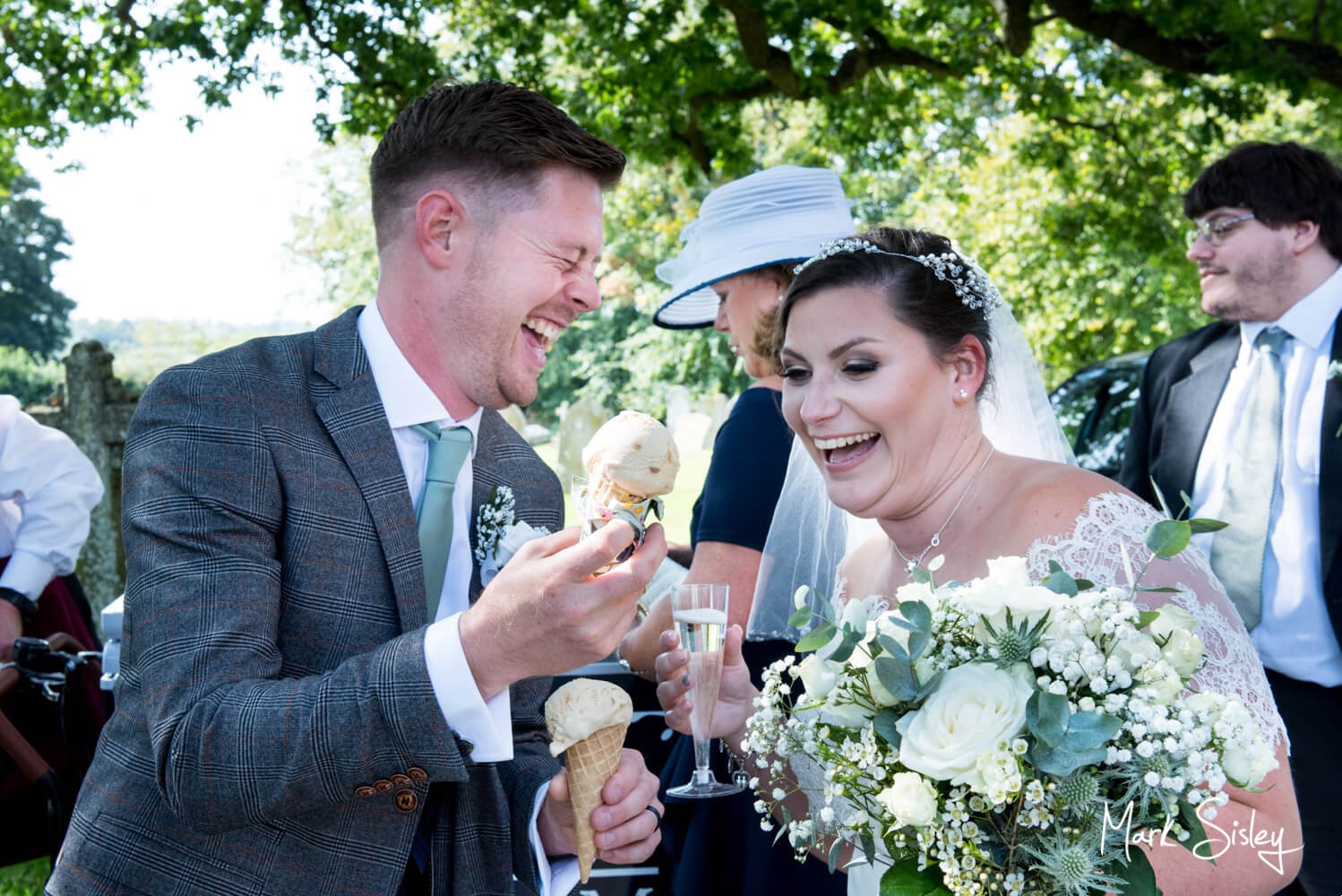 Fun Loving Kids
Whilst the children were on a sugary high, I posed up some slightly more energetic running shots of them with the church as my backdrop. The wonderful reactions on their faces really captured the moment perfectly, and these images also showcased this gorgeous setting!
After a number of twenty metre dashes for my camera, I thought they'd all be exhausted. I should've known better, their energy levels remained the same throughout the day!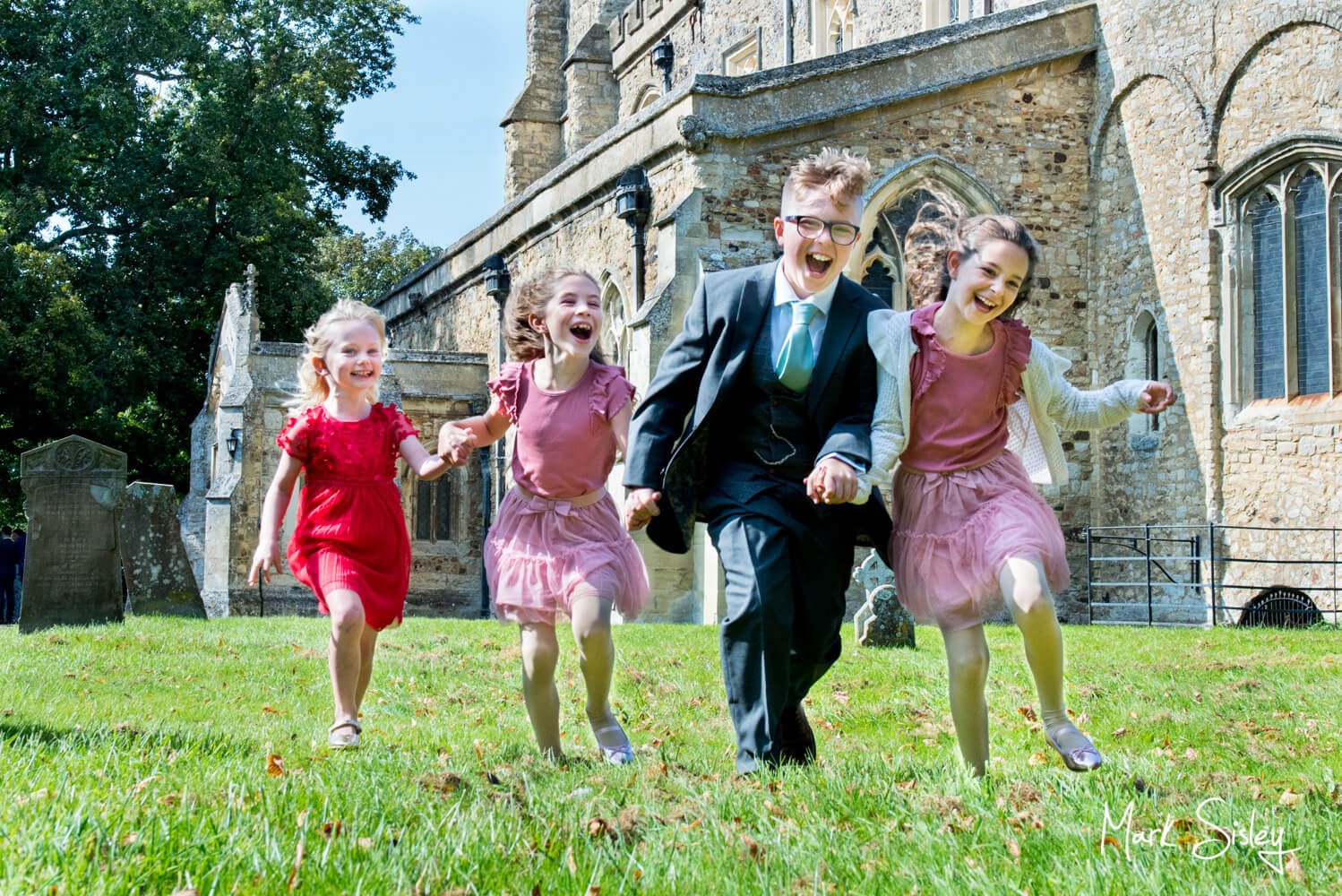 Family Group Poses At Wing Parish Church
Once the ice cream was polished off, it was time to capture a few family group poses. Most of my pictures until now had been in a reportage style, but there were a few group requests from the newlyweds. With the grand church as my backdrop, and the blue skies above, I really couldn't go far wrong!
Even Melissa's father made the most of the opportunity. His drone captured some great footage as he flew his video camera back and forth to capture the proceedings.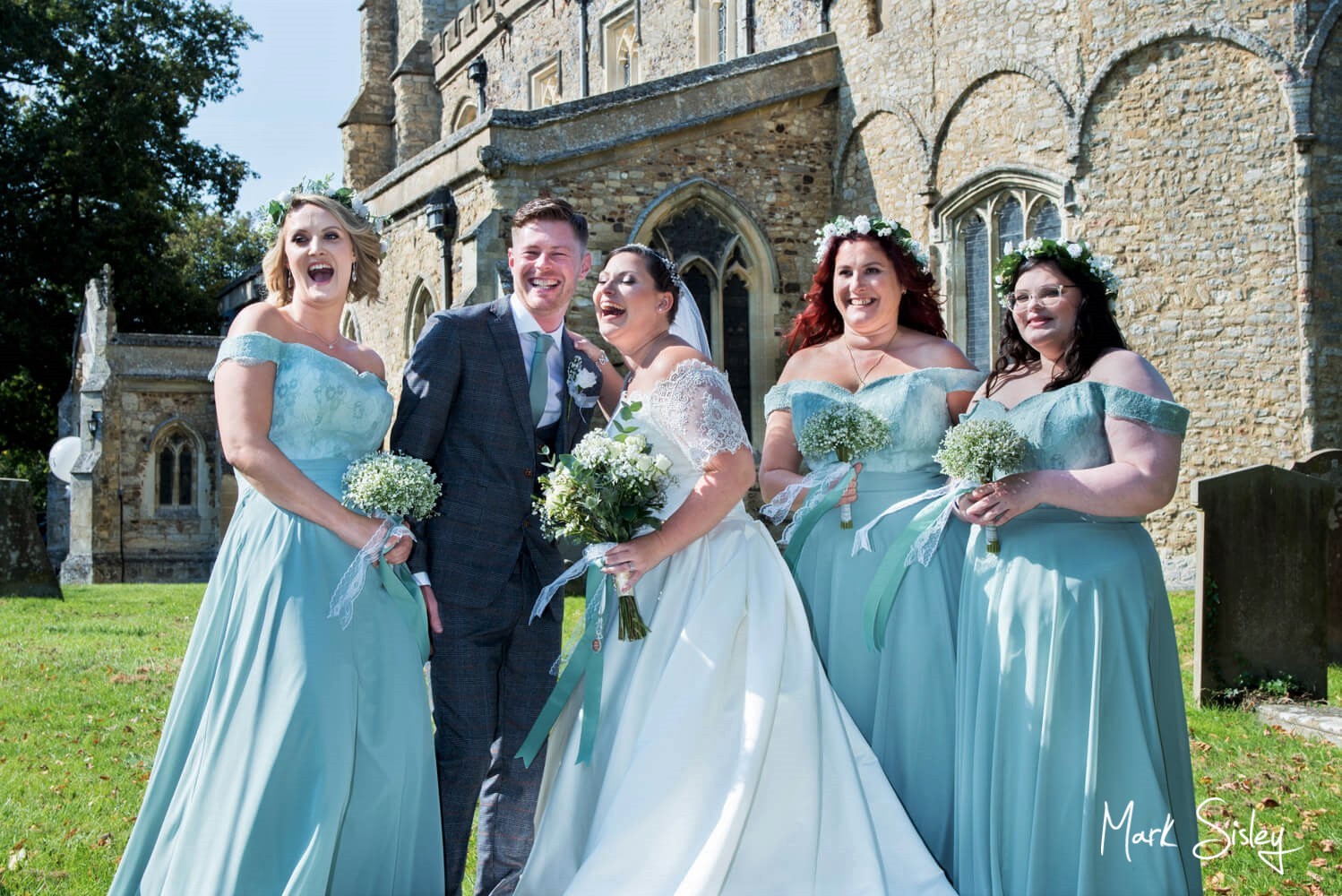 Pizza Feast & Party Time in the Marquee
From the moment everyone arrived back at Melissa and Jamie's home, the party atmosphere really kicked up a few gears. The fun, laughter and smiles were pretty much non-stop all afternoon during the drinks reception.
The photo-booth also provided some hilarious moments. I just loved capturing the guests antics once they were kitted out in fancy dress! My camera was clicking away pretty much continuously throughout the drinks reception.
And if the treats weren't enough at the church, then the pizza van turned up! Who doesn't love pizza – and as the main wedding breakfast too! This  master stroke went down a storm amongst the guests. The team from Nostra Pizza had their work cut out keeping up with the demand, whilst the Italian creations coming out of their mobile kitchen were truly divine!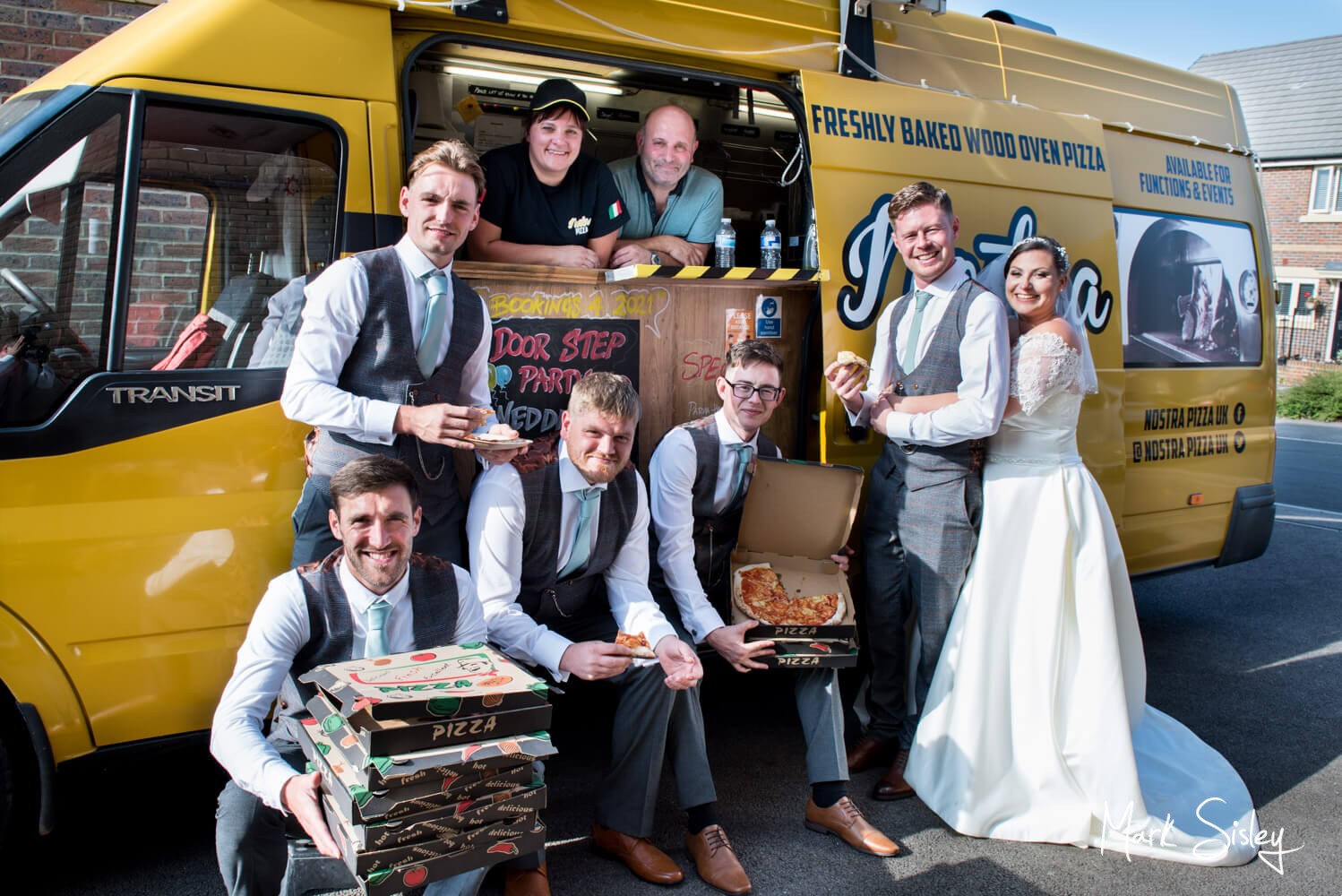 Family & Friends Group Photographs
I captured most of the bigger poses at the church, but the newlyweds also wanted a few more relaxed family shots at the reception. I certainly had plenty of backdrops to work with, and I particularly loved all the sparkly decorations Melissa and Jamie had created. These small family shots worked superbly against their backdrop creations.
One of my favourite shots from the day was of Melissa and Jamie capturing a huge selfie group shot. Yes it was staged by me, but I think it looks really cool!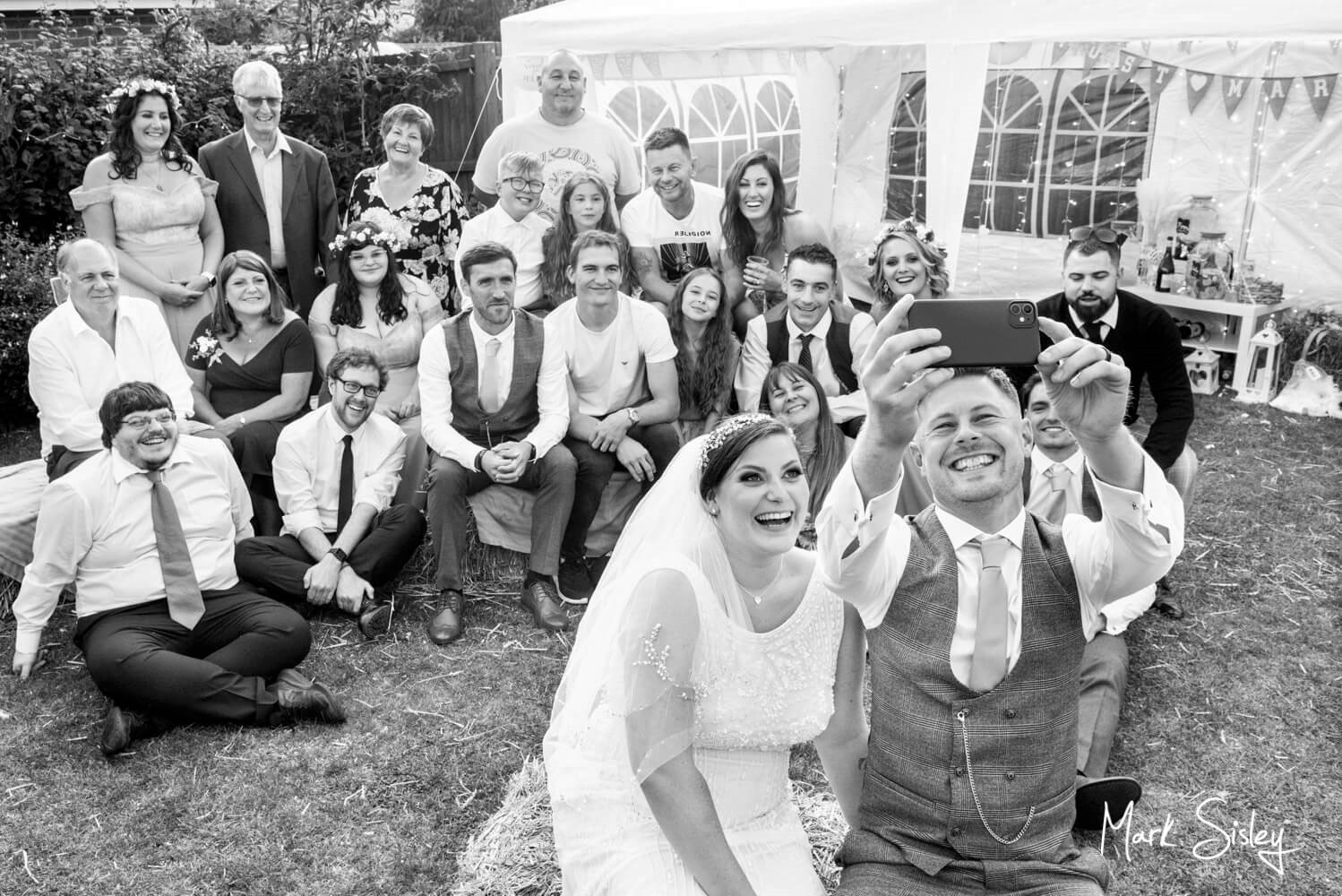 Speeches & First Dance At Sunset
Being such a glorious day, the speeches and first dance naturally took place outdoors.
Melissa and Jamie's wedding guests welcomed them to the garden dance floor with rapturous applause. This proved to be such a romantic end to the day; having your first dance while the sun is setting really doesn't get any better.
After the first dance, one by one the various speakers addressed the lively group of family and friends. None of them showed any sign of nerves as they delivered their superb speeches – whilst the resulting pictures of the guests' reactions are just priceless!
It was now time for me to leave, and what an amazing and fun wedding I'd witnessed! A big thank you to Melissa and Jamie for being so easy to work with on the day, and for looking after me so well throughout the day.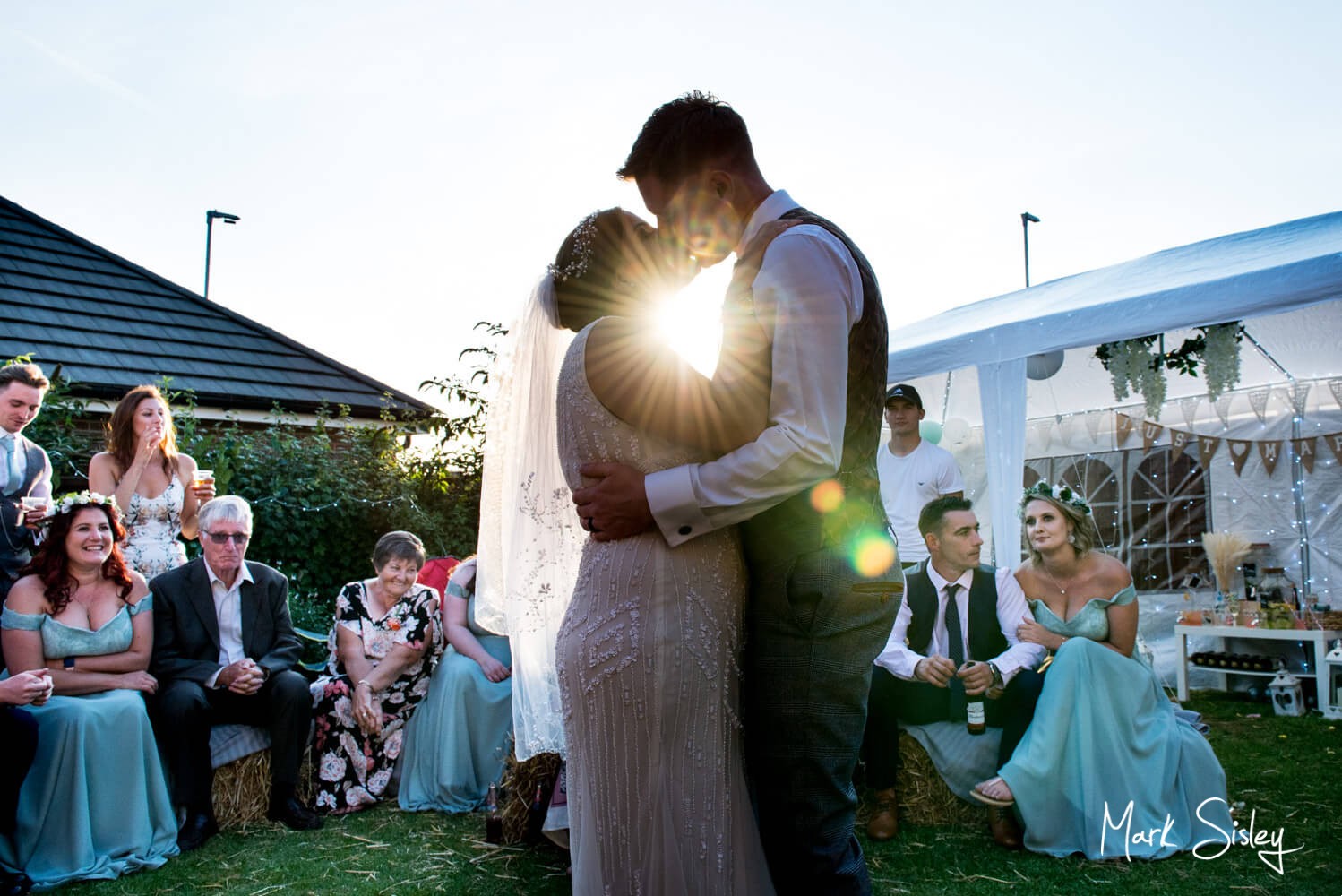 Rules Are There To Be Broken
I have absolute admiration for you both. Throwing the rule book in the bin takes so much courage. But being so different really made your wedding truly memorable and unique.
The church ice creams, pizza van wedding breakfast, and the outdoor first dance were a masterstroke for your relaxed celebrations! The non-stop party vibe was a joy to be part of, whilst your laughter and smiles made for so many great picture opportunities. The marquee wedding reception setting was just perfect, topped off with a beautiful Buckinghamshire summer day!
From the bottom of my heart, I wish you both a truly wonderful married life!