The Church Ceremony
Marion & Richard's lovely wedding ceremony was held at St. Josephs Church in Thame, just a few days before Christmas. This was my first time to this beautiful modern church, the interiors were stunning for picture opportunities.
The emotional ceremony was a joy to witness, and there were so many great moments for me to document. Tears during the ceremony were not in short supply, and it was evident to me that there was a really close bond between these two very loving families.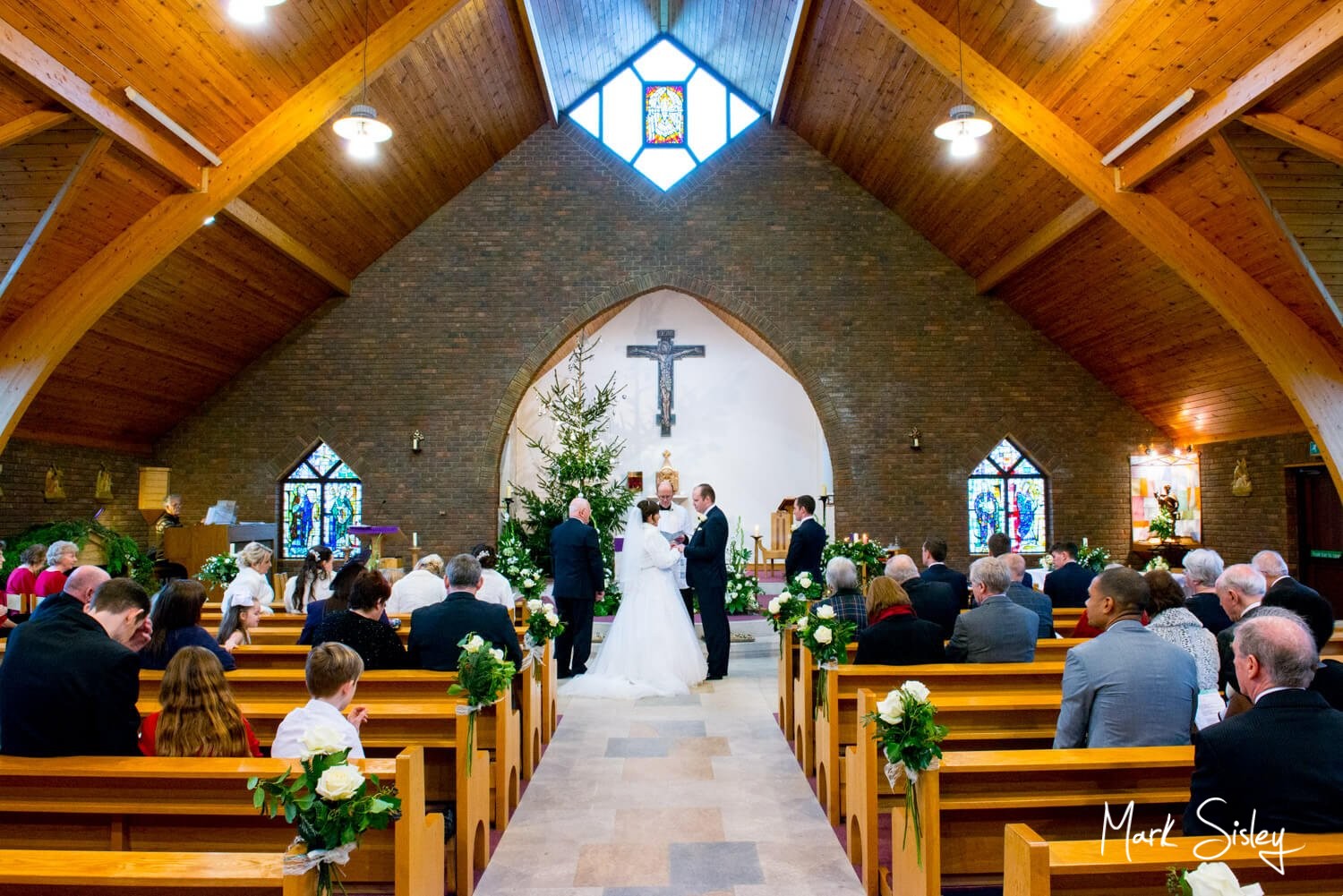 The Reception Venue
The Dairy on the Waddesdon Estate was the setting for Marion and Richard's fairytale wedding. And just by coincidence this was my third consecutive pre-Christmas Saturday wedding at The Dairy over the past three years, and as always the venue looked sensational. I can understand why couples fall in love with this gorgeous waterside venue, it really does have everything for anyone looking for the ultimate wedding setting! As the guests arrived from the church they were wowed by The Dairy's beautifully illuminated Christmas tree in the courtyard, and as Marion & Richard went to town with candles and fairy lights everywhere else, the overall lighting affect was stunning!
Marion and Richard invited over 25 children to their wedding, and they were so well behaved all day –  maybe because they were told Father Christmas would be paying a visit to The Dairy with lots of presents! His visit was perfectly timed to coincide with the speeches, and as a result I was dashing between the children's play zone & the speeches to not miss a moment. Seeing the children's faces light up as they met Father Christmas was truly magical, then one by one they were called up to receive their gifts. By now the children were on cloud nine, but once they'd unwrapped their presents & waved goodbye to Santa they were looking for their next adventure! Children are naturally inquisitive, and they were soon keen to explore what was happening when they heard the band rehearsing for the evening's entertainment. For 4-10 year olds, there can't be a better combination than lots of other children to play with, yummy food, a children's play zone, Father Christmas, wonderful presents, loud music & the ultimate party atmosphere. As you can imagine, the picture opportunities were equally as great, they really made my job easy!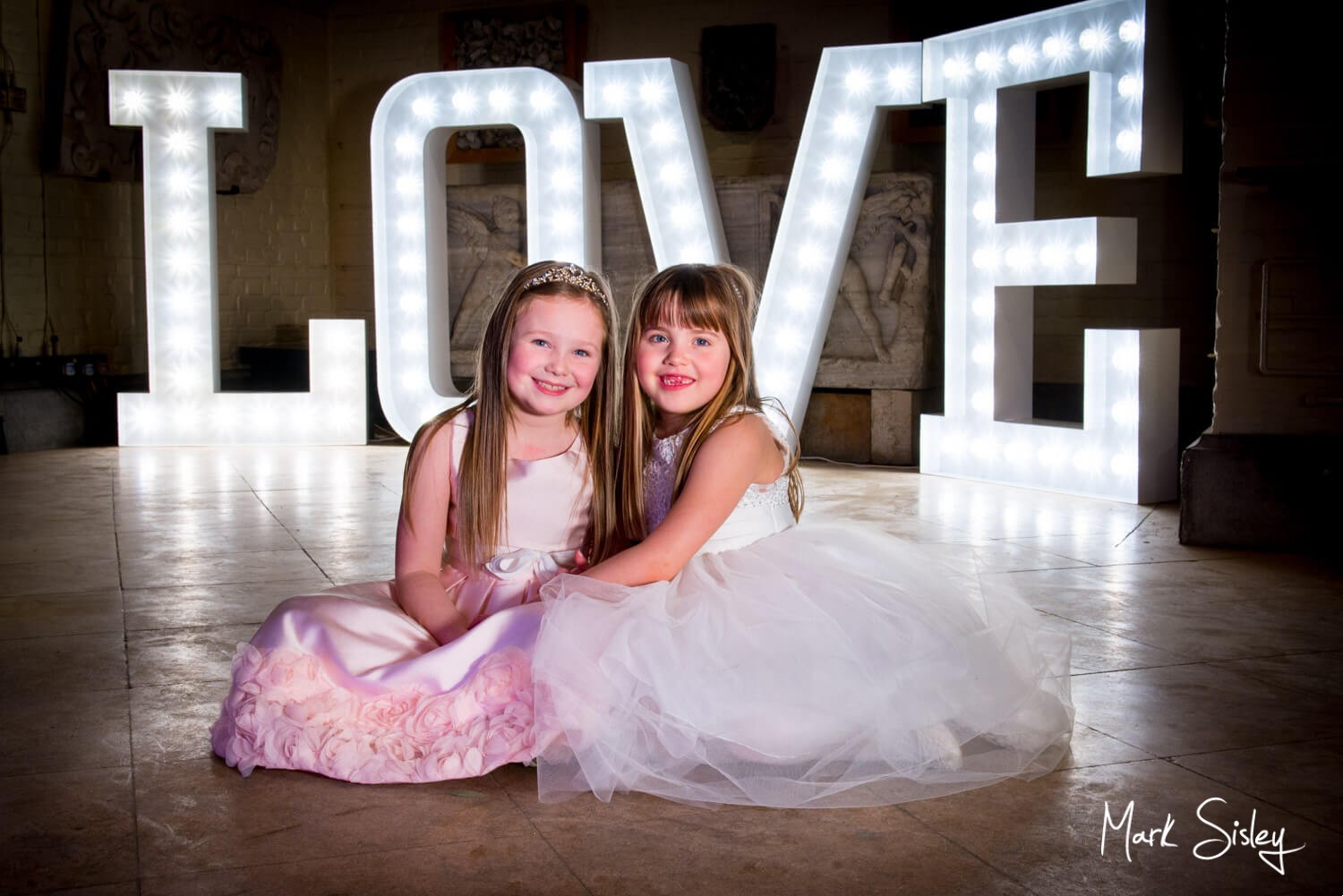 Low Light Photography
I'm always up for the challenge of a winter wedding.  There's rarely much light by mid afternoon, but the results can be wonderful with a little bit of trickery from my special effects lighting department! Marion & Richard were really keen to go up to the main Manor House for a few images, but the lack of daylight and timing restrictions before the meal meant the vintage Rolls Royce would return after the speeches for a special journey to capture a floodlit shot of them with the manor and the car.
When we arrived at about 8pm we could barely see the Manor House as it was so dark-  there was no moonlight, and the sky was as black as could be.  With no street lighting whatsoever, all we had was a tiny distant flicker of a light in the entrance portico.  I'd never done one of my special effect night shots when it had been quite so dark, or when the couple had specially booked the car to return for an extra wow night shot, so talk about pressure!
The picture you see below was created in camera, using a technique that would look totally fake if attempted within Photoshop. You'll see this technique used throughout my wedding portfolio during all the seasons; I've been using my special floodlighting effects for the past twenty years, and these unique illuminating tricks add another dimension to my work once the sun goes down.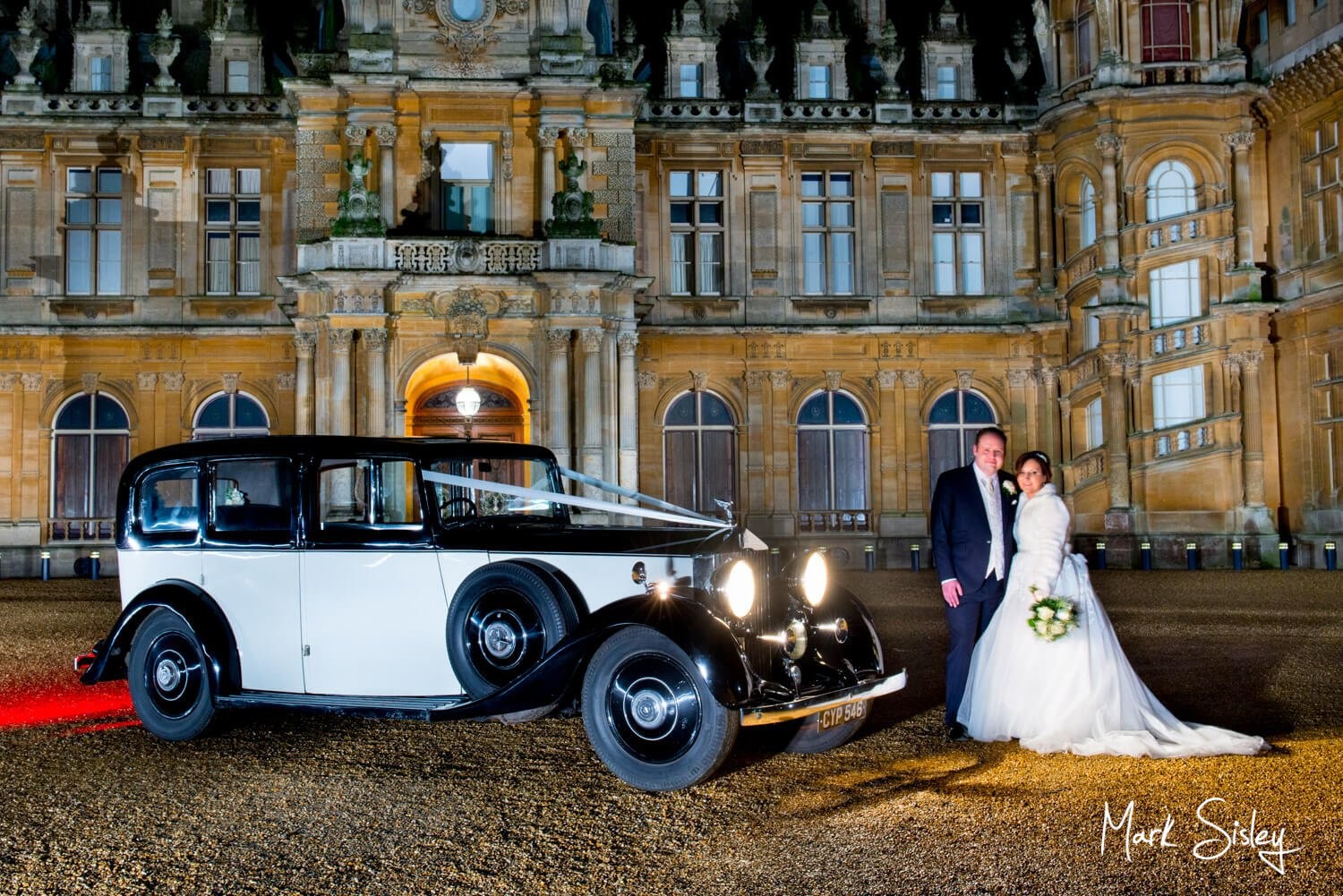 Family Group Photographs
The close-up family portraits outdoors by the waters edge with all the distant fairy lights were also captured with my special lighting effects, as were the other outdoor night shots below. If I used a flash gun or on camera lighting for my night shots, the lighting effect would be very flat and lifeless, and the distant buildings would be pitch black. Any prospective wedding clients visiting my studio will be shown many before and after examples of these unique lighting methods, although how I achieve these striking results is a closely guarded secret! If a building is already floodlit these effects are a walk in the park, but at 95% of the weddings I attend there's no floodlighting, and then it's over to me to illuminate the venue!
If you'd like to see more detailed explanations, plus see some before and after examples of my lighting techniques. Do take a look at my Low Light Photography blog post.
It was a joy to work with Marion & Richard, and I couldn't have wished to end the year working for a nicer couple. This wedding was so well organised, and so much thought had gone into every aspect of the day, the result was one amazing wedding.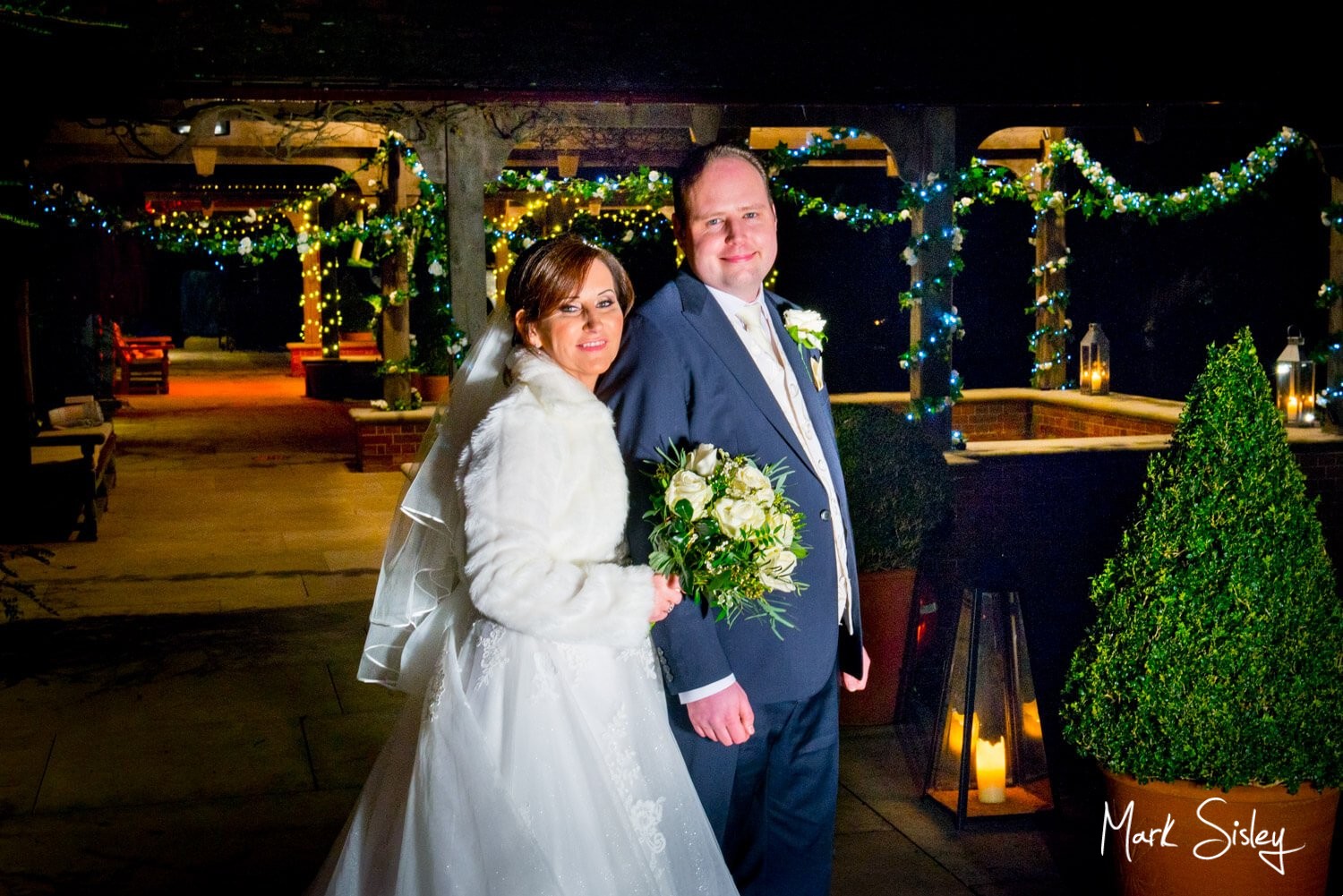 The Kind Words I Received
Dear Mark,
We just wanted to say a massive thank you to you for taking the photos at our wedding at the Dairy in Waddesdon.  From what we saw of your work when we chose you as our photographer we had very high expectations but I have to say you surpassed even these in every way.  We are so grateful for the extra time that you spent capturing photos of our guests and particularly when I saw you photographing the children having so much fun! The photos of them are simply stunning, not easy to achieve when working with children!
All of the photos in our gallery are amazing, you have captured the whole essence of us and our wedding day in a way I would never have thought possible, especially with a winter wedding where lighting can be a challenge.  The way you worked the light into the images is truly beautiful and as a result we have fantastic images from our special day that we will treasure forever!!
Warmest regards, Marion & Richard